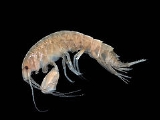 Crustacean
Crustaceans
form a very large group of
arthropod
Arthropod
An arthropod is an invertebrate animal having an exoskeleton , a segmented body, and jointed appendages. Arthropods are members of the phylum Arthropoda , and include the insects, arachnids, crustaceans, and others...
s, usually treated as a
subphylum
Subphylum
In life, a subphylum is a taxonomic rank intermediate between phylum and superclass. The rank of subdivision in plants and fungi is equivalent to subphylum.Not all phyla are divided into subphyla...
, which includes such familiar animals as
crab
Crab
True crabs are decapod crustaceans of the infraorder Brachyura, which typically have a very short projecting "tail" , or where the reduced abdomen is entirely hidden under the thorax...
s,
lobster
Lobster
Clawed lobsters comprise a family of large marine crustaceans. Highly prized as seafood, lobsters are economically important, and are often one of the most profitable commodities in coastal areas they populate.Though several groups of crustaceans are known as lobsters, the clawed lobsters are most...
s,
crayfish
Crayfish
Crayfish, crawfish, or crawdads – members of the superfamilies Astacoidea and Parastacoidea – are freshwater crustaceans resembling small lobsters, to which they are related...
,
shrimp
Shrimp
Shrimp are swimming, decapod crustaceans classified in the infraorder Caridea, found widely around the world in both fresh and salt water. Adult shrimp are filter feeding benthic animals living close to the bottom. They can live in schools and can swim rapidly backwards. Shrimp are an important...
,
krill
Krill
Krill is the common name given to the order Euphausiacea of shrimp-like marine crustaceans. Also known as euphausiids, these small invertebrates are found in all oceans of the world...
and
barnacle
Barnacle
A barnacle is a type of arthropod belonging to infraclass Cirripedia in the subphylum Crustacea, and is hence related to crabs and lobsters. Barnacles are exclusively marine, and tend to live in shallow and tidal waters, typically in erosive settings. They are sessile suspension feeders, and have...
s. The 50,000 described species range in size from
Stygotantulus stocki
Stygotantulus
Stygotantulus stocki is a species of crustacean, living as an ectoparasite on harpacticoid copepods of the families Tisbidae and Canuellidae. It is the smallest arthropod in the world, at a length of less than . The specific epithet stocki commemorates Jan Hendrik Stock, a Dutch carcinologist....
at 0.1 mm (0.00393700787401575 in), to the
Japanese spider crab
Japanese spider crab
The , Macrocheira kaempferi, is a species of marine crab that lives in the waters around Japan. It has the largest leg span of any arthropod, reaching up to and weighing up to . It is the subject of small-scale fishery.-Description:...
with a leg span of up to 12.5 ft (3.8 m) and a mass of 44 lb (20 kg). Like other
arthropod
Arthropod
An arthropod is an invertebrate animal having an exoskeleton , a segmented body, and jointed appendages. Arthropods are members of the phylum Arthropoda , and include the insects, arachnids, crustaceans, and others...
s, crustaceans have an
exoskeleton
Exoskeleton
An exoskeleton is the external skeleton that supports and protects an animal's body, in contrast to the internal skeleton of, for example, a human. In popular usage, some of the larger kinds of exoskeletons are known as "shells". Examples of exoskeleton animals include insects such as grasshoppers...
, which they
moult
Ecdysis
Ecdysis is the moulting of the cuticula in many invertebrates. This process of moulting is the defining feature of the clade Ecdysozoa, comprising the arthropods, nematodes, velvet worms, horsehair worms, rotifers, tardigrades and Cephalorhyncha...
to grow. They are distinguished from other groups of arthropods, such as
insect
Insect
Insects are a class of living creatures within the arthropods that have a chitinous exoskeleton, a three-part body , three pairs of jointed legs, compound eyes, and two antennae...
s,
myriapods
Myriapoda
Myriapoda is a subphylum of arthropods containing millipedes, centipedes, and others. The group contains 13,000 species, all of which are terrestrial...
and
chelicerates
Chelicerata
The subphylum Chelicerata constitutes one of the major subdivisions of the phylum Arthropoda, and includes horseshoe crabs, scorpions, spiders and mites...
, by the possession of biramous (two-parted) limbs, and by the nauplius form of the
larvae
Crustacean larvae
Crustaceans may pass through a number of larval and immature stages between hatching from their eggs and reaching their adult form. Each of the stages is separated by a moult, in which the hard exoskeleton is shed to allow the animal to grow...
.
Most crustaceans are free-living
aquatic animal
Aquatic animal
An aquatic animal is an animal, either vertebrate or invertebrate, which lives in water for most or all of its life. It may breathe air or extract its oxygen from that dissolved in water through specialised organs called gills, or directly through its skin. Natural environments and the animals that...
s, but some are
terrestrial
Terrestrial animal
Terrestrial animals are animals that live predominantly or entirely on land , as compared with aquatic animals, which live predominantly or entirely in the water , or amphibians, which rely on a combination of aquatic and terrestrial habitats...
(e.g.