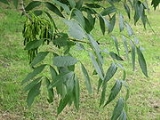 European Ash
Fraxinus excelsior
is a species of
Fraxinus
native to most of
Europe
Europe
Europe is, by convention, one of the world's seven continents. Comprising the westernmost peninsula of Eurasia, Europe is generally 'divided' from Asia to its east by the watershed divides of the Ural and Caucasus Mountains, the Ural River, the Caspian and Black Seas, and the waterways connecting...
with the exception of northern
Scandinavia
Scandinavia
Scandinavia is a cultural, historical and ethno-linguistic region in northern Europe that includes the three kingdoms of Denmark, Norway and Sweden, characterized by their common ethno-cultural heritage and language. Modern Norway and Sweden proper are situated on the Scandinavian Peninsula,...
and southern
Iberia
Iberian Peninsula
The Iberian Peninsula , sometimes called Iberia, is located in the extreme southwest of Europe and includes the modern-day sovereign states of Spain, Portugal and Andorra, as well as the British Overseas Territory of Gibraltar...
, and also southwestern
Asia
Asia
Asia is the world's largest and most populous continent, located primarily in the eastern and northern hemispheres. It covers 8.7% of the Earth's total surface area and with approximately 3.879 billion people, it hosts 60% of the world's current human population...
from northern
Turkey
Turkey
Turkey , known officially as the Republic of Turkey , is a Eurasian country located in Western Asia and in East Thrace in Southeastern Europe...
east to the
Caucasus
Caucasus
The Caucasus, also Caucas or Caucasia , is a geopolitical region at the border of Europe and Asia, and situated between the Black and the Caspian sea...
and
Alborz
Alborz
Alborz , also written as Alburz, Elburz or Elborz, is a mountain range in northern Iran stretching from the borders of Azerbaijan and Armenia in the northwest to the southern end of the Caspian Sea, and ending in the east at the borders of Turkmenistan and Afghanistan...
mountains. The northernmost location is in the
Trondheimsfjord
Trondheimsfjord
The Trondheimsfjord , an inlet of the Norwegian Sea, is Norway's third longest fjord at long. It is located in the west central part of the country, and it stretches from Ørland in west to Steinkjer in north, passing the city of Trondheim on its way...
region of
Norway
Norway
Norway , officially the Kingdom of Norway, is a Nordic unitary constitutional monarchy whose territory comprises the western portion of the Scandinavian Peninsula, Jan Mayen, and the Arctic archipelago of Svalbard and Bouvet Island. Norway has a total area of and a population of about 4.9 million...
.
Description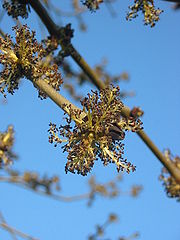 It is a large
deciduous
Deciduous
Deciduous means "falling off at maturity" or "tending to fall off", and is typically used in reference to trees or shrubs that lose their leaves seasonally, and to the shedding of other plant structures such as petals after flowering or fruit when ripe...
tree
Tree
A tree is a perennial woody plant. It is most often defined as a woody plant that has many secondary branches supported clear of the ground on a single main stem or trunk with clear apical dominance. A minimum height specification at maturity is cited by some authors, varying from 3 m to...
growing to 20–35 m (exceptionally to 46 m) tall with a trunk up to 2 m (exceptionally to 3.5 m) diameter, with a tall, domed crown. The
bark
Bark
Bark is the outermost layers of stems and roots of woody plants. Plants with bark include trees, woody vines and shrubs. Bark refers to all the tissues outside of the vascular cambium and is a nontechnical term. It overlays the wood and consists of the inner bark and the outer bark. The inner...
is smooth and pale grey on young trees, becoming thick and vertically fissured on old trees. The shoots are stout, greenish-grey, with jet black
bud
Bud
In botany, a bud is an undeveloped or embryonic shoot and normally occurs in the axil of a leaf or at the tip of the stem. Once formed, a bud may remain for some time in a dormant condition, or it may form a shoot immediately. Buds may be specialized to develop flowers or short shoots, or may have...
s (which distinguish it from most other ash species, which have grey or brown buds). The
leaves
Leaf
A leaf is an organ of a vascular plant, as defined in botanical terms, and in particular in plant morphology. Foliage is a mass noun that refers to leaves as a feature of plants....
are 20–35 cm long, pinnate compound, with 7-13 leaflets, the leaflets 3–12 cm long and 0.8–3 cm broad, sessile on the leaf rachis, and with a serrated margin. The leaves are often among the last to open in spring, and the first to fall in autumn if an early frost strikes; they have no marked autumn colour, often falling dull green. The
flower
Flower
A flower, sometimes known as a bloom or blossom, is the reproductive structure found in flowering plants . The biological function of a flower is to effect reproduction, usually by providing a mechanism for the union of sperm with eggs...
s open before the leaves, the female flowers being somewhat longer than the male flowers; they are dark purple, and without petals, and are wind-pollinated. Both male and female flowers can occur on the same tree, but it is more common to find all male and all female trees; a tree that is all male one year can produce female flowers the next, and similarly a female tree can become male. The
fruit
Fruit
In broad terms, a fruit is a structure of a plant that contains its seeds.The term has different meanings dependent on context. In non-technical usage, such as food preparation, fruit normally means the fleshy seed-associated structures of certain plants that are sweet and edible in the raw state,...
is a
samara
Samara (fruit)
A samara is a type of fruit in which a flattened wing of fibrous, papery tissue develops from the ovary wall. A samara is a simple dry fruit and indehiscent . It is a winged achene...
2.5-4.5 cm long and 5–8 mm broad, often hanging in bunches through the winter; they are often called 'ash keys'. If the fruit is gathered and planted when it is still green and not fully ripe, it will germinate straightaway, however once the fruit is brown and fully ripe, it will not germinate until 18 months after sowing (i.e. not until two winters have passed).
European Ash rarely exceeds 250 years of age. However there are numerous ones estimated between 200 and 250 years old and there are a couple over 250. The largest is in Clapton Court, England and is 9 m (29 ft) in girth. There are several examples over 4.5 metres (15 feet) in
Derbyshire
Derbyshire
Derbyshire is a county in the East Midlands of England. A substantial portion of the Peak District National Park lies within Derbyshire. The northern part of Derbyshire overlaps with the Pennines, a famous chain of hills and mountains. The county contains within its boundary of approx...
alone.
Ecology
Ash occurs on a wide range of soil types, but is particularly associated with basic soils on calcareous substrates. The most northerly ashwood in Britain is on limestone at Rassal,
Wester Ross
Wester Ross
is a western area of Ross and Cromarty in Scotland, notably containing the villages on the west coast such as:* Lochcarron* Applecross* Shieldaig* Torridon* Kinlochewe * * * Aultbea* Laide* Ullapool* Achiltibuie...
, latitude 57.4278 N.
A number of
Lepidoptera
Lepidoptera
Lepidoptera is a large order of insects that includes moths and butterflies . It is one of the most widespread and widely recognizable insect orders in the world, encompassing moths and the three superfamilies of butterflies, skipper butterflies, and moth-butterflies...
use the species as a food source. See Lepidoptera which feed on ashes.
Ash dieback
Ash dieback caused by the
fungus
Fungus
A fungus is a member of a large group of eukaryotic organisms that includes microorganisms such as yeasts and molds , as well as the more familiar mushrooms. These organisms are classified as a kingdom, Fungi, which is separate from plants, animals, and bacteria...
Chalara fraxinea
has affected large numbers of trees since the mid-1990s, particularly in eastern and northern Europe (though the disease has been observed across much of its range).
Uses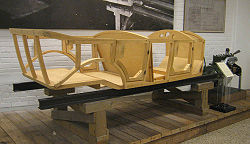 The resilience and rapid growth made it an important resource for smallholders and farmers. It was probably the most versatile wood in the countryside with wide-ranging uses. Until
World War II
World War II
World War II, or the Second World War , was a global conflict lasting from 1939 to 1945, involving most of the world's nations—including all of the great powers—eventually forming two opposing military alliances: the Allies and the Axis...
the trees were often coppiced on a ten year cycle to provide a sustainable source of timber for fuel and poles for building and woodworking.
The colour of the wood ranges from creamy white through light brown, and the heart wood may be darker olive-brown. Ash timber is hard, tough and very hard-wearing, with a coarse open grain with a density of 710 kg per cubic meter. It lacks oak's natural resistance to decay, and is not as suitable for posts buried in the ground. Because of its high flexibility, shock-resistance and resistance to splitting Ash wood is the traditional material for bows, tool handles, especially for
hammer
Hammer
A hammer is a tool meant to deliver an impact to an object. The most common uses are for driving nails, fitting parts, forging metal and breaking up objects. Hammers are often designed for a specific purpose, and vary widely in their shape and structure. The usual features are a handle and a head,...
s and
axe
Axe
The axe, or ax, is an implement that has been used for millennia to shape, split and cut wood; to harvest timber; as a weapon; and as a ceremonial or heraldic symbol...
s, tennis rackets and
snooker
Snooker
Snooker is a cue sport that is played on a green baize-covered table with pockets in each of the four corners and in the middle of each of the long side cushions. A regular table is . It is played using a cue and snooker balls: one white , 15 worth one point each, and six balls of different :...
cue stick
Cue stick
A cue stick , is an item of sporting equipment essential to the games of pool, snooker and carom billiards. It is used to strike a ball, usually the...
s Ash is valuable as firewood because it burns well even when 'green' (freshly cut). Ash was coppiced, often in hedgerows, and evidence in the form of some huge boles with multiple trunks emerging at head height can still be see in parts of Britain. In
Northumberland
Northumberland
Northumberland is the northernmost ceremonial county and a unitary district in North East England. For Eurostat purposes Northumberland is a NUTS 3 region and is one of three boroughs or unitary districts that comprise the "Northumberland and Tyne and Wear" NUTS 2 region...
,
crab
Crab
True crabs are decapod crustaceans of the infraorder Brachyura, which typically have a very short projecting "tail" , or where the reduced abdomen is entirely hidden under the thorax...
and
lobster pots
Lobster trap
Not to be confused with Lobster-tailed potA lobster trap or lobster pot is a portable trap that traps lobsters or crayfish and is used in lobster fishing. A lobster trap can hold several lobsters. Lobster traps are constructed of wire and wood. An opening permits the lobster to enter a tunnel of...
(traps) sometimes known as 'creeves' by local people are still made from ash sticks. Because of its
elasticity
Elasticity (physics)
In physics, elasticity is the physical property of a material that returns to its original shape after the stress that made it deform or distort is removed. The relative amount of deformation is called the strain....
European Ash wood was commonly used for walking sticks. Poles were cut from a coppice and the ends heated in steam. The wood could then be bent in a curved
vise
Vise (tool)
A vise or vice is a mechanical screw apparatus used for holding or clamping a work piece to allow work to be performed on it with tools such as saws, planes, drills, mills, screwdrivers, sandpaper, etc. Vises usually have one fixed jaw and another, parallel, jaw which is moved towards or away from...
to form the handle of the walking stick. The light colour and attractive grain of ash wood make it popular in modern furniture such as chairs, dining tables, doors and other architectural features and
wood flooring
Wood flooring
Wood flooring is any product manufactured from timber that is designed for use as flooring, either structural or aesthetic. Bamboo flooring is often considered a wood floor, although it is made from a grass rather than a timber....
, although the wood is often popularly stained jet black.
Ash is the only wood used for the manufacture of
hurleys
Hurley (stick)
A hurley is a wooden stick used to hit a sliotar in the Irish sport of hurling. It measures between 70 and 100 cm long with a flattened, curved end which provides the striking surface...
, referred to as hurls in parts of
Leinster
Leinster
Leinster is one of the Provinces of Ireland situated in the east of Ireland. It comprises the ancient Kingdoms of Mide, Osraige and Leinster. Following the Norman invasion of Ireland, the historic fifths of Leinster and Mide gradually merged, mainly due to the impact of the Pale, which straddled...
and known as a camán in
Irish
Irish language
Irish , also known as Irish Gaelic, is a Goidelic language of the Indo-European language family, originating in Ireland and historically spoken by the Irish people. Irish is now spoken as a first language by a minority of Irish people, as well as being a second language of a larger proportion of...
, the timber sticks used in the game of
hurling
Hurling
Hurling is an outdoor team game of ancient Gaelic origin, administered by the Gaelic Athletic Association, and played with sticks called hurleys and a ball called a sliotar. Hurling is the national game of Ireland. The game has prehistoric origins, has been played for at least 3,000 years, and...
in
Ireland
Ireland
Ireland is an island to the northwest of continental Europe. It is the third-largest island in Europe and the twentieth-largest island on Earth...
. Hurleys are manufactured from the butt log (bottom 1.5 metre of the stem) and from trees ideally of a diameter at breast height of approximately 25-30 centimetres. Only fast grown, straight and branch free ash can be used for this purpose. Due to the lack of available ash in Ireland, over 75% of the timber needed to produce the 350,000 hurleys required for the game annually must be imported, mostly from eastern European countries. The importance of ash timber to the game of hurling is reflected in the fact that the game is referred to all over
Ireland
Ireland
Ireland is an island to the northwest of continental Europe. It is the third-largest island in Europe and the twentieth-largest island on Earth...
as "The Clash Of The Ash".
Mythology
In the 13th century
Edda
Edda
The term Edda applies to the Old Norse Poetic Edda and Prose Edda, both of which were written down in Iceland during the 13th century in Icelandic, although they contain material from earlier traditional sources, reaching into the Viking Age...
and other writing relating to
Norse mythology
Norse mythology
Norse mythology, a subset of Germanic mythology, is the overall term for the myths, legends and beliefs about supernatural beings of Norse pagans. It flourished prior to the Christianization of Scandinavia, during the Early Middle Ages, and passed into Nordic folklore, with some aspects surviving...
, a mythological ash tree called
Yggdrasil
Yggdrasil
In Norse mythology, Yggdrasil is an immense tree that is central in Norse cosmology. It was said to be the world tree around which the nine worlds existed...
serves as
the center of the world
Axis mundi
The axis mundi , in religion or mythology, is the world center and/or the connection between heaven and Earth. As the celestial pole and geographic pole, it expresses a point of connection between sky and earth where the four compass directions meet...
. Its roots were anchored in the abyss of the underworld, and watered by the streams of wisdom and faith. Its trunk was supported by the earth, while its crown touched the arc of heaven.
Cultivars
There are a number of
cultivar
Cultivar
A cultivar'Cultivar has two meanings as explained under Formal definition. When used in reference to a taxon, the word does not apply to an individual plant but to all those plants sharing the unique characteristics that define the cultivar. is a plant or group of plants selected for desirable...
s including;
Fraxinus excelsior 'Aurea', see 'Jaspidea'
Fraxinus excelsior 'Aurea Pendula' (Weeping Golden Ash)
Fraxinus excelsior 'Autumn Blaze'
Fraxinus excelsior 'Autumn Purple'
Fraxinus excelsior 'Crispa'
Fraxinus excelsior 'Diversifolia' (One-leaved Ash)
Fraxinus excelsior 'Erosa'
Fraxinus excelsior 'Jaspidea' (Golden Ash)
Fraxinus excelsior 'Monophylla'
Fraxinus excelsior 'Nana'
Fraxinus excelsior 'Pendula' (Weeping Ash), one of the best known cultivars, widely planted during the Victorian era

Victorian era

The Victorian era of British history was the period of Queen Victoria's reign from 20 June 1837 until her death on 22 January 1901. It was a long period of peace, prosperity, refined sensibilities and national self-confidence...


, it grows vigorously forming an attractive small to medium size tree with mounds of weeping branches.
Fraxinus excelsior 'Skyline'.