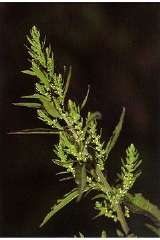 Epazote
Epazote
,
wormseed
,
Jesuit's tea
,
Mexican tea
,
Paico
or
Herba Sancti Mariæ
(
Dysphania ambrosioides
, formerly
Chenopodium ambrosioides
) is an
herb
Herb
Except in botanical usage, an herb is "any plant with leaves, seeds, or flowers used for flavoring, food, medicine, or perfume" or "a part of such a plant as used in cooking"...
native to
Central America
Central America
Central America is the central geographic region of the Americas. It is the southernmost, isthmian portion of the North American continent, which connects with South America on the southeast. When considered part of the unified continental model, it is considered a subcontinent...
,
South America
South America
South America is a continent situated in the Western Hemisphere, mostly in the Southern Hemisphere, with a relatively small portion in the Northern Hemisphere. The continent is also considered a subcontinent of the Americas. It is bordered on the west by the Pacific Ocean and on the north and east...
, and southern
Mexico
Mexico
The United Mexican States , commonly known as Mexico , is a federal constitutional republic in North America. It is bordered on the north by the United States; on the south and west by the Pacific Ocean; on the southeast by Guatemala, Belize, and the Caribbean Sea; and on the east by the Gulf of...
.
Growth
It is an
annual
Annual plant
An annual plant is a plant that usually germinates, flowers, and dies in a year or season. True annuals will only live longer than a year if they are prevented from setting seed...
or short-lived
perennial plant
Perennial plant
A perennial plant or simply perennial is a plant that lives for more than two years. The term is often used to differentiate a plant from shorter lived annuals and biennials. The term is sometimes misused by commercial gardeners or horticulturalists to describe only herbaceous perennials...
, growing to 1.2 m tall, irregularly branched, with oblong-lanceolate
leaves
Leaf
A leaf is an organ of a vascular plant, as defined in botanical terms, and in particular in plant morphology. Foliage is a mass noun that refers to leaves as a feature of plants....
up to 12 cm long. The
flower
Flower
A flower, sometimes known as a bloom or blossom, is the reproductive structure found in flowering plants . The biological function of a flower is to effect reproduction, usually by providing a mechanism for the union of sperm with eggs...
s are small and green, produced in a branched
panicle
Panicle
A panicle is a compound raceme, a loose, much-branched indeterminate inflorescence with pedicellate flowers attached along the secondary branches; in other words, a branched cluster of flowers in which the branches are racemes....
at the apex of the stem.
As well as in its native areas, it is grown in warm temperate to
subtropical
Subtropics
The subtropics are the geographical and climatical zone of the Earth immediately north and south of the tropical zone, which is bounded by the Tropic of Cancer and the Tropic of Capricorn, at latitudes 23.5°N and 23.5°S...
areas of
Europe
Europe
Europe is, by convention, one of the world's seven continents. Comprising the westernmost peninsula of Eurasia, Europe is generally 'divided' from Asia to its east by the watershed divides of the Ural and Caucasus Mountains, the Ural River, the Caspian and Black Seas, and the waterways connecting...
and the
United States
United States
The United States of America is a federal constitutional republic comprising fifty states and a federal district...
(
Missouri
Missouri
Missouri is a US state located in the Midwestern United States, bordered by Iowa, Illinois, Kentucky, Tennessee, Arkansas, Oklahoma, Kansas and Nebraska. With a 2010 population of 5,988,927, Missouri is the 18th most populous state in the nation and the fifth most populous in the Midwest. It...
,
New England
New England
New England is a region in the northeastern corner of the United States consisting of the six states of Maine, New Hampshire, Vermont, Massachusetts, Rhode Island, and Connecticut...
,
Eastern United States
Eastern United States
The Eastern United States, the American East, or simply the East is traditionally defined as the states east of the Mississippi River. The first two tiers of states west of the Mississippi have traditionally been considered part of the West, but can be included in the East today; usually in...
), sometimes becoming an
invasive
Invasive species
"Invasive species", or invasive exotics, is a nomenclature term and categorization phrase used for flora and fauna, and for specific restoration-preservation processes in native habitats, with several definitions....
weed
Weed
A weed in a general sense is a plant that is considered by the user of the term to be a nuisance, and normally applied to unwanted plants in human-controlled settings, especially farm fields and gardens, but also lawns, parks, woods, and other areas. More specifically, the term is often used to...
.
Etymology
The common Spanish name,
epazote
(sometimes spelled and pronounced
ipasote
or
ypasote
), is derived from (eˈpasoːtɬ).
Culinary uses
Epazote is used as a
leaf vegetable
Leaf vegetable
Leaf vegetables, also called potherbs, green vegetables, greens, leafy greens or salad greens, are plant leaves eaten as a vegetable, sometimes accompanied by tender petioles and shoots...
and
herb
Herb
Except in botanical usage, an herb is "any plant with leaves, seeds, or flowers used for flavoring, food, medicine, or perfume" or "a part of such a plant as used in cooking"...
for its pungent flavor. Raw, it has a resinous, medicinal pungency, similar to
anise
Anise
Anise , Pimpinella anisum, also called aniseed, is a flowering plant in the family Apiaceae native to the eastern Mediterranean region and Southwest Asia. Its flavor resembles that of liquorice, fennel, and tarragon.- Biology :...
,
fennel
Fennel
Fennel is a plant species in the genus Foeniculum . It is a member of the family Apiaceae . It is a hardy, perennial, umbelliferous herb, with yellow flowers and feathery leaves...
, or even
tarragon
Tarragon
Tarragon or dragon's-wort is a perennial herb in the family Asteraceae related to wormwood. Corresponding to its species name, a common term for the plant is "dragon herb". It is native to a wide area of the Northern Hemisphere from easternmost Europe across central and eastern Asia to India,...
, but stronger. Epazote's fragrance is strong but difficult to describe. It has been compared to
citrus
Citrus
Citrus is a common term and genus of flowering plants in the rue family, Rutaceae. Citrus is believed to have originated in the part of Southeast Asia bordered by Northeastern India, Myanmar and the Yunnan province of China...
,
petroleum
Petroleum
Petroleum or crude oil is a naturally occurring, flammable liquid consisting of a complex mixture of hydrocarbons of various molecular weights and other liquid organic compounds, that are found in geologic formations beneath the Earth's surface. Petroleum is recovered mostly through oil drilling...
,
turpentine
Turpentine
Turpentine is a fluid obtained by the distillation of resin obtained from trees, mainly pine trees. It is composed of terpenes, mainly the monoterpenes alpha-pinene and beta-pinene...
, savory,
mint
Mentha
Mentha is a genus of flowering plants in the family Lamiaceae . The species are not clearly distinct and estimates of the number of species varies from 13 to 18. Hybridization between some of the species occurs naturally...
and
camphor
Camphor
Camphor is a waxy, white or transparent solid with a strong, aromatic odor. It is a terpenoid with the chemical formula C10H16O. It is found in wood of the camphor laurel , a large evergreen tree found in Asia and also of Dryobalanops aromatica, a giant of the Bornean forests...
.
Although it is traditionally used with black beans for flavor and its
carminative
Carminative
A carminative, also known as carminativum , is a herb or preparation that either prevents formation of gas in the gastrointestinal tract or facilitates the expulsion of said gas, thereby combating flatulence...
properties, it is also sometimes used to flavor other traditional Mexican dishes as well: it can be used to season quesadillas and
sope
Sope
A sope is a traditional Mexican dish originating in the city of Culiacán. Originally called gordita or pelliscadas in Culiacán. It is an antojito which at first sight looks like an unusually thick tortilla with vegetables and meat toppings...
s (especially those containing huitlacoche), soups,
mole
Mole (sauce)
Mole is the generic name for a number of sauces used in Mexican cuisine, as well as for dishes based on these sauces...
de olla, tamales with
cheese
Cheese
Cheese is a generic term for a diverse group of milk-based food products. Cheese is produced throughout the world in wide-ranging flavors, textures, and forms....
and chile,
chilaquiles
Chilaquiles
Chilaquiles is a traditional Mexican dish. Typically, corn tortillas cut in quarters and lightly fried are the basis of the dish. Green, red salsa or mole, is poured over the crisp tortilla triangles, called totopos. The mixture is simmered until the tortilla starts softening. Eggs and pulled...
, eggs and potatoes and enchiladas.
Medicinal uses
Epazote is commonly believed to prevent
flatulence
Flatulence
Flatulence is the expulsion through the rectum of a mixture of gases that are byproducts of the digestion process of mammals and other animals. The medical term for the mixture of gases is flatus, informally known as a fart, or simply gas...
caused by eating
bean
Bean
Bean is a common name for large plant seeds of several genera of the family Fabaceae used for human food or animal feed....
s and is therefore used to season them. It is also used in the treatment of amenorrhea,
dysmenorrhea
Dysmenorrhea
Dysmenorrhea is a gynecological medical condition of pain during menstruation that interferes with daily activities, as defined by ACOG and others. Still, dysmenorrhea is often defined simply as menstrual pain, or at least menstrual pain that is excessive...
,
malaria
Malaria
Malaria is a mosquito-borne infectious disease of humans and other animals caused by eukaryotic protists of the genus Plasmodium. The disease results from the multiplication of Plasmodium parasites within red blood cells, causing symptoms that typically include fever and headache, in severe cases...
,
chorea
Chorea (disease)
Choreia is an abnormal involuntary movement disorder, one of a group of neurological disorders called dyskinesias. The term choreia is derived from the Greek word χορεία , see choreia , as the quick movements of the feet or hands are vaguely comparable to dancing or piano playing.The term...
,
hysteria
Hysteria
Hysteria, in its colloquial use, describes unmanageable emotional excesses. People who are "hysterical" often lose self-control due to an overwhelming fear that may be caused by multiple events in one's past that involved some sort of severe conflict; the fear can be centered on a body part, or,...
,
catarrh
Catarrh
Catarrh is a disorder of inflammation of the mucous membranes in one of the airways or cavities of the body. It can result in a thick exudate of mucus and white blood cells caused by the swelling of the mucous membranes in the head in response to an infection...
, and
asthma
Asthma
Asthma is the common chronic inflammatory disease of the airways characterized by variable and recurring symptoms, reversible airflow obstruction, and bronchospasm. Symptoms include wheezing, coughing, chest tightness, and shortness of breath...
.
Oil of
chenopodium
Chenopodium
Chenopodium is a genus of about 150 species of perennial or annual herbaceous flowering plants known as the goosefoots, which occur almost anywhere in the world. It is placed in the family Amaranthaceae in the APG II system; older classifications separate it and its relatives as Chenopodiaceae, but...
is derived from this plant. It is antihelminthic, that is, it kills intestinal worms, and was once listed for this use in the
US Pharmacopeia
United States Pharmacopeia
The United States Pharmacopeia is the official pharmacopeia of the United States, published dually with the National Formulary as the USP-NF. The United States Pharmacopeial Convention is the nonprofit organization that owns the trademark and copyright to the USP-NF and publishes it every year...
. It is also cited as an
antispasmodic
Antispasmodic
An antispasmodic is a drug or a herb that suppresses muscle spasms.-Smooth muscle spasm:One type of antispasmodics is used for smooth muscle contraction, especially in tubular organs of the gastrointestinal tract...
and
abortifacient
Abortifacient
An abortifacient is a substance that induces abortion. Abortifacients for animals that have mated undesirably are known as mismating shots....
.
Epazote
essential oil
Essential oil
An essential oil is a concentrated hydrophobic liquid containing volatile aroma compounds from plants. Essential oils are also known as volatile oils, ethereal oils or aetherolea, or simply as the "oil of" the plant from which they were extracted, such as oil of clove...
contains
ascaridole
Ascaridole
Ascaridole is a natural organic compound classified as a bicyclic monoterpene that has an unusual bridging peroxide functional group. It is a colorless liquid with a pungent smell and taste that is soluble in most organic solvents. Like other low molecular weight organic peroxides, it is unstable...
(up to 70%),
limonene
Limonene
Limonene is a colourless liquid hydrocarbon classified as a cyclic terpene. The more common D isomer possesses a strong smell of oranges. It is used in chemical synthesis as a precursor to carvone and as a renewably-based solvent in cleaning products....
,
p-cymene
Cymene
Cymene, or p-cymene, is a naturally occurring aromatic organic compound. It is classified as a hydrocarbon related to a monoterpene. Its structure consists of a benzene ring para-substituted with a methyl group and an isopropyl group...
, and smaller amounts of numerous other
monoterpenes
Terpene
Terpenes are a large and diverse class of organic compounds, produced by a variety of plants, particularly conifers, though also by some insects such as termites or swallowtail butterflies, which emit terpenes from their osmeterium. They are often strong smelling and thus may have had a protective...
and monoterpene derivatives (
α-pinene
Pinene
Pinene is a bicyclic monoterpene chemical compound. There are two structural isomers of pinene found in nature: α-pinene and β-pinene. As the name suggests, both forms are important constituents of pine resin; they are also found in the resins of many other conifers, as well as in non-coniferous...
,
myrcene
,
terpinene
Terpinene
The terpinenes are three isomeric hydrocarbons that are classified as terpenes. They each have the same molecular formula and carbon framework, but they differ in the position of carbon-carbon double bonds. α-Terpinene has been isolated from cardamom and marjoram oils, and from other natural...
,
thymol
Thymol
Thymol is a natural monoterpene phenol derivative of cymene, C10H14O, isomeric with carvacrol, found in oil of thyme, and extracted from Thymus vulgaris and various other kinds of plants as a white crystalline substance of a pleasant aromatic odor and strong antiseptic properties...
,
camphor
Camphor
Camphor is a waxy, white or transparent solid with a strong, aromatic odor. It is a terpenoid with the chemical formula C10H16O. It is found in wood of the camphor laurel , a large evergreen tree found in Asia and also of Dryobalanops aromatica, a giant of the Bornean forests...
and trans-isocarveol).
Ascaridole
Ascaridole
Ascaridole is a natural organic compound classified as a bicyclic monoterpene that has an unusual bridging peroxide functional group. It is a colorless liquid with a pungent smell and taste that is soluble in most organic solvents. Like other low molecular weight organic peroxides, it is unstable...
(1,4-peroxido-p-menth-2-ene) is rather an uncommon constituent of spices; another plant owing much of its character to this monoterpene
peroxide
Peroxide
A peroxide is a compound containing an oxygen–oxygen single bond or the peroxide anion .The O−O group is called the peroxide group or peroxo group. In contrast to oxide ions, the oxygen atoms in the peroxide ion have an oxidation state of −1.The simplest stable peroxide is hydrogen peroxide...
is
boldo
Boldo
Peumus boldus, the only species in the genus Peumus, is commonly known as Boldo . This tree of the family Monimiaceae is natively endemic to the central region of Chile, occurring from 33° to 40° southern latitude...
. Ascaridole is toxic and has a pungent, not very pleasant flavor; in pure form, it is an explosive sensitive to shock. Allegedly, ascaridole content is lower in epazote from Mexico than in epazote grown in Europe or Asia.
External links