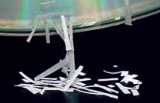 Electrostatics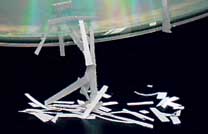 Electrostatics
is the branch of
physics
Physics
Physics is a natural science that involves the study of matter and its motion through spacetime, along with related concepts such as energy and force. More broadly, it is the general analysis of nature, conducted in order to understand how the universe behaves.Physics is one of the oldest academic...
that deals with the phenomena and properties of stationary or slow-moving (without acceleration)
electric charge
Electric charge
Electric charge is a physical property of matter that causes it to experience a force when near other electrically charged matter. Electric charge comes in two types, called positive and negative. Two positively charged substances, or objects, experience a mutual repulsive force, as do two...
s.
Since
classical antiquity
Classical antiquity
Classical antiquity is a broad term for a long period of cultural history centered on the Mediterranean Sea, comprising the interlocking civilizations of ancient Greece and ancient Rome, collectively known as the Greco-Roman world...
, it was known that some materials such as
amber
Amber
Amber is fossilized tree resin , which has been appreciated for its color and natural beauty since Neolithic times. Amber is used as an ingredient in perfumes, as a healing agent in folk medicine, and as jewelry. There are five classes of amber, defined on the basis of their chemical constituents...
attract lightweight particles after
rubbing
Triboelectric effect
The triboelectric effect is a type of contact electrification in which certain materials become electrically charged after they come into contact with another different material and are then separated...
. The
Greek
Greek language
Greek is an independent branch of the Indo-European family of languages. Native to the southern Balkans, it has the longest documented history of any Indo-European language, spanning 34 centuries of written records. Its writing system has been the Greek alphabet for the majority of its history;...
word for amber, , was the source of the word 'electricity'. Electrostatic phenomena arise from the
force
Force
In physics, a force is any influence that causes an object to undergo a change in speed, a change in direction, or a change in shape. In other words, a force is that which can cause an object with mass to change its velocity , i.e., to accelerate, or which can cause a flexible object to deform...
s that electric charges exert on each other. Such forces are described by
Coulomb's law
Coulomb's law
Coulomb's law or Coulomb's inverse-square law, is a law of physics describing the electrostatic interaction between electrically charged particles. It was first published in 1785 by French physicist Charles Augustin de Coulomb and was essential to the development of the theory of electromagnetism...
.
Even though electrostatically induced forces seem to be rather weak, the electrostatic force between e.g. an
electron
Electron
The electron is a subatomic particle with a negative elementary electric charge. It has no known components or substructure; in other words, it is generally thought to be an elementary particle. An electron has a mass that is approximately 1/1836 that of the proton...
and a
proton
Proton
The proton is a subatomic particle with the symbol or and a positive electric charge of 1 elementary charge. One or more protons are present in the nucleus of each atom, along with neutrons. The number of protons in each atom is its atomic number....
, that together make up a
hydrogen
Hydrogen
Hydrogen is the chemical element with atomic number 1. It is represented by the symbol H. With an average atomic weight of , hydrogen is the lightest and most abundant chemical element, constituting roughly 75% of the Universe's chemical elemental mass. Stars in the main sequence are mainly...
atom
Atom
The atom is a basic unit of matter that consists of a dense central nucleus surrounded by a cloud of negatively charged electrons. The atomic nucleus contains a mix of positively charged protons and electrically neutral neutrons...
, is about 40
orders of magnitude
Order of magnitude
An order of magnitude is the class of scale or magnitude of any amount, where each class contains values of a fixed ratio to the class preceding it. In its most common usage, the amount being scaled is 10 and the scale is the exponent being applied to this amount...
stronger than the
gravitation
Gravitation
Gravitation, or gravity, is a natural phenomenon by which physical bodies attract with a force proportional to their mass. Gravitation is most familiar as the agent that gives weight to objects with mass and causes them to fall to the ground when dropped...
al force acting between them.
Electrostatic phenomena include many examples as simple as the attraction of the plastic wrap to your hand after you remove it from a package, to the apparently spontaneous explosion of grain silos, to damage of electronic components during manufacturing, to the operation of photocopiers. Electrostatics involves the buildup of charge on the
surface
Surface
In mathematics, specifically in topology, a surface is a two-dimensional topological manifold. The most familiar examples are those that arise as the boundaries of solid objects in ordinary three-dimensional Euclidean space R3 — for example, the surface of a ball...
of objects due to contact with other surfaces. Although charge exchange happens whenever any two surfaces contact and separate, the effects of charge exchange are usually only noticed when at least one of the surfaces has a high resistance to electrical flow. This is because the charges that transfer to or from the highly resistive surface are more or less trapped there for a long enough time for their effects to be observed. These charges then remain on the object until they either bleed off to ground or are quickly neutralized by a
discharge
Discharge
Discharge in the context to expel or to "let go" may refer to:* A military discharge, issued when a member of the armed forces is released from service* Termination of employment, the end of an employee's duration with an employer...
: e.g., the familiar phenomenon of a static 'shock' is caused by the neutralization of charge built up in the body from contact with nonconductive surfaces.
Coulomb's law
The fundamental
equation
Equation
An equation is a mathematical statement that asserts the equality of two expressions. In modern notation, this is written by placing the expressions on either side of an equals sign , for examplex + 3 = 5\,asserts that x+3 is equal to 5...
of electrostatics is
Coulomb's law
Coulomb's law
Coulomb's law or Coulomb's inverse-square law, is a law of physics describing the electrostatic interaction between electrically charged particles. It was first published in 1785 by French physicist Charles Augustin de Coulomb and was essential to the development of the theory of electromagnetism...
, which describes the force between two point charges. The magnitude of the electrostatic force between two point electric charges
and

is directly proportional to the product of the magnitudes of each charge and inversely proportional to the surface area of a sphere whose radius is equal to the distance between the charges:

where ε
0
is a constant called the permittivity of free space, a defined value:

  in
A
Ampere
The ampere , often shortened to amp, is the SI unit of electric current and is one of the seven SI base units. It is named after André-Marie Ampère , French mathematician and physicist, considered the father of electrodynamics...
2
s
Second
The second is a unit of measurement of time, and is the International System of Units base unit of time. It may be measured using a clock....
4
kg
-1
m
−3
or
C
2
N
−1
m
−2
or
F
Farad
The farad is the SI unit of capacitance. The unit is named after the English physicist Michael Faraday.- Definition :A farad is the charge in coulombs which a capacitor will accept for the potential across it to change 1 volt. A coulomb is 1 ampere second...
m
−1
.
The electric field
The
electric field
Electric field
In physics, an electric field surrounds electrically charged particles and time-varying magnetic fields. The electric field depicts the force exerted on other electrically charged objects by the electrically charged particle the field is surrounding...
(in units of
volt
Volt
The volt is the SI derived unit for electric potential, electric potential difference, and electromotive force. The volt is named in honor of the Italian physicist Alessandro Volta , who invented the voltaic pile, possibly the first chemical battery.- Definition :A single volt is defined as the...
s per meter) at a point is defined as the force (in newtons) per unit charge (in
coulomb
s) on a charge at that point:

From this definition and Coulomb's law, it follows that the magnitude of the electric field
E
created by a single point charge
Q
is:

The electric field produced by a distribution of charges given by the volume
charge density
Charge density
The linear, surface, or volume charge density is the amount of electric charge in a line, surface, or volume, respectively. It is measured in coulombs per meter , square meter , or cubic meter , respectively, and represented by the lowercase Greek letter Rho . Since there are positive as well as...

is obtained by a triple integral of a vector function:

Gauss's law
Gauss' law states that "the total electric flux through a closed surface is proportional to the total
electric charge
Electric charge
Electric charge is a physical property of matter that causes it to experience a force when near other electrically charged matter. Electric charge comes in two types, called positive and negative. Two positively charged substances, or objects, experience a mutual repulsive force, as do two...
enclosed within the surface".
Mathematically, Gauss's law takes the form of an integral equation:

Alternatively, in differential form, the equation becomes

where

is the
divergence operator
Divergence
In vector calculus, divergence is a vector operator that measures the magnitude of a vector field's source or sink at a given point, in terms of a signed scalar. More technically, the divergence represents the volume density of the outward flux of a vector field from an infinitesimal volume around...
.
Poisson's equation
The definition of electrostatic potential, combined with the differential form of Gauss's law (above), provides a relationship between the potential φ and the charge density ρ:

This relationship is a form of
Poisson's equation
Poisson's equation
In mathematics, Poisson's equation is a partial differential equation of elliptic type with broad utility in electrostatics, mechanical engineering and theoretical physics...
.
Where

is vacuum permittivity.
Laplace's equation
In the absence of unpaired electric charge, the equation becomes

which is
Laplace's equation
Laplace's equation
In mathematics, Laplace's equation is a second-order partial differential equation named after Pierre-Simon Laplace who first studied its properties. This is often written as:where ∆ = ∇² is the Laplace operator and \varphi is a scalar function...
.
The electrostatic approximation
The validity of the electrostatic approximation rests on the assumption that the electric field is irrotational:

From
Faraday's law
Faraday's law of induction
Faraday's law of induction dates from the 1830s, and is a basic law of electromagnetism relating to the operating principles of transformers, inductors, and many types of electrical motors and generators...
, this assumption implies the absence or near-absence of time-varying magnetic fields:

In other words, electrostatics does not require the absence of magnetic fields or electric currents. Rather, if magnetic fields or electric currents
do
exist, they must not change with time, or in the worst-case, they must change with time only
very slowly
. In some problems, both electrostatics and
magnetostatics
Magnetostatics
Magnetostatics is the study of magnetic fields in systems where the currents are steady . It is the magnetic analogue of electrostatics, where the charges are stationary. The magnetization need not be static; the equations of magnetostatics can be used to predict fast magnetic switching events that...
may be required for accurate predictions, but the coupling between the two can still be ignored.
Electrostatic potential
Because the electric field is irrotational, it is possible to express the electric field as the
gradient
Gradient
In vector calculus, the gradient of a scalar field is a vector field that points in the direction of the greatest rate of increase of the scalar field, and whose magnitude is the greatest rate of change....
of a scalar function, called the electrostatic potential (also known as the
voltage
Voltage
Voltage, otherwise known as electrical potential difference or electric tension is the difference in electric potential between two points — or the difference in electric potential energy per unit charge between two points...
). An electric field,

, points from regions of high potential, φ, to regions of low potential, expressed mathematically as

The electrostatic potential at a point can be defined as the amount of work per unit charge required to move a charge from infinity to the given point.
Triboelectric series
The
triboelectric effect
Triboelectric effect
The triboelectric effect is a type of contact electrification in which certain materials become electrically charged after they come into contact with another different material and are then separated...
is a type of contact electrification in which certain materials become electrically charged when they are brought into contact with a different material and then separated. One of the materials acquires a positive charge, and the other acquires an equal negative charge. The polarity and strength of the charges produced differ according to the materials, surface roughness, temperature, strain, and other properties. Amber, for example, can acquire an electric charge by friction with a material like wool. This property, first recorded by Thales of Miletus, was the first electrical phenomenon investigated by man. Other examples of materials that can acquire a significant charge when rubbed together include glass rubbed with silk, and hard rubber rubbed with fur.
Electrostatic generators
The presence of
surface charge
Surface charge
Surface charge is the electric charge present at an interface. There are many different processes which can lead to a surface being charged, including adsorption of ions, protonation/deprotonation, and the application of an external electric field...
imbalance means that the objects will exhibit attractive or repulsive forces. This surface charge imbalance, which yields static electricity, can be generated by touching two differing surfaces together and then separating them due to the phenomena of
contact electrification
Contact electrification
Contact electrification is an obsolete scientific theory from the Enlightenment that attempted to account for all the sources of electric charge known at the time. In the late 18th century, scientists developed sensitive instruments for detecting 'electrification', otherwise known as electrostatic...
and the
triboelectric effect
Triboelectric effect
The triboelectric effect is a type of contact electrification in which certain materials become electrically charged after they come into contact with another different material and are then separated...
. Rubbing two nonconductive objects generates a great amount of static electricity. This is not just the result of friction; two nonconductive surfaces can become charged by just being placed one on top of the other. Since most surfaces have a rough texture, it takes longer to achieve charging through contact than through rubbing. Rubbing objects together increases amount of adhesive contact between the two surfaces. Usually insulators, e.g., substances that do not conduct electricity, are good at both generating, and holding, a surface charge. Some examples of these substances are
rubber
Rubber
Natural rubber, also called India rubber or caoutchouc, is an elastomer that was originally derived from latex, a milky colloid produced by some plants. The plants would be 'tapped', that is, an incision made into the bark of the tree and the sticky, milk colored latex sap collected and refined...
,
plastic
Plastic
A plastic material is any of a wide range of synthetic or semi-synthetic organic solids used in the manufacture of industrial products. Plastics are typically polymers of high molecular mass, and may contain other substances to improve performance and/or reduce production costs...
,
glass
Glass
Glass is an amorphous solid material. Glasses are typically brittle and optically transparent.The most familiar type of glass, used for centuries in windows and drinking vessels, is soda-lime glass, composed of about 75% silica plus Na2O, CaO, and several minor additives...
, and
pith
Pith
Pith, or medulla, is a tissue in the stems of vascular plants. Pith is composed of soft, spongy parenchyma cells, which store and transport nutrients throughout the plant. In eudicots, pith is located in the center of the stem. In monocots, it extends also into flowering stems and roots...
. Conductive objects only rarely generate charge imbalance except, for example, when a metal surface is impacted by solid or liquid nonconductors. The charge that is transferred during contact electrification is stored on the surface of each object.
Static electric generators
Electrostatic generator
An electrostatic generator, or electrostatic machine, is a mechanical device that produces static electricity, or electricity at high voltage and low continuous current...
, devices which produce very high voltage at very low current and used for classroom physics demonstrations, rely on this effect.
Note that the presence of
electric current
Electric current
Electric current is a flow of electric charge through a medium.This charge is typically carried by moving electrons in a conductor such as wire...
does not detract from the electrostatic forces nor from the sparking, from the
corona discharge
Corona discharge
In electricity, a corona discharge is an electrical discharge brought on by the ionization of a fluid surrounding a conductor that is electrically energized...
, or other phenomena. Both phenomena can exist simultaneously in the same system.
See also: Friction machines, Wimshurst machine

Wimshurst machine

The Wimshurst influence machine is an electrostatic generator, a machine for generating high voltages developed between 1880 and 1883 by British inventor James Wimshurst ....


s, and Van de Graaf generators.
Charge neutralization
Natural electrostatic phenomena are most familiar as an occasional annoyance in seasons of low humidity, but can be destructive and harmful in some situations (e.g. electronics manufacturing). When working in direct contact with integrated circuit electronics (especially delicate
MOSFET
MOSFET
The metal–oxide–semiconductor field-effect transistor is a transistor used for amplifying or switching electronic signals. The basic principle of this kind of transistor was first patented by Julius Edgar Lilienfeld in 1925...
s), or in the presence of flammable gas, care must be taken to avoid accumulating and suddenly discharging a static charge (see
electrostatic discharge
Electrostatic discharge
Electrostatic discharge is a serious issue in solid state electronics, such as integrated circuits. Integrated circuits are made from semiconductor materials such as silicon and insulating materials such as silicon dioxide...
).
Charge induction
Charge induction occurs when a negatively charged object repels electrons from the surface of a second object. This creates a region in the second object that is more positively charged. An attractive force is then exerted between the objects. For example, when a balloon is rubbed, the balloon will stick to the wall as an attractive force is exerted by two oppositely charged surfaces (the surface of the wall gains an electric charge due to charge induction, as the free electrons at the surface of the wall are repelled by the negative balloon, creating a positive wall surface, which is subsequently attracted to the surface of the balloon). You can explore the effect with a simulation of the
balloon and static electricity.
'Static' electricity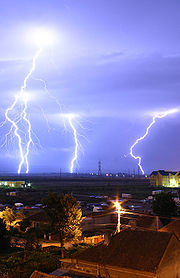 Before the year 1832, when
Michael Faraday
Michael Faraday
Michael Faraday, FRS was an English chemist and physicist who contributed to the fields of electromagnetism and electrochemistry....
published the results of his experiment on the identity of electricities, physicists thought "static electricity" was somehow different from other electrical charges. Michael Faraday proved that the electricity induced from the magnet, voltaic electricity produced by a battery, and static electricity are all the same.
Static electricity is usually caused when certain materials are rubbed against each other, like wool on plastic or the soles of shoes on carpet. The process causes electrons to be pulled from the surface of one material and relocated on the surface of the other material.
A static shock occurs when the surface of the second material, negatively charged with electrons, touches a positively-charged conductor, or vice-versa.
Static electricity is commonly used in
xerography
Xerography
Xerography is a dry photocopying technique invented by Chester Carlson in 1938, for which he was awarded on October 6, 1942. Carlson originally called his invention electrophotography...
,
air filter
Air filter
A particulate air filter is a device composed of fibrous materials which removes solid particulates such as dust, pollen, mold, and bacteria from the air. A chemical air filter consists of an absorbent or catalyst for the removal of airborne molecular contaminants such as volatile organic compounds...
s, and some automotive paints.
Static electricity is a build up of electric charges on two objects that have become separated from each other.
Small electrical components can easily be damaged by static electricity. Component manufacturers use a number of antistatic devices to avoid this.
Static electricity and chemical industry
When different materials are brought together and then separated, an accumulation of electric charge can occur which leaves one material positively charged while the other becomes negatively charged. The mild shock that you receive when touching a grounded object after walking on carpet is an example of excess electrical charge accumulating in your body from frictional charging between your shoes and the carpet. The resulting charge build-up upon your body can generate a strong electrical discharge. Although experimenting with static electricity may be fun, similar sparks create severe hazards in those industries dealing with flammable substances, where a small electrical spark may ignite explosive mixtures with devastating consequences.
A similar charging mechanism can occur within low conductivity fluids flowing through pipelines—a process called flow electrification. Fluids which have low electrical conductivity (below 50 picosiemens per meter, where picosiemens per meter is a measure of electrical conductivity), are called accumulators. Fluids having conductivities above 50 pS/m are called non-accumulators. In non-accumulators, charges recombine as fast as they are separated and hence electrostatic charge generation is not significant. In the petrochemical industry, 50 pS/m is the recommended minimum value of electrical conductivity for adequate removal of charge from a fluid.
An important concept for insulating fluids is the static relaxation time. This is similar to the time constant (tau) within an
RC circuit
RC circuit
A resistor–capacitor circuit ', or RC filter or RC network, is an electric circuit composed of resistors and capacitors driven by a voltage or current source...
. For insulating materials, it is the ratio of the static
dielectric constant
Dielectric constant
The relative permittivity of a material under given conditions reflects the extent to which it concentrates electrostatic lines of flux. In technical terms, it is the ratio of the amount of electrical energy stored in a material by an applied voltage, relative to that stored in a vacuum...
divided by the electrical conductivity of the material. For hydrocarbon fluids, this is sometimes approximated by dividing the number 18 by the electrical conductivity of the fluid. Thus a fluid that has an electrical conductivity of 1 pS/cm (100 pS/m) will have an estimated relaxation time of about 18 seconds. The excess charge within a fluid will be almost completely dissipated after 4 to 5 times the relaxation time, or 90 seconds for the fluid in the above example.
Charge generation increases at higher fluid velocities and larger pipe diameters, becoming quite significant in pipes 8 inches (203.2 mm) or larger. Static charge generation in these systems is best controlled by limiting fluid velocity. The British standard BS PD CLC/TR 50404:2003 (formerly BS-5958-Part 2) Code of Practice for Control of Undesirable Static Electricity prescribes velocity limits. Because of its large impact on dielectric constant, the recommended velocity for hydrocarbon fluids containing water should be limited to 1 m/s.
Bonding and earthing are the usual ways by which charge buildup can be prevented. For fluids with electrical conductivity below 10 pS/m, bonding and earthing are not adequate for charge dissipation, and anti-static additives may be required.
Applicable standards
1.BS PD CLC/TR 50404:2003 Code of Practice for Control of Undesirable Static Electricity
2.NFPA 77 (2007) Recommended Practice on Static Electricity
3.API RP 2003 (1998) Protection Against Ignitions Arising Out of Static, Lightning, and Stray Currents
Electrostatic induction in commercial applications
The principle of electrostatic induction has been harnessed to beneficial effect in industry for many years, beginning with the introduction of electrostatic industrial painting systems for the economical and even application of enamel and polyurethane paints to consumer goods, including automobiles, bicycles, and other products.
See also
General
Further reading
Essays
Books
External links