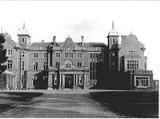 Easthampstead Park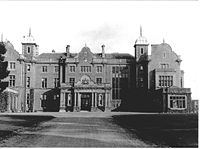 Easthampstead Park
is a
Victorian
Victorian architecture
The term Victorian architecture refers collectively to several architectural styles employed predominantly during the middle and late 19th century. The period that it indicates may slightly overlap the actual reign, 20 June 1837 – 22 January 1901, of Queen Victoria. This represents the British and...
mansion
Mansion
A mansion is a very large dwelling house. U.S. real estate brokers define a mansion as a dwelling of over . A traditional European mansion was defined as a house which contained a ballroom and tens of bedrooms...
in the
civil parish
Civil parish
In England, a civil parish is a territorial designation and, where they are found, the lowest tier of local government below districts and counties...
of
Bracknell
Bracknell
Bracknell is a town and civil parish in the Borough of Bracknell Forest in Berkshire, England. It lies to the south-east of Reading, southwest of Windsor and west of central London...
in the
English
England
England is a country that is part of the United Kingdom. It shares land borders with Scotland to the north and Wales to the west; the Irish Sea is to the north west, the Celtic Sea to the south west, with the North Sea to the east and the English Channel to the south separating it from continental...
county of
Berkshire
Berkshire
Berkshire is a historic county in the South of England. It is also often referred to as the Royal County of Berkshire because of the presence of the royal residence of Windsor Castle in the county; this usage, which dates to the 19th century at least, was recognised by the Queen in 1957, and...
. It is currently a
conference centre
Convention center
A convention center is a large building that is designed to hold a convention, where individuals and groups gather to promote and share common interests. Convention centers typically offer sufficient floor area to accommodate several thousand attendees...
.
Location
Since the demise of
Easthampstead
Easthampstead
Easthampstead is today a southern suburb of the town of Bracknell in the English county of Berkshire, although the old village can still be easily identified around the Church of St Michael and St Mary Magdalene...
parish, the house has been located in the western extremes of Bracknell parish, between the Southern Industrial Estate and
Wokingham
Wokingham
Wokingham is a market town and civil parish in Berkshire in South East England about west of central London. It is about east-southeast of Reading and west of Bracknell. It spans an area of and, according to the 2001 census, has a population of 30,403...
. It is surrounded by a 60 acres (242,811.6 m²) estate, which, in 1786, had extended to 5,000 acres (20 km²). Some of this land is now taken up by the Downshire Golf Course.
Architecture
Easthampstead Park is listed by the
Department for the Environment
Secretary of State for the Environment
The Secretary of State for the Environment was a UK cabinet position, responsible for the Department of the Environment . This was created by Edward Heath as a combination of the Ministry of Housing and Local Government, the Ministry of Transport and the Ministry of Public Building and Works on 15...
as "a building of historic and architectural interest, in
Jacobean style
Jacobethan
Jacobethan is the style designation coined in 1933 by John Betjeman to describe the mixed national Renaissance revival style that was made popular in England from the late 1820s, which derived most of its inspiration and its repertory from the English Renaissance , with elements of Elizabethan and...
with curved gables, pierced stone parapet and stone frontispiece of naive classicism".
Royal lodge
In the
Middle Ages
Middle Ages
The Middle Ages is a periodization of European history from the 5th century to the 15th century. The Middle Ages follows the fall of the Western Roman Empire in 476 and precedes the Early Modern Era. It is the middle period of a three-period division of Western history: Classic, Medieval and Modern...
,
Easthampstead
Easthampstead
Easthampstead is today a southern suburb of the town of Bracknell in the English county of Berkshire, although the old village can still be easily identified around the Church of St Michael and St Mary Magdalene...
was a part of
Windsor Forest
Windsor Great Park
Windsor Great Park is a large deer park of , to the south of the town of Windsor on the border of Berkshire and Surrey in England. The park was, for many centuries, the private hunting ground of Windsor Castle and dates primarily from the mid-13th century...
, and was reserved for royal hunting. King
Edward III
Edward III of England
Edward III was King of England from 1327 until his death and is noted for his military success. Restoring royal authority after the disastrous reign of his father, Edward II, Edward III went on to transform the Kingdom of England into one of the most formidable military powers in Europe...
had a hunting lodge at Easthampstead, an easy ride from
Windsor
Windsor, Berkshire
Windsor is an affluent suburban town and unparished area in the Royal Borough of Windsor and Maidenhead in Berkshire, England. It is widely known as the site of Windsor Castle, one of the official residences of the British Royal Family....
, which he had built in 1350.
Henry VII
Henry VII of England
Henry VII was King of England and Lord of Ireland from his seizing the crown on 22 August 1485 until his death on 21 April 1509, as the first monarch of the House of Tudor....
and his son
Arthur, Prince of Wales
Arthur, Prince of Wales
Arthur Tudor, Prince of Wales was the first son of King Henry VII of England and Elizabeth of York, and therefore, heir to the throne of England. As he predeceased his father, Arthur never became king...
arranged the latter's marriage to
Catherine of Aragon
Catherine of Aragon
Catherine of Aragon , also known as Katherine or Katharine, was Queen consort of England as the first wife of King Henry VIII of England and Princess of Wales as the wife to Arthur, Prince of Wales...
at the lodge and later rode out from here for their first meeting with the princess on
Finchampstead
Finchampstead
Finchampstead is a civil parish near Wokingham in the English county of Berkshire. Its northern extremity is situated south of Wokingham, west of Bracknell, south-east of Reading, and west of Central London.-Geography:...
Ridges. After the death of his brother in 1502,
Henry VIII
Henry VIII of England
Henry VIII was King of England from 21 April 1509 until his death. He was Lord, and later King, of Ireland, as well as continuing the nominal claim by the English monarchs to the Kingdom of France...
married Catherine as his first wife and she later spent a miserable few years at Easthampstead Park awaiting news of her husband's attempt to divorce her when his attentions turned to
Anne Boleyn
Anne Boleyn
Anne Boleyn ;c.1501/1507 – 19 May 1536) was Queen of England from 1533 to 1536 as the second wife of Henry VIII of England and Marquess of Pembroke in her own right. Henry's marriage to Anne, and her subsequent execution, made her a key figure in the political and religious upheaval that was the...
.
Sir John Mason (1503-1566) became Keeper of Easthampstead Park in 1548 and King
James I
James I of England
James VI and I was King of Scots as James VI from 24 July 1567 and King of England and Ireland as James I from the union of the English and Scottish crowns on 24 March 1603...
enlarged and improved the estate, which was well stocked with deer.
Trumbull home
Charles I
Charles I of England
Charles I was King of England, King of Scotland, and King of Ireland from 27 March 1625 until his execution in 1649. Charles engaged in a struggle for power with the Parliament of England, attempting to obtain royal revenue whilst Parliament sought to curb his Royal prerogative which Charles...
gave the Park to William Trumbull on 26 March 1628, in recognition of his service as
ambassador
Ambassador
An ambassador is the highest ranking diplomat who represents a nation and is usually accredited to a foreign sovereign or government, or to an international organization....
to the Archduke Albert of Austria, Regent of the Netherlands, and later as Clerk of the Privy Council, on the condition that he maintain a herd of 200 deer for the King's recreation in the deer park. The royal hunting lodge was incorporated into a newly built mansion. William Trumbull died in September 1635 and is buried in Easthampstead
parish church
Church of England parish church
A parish church in the Church of England is the church which acts as the religious centre for the people within the smallest and most basic Church of England administrative region, known as a parish.-Parishes in England:...
.
William Trumbull (2nd) lived from 1594 to 1668. In 1636, Charles I issued a charter to give Easthampstead Park to the Trumbulls permanently, confirming the gift of 1628. The charter had long been lost, but was recently discovered in London. It has now been purchased by
Berkshire Record Office
Berkshire Record Office
The Berkshire Record Office is the county record office for Berkshire, England. It is located in Reading. The Berkshire Record Office opened on 10 August 1948.-Further reading:...
with support from the MLA/
Victoria and Albert Museum
Victoria and Albert Museum
The Victoria and Albert Museum , set in the Brompton district of The Royal Borough of Kensington and Chelsea, London, England, is the world's largest museum of decorative arts and design, housing a permanent collection of over 4.5 million objects...
Purchase Grant Fund.
Sir
William Trumbull
William Trumbull
Sir William Trumbull was an English statesman who held high office as a member of the First Whig Junto.-Biography:...
(3rd) (1639–1716) was the most distinguished of the family, active in the Royal service overseas. He was a fellow of
All Souls College, Oxford
All Souls College, Oxford
The Warden and the College of the Souls of all Faithful People deceased in the University of Oxford or All Souls College is one of the constituent colleges of the University of Oxford in England....
and a
barrister
Barrister
A barrister is a member of one of the two classes of lawyer found in many common law jurisdictions with split legal professions. Barristers specialise in courtroom advocacy, drafting legal pleadings and giving expert legal opinions...
. Sir William Trumbull befriended
Alexander Pope
Alexander Pope
Alexander Pope was an 18th-century English poet, best known for his satirical verse and for his translation of Homer. He is the third-most frequently quoted writer in The Oxford Dictionary of Quotations, after Shakespeare and Tennyson...
the poet, who lived in
Binfield
Binfield
Binfield is a village and civil parish in the Bracknell Forest borough of Berkshire, England. According to the 2001 census it has a population of 7,475...
and was a frequent visitor to Easthampstead Park.
Another poet,
Elijah Fenton
Elijah Fenton
-Life:Born in Shelton , and educated at Jesus College, Cambridge, for a time he acted as secretary to the Charles Boyle, 4th Earl of Orrery in Flanders, and was then Master of Sevenoaks Grammar School.In 1707, Fenton published a book of poems...
, was tutor to William Trumbull (4th) (1708–1760). His only child, Mary Trumbull, married Martin Sandys in 1760. Their only child, Mary Sandys (1764–1836), married
Arthur Hill, 2nd Marquess of Downshire
Arthur Hill, 2nd Marquess of Downshire
Arthur Hill, 2nd Marquess of Downshire PC, FRS , styled Viscount Kilwarlin until 1789 and Earl of Hillsborough from 1789 to 1793, was a British peer and MP.-Life:...
(1753–1801) in 1786 and was later created Baroness Sandys.
Trumbull manuscripts
The Trumbull inheritance included 380 volumes of manuscripts collected by Sir William Trumbull (3rd). The archive, which features letters by Stuart kings,
Philip II of Spain
Philip II of Spain
Philip II was King of Spain, Portugal, Naples, Sicily, and, while married to Mary I, King of England and Ireland. He was lord of the Seventeen Provinces from 1556 until 1581, holding various titles for the individual territories such as duke or count....
, Marie de Medici,
Bacon
Francis Bacon
Francis Bacon, 1st Viscount St Albans, KC was an English philosopher, statesman, scientist, lawyer, jurist, author and pioneer of the scientific method. He served both as Attorney General and Lord Chancellor of England...
,
Donne
John Donne
John Donne 31 March 1631), English poet, satirist, lawyer, and priest, is now considered the preeminent representative of the metaphysical poets. His works are notable for their strong and sensual style and include sonnets, love poetry, religious poems, Latin translations, epigrams, elegies, songs,...
,
Dryden
John Dryden
John Dryden was an influential English poet, literary critic, translator, and playwright who dominated the literary life of Restoration England to such a point that the period came to be known in literary circles as the Age of Dryden.Walter Scott called him "Glorious John." He was made Poet...
, Fenton, Pope and
Weckherlin
Georg Rudolf Weckherlin
Georg Rudolf Weckherlin was a German poet. He was among the poets before Martin Opitz who tried to introduce Renaissance forms and feelings into German verse. For a short time, he worked with John Milton in England....
, had been on loan to Berkshire county record office. In the summer of 1989, the collection was sent to
Sotheby's
Sotheby's
Sotheby's is the world's fourth oldest auction house in continuous operation.-History:The oldest auction house in operation is the Stockholms Auktionsverk founded in 1674, the second oldest is Göteborgs Auktionsverk founded in 1681 and third oldest being founded in 1731, all Swedish...
in
London
London
London is the capital city of :England and the :United Kingdom, the largest metropolitan area in the United Kingdom, and the largest urban zone in the European Union by most measures. Located on the River Thames, London has been a major settlement for two millennia, its history going back to its...
, with an estimate of £2.5m. But on the eve of the November sale, a deal was done with the
Inland Revenue
Inland Revenue
The Inland Revenue was, until April 2005, a department of the British Government responsible for the collection of direct taxation, including income tax, national insurance contributions, capital gains tax, inheritance tax, corporation tax, petroleum revenue tax and stamp duty...
, the auction was cancelled and the
British Library
British Library
The British Library is the national library of the United Kingdom, and is the world's largest library in terms of total number of items. The library is a major research library, holding over 150 million items from every country in the world, in virtually all known languages and in many formats,...
took the papers.
Marquess' estate
Arthur Hill succeeded as 2nd Marquess of Downshire on the death of his father
Wills Hill
Wills Hill, 1st Marquess of Downshire
Wills Hill, 1st Marquess of Downshire PC , known as the Viscount Hillsborough from 1742 to 1751 and as the Earl of Hillsborough from 1751 to 1789, was a British politician of the Georgian era...
in 1793, who started the building of
Hillsborough Castle
Hillsborough Castle
Hillsborough Castle is an official government residence in Northern Ireland. It is the residence of the Secretary of State for Northern Ireland, and the official residence in Northern Ireland of HM Queen Elizabeth II The Secretary of State combines two roles...
in
Northern Ireland
Northern Ireland
Northern Ireland is one of the four countries of the United Kingdom. Situated in the north-east of the island of Ireland, it shares a border with the Republic of Ireland to the south and west...
, completed in 1797.
They had five sons:
Arthur Blundell Sandys Trumbull Hill, 3rd Marquess of Downshire (1788–1845)
Arthur Moyses William Hill, 2nd Baron Sandys

Arthur Moyses William Hill, 2nd Baron Sandys

Lieutenant-General Arthur Moyses William Hill, 2nd Baron Sandys , styled as Lord Arthur Hill until 1836, was an Anglo-Irish soldier and politician.-Background:...


(1793–1860)
Arthur Marcus Cecil Sandys, 3rd Baron Sandys (1798–1863)
Arthur Augustus Edwin Sandys (1800–1831)
Major Lord George Augusta Sandys (1801–1879)
In a letter in May 1857, to a Mrs Russell of Thornhill, Jane Carlyle (wife of
Thomas Carlyle
Thomas Carlyle
Thomas Carlyle was a Scottish satirical writer, essayist, historian and teacher during the Victorian era.He called economics "the dismal science", wrote articles for the Edinburgh Encyclopedia, and became a controversial social commentator.Coming from a strict Calvinist family, Carlyle was...
), whose friend Lady Ashburton had recently died and who was suffering from influenza, wrote:
"In the meantime I am going for a week to Easthampstead Park (the Marquis of Downshire's), almost immediately. But these great grand Country Houses are not the places Nature prompts me to take my sick nerves and bad spirits to! Especially when I am not going as a sort of animated, still wholly irresponsible carpet-bag, with Mr. Carlyle's name on it, but on my own basis! ..."
http://digital.library.upenn.edu/women/carlyle/newlam/nlm202.html
Easthampstead house was only one of the properties of the
Marquess of Downshire
Marquess of Downshire
Marquess of Downshire is a title in the Peerage of Ireland. It was created in 1789 for Wills Hill, 1st Earl of Hillsborough, a former Secretary of State....
, who owned large estates of 115,000 acres (465 km²) in Northern Ireland. In 1860, the fourth Marquess, confusingly called Arthur Wills Blundell Sandys Trumbull Windsor Hill (1812–1868) demolished the old mansion, leaving only a stable block, and built the present house which was completed in 1864. At about the same time as the present mansion was erected, the Marchioness provided for the rebuilding of St Michael's parish church,
Easthampstead
Easthampstead
Easthampstead is today a southern suburb of the town of Bracknell in the English county of Berkshire, although the old village can still be easily identified around the Church of St Michael and St Mary Magdalene...
where there are memorials to the Trumbull and Downshire families and to the poet, Elijah Fenton.
In 1885, King
Edward VII
Edward VII of the United Kingdom
Edward VII was King of the United Kingdom and the British Dominions and Emperor of India from 22 January 1901 until his death in 1910...
visited Easthampstead Park while
Prince of Wales
Prince of Wales
Prince of Wales is a title traditionally granted to the heir apparent to the reigning monarch of the United Kingdom of Great Britain and Northern Ireland and the 15 other independent Commonwealth realms...
. One of his handwritten letters, dated from the Park 18 June 1885, has been offered for sale by Heritage Auction Galleries of Dallas, Texas
http://americana.heritagegalleries.com/common/view_item.php?Sale_No=626&Lot_No=25694#photo
.
The Downshires were very active in the affairs of Ireland, but the sixth Marquess (1871–1918) lived principally at Easthampstead Park until his death. These were the golden days of Easthampstead Park, especially during Royal Ascot week each year. The sixth Marquess and his son employed a large staff of gardeners and others, and took great personal interest in the estate, even assisting with the upkeep of the roads with their own steam roller. The Park also contained a miniature steam railway, since removed to a south coast resort. The old engine shed still survives near the original ha-ha at the edge of the current gardens however. The gardens are well stocked with a large number of mature trees of diverse and often exotic species.
During the
Second World War
World War II
World War II, or the Second World War , was a global conflict lasting from 1939 to 1945, involving most of the world's nations—including all of the great powers—eventually forming two opposing military alliances: the Allies and the Axis...
, part of the Mansion was used by St Paul's School, which was evacuated from London. Until 1945, masters and boys lived in
Crowthorne
Crowthorne
Crowthorne is also a suburb of Johannesburg, South AfricaCrowthorne is a village and civil parish in the Bracknell Forest district of south-eastern Berkshire. It has a population of 6,711...
, lessons took place in Easthampstead Park, while Wellington College lent playing fields and laboratories. The
Army
British Army
The British Army is the land warfare branch of Her Majesty's Armed Forces in the United Kingdom. It came into being with the unification of the Kingdom of England and Scotland into the Kingdom of Great Britain in 1707. The new British Army incorporated Regiments that had already existed in England...
made use of the Park and built many
Nissen hut
Nissen hut
A Nissen hut is a prefabricated steel structure made from a half-cylindrical skin of corrugated steel, a variant of which was used extensively during World War II.-Description:...
s. The Army's presence attracted
German
Germany
Germany , officially the Federal Republic of Germany , is a federal parliamentary republic in Europe. The country consists of 16 states while the capital and largest city is Berlin. Germany covers an area of 357,021 km2 and has a largely temperate seasonal climate...
aircraft in 1941 which dropped a stick of bombs down the main drive, the last one hitting the Lodge at the main gate.
College and school
After the War, Easthampstead Park was sold to Berkshire County Council. After repairs following a fire in 1949, a training college for women teachers was opened, the mansion was altered and extended, and a new gymnasium and study block, now known as the Whitfield building was erected. Several new tennis courts were built or renovated, but one at the edge of the park is sadly now derelict. The mansion was well used by the girls, who for example, held a delightful Christmas Party in the well of the main staircase every year during the life of the college. There was an excellent library situated behind the main hall, and the students developed their own garden near to one of the tennis courts. During the period, the gardens were kept in good condition, with a thriving vegetable garden near to the present school. Dances were organised regularly in the main hall.
In 1968, Easthampstead Park College was amalgamated with Bulmershe College to form the Berkshire College of Education. The last students training to teach were withdrawn from Easthampstead Park in 1972, when an Educational Centre was opened, initially comprising an adult residential college and
Easthampstead Park School
Easthampstead Park School
Easthampstead Park School is a Community, comprehensive school located in Ringmead, Bracknell, Berkshire, taking both boys and girls from ages 11–18.The headteacher is Gordon Cunningham....
.
In 1984
SEBEV Search and Rescue
SEBEV Search and Rescue
Berkshire Lowland Search and Rescue is a registered charitable Lowland search and rescue team based in Berkshire, United Kingdom and provides support functions to Thames Valley Police and the Emergency Planning departments of various local authorities in Berkshire...
moved into the basement area of the mansion which was already being used as a government nuclear fallout shelter.
SEBEV SAR
is still there to this day.
In 1995, Easthampstead Park School relocated to a new location nearby and the mansion is now used as
Easthampstead Park Conference Centre
http://www.eastpark.co.uk
and
Bracknell Forest Education Centre
. Inside the mansion, rooms are named after the Trumbull, Sandys, Hill and Downshire families and their estates, as well as former staff of the college, such as Wylie and Lewis.