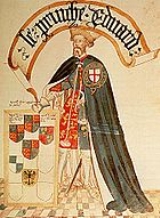 Edward III of England
Edward III
was King of England from 1327 until his death and is noted for his military success. Restoring royal authority after the disastrous reign of his father,
Edward II
Edward II of England
Edward II , called Edward of Caernarfon, was King of England from 1307 until he was deposed by his wife Isabella in January 1327. He was the sixth Plantagenet king, in a line that began with the reign of Henry II...
, Edward III went on to transform the
Kingdom of England
Kingdom of England
The Kingdom of England was, from 927 to 1707, a sovereign state to the northwest of continental Europe. At its height, the Kingdom of England spanned the southern two-thirds of the island of Great Britain and several smaller outlying islands; what today comprises the legal jurisdiction of England...
into one of the most formidable military powers in Europe. His reign saw vital developments in legislation and government – in particular the evolution of the English parliament – as well as the ravages of the
Black Death
Black Death
The Black Death was one of the most devastating pandemics in human history, peaking in Europe between 1348 and 1350. Of several competing theories, the dominant explanation for the Black Death is the plague theory, which attributes the outbreak to the bacterium Yersinia pestis. Thought to have...
.
1327 Edward III becomes King of England.
1327 Teenaged Edward III is crowned King of England, but the country is ruled by his mother Queen Isabella and her lover Roger Mortimer.
1328 Edward III of England marries Philippa of Hainault, daughter of the Count of Hainault.
1340 King Edward III of England is declared King of France.
1346 Battle of Neville's Cross: King David II of Scotland is captured by Edward III of England near Durham, and imprisoned in the Tower of London for eleven years.
1348 The founding of the Order of the Garter by King Edward III is announced on St George's Day.
1350 Battle of Winchelsea (or Les Espagnols sur Mer): The English naval fleet under King Edward III defeats a Castilian fleet of 40 ships.