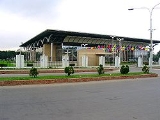 Convention center
A
convention center
is a large building that is designed to hold a
convention
Convention (meeting)
A convention, in the sense of a meeting, is a gathering of individuals who meet at an arranged place and time in order to discuss or engage in some common interest. The most common conventions are based upon industry, profession, and fandom...
, where individuals and groups gather to promote and share common interests. Convention centers typically offer sufficient floor area to accommodate several thousand attendees. Very large venues, suitable for major trade shows, are sometimes known as 'exhibition centres'. Convention centers typically have at least one
auditorium
Auditorium
An auditorium is a room built to enable an audience to hear and watch performances at venues such as theatres. For movie theaters, the number of auditoriums is expressed as the number of screens.- Etymology :...
and may also contain concert halls,
lecture hall
Lecture hall
A lecture hall is a large room used for instruction, typically at a college or university. Unlike a traditional classroom with a capacity from one to four dozen, the capacity of lecture halls is typically measured in the hundreds...
s, meeting rooms, and conference rooms. Some large resort area
hotel
Hotel
A hotel is an establishment that provides paid lodging on a short-term basis. The provision of basic accommodation, in times past, consisting only of a room with a bed, a cupboard, a small table and a washstand has largely been replaced by rooms with modern facilities, including en-suite bathrooms...
s include a convention center.
See also
Stadium

Stadium

A modern stadium is a place or venue for outdoor sports, concerts, or other events and consists of a field or stage either partly or completely surrounded by a structure designed to allow spectators to stand or sit and view the event.)Pausanias noted that for about half a century the only event...