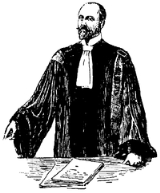 Barrister
A
barrister
is a member of one of the two classes of
lawyer
Lawyer
A lawyer, according to Black's Law Dictionary, is "a person learned in the law; as an attorney, counsel or solicitor; a person who is practicing law." Law is the system of rules of conduct established by the sovereign government of a society to correct wrongs, maintain the stability of political...
found in many
common law
Common law
Common law is law developed by judges through decisions of courts and similar tribunals rather than through legislative statutes or executive branch action...
jurisdictions with split legal professions. Barristers specialise in courtroom advocacy, drafting legal
pleading
Pleading
In law as practiced in countries that follow the English models, a pleading is a formal written statement filed with a court by parties in a civil action, other than a motion...
s and giving expert legal opinions. They can be contrasted with
solicitor
Solicitor
Solicitors are lawyers who traditionally deal with any legal matter including conducting proceedings in courts. In the United Kingdom, a few Australian states and the Republic of Ireland, the legal profession is split between solicitors and barristers , and a lawyer will usually only hold one title...
s — the other class of lawyer in split professions — who have more direct access with clients, and may do transactional-type legal work. Barristers are rarely hired by clients directly but instead are retained (or instructed) by solicitors to act on behalf of clients.
The historical difference between the two professions—and the only essential difference in
England and Wales
England and Wales
England and Wales is a jurisdiction within the United Kingdom. It consists of England and Wales, two of the four countries of the United Kingdom...
today — is that a solicitor is an
attorney
Attorney at law
An attorney at law in the United States is a practitioner in a court of law who is legally qualified to prosecute and defend actions in such court on the retainer of clients. Alternative terms include counselor and lawyer...
, which means they can act in the place of their client for legal purposes (as in signing contracts) and may conduct
litigation
Lawsuit
A lawsuit or "suit in law" is a civil action brought in a court of law in which a plaintiff, a party who claims to have incurred loss as a result of a defendant's actions, demands a legal or equitable remedy. The defendant is required to respond to the plaintiff's complaint...
on their behalf by making applications to the court, writing letters in litigation to the client's opponent and so on.