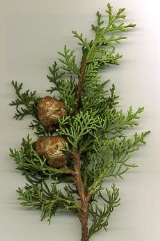 Cupressus
The
genus
Genus
In biology, a genus is a low-level taxonomic rank used in the biological classification of living and fossil organisms, which is an example of definition by genus and differentia...
Cupressus
is one of several genera within the
family
Family (biology)
In biological classification, family is* a taxonomic rank. Other well-known ranks are life, domain, kingdom, phylum, class, order, genus, and species, with family fitting between order and genus. As for the other well-known ranks, there is the option of an immediately lower rank, indicated by the...
Cupressaceae
Cupressaceae
The Cupressaceae or cypress family is a conifer family with worldwide distribution. The family includes 27 to 30 genera , which include the junipers and redwoods, with about 130-140 species in total. They are monoecious, subdioecious or dioecious trees and shrubs from 1-116 m tall...
that have the common name
cypress
; for the others, see
cypress
Cypress
Cypress is the name applied to many plants in the cypress family Cupressaceae, which is a conifer of northern temperate regions. Most cypress species are trees, while a few are shrubs...
. It is considered a
polyphyletic
Polyphyly
A polyphyletic group is one whose members' last common ancestor is not a member of the group.For example, the group consisting of warm-blooded animals is polyphyletic, because it contains both mammals and birds, but the most recent common ancestor of mammals and birds was cold-blooded...
group. Based on genetic and morphological analysis, the
Cupressus
are found in the
Cupressoideae
subfamily (Gadek et al. 2000, Farjon 2005).
The common name comes from Old French cipres and that from
Latin
Latin
Latin is an Italic language originally spoken in Latium and Ancient Rome. It, along with most European languages, is a descendant of the ancient Proto-Indo-European language. Although it is considered a dead language, a number of scholars and members of the Christian clergy speak it fluently, and...
cyparissus, which is the
latinisation
Latinisation (literature)
Latinisation is the practice of rendering a non-Latin name in a Latin style. It is commonly met with for historical personal names, with toponyms, or for the standard binomial nomenclature of the life sciences. It goes further than Romanisation, which is the writing of a word in the Latin alphabet...
of the
Greek
Greek language
Greek is an independent branch of the Indo-European family of languages. Native to the southern Balkans, it has the longest documented history of any Indo-European language, spanning 34 centuries of written records. Its writing system has been the Greek alphabet for the majority of its history;...
κυπάρισσος (kypárissos).
As currently treated, these cypresses are native to scattered localities in mainly warm temperate regions in the northern hemisphere, including western
North America
North America
North America is a continent wholly within the Northern Hemisphere and almost wholly within the Western Hemisphere. It is also considered a northern subcontinent of the Americas...
,
Central America
Central America
Central America is the central geographic region of the Americas. It is the southernmost, isthmian portion of the North American continent, which connects with South America on the southeast. When considered part of the unified continental model, it is considered a subcontinent...
, north-west
Africa
Africa
Africa is the world's second largest and second most populous continent, after Asia. At about 30.2 million km² including adjacent islands, it covers 6% of the Earth's total surface area and 20.4% of the total land area...
, the
Middle East
Middle East
The Middle East is a region that encompasses Western Asia and Northern Africa. It is often used as a synonym for Near East, in opposition to Far East...
, the Himalaya, southern
China
China
Chinese civilization may refer to:* China for more general discussion of the country.* Chinese culture* Greater China, the transnational community of ethnic Chinese.* History of China* Sinosphere, the area historically affected by Chinese culture...
and north
Vietnam
Vietnam
Vietnam – sometimes spelled Viet Nam , officially the Socialist Republic of Vietnam – is the easternmost country on the Indochina Peninsula in Southeast Asia. It is bordered by China to the north, Laos to the northwest, Cambodia to the southwest, and the South China Sea –...
. They are
evergreen
Evergreen
In botany, an evergreen plant is a plant that has leaves in all seasons. This contrasts with deciduous plants, which completely lose their foliage during the winter or dry season.There are many different kinds of evergreen plants, both trees and shrubs...
trees or large
shrub
Shrub
A shrub or bush is distinguished from a tree by its multiple stems and shorter height, usually under 5–6 m tall. A large number of plants may become either shrubs or trees, depending on the growing conditions they experience...
s, growing to 5-40 m tall. The leaves are scale-like, 2-6 mm long, arranged in opposite decussate pairs, and persist for 3–5 years. On young plants up to 1–2 years old, the leaves are needle-like, 5-15 mm long. The
cones
Conifer cone
A cone is an organ on plants in the division Pinophyta that contains the reproductive structures. The familiar woody cone is the female cone, which produces seeds. The male cones, which produce pollen, are usually herbaceous and much less conspicuous even at full maturity...
are 8-40 mm long, globose or ovoid with 4-14 scales arranged in opposite decussate pairs; they are mature in 18–24 months from
pollination
Pollination
Pollination is the process by which pollen is transferred in plants, thereby enabling fertilisation and sexual reproduction. Pollen grains transport the male gametes to where the female gamete are contained within the carpel; in gymnosperms the pollen is directly applied to the ovule itself...
. The seeds are small, 4-7 mm long, with two narrow wings, one along each side of the seed.
Many of the species are adapted to forest fires, holding their seeds for many years in closed cones until the parent trees are killed by a fire; the seeds are then released to colonize the bare, burnt ground. In other species, the cones open at maturity to release the seeds.
Many species are grown as decorative trees in parks and, in
Asia
Asia
Asia is the world's largest and most populous continent, located primarily in the eastern and northern hemispheres. It covers 8.7% of the Earth's total surface area and with approximately 3.879 billion people, it hosts 60% of the world's current human population...
, around temples; in some areas, the native distribution is hard to discern due to extensive cultivation. A few species are grown for their timber, which can be very durable. The fast-growing hybrid
Leyland Cypress
Leyland Cypress
The Leyland Cypress, × Cupressocyparis leylandii , often referred to as just Leylandii, is a fast-growing evergreen tree much used in horticulture, primarily for hedges and screens. Even on sites of relatively poor culture, plants have been known to grow to heights of 15 metres in 16 years...
, much used in gardens, draws one of its parents from this genus (
Monterey Cypress
Cupressus macrocarpa
Cupressus macrocarpa, commonly known as Monterey Cypress or Macrocarpa, is a species of cypress that is endemic to the Central Coast of California. In the wild, the species is confined to two small populations, near Monterey and Carmel, California. These two small populations represent what was...
C. macrocarpa); the other parent,
Nootka Cypress
Callitropsis nootkatensis
Nootka Cypress , formerly Cupressus nootkatensis, Xanthocyparis nootkatensis or Chamaecyparis nootkatensis, is a cypress with a chequered taxonomic and nomenclatural history. This species goes by many common names including Nootka Cypress, Yellow Cypress, and Alaska Cypress...
, is also sometimes classified in this genus, or else in the separate genus
Callitropsis
Callitropsis
Callitropsis is a genus of cypresses in the family Cupressaceae, with several native to North America and one native to Vietnam in southeast Asia....
, but in the past more usually in
Chamaecyparis
Chamaecyparis
Chamaecyparis is a genus of conifers in the cypress family Cupressaceae, native to eastern Asia and western and eastern North America. In the nursery trade it is often incorrectly known as "false cypress" for lack of other common name, so as to distinguish it from other similar genera bearing...
.
Species
The number of species recognized within this genus varies sharply, from 16 to 25 or more according to the authority followed. This is because most populations are small and isolated, and it is difficult to be sure whether they should be accorded
specific
Species
In biology, a species is one of the basic units of biological classification and a taxonomic rank. A species is often defined as a group of organisms capable of interbreeding and producing fertile offspring. While in many cases this definition is adequate, more precise or differing measures are...
,
subspecific
Subspecies
Subspecies in biological classification, is either a taxonomic rank subordinate to species, ora taxonomic unit in that rank . A subspecies cannot be recognized in isolation: a species will either be recognized as having no subspecies at all or two or more, never just one...
or
varietal
Variety (biology)
In botanical nomenclature, variety is a taxonomic rank below that of species: as such, it gets a three-part infraspecific name....
rank. Current tendencies are to reduce the number of recognized species; when a narrow species concept is adopted, the varieties indented in the list below may also be accepted as distinct species. See also the New World species (below) for a likely split in the genus in the future.
Old World species
The Old World cypresses tend to have cones with more scales (8-14 scales, rarely 6 in C. funebris), each scale with a short broad ridge, not a spike. Cupressus sempervirens is the type species of the genus, defining the name Cupressus.
New World species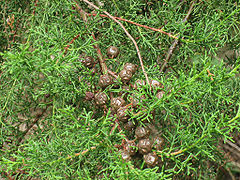 The New World cypresses tend to have cones with fewer scales (4-8 scales, rarely more in C. macrocarpa), each scale with an often prominent narrow spike. Recent genetic evidence (Little et al., November 2004) shows that they are less closely related to the Old World cypresses than previously thought, being more closely related to
Callitropsis
Callitropsis
Callitropsis is a genus of cypresses in the family Cupressaceae, with several native to North America and one native to Vietnam in southeast Asia....
and
Juniper
Juniper
Junipers are coniferous plants in the genus Juniperus of the cypress family Cupressaceae. Depending on taxonomic viewpoint, there are between 50-67 species of juniper, widely distributed throughout the northern hemisphere, from the Arctic, south to tropical Africa in the Old World, and to the...
us than to the rest of Cupressus. These species have very recently (Little 2006) been transferred to Callitropsis. New World species are found in marginal habitats with
xeric
Deserts and xeric shrublands
Deserts and xeric shrublands is a biome characterized by, relating to, or requiring only a small amount of moisture.-Definition and occurrence:...
soils, and therefore exhibit a fragmented
allopatric
Allopatric speciation
Allopatric speciation or geographic speciation is speciation that occurs when biological populations of the same species become isolated due to geographical changes such as mountain building or social changes such as emigration...
pattern of distribution. This type of distribution results in disproportionate local abundance with most species restricted to small neighboring populations (Little 2006).
Callitropsis nootkatensis

Callitropsis nootkatensis

Nootka Cypress , formerly Cupressus nootkatensis, Xanthocyparis nootkatensis or Chamaecyparis nootkatensis, is a cypress with a chequered taxonomic and nomenclatural history. This species goes by many common names including Nootka Cypress, Yellow Cypress, and Alaska Cypress...


(Nootka Cypress) is also sometimes treated as Cupressus nootkatensis