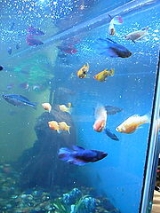 Community tank
Community aquaria
are tanks that are designed to contain more than one species of
fish
Fish
Fish are a paraphyletic group of organisms that consist of all gill-bearing aquatic vertebrate animals that lack limbs with digits. Included in this definition are the living hagfish, lampreys, and cartilaginous and bony fish, as well as various extinct related groups...
. Most commonly they include a variety of species that do not normally occur together in nature, for example
angelfish
Pterophyllum
Pterophyllum is a small genus of freshwater fish from the family Cichlidae known to most aquarists as "Angelfish". All Pterophyllum species originate from the Amazon River, Orinoco River and Essequibo River basins in tropical South America...
from Brazil,
swordtails
Green swordtail
The green swordtail is a species of freshwater fish in family Poeciliidae of order Cyprinodontiformes. A live-bearer, it is closely related to the southern platyfish or "platy" and can crossbreed with it...
from Mexico, and
gourami
Gourami
Gouramis are a family, Osphronemidae, of freshwater perciform fishes. The fish are native to Asia, from Pakistan and India to the Malay Archipelago and north-easterly towards Korea. The name "gourami" is also used for fish of the families Helostomatidae and Anabantidae. "Gouramis" is an example of...
s from South East Asia. The aim of such communities is to bring together fish that are compatible in temperament and water requirements, while using their different colours and behaviours to add interest and entertainment value.
Though not usually called community tanks, most
marine aquaria
Marine aquarium
A marine aquarium is an aquarium that keeps marine plants and animals in a contained environment. Marine aquaria are further subdivided by hobbyists into fish only , fish only with live rock , and reef aquaria. Fish only tanks often showcase large or aggressive marine fish species and generally...
fit into this category too, using fish from places as diverse as the
Caribbean
Caribbean
The Caribbean is a crescent-shaped group of islands more than 2,000 miles long separating the Gulf of Mexico and the Caribbean Sea, to the west and south, from the Atlantic Ocean, to the east and north...
,
Red Sea
Red Sea
The Red Sea is a seawater inlet of the Indian Ocean, lying between Africa and Asia. The connection to the ocean is in the south through the Bab el Mandeb strait and the Gulf of Aden. In the north, there is the Sinai Peninsula, the Gulf of Aqaba, and the Gulf of Suez...
, and western
Pacific Ocean
Pacific Ocean
The Pacific Ocean is the largest of the Earth's oceanic divisions. It extends from the Arctic in the north to the Southern Ocean in the south, bounded by Asia and Australia in the west, and the Americas in the east.At 165.2 million square kilometres in area, this largest division of the World...
.
Other aquarists prefer communities, called biotopes, that represent particular geographic locations, and combine fish with appropriate decorative materials including endogenous rocks and plants. The most popular of these geographically correct community tanks are those based around
cichlid
Cichlid
Cichlids are fishes from the family Cichlidae in the order Perciformes. Cichlids are members of a group known as the Labroidei along with the wrasses , damselfish , and surfperches . This family is both large and diverse. At least 1,300 species have been scientifically described, making it one of...
s from the East African
Rift Valley
Great Rift Valley
The Great Rift Valley is a name given in the late 19th century by British explorer John Walter Gregory to the continuous geographic trench, approximately in length, that runs from northern Syria in Southwest Asia to central Mozambique in South East Africa...
lakes of
Lake Tanganyika
Lake Tanganyika
Lake Tanganyika is an African Great Lake. It is estimated to be the second largest freshwater lake in the world by volume, and the second deepest, after Lake Baikal in Siberia; it is also the world's longest freshwater lake...
and
Lake Malawi
Lake Malawi
Lake Malawi , is an African Great Lake and the southernmost lake in the Great Rift Valley system of East Africa. This lake, the third largest in Africa and the eighth largest lake in the world, is located between Malawi, Mozambique, and Tanzania...
.
Community fish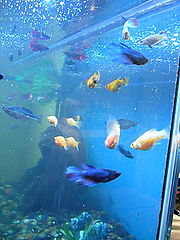 For freshwater community tanks, there are large numbers of species that make successful community fishes. Most of the
livebearers
Live-bearing aquarium fish
Live-bearing aquarium fish, often simply called livebearers, are fish that retain the eggs inside the body and give birth to live, free-swimming young.-Common aquarium livebearers:...
, barbs,
tetra
Tetra
thumb|right|250px|Pristella tetra — [[Pristella maxillaris]].thumb|right|250px|Golden Pristella tetra, a [[morph |morph]] of [[Pristella maxillaris]].thumb|right|250px|[[Silvertip tetra]] — Hasemania nana....
s,
rasbora
Rasbora
A rasbora is a member of a group of small minnow-type fish in the family Cyprinidae . Fish from genera such as Boraras, Microrasbora, Rasbora and Trigonostigma are commonly referred to as rasboras...
s,
danio
Danio
The Danio genus comprises many of the species of danionins familiar to aquarists. The common name "danio" is used for members of the genera Danio and Devario.-Taxonomy:...
s, and
rainbowfish
Rainbowfish
The rainbowfish are a family of small, colourful, freshwater fish that are found in northern and eastern Australia and New Guinea and in the Southeast Asian islands....
es are peaceful, though a few species are fin nippers, most notably
tiger barb
Tiger barb
The tiger barb or Sumatra barb, is a species of tropical freshwater fish belonging to the Puntius genus of the minnow family. The natural geographic range reportedly extends throughout the Malay Peninsula, Sumatra and Borneo, with unsubstantiated sightings reported in Cambodia...
s and
serpae tetra
Serpae tetra
Serpae tetras are one species of the genus Hyphessobrycon, now known as Hyphessobrycon eques. These South American tropical characids are popular aquarium fishes, often identified as "Red Minor tetras"...
s. Angelfishes,
gourami
Gourami
Gouramis are a family, Osphronemidae, of freshwater perciform fishes. The fish are native to Asia, from Pakistan and India to the Malay Archipelago and north-easterly towards Korea. The name "gourami" is also used for fish of the families Helostomatidae and Anabantidae. "Gouramis" is an example of...
s, and
Corydoras
Corydoras
Members of the South American Corydoras genus are freshwater temperate and tropical catfish in the armored catfish family , and are commonly referred to as corydorases, cories, or cory catfish.-Taxonomy:...
catfishes are also popular, though angelfish are predatory and will eat very small fish such as
neon tetra
Neon tetra
The neon tetra is a freshwater fish of the characin family of order Characiformes. The type species of its genus, it is native to blackwater or clearwater streams in southeastern Colombia, eastern Peru, and western Brazil, including the tributaries of the Solimões where the water is between...
s and livebearer fry. If neon tetras are kept around fish unlikely to take advantage of their small size, they are very peaceful towards other fish.
Many fishes are not suitable for typical community tanks. These fishes include:
Water chemistry
Most freshwater aquarium fish do well in water that is soft to moderately hard, and that has a pH between 6 and 8.
Brackish water aquaria are a special case and need dedicated community tanks. While a few freshwater and marine fish can adapt to brackish water, most cannot.
The most deadly chemical in aquarium water is
ammonia
Ammonia
Ammonia is a compound of nitrogen and hydrogen with the formula . It is a colourless gas with a characteristic pungent odour. Ammonia contributes significantly to the nutritional needs of terrestrial organisms by serving as a precursor to food and fertilizers. Ammonia, either directly or...
, produced from fish excretions. It is important to test for ammonia, since it is a chemical precursor of
nitrite
Nitrite
The nitrite ion has the chemical formula NO2−. The anion is symmetric with equal N-O bond lengths and a O-N-O bond angle of ca. 120°. On protonation the unstable weak acid nitrous acid is produced. Nitrite can be oxidised or reduced, with product somewhat dependent on the oxidizing/reducing agent...
s and
nitrate
Nitrate
The nitrate ion is a polyatomic ion with the molecular formula NO and a molecular mass of 62.0049 g/mol. It is the conjugate base of nitric acid, consisting of one central nitrogen atom surrounded by three identically-bonded oxygen atoms in a trigonal planar arrangement. The nitrate ion carries a...
s, also harmful to fish. Ammonia is removed from the water through the nitrogen cycle, which takes place within the aquarium
filter
Filter (aquarium)
Aquarium filters are critical components of both freshwater and marine aquaria. Aquarium filters remove physical and soluble chemical waste products from aquaria, simplifying maintenance...
, which takes a few weeks to start processing the ammonia. The processed ammonia is converted to nitrite, which is then processed to nitrate. Weekly water changes (25% of aquarium volume), while vacuuming debris from the bottom of the tank, can solve this problem of nitrate build-up, provided the tank is not overcrowded.
Build-up of algae is largely related to light level and water phosphate level. An aquarium near a window is likely to be overgrown with algae. A material known as a "phosphate sponge" is available at aquarium shops to leach the phosphate out of the aquarium and reduce the growth of algae. Also, plants such as java moss (not java fern) compete with algae for another necessary plant nutrient, nitrate, and reduce algae growth. Java moss also forms a ground cover along the bottom of the aquarium.
External links