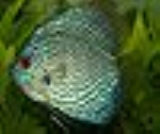 Discus (fish)
Discus
are a genus of three species of cichlid
freshwater fish
Freshwater fish
Freshwater fish are fish that spend some or all of their lives in freshwater, such as rivers and lakes, with a salinity of less than 0.05%. These environments differ from marine conditions in many ways, the most obvious being the difference in levels of salinity...
es native to the
Amazon River
Amazon River
The Amazon of South America is the second longest river in the world and by far the largest by waterflow with an average discharge greater than the next seven largest rivers combined...
basin. Discus are popular as
aquarium
Aquarium
An aquarium is a vivarium consisting of at least one transparent side in which water-dwelling plants or animals are kept. Fishkeepers use aquaria to keep fish, invertebrates, amphibians, marine mammals, turtles, and aquatic plants...
fish and their
aquaculture
Aquaculture
Aquaculture, also known as aquafarming, is the farming of aquatic organisms such as fish, crustaceans, molluscs and aquatic plants. Aquaculture involves cultivating freshwater and saltwater populations under controlled conditions, and can be contrasted with commercial fishing, which is the...
in several countries in
Asia
Asia
Asia is the world's largest and most populous continent, located primarily in the eastern and northern hemispheres. It covers 8.7% of the Earth's total surface area and with approximately 3.879 billion people, it hosts 60% of the world's current human population...
is a major industry.
Discus belong to the genus
Symphysodon
, which currently includes three species: The
common discus
(
Symphysodon aequifasciatus
), the
Heckel discus
(
Symphysodon discus
), and a new species which has been named
Symphysodon tarzoo
.