 Green swordtail
The
green swordtail
is a
species
Species
In biology, a species is one of the basic units of biological classification and a taxonomic rank. A species is often defined as a group of organisms capable of interbreeding and producing fertile offspring. While in many cases this definition is adequate, more precise or differing measures are...
of
freshwater
Freshwater
Fresh water is naturally occurring water on the Earth's surface in ice sheets, ice caps, glaciers, bogs, ponds, lakes, rivers and streams, and underground as groundwater in aquifers and underground streams. Fresh water is generally characterized by having low concentrations of dissolved salts and...
fish
Fish
Fish are a paraphyletic group of organisms that consist of all gill-bearing aquatic vertebrate animals that lack limbs with digits. Included in this definition are the living hagfish, lampreys, and cartilaginous and bony fish, as well as various extinct related groups...
in
family
Family (biology)
In biological classification, family is* a taxonomic rank. Other well-known ranks are life, domain, kingdom, phylum, class, order, genus, and species, with family fitting between order and genus. As for the other well-known ranks, there is the option of an immediately lower rank, indicated by the...
Poeciliidae
Poeciliidae
Poeciliidae is a family of fresh-water fish which are live-bearing aquarium fish . They belong to the order Cyprinodontiformes, tooth-carps, and include well-known aquarium fish such as the guppy, molly, platy, and swordtail...
of
order
Order (biology)
In scientific classification used in biology, the order is# a taxonomic rank used in the classification of organisms. Other well-known ranks are life, domain, kingdom, phylum, class, family, genus, and species, with order fitting in between class and family...
Cyprinodontiformes
Cyprinodontiformes
The Cyprinodontiformes is an order of ray-finned fish, comprising mostly small, fresh-water fish. Many popular aquarium fish, such as killifish and live-bearers, are included. They are closely related to the Atheriniformes and are occasionally included with them...
. A
live-bearer
Live-bearing aquarium fish
Live-bearing aquarium fish, often simply called livebearers, are fish that retain the eggs inside the body and give birth to live, free-swimming young.-Common aquarium livebearers:...
, it is closely related to the
southern platyfish
Southern platyfish
The southern platyfish, common platy or moonfish is a species of freshwater fish in family Poecilidae of order Cyprinodontiformes. A live-bearer, it is closely related to the green swordtail and can interbreed with it...
or "platy" (
X. maculatus
) and can crossbreed with it. It is native to an area of
North
North America
North America is a continent wholly within the Northern Hemisphere and almost wholly within the Western Hemisphere. It is also considered a northern subcontinent of the Americas...
and
Central America
Central America
Central America is the central geographic region of the Americas. It is the southernmost, isthmian portion of the North American continent, which connects with South America on the southeast. When considered part of the unified continental model, it is considered a subcontinent...
stretching from
Veracruz
Veracruz
Veracruz, formally Veracruz de Ignacio de la Llave officially Estado Libre y Soberano de Veracruz de Ignacio de la Llave , is one of the 31 states that, along with the Federal District, comprise the 32 federative entities of Mexico. It is divided in 212 municipalities and its capital city is...
,
Mexico
Mexico
The United Mexican States , commonly known as Mexico , is a federal constitutional republic in North America. It is bordered on the north by the United States; on the south and west by the Pacific Ocean; on the southeast by Guatemala, Belize, and the Caribbean Sea; and on the east by the Gulf of...
, to northwestern
Honduras
Honduras
Honduras is a republic in Central America. It was previously known as Spanish Honduras to differentiate it from British Honduras, which became the modern-day state of Belize...
.
The male green swordtail grows to a maximum overall length of 14 cm (5.5 in) and the female to 16 cm (6.3 in).
The name "swordtail" is derived from the elongated lower lobe of the male's caudal fin (tailfin).
Sexual dimorphism
Sexual dimorphism
Sexual dimorphism is a phenotypic difference between males and females of the same species. Examples of such differences include differences in morphology, ornamentation, and behavior.-Examples:-Ornamentation / coloration:...
is moderate, with the female being larger than the male, but lacking the "sword". The wild form is olive green in color, with a red or brown lateral stripe and speckles on the
dorsal
Dorsal fin
A dorsal fin is a fin located on the backs of various unrelated marine and freshwater vertebrates, including most fishes, marine mammals , and the ichthyosaurs...
and, sometimes, caudal fins. The male's "sword" is yellow, edged in black below. Captive breeding has produced many color varieties, including black, red, and many patterns thereof, for the aquarium hobby.
The green swordtail prefers swift-flowing, heavily-vegetated rivers and streams, but is also found in warm springs and canals. Omnivorous, its diet includes both plants and small
crustacean
Crustacean
Crustaceans form a very large group of arthropods, usually treated as a subphylum, which includes such familiar animals as crabs, lobsters, crayfish, shrimp, krill and barnacles. The 50,000 described species range in size from Stygotantulus stocki at , to the Japanese spider crab with a leg span...
s,
insect
Insect
Insects are a class of living creatures within the arthropods that have a chitinous exoskeleton, a three-part body , three pairs of jointed legs, compound eyes, and two antennae...
s, and
annelid
Annelid
The annelids , formally called Annelida , are a large phylum of segmented worms, with over 17,000 modern species including ragworms, earthworms and leeches...
worms.
X. hellerii
has become a nuisance pest as an
introduced species
Introduced species
An introduced species — or neozoon, alien, exotic, non-indigenous, or non-native species, or simply an introduction, is a species living outside its indigenous or native distributional range, and has arrived in an ecosystem or plant community by human activity, either deliberate or accidental...
in a number of countries. It has caused ecological damage because of its ability to rapidly reproduce in high numbers. Feral populations have established themselves in southern
Africa
Africa
Africa is the world's second largest and second most populous continent, after Asia. At about 30.2 million km² including adjacent islands, it covers 6% of the Earth's total surface area and 20.4% of the total land area...
, including Natal,
Madagascar
Madagascar
The Republic of Madagascar is an island country located in the Indian Ocean off the southeastern coast of Africa...
and eastern
Transvaal
Transvaal Province
Transvaal Province was a province of the Union of South Africa from 1910 to 1961, and of its successor, the Republic of South Africa, from 1961 until the end of apartheid in 1994 when a new constitution subdivided it.-History:...
in
South Africa
South Africa
The Republic of South Africa is a country in southern Africa. Located at the southern tip of Africa, it is divided into nine provinces, with of coastline on the Atlantic and Indian oceans...
and
Otjikoto Lake
Otjikoto Lake
Otjikoto Lake is the smaller of only two natural lakes in Namibia. It is a sinkhole lake, created by a collapsing karst cave, located 20 km outside of Tsumeb, a few meters from the main road B1....
in
Namibia
Namibia
Namibia, officially the Republic of Namibia , is a country in southern Africa whose western border is the Atlantic Ocean. It shares land borders with Angola and Zambia to the north, Botswana to the east and South Africa to the south and east. It gained independence from South Africa on 21 March...
. Significant populations have also established themselves along the east coast of
Australia
Australia
Australia , officially the Commonwealth of Australia, is a country in the Southern Hemisphere comprising the mainland of the Australian continent, the island of Tasmania, and numerous smaller islands in the Indian and Pacific Oceans. It is the world's sixth-largest country by total area...
.
One of the most popular tropical
aquarium
Aquarium
An aquarium is a vivarium consisting of at least one transparent side in which water-dwelling plants or animals are kept. Fishkeepers use aquaria to keep fish, invertebrates, amphibians, marine mammals, turtles, and aquatic plants...
fish, the green swordtail has been bred into various hybrid forms for the aquarium hobby due to its hardiness and suitability for community tanks.
It is often designated
X. helleri
(with one "i"), but authorities consider this an orthographic error and the spelling with two "i"s is the valid specific epithet. Due to interbreeding with the
southern platyfish
Southern platyfish
The southern platyfish, common platy or moonfish is a species of freshwater fish in family Poecilidae of order Cyprinodontiformes. A live-bearer, it is closely related to the green swordtail and can interbreed with it...
or "platy", most swordtails in the aquarium are hybrids to some degree.
The males' beautiful, elongated caudal fins have been found to significantly affect their chances at mating. The presence of a well-endowed male spurs the maturity of females, while it inhibits the maturity of juvenile males in the vicinity of the well-endowed male.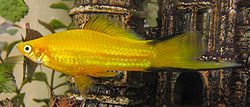 External links