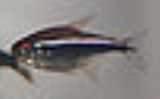 Tetra
Tetra
are
species
Species
In biology, a species is one of the basic units of biological classification and a taxonomic rank. A species is often defined as a group of organisms capable of interbreeding and producing fertile offspring. While in many cases this definition is adequate, more precise or differing measures are...
of small
freshwater fish
Freshwater fish
Freshwater fish are fish that spend some or all of their lives in freshwater, such as rivers and lakes, with a salinity of less than 0.05%. These environments differ from marine conditions in many ways, the most obvious being the difference in levels of salinity...
from
Africa
Africa
Africa is the world's second largest and second most populous continent, after Asia. At about 30.2 million km² including adjacent islands, it covers 6% of the Earth's total surface area and 20.4% of the total land area...
,
Central America
Central America
Central America is the central geographic region of the Americas. It is the southernmost, isthmian portion of the North American continent, which connects with South America on the southeast. When considered part of the unified continental model, it is considered a subcontinent...
and
South America
South America
South America is a continent situated in the Western Hemisphere, mostly in the Southern Hemisphere, with a relatively small portion in the Northern Hemisphere. The continent is also considered a subcontinent of the Americas. It is bordered on the west by the Pacific Ocean and on the north and east...
belonging to the
biological family
Family (biology)
In biological classification, family is* a taxonomic rank. Other well-known ranks are life, domain, kingdom, phylum, class, order, genus, and species, with family fitting between order and genus. As for the other well-known ranks, there is the option of an immediately lower rank, indicated by the...
Characidae
Characidae
The Characidae, characids or characins are a family of freshwater subtropical and tropical fish, belonging to the order Characiformes. The name "characins" is the historical one, but scientists today tend to prefer "characids" to reflect their status as a by and large monophyletic group at family...
and to its former subfamilies
Alestiidae
Alestiidae
African tetras are a group of Characiformes fish exclusively found in Africa. This family contains about 18 genera and 110 species....
(the "African tetras") and
Lebiasinidae
Lebiasinidae
The Lebiasinidae , are a family of freshwater fishes found in Costa Rica, Panama, and South America. They are usually small and are known as ornamental fishes in aquaria, including popular fishes such as the pencil fish and splashing tetra.Lebiasinids are small, cylindrical fish, ranging from to ...
. The Characidae are distinguished from other fish by the presence of a small adipose fin between the
dorsal fin
Dorsal fin
A dorsal fin is a fin located on the backs of various unrelated marine and freshwater vertebrates, including most fishes, marine mammals , and the ichthyosaurs...
and caudal fin. Many of these, such as the
neon tetra
Neon tetra
The neon tetra is a freshwater fish of the characin family of order Characiformes. The type species of its genus, it is native to blackwater or clearwater streams in southeastern Colombia, eastern Peru, and western Brazil, including the tributaries of the Solimões where the water is between...
(Paracheirodon innesi), are brightly colored and easy to keep in captivity. Consequently, they are extremely popular for home
aquaria
Aquarium
An aquarium is a vivarium consisting of at least one transparent side in which water-dwelling plants or animals are kept. Fishkeepers use aquaria to keep fish, invertebrates, amphibians, marine mammals, turtles, and aquatic plants...
.
The term tetra is not actually a
taxonomic
Taxonomy
Taxonomy is the science of identifying and naming species, and arranging them into a classification. The field of taxonomy, sometimes referred to as "biological taxonomy", revolves around the description and use of taxonomic units, known as taxa...
, phylogenetic term.