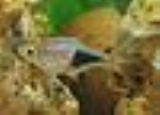 Rasbora
A
rasbora
is a member of a group of small minnow-type fish in the family Cyprinidae (carps). Fish from genera such as
Boraras
Boraras
Boraras is a genus of Asian cyprinid fishes.- Species :* Boraras brigittae * Boraras maculatus * Boraras merah * Boraras micros Kottelat & Vidthayanon, 1993...
,
Microrasbora
Microrasbora
Microrasbora is a genus of small fishes. The generic name means "small Rasbora", however these are more closely related to the danios than rasboras. They inhabit mainly Thailand and Myanmar, with one putative species in China.-Current Taxonomy:...
,
Rasbora
and
Trigonostigma
Trigonostigma
Trigonostigma is a genus of cyprinid fish found in Southeast Asia. There are currently four described species.-Species:* Trigonostigma espei * Trigonostigma hengeli...
are commonly referred to as rasboras. The genus
Microrasbora
may be more closely related to
danio
Danio
The Danio genus comprises many of the species of danionins familiar to aquarists. The common name "danio" is used for members of the genera Danio and Devario.-Taxonomy:...
s than other genera in this group while the genera
Boraras
and
Trignonstigma
were split from
Rasbora
. Currently the genus
Rasbora
remains the largest one, containing around 70 species, which can be found in
Southeast Asia
Southeast Asia
Southeast Asia, South-East Asia, South East Asia or Southeastern Asia is a subregion of Asia, consisting of the countries that are geographically south of China, east of India, west of New Guinea and north of Australia. The region lies on the intersection of geological plates, with heavy seismic...
and
Africa
Africa
Africa is the world's second largest and second most populous continent, after Asia. At about 30.2 million km² including adjacent islands, it covers 6% of the Earth's total surface area and 20.4% of the total land area...
.
Most of the rasboras are small, up to 10 cm long. A number of species are regularly kept in aquariums; the most common of these is the
harlequin rasbora
Harlequin rasbora
The Harlequin Rasbora a small fish belonging to the Family Cyprinidae, subfamily Rasborinae, which was originally given the scientific name of Rasbora heteromorpha...
(
Trigonostigma heteromorpha
).
In a 2007 analysis,
Rasbora
was found to not be a
monophyletic
Monophyly
In common cladistic usage, a monophyletic group is a taxon which forms a clade, meaning that it contains all the descendants of the possibly hypothetical closest common ancestor of the members of the group. The term is synonymous with the uncommon term holophyly...
assemblage; however, both
Boraras
and
Trigonostigma
were determined to be monophyletic.
Species, listed in order of scientific name within genus
For
Microrasbora
, see Danionin.
Rasbora

Rasbora amplistriga

Rasbora amplistriga

Rasbora amplistriga is a species of ray-finned fish in the genus Rasbora....


Kottelat

Maurice Kottelat

Dr. Maurice Kottelat is a Swiss ichthyologist.In 1976 he entered the University of Neuchâtel where he obtained his diploma in 1987. In 1980 he went to Thailand where he began his field research on Southeast Asiatic and Indonesian fresh water fish species...


, 2000
Rasbora api Lumbantobing, 2010
Rasbora aprotaenia

Rasbora aprotaenia

Rasbora aprotaenia is a species of ray-finned fish in the genus Rasbora....


Carl Hubbs

Carl Leavitt Hubbs

-Youth:He was born in Williams, Arizona. He was the son of Charles Leavitt and Elizabeth Hubbs. His father had a wide variety of jobs . The family moved several times before settling in San Diego where he got his first taste of natural history...


& Brittan, 1954
Rasbora argyrotaenia (Bleeker

Pieter Bleeker

Pieter Bleeker was a Dutch medical doctor and ichthyologist, famous for his work on the fishes of East Asia – Atlas Ichthyologique des Orientales Neerlandaises – which was published 1862–1877....


, 1850) (Silver rasbora)
Rasbora armitagei

Rasbora armitagei

Rasbora armitagei is a minnow endemic to Sri Lanka. The fish was discovered from a small tributary of Kalu Ganga at Rakwana, South-Western Wet zone, Sri Lanka . This species is Named after famous naturalist David Armitage....


A. Silva, Maduwage & Pethiyagoda, 2010
Rasbora atranus Kottelat

Maurice Kottelat

Dr. Maurice Kottelat is a Swiss ichthyologist.In 1976 he entered the University of Neuchâtel where he obtained his diploma in 1987. In 1980 he went to Thailand where he began his field research on Southeast Asiatic and Indonesian fresh water fish species...


& H. H. Tan, 2011
Rasbora atridorsalis

Rasbora atridorsalis

Rasbora atridorsalis is a species of ray-finned fish in the genus Rasbora....


Kottelat

Maurice Kottelat

Dr. Maurice Kottelat is a Swiss ichthyologist.In 1976 he entered the University of Neuchâtel where he obtained his diploma in 1987. In 1980 he went to Thailand where he began his field research on Southeast Asiatic and Indonesian fresh water fish species...


& X. L. Chu, 1987
Rasbora aurotaenia Tirant, 1885 (Pale rasbora)
Rasbora baliensis

Rasbora baliensis

Rasbora baliensis is a species of ray-finned fish in the genus Rasbora.It is found only in Indonesia.-Source:* World Conservation Monitoring Centre 1996. . Downloaded on 19 July 2007....


Carl Hubbs

Carl Leavitt Hubbs

-Youth:He was born in Williams, Arizona. He was the son of Charles Leavitt and Elizabeth Hubbs. His father had a wide variety of jobs . The family moved several times before settling in San Diego where he got his first taste of natural history...


& Brittan, 1954
Rasbora bankanensis

Rasbora bankanensis

Rasbora bankanensis is a species of ray-finned fish in the genus Rasbora....


(Bleeker

Pieter Bleeker

Pieter Bleeker was a Dutch medical doctor and ichthyologist, famous for his work on the fishes of East Asia – Atlas Ichthyologique des Orientales Neerlandaises – which was published 1862–1877....


, 1853)
Rasbora beauforti Hardenberg, 1937 (Spotlight rasbora)
Rasbora borapetensis H. M. Smith

Hugh McCormick Smith

Hugh McCormick Smith was an American ichthyologist and administrator in the Bureau of Fisheries.-Biography:...


, 1934 (Blackline rasbora)
Rasbora borneensis

Rasbora borneensis

Rasbora borneensis is a species of ray-finned fish in the genus Rasbora....


Bleeker

Pieter Bleeker

Pieter Bleeker was a Dutch medical doctor and ichthyologist, famous for his work on the fishes of East Asia – Atlas Ichthyologique des Orientales Neerlandaises – which was published 1862–1877....


, 1860
Rasbora bunguranensis

Rasbora bunguranensis

Rasbora bunguranensis is a species of ray-finned fish in the genus Rasbora....


Brittan, 1951
Rasbora caudimaculata Volz, 1903 (Greater scissortail)
Rasbora caverii (Jerdon

Thomas C. Jerdon

Thomas Caverhill Jerdon was a British physician, zoologist and botanist. He is best remembered for his pioneering works on the ornithology of India...


, 1849) (Cauvery rasbora)
Rasbora cephalotaenia

Rasbora cephalotaenia

Rasbora cephalotaenia is a species of ray-finned fish in the genus Rasbora....


(Bleeker

Pieter Bleeker

Pieter Bleeker was a Dutch medical doctor and ichthyologist, famous for his work on the fishes of East Asia – Atlas Ichthyologique des Orientales Neerlandaises – which was published 1862–1877....


, 1852)
Rasbora chrysotaenia C. G. E. Ahl

Ernst Ahl

Christoph Gustav Ernst Ahl was a German zoologist.He was the director of the department of ichthyology and herpetology in the Museum für Naturkunde....


, 1937 (Goldstripe rasbora)
Rasbora daniconius (F. Hamilton

Francis Buchanan-Hamilton

Dr Francis Buchanan, later known as Francis Hamilton but often referred to as Francis Buchanan-Hamilton was a Scottish physician who made significant contributions as a geographer, zoologist, and botanist while living in India.The standard botanical author abbreviation Buch.-Ham. is applied to...


, 1822) (Slender rasbora)
Rasbora dies

Rasbora dies

Rasbora dies is a species of ray-finned fish in the genus Rasbora....


Kottelat

Maurice Kottelat

Dr. Maurice Kottelat is a Swiss ichthyologist.In 1976 he entered the University of Neuchâtel where he obtained his diploma in 1987. In 1980 he went to Thailand where he began his field research on Southeast Asiatic and Indonesian fresh water fish species...


, 2008
Rasbora dorsinotata

Rasbora dorsinotata

Rasbora dorsinotata is a species of ray-finned fish in the genus Rasbora....


Kottelat

Maurice Kottelat

Dr. Maurice Kottelat is a Swiss ichthyologist.In 1976 he entered the University of Neuchâtel where he obtained his diploma in 1987. In 1980 he went to Thailand where he began his field research on Southeast Asiatic and Indonesian fresh water fish species...


& X. L. Chu, 1987
Rasbora dusonensis (Bleeker

Pieter Bleeker

Pieter Bleeker was a Dutch medical doctor and ichthyologist, famous for his work on the fishes of East Asia – Atlas Ichthyologique des Orientales Neerlandaises – which was published 1862–1877....


, 1851) (Rosefin rasbora)
Rasbora einthovenii (Bleeker

Pieter Bleeker

Pieter Bleeker was a Dutch medical doctor and ichthyologist, famous for his work on the fishes of East Asia – Atlas Ichthyologique des Orientales Neerlandaises – which was published 1862–1877....


, 1851) (Brilliant rasbora)
Rasbora elegans Volz, 1903 (Twospot rasbora)
Rasbora ennealepis

Rasbora ennealepis

Rasbora ennealepis is a species of ray-finned fish in the genus Rasbora....


T. R. Roberts, 1989
Rasbora everetti Boulenger

George Albert Boulenger

George Albert Boulenger FRS was a Belgian-British zoologist who identified over 2000 new animal species, chiefly fish, reptiles and amphibians.-Life:...


, 1895
Rasbora gerlachi

Rasbora gerlachi

Rasbora gerlachi is a species of ray-finned fish in the genus Rasbora....


C. G. E. Ahl

Ernst Ahl

Christoph Gustav Ernst Ahl was a German zoologist.He was the director of the department of ichthyology and herpetology in the Museum für Naturkunde....


, 1928
Rasbora hobelmani

Rasbora hobelmani

Kottelat rasbora or Rasbora hobelmani is a species of ray-finned fish in the genus Rasbora....


Kottelat

Maurice Kottelat

Dr. Maurice Kottelat is a Swiss ichthyologist.In 1976 he entered the University of Neuchâtel where he obtained his diploma in 1987. In 1980 he went to Thailand where he began his field research on Southeast Asiatic and Indonesian fresh water fish species...


, 1984 (Kottelat rasbora)
Rasbora hosii

Rasbora hosii

Rasbora hosii is a species of ray-finned fish in the genus Rasbora....


Boulenger

George Albert Boulenger

George Albert Boulenger FRS was a Belgian-British zoologist who identified over 2000 new animal species, chiefly fish, reptiles and amphibians.-Life:...


, 1895
Rasbora hubbsi

Rasbora hubbsi

Rasbora hubbsi is a species of ray-finned fish in the genus Rasbora....


Brittan, 1954
Rasbora jacobsoni

Rasbora jacobsoni

Rasbora jacobsoni is a species of ray-finned fish in the genus Rasbora....


Weber & de Beaufort, 1916
Rasbora johannae

Rasbora johannae

Rasbora johannae is a species of ray-finned fish in the genus Rasbora....


Siebert & Guiry, 1996
Rasbora kalbarensis Kottelat

Maurice Kottelat

Dr. Maurice Kottelat is a Swiss ichthyologist.In 1976 he entered the University of Neuchâtel where he obtained his diploma in 1987. In 1980 he went to Thailand where he began his field research on Southeast Asiatic and Indonesian fresh water fish species...


, 1991 (Kalbar rasbora)
Rasbora kalochroma (Bleeker

Pieter Bleeker

Pieter Bleeker was a Dutch medical doctor and ichthyologist, famous for his work on the fishes of East Asia – Atlas Ichthyologique des Orientales Neerlandaises – which was published 1862–1877....


, 1851) (Clown rasbora)
Rasbora kluetensis Lumbantobing, 2010
Rasbora kobonensis Chaudhuri, 1913
Rasbora kottelati

Rasbora kottelati

Rasbora kottelati is a species of ray-finned fish in the genus Rasbora....


K. K. P. Lim, 1995
Rasbora labiosa Mukerji, 1935
Rasbora lacrimula

Rasbora lacrimula

Rasbora lacrimula is a species of ray-finned fish in the genus Rasbora....


Hadiaty & Kottelat

Maurice Kottelat

Dr. Maurice Kottelat is a Swiss ichthyologist.In 1976 he entered the University of Neuchâtel where he obtained his diploma in 1987. In 1980 he went to Thailand where he began his field research on Southeast Asiatic and Indonesian fresh water fish species...


, 2009
Rasbora lateristriata (Bleeker

Pieter Bleeker

Pieter Bleeker was a Dutch medical doctor and ichthyologist, famous for his work on the fishes of East Asia – Atlas Ichthyologique des Orientales Neerlandaises – which was published 1862–1877....


, 1854) (Yellow rasbora)
Rasbora laticlavia

Rasbora laticlavia

Rasbora laticlavia is a species of ray-finned fish in the genus Rasbora....


Siebert & P. J. Richardson, 1997
Rasbora leptosoma (Bleeker

Pieter Bleeker

Pieter Bleeker was a Dutch medical doctor and ichthyologist, famous for his work on the fishes of East Asia – Atlas Ichthyologique des Orientales Neerlandaises – which was published 1862–1877....


, 1855) (Copperstripe rasbora)
Rasbora meinkeni

Rasbora meinkeni

Rasbora meinkeni is a species of ray-finned fish in the genus Rasbora....


de Beaufort, 1931
Rasbora naggsi

Rasbora naggsi

Rasbora naggsi is a minnow endemic to Sri Lanka. The fish was discovered from a stream running across the Sabaragamuwa Campus in Belihul-Oya, Sri Lanka. This species is named after the famous malacologist Fred Naggs....


A. Silva, Maduwage & Pethiyagoda, 2010
Rasbora nematotaenia Carl Hubbs

Carl Leavitt Hubbs

-Youth:He was born in Williams, Arizona. He was the son of Charles Leavitt and Elizabeth Hubbs. His father had a wide variety of jobs . The family moved several times before settling in San Diego where he got his first taste of natural history...


& Brittan, 1954
Rasbora nodulosa Lumbantobing, 2010
Rasbora notura

Rasbora notura

Rasbora notura is a species of ray-finned fish in the genus Rasbora....


Kottelat

Maurice Kottelat

Dr. Maurice Kottelat is a Swiss ichthyologist.In 1976 he entered the University of Neuchâtel where he obtained his diploma in 1987. In 1980 he went to Thailand where he began his field research on Southeast Asiatic and Indonesian fresh water fish species...


, 2005
Rasbora ornata Vishwanath & Laisram, 2005
Rasbora patrickyapi

Rasbora patrickyapi

Rasbora patrickyapi is a species of ray-finned fish in the genus Rasbora....


H. H. Tan, 2009
Rasbora pauciperforata Weber & de Beaufort, 1916
Rasbora paucisqualis C. G. E. Ahl

Ernst Ahl

Christoph Gustav Ernst Ahl was a German zoologist.He was the director of the department of ichthyology and herpetology in the Museum für Naturkunde....


, 1935 (Largescaled rasbora)
Rasbora paviana Tirant, 1885 (Sidestripe rasbora)
Rasbora philippina Günther, 1880 (Mindanao rasbora)
Rasbora rasbora (F. Hamilton

Francis Buchanan-Hamilton

Dr Francis Buchanan, later known as Francis Hamilton but often referred to as Francis Buchanan-Hamilton was a Scottish physician who made significant contributions as a geographer, zoologist, and botanist while living in India.The standard botanical author abbreviation Buch.-Ham. is applied to...


, 1822) (Gangetic scissortail rasbora)
Rasbora reticulata

Rasbora reticulata

Rasbora reticulata is a species of ray-finned fish in the genus Rasbora....


Weber & de Beaufort, 1915
Rasbora rubrodorsalis

Rasbora rubrodorsalis

Rasbora rubrodorsalis is a species of ray-finned fish in the genus Rasbora....


Donoso-Büchner & J. Schmidt, 1997
Rasbora rutteni

Rasbora rutteni

Rasbora rutteni is a species of ray-finned fish in the genus Rasbora....


Weber & de Beaufort, 1916
Rasbora sarawakensis

Rasbora sarawakensis

Rasbora sarawakensis is a species of ray-finned fish in the genus Rasbora....


Brittan, 1951
Rasbora semilineata

Rasbora semilineata

Rasbora semilineata is a species of ray-finned fish in the genus Rasbora....


Weber & de Beaufort, 1916
Rasbora septentrionalis

Rasbora septentrionalis

Rasbora septentrionalis is a species of ray-finned fish in the genus Rasbora....


Kottelat

Maurice Kottelat

Dr. Maurice Kottelat is a Swiss ichthyologist.In 1976 he entered the University of Neuchâtel where he obtained his diploma in 1987. In 1980 he went to Thailand where he began his field research on Southeast Asiatic and Indonesian fresh water fish species...


, 2000
Rasbora spilotaenia

Rasbora spilotaenia

Rasbora spilotaenia is a species of ray-finned fish in the genus Rasbora....


Carl Hubbs

Carl Leavitt Hubbs

-Youth:He was born in Williams, Arizona. He was the son of Charles Leavitt and Elizabeth Hubbs. His father had a wide variety of jobs . The family moved several times before settling in San Diego where he got his first taste of natural history...


& Brittan, 1954
Rasbora steineri Nichols

John Treadwell Nichols

John Treadwell Nichols was an American ichthyologist.-Biography:Nichols was born as son of John White Treadwell Nichols in Jamaica Plain, Boston, Massachusetts. In 1906 he studied vertebrate zoology at Harvard College where he graduated to Bachelor of Arts...


& Pope

Clifford H. Pope

Cliford Hillhouse Pope was a noted American herpetologist. He was the son of Mark Cooper Pope and Harriett Alexander Pope, and grew up in Washington, Georgia. Shortly after his graduation from the University of Virginia, Pope went to the Tropical Research Station at British Guiana, maintained...


, 1927 (Chinese rasbora)
Rasbora subtilis

Rasbora subtilis

Rasbora subtilis is a species of ray-finned fish in the genus Rasbora....


T. R. Roberts, 1989
Rasbora sumatrana

Rasbora sumatrana

Rasbora sumatrana is a species of ray-finned fish in the genus Rasbora....


(Bleeker

Pieter Bleeker

Pieter Bleeker was a Dutch medical doctor and ichthyologist, famous for his work on the fishes of East Asia – Atlas Ichthyologique des Orientales Neerlandaises – which was published 1862–1877....


, 1852)
Rasbora tawarensis

Rasbora tawarensis

Rasbora tawarensis is a species of ray-finned fish in the Cyprinidae family.It is found only in Indonesia.-Source:* World Conservation Monitoring Centre 1996. . Downloaded on 19 July 2007....


Weber & de Beaufort, 1916
Rasbora taytayensis

Rasbora taytayensis

Rasbora taytayensis is a species of ray-finned fish in the genus Rasbora....


Herre

Albert William Herre

Albert William Christian Theodore Herre was an American ichthyologist and lichenologist.Herre was born in 1868 in Toledo, Ohio....


, 1924
Rasbora tobana

Rasbora tobana

Rasbora tobana is a species of ray-finned fish in the genus Rasbora....


C. G. E. Ahl

Ernst Ahl

Christoph Gustav Ernst Ahl was a German zoologist.He was the director of the department of ichthyology and herpetology in the Museum für Naturkunde....


, 1934
Rasbora tornieri C. G. E. Ahl

Ernst Ahl

Christoph Gustav Ernst Ahl was a German zoologist.He was the director of the department of ichthyology and herpetology in the Museum für Naturkunde....


, 1922 (Yellowtail rasbora)
Rasbora trifasciata

Rasbora trifasciata

Rasbora trifasciata is a species of ray-finned fish in the genus Rasbora....


Popta, 1905
Rasbora trilineata Steindachner

Franz Steindachner

Franz Steindachner was an Austrian zoologist.- Work and career :Being interested in natural history, Steindachner took up the study of fossil fishes on the recommendation of his friend Eduard Suess...


, 1870 (Three-lined rasbora)
Rasbora truncata Lumbantobing, 2010
Rasbora tubbi

Rasbora tubbi

Rasbora tubbi is a species of ray-finned fish in the genus Rasbora....


Brittan, 1954
Rasbora tuberculata

Rasbora tuberculata

Rasbora tuberculata is a species of ray-finned fish in the genus Rasbora....


Kottelat

Maurice Kottelat

Dr. Maurice Kottelat is a Swiss ichthyologist.In 1976 he entered the University of Neuchâtel where he obtained his diploma in 1987. In 1980 he went to Thailand where he began his field research on Southeast Asiatic and Indonesian fresh water fish species...


, 1995
Rasbora volzii

Rasbora volzii

Rasbora volzii is a species of ray-finned fish in the genus Rasbora....


Popta, 1905
Rasbora vulcanus

Rasbora vulcanus

Rasbora vulcanus is a species of ray-finned fish in the genus Rasbora....


H. H. Tan, 1999
Rasbora vulgaris Duncker, 1904
Rasbora wilpita

Rasbora wilpita

Wilpita rasbor or Rasbora wilpita is a species of ray-finned fish in the Cyprinidae family.It is found only in Sri Lanka.-Source:* Pethiyagoda, R. 1996. . Downloaded on 19 July 2007....


Kottelat

Maurice Kottelat

Dr. Maurice Kottelat is a Swiss ichthyologist.In 1976 he entered the University of Neuchâtel where he obtained his diploma in 1987. In 1980 he went to Thailand where he began his field research on Southeast Asiatic and Indonesian fresh water fish species...


& Pethiyagoda, 1991 (Wilpita rasbora)
See also
Danio

Danio

The Danio genus comprises many of the species of danionins familiar to aquarists. The common name "danio" is used for members of the genera Danio and Devario.-Taxonomy:...


s - closely related fish to the rasboras