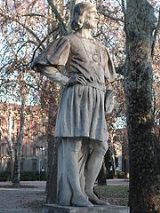 Ludovico Ariosto
Ludovico Ariosto
was an Italian
poet
Poet
A poet is a person who writes poetry. A poet's work can be literal, meaning that his work is derived from a specific event, or metaphorical, meaning that his work can take on many meanings and forms. Poets have existed since antiquity, in nearly all languages, and have produced works that vary...
. He is best known as the author of the
romance
Romance (genre)
As a literary genre of high culture, romance or chivalric romance is a style of heroic prose and verse narrative that was popular in the aristocratic circles of High Medieval and Early Modern Europe. They were fantastic stories about marvel-filled adventures, often of a knight errant portrayed as...
epic
Epic poetry
An epic is a lengthy narrative poem, ordinarily concerning a serious subject containing details of heroic deeds and events significant to a culture or nation. Oral poetry may qualify as an epic, and Albert Lord and Milman Parry have argued that classical epics were fundamentally an oral poetic form...
Orlando Furioso
Orlando Furioso
Orlando Furioso is an Italian epic poem by Ludovico Ariosto which has exerted a wide influence on later culture. The earliest version appeared in 1516, although the poem was not published in its complete form until 1532...
(1516). The poem, a continuation of
Matteo Maria Boiardo
Matteo Maria Boiardo
Matteo Maria Boiardo was an Italian Renaissance poet.Boiardo was born at, or near, Scandiano ; the son of Giovanni di Feltrino and Lucia Strozzi, he was of noble lineage, ranking as Count of Scandiano, with seignorial power over Arceto, Casalgrande, Gesso, and Torricella...
's
Orlando Innamorato
Orlando Innamorato
Orlando Innamorato is an epic poem written by the Italian Renaissance author Matteo Maria Boiardo. The poem is a romance concerning the heroic knight Orlando .-Composition and publication:...
, describes the adventures of
Charlemagne
Charlemagne
Charlemagne was King of the Franks from 768 and Emperor of the Romans from 800 to his death in 814. He expanded the Frankish kingdom into an empire that incorporated much of Western and Central Europe. During his reign, he conquered Italy and was crowned by Pope Leo III on 25 December 800...
,
Orlando
Roland
Roland was a Frankish military leader under Charlemagne who became one of the principal figures in the literary cycle known as the Matter of France. Historically, Roland was military governor of the Breton March, with responsibility for defending the frontier of Francia against the Bretons...
, and the
Franks
Frankish Empire
Francia or Frankia, later also called the Frankish Empire , Frankish Kingdom , Frankish Realm or occasionally Frankland, was the territory inhabited and ruled by the Franks from the 3rd to the 10th century...
as they battle against the
Saracen
Saracen
Saracen was a term used by the ancient Romans to refer to a people who lived in desert areas in and around the Roman province of Arabia, and who were distinguished from Arabs. In Europe during the Middle Ages the term was expanded to include Arabs, and then all who professed the religion of Islam...
s with diversions into many sideplots. Ariosto composed the poem in the
ottava rima
Ottava rima
Ottava rima is a rhyming stanza form of Italian origin. Originally used for long poems on heroic themes, it later came to be popular in the writing of mock-heroic works. Its earliest known use is in the writings of Giovanni Boccaccio....
rhyme scheme and introduced narrative commentary throughout the work.
Ariosto was born in
Reggio Emilia
Reggio Emilia
Reggio Emilia is an affluent city in northern Italy, in the Emilia-Romagna region. It has about 170,000 inhabitants and is the main comune of the Province of Reggio Emilia....
, where his father Niccolò Ariosto was commander of the citadel.
For rarely man escapes his destiny.

XVIII, 58
But that he wrought so high the specious tale,As manifested plainly 'twas a lie.

XVIII, 84
Who seems most hideous when adorned the most.

XX, 116
Man proposes, and God disposes.

XLVI, 35