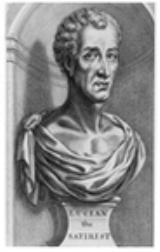 Lucian
Lucian of Samosata
was a
rhetoric
Rhetoric
Rhetoric is the art of discourse, an art that aims to improve the facility of speakers or writers who attempt to inform, persuade, or motivate particular audiences in specific situations. As a subject of formal study and a productive civic practice, rhetoric has played a central role in the Western...
ian and
satirist
Satire
Satire is primarily a literary genre or form, although in practice it can also be found in the graphic and performing arts. In satire, vices, follies, abuses, and shortcomings are held up to ridicule, ideally with the intent of shaming individuals, and society itself, into improvement...
who wrote in the
Greek language
Greek language
Greek is an independent branch of the Indo-European family of languages. Native to the southern Balkans, it has the longest documented history of any Indo-European language, spanning 34 centuries of written records. Its writing system has been the Greek alphabet for the majority of its history;...
. He is noted for his witty and scoffing nature.
His ethnicity is disputed and is attributed as
Assyrian
Assyrian people
The Assyrian people are a distinct ethnic group whose origins lie in ancient Mesopotamia...
according to
Frye
Richard Nelson Frye
Richard Nelson Frye is an American scholar of Iranic and Central Asian Studies, and Aga Khan Professor Emeritus of Iranian Studies at Harvard University...
and
Parpola
Simo Parpola
Simo Parpola is a Finnish archaeologist, currently professor of Assyriology at the University of Helsinki. He specialized in epigraphy of the Akkadian language, and has been working on the Neo-Assyrian Text Corpus Project since 1987...
, and
Syrian
Syrian people
The Syrian people are the inhabitants and citizens of Syria. Syrians are tied together by geography, linguistic heritage, religion, and similar Eastern Mediterranean ethnicities...
according to
Joseph
John Joseph (academic)
John Joseph is an Assyrian-American educator and historian who taught courses on the history of the Middle East and its relationship with the West at Franklin & Marshall College in Lancaster, Pennsylvania from 1961 to 1988....
.
Biography
Few details of Lucian's life can be verified with any degree of accuracy. He claimed to have been born in
Samosata
Samosata
Samosata was an ancient city on the right bank of the Euphrates whose ruins existed at the modern city of Samsat, Adıyaman Province, Turkey until the site was flooded by the newly-constructed Atatürk Dam....
, in the former kingdom of Commagene, which had been absorbed by the
Roman Empire
Roman Empire
The Roman Empire was the post-Republican period of the ancient Roman civilization, characterised by an autocratic form of government and large territorial holdings in Europe and around the Mediterranean....
and made part of the province of
Syria
History of Syria
The history of Syria:*Prehistory and Ancient Near East: see Pre-history of the Southern Levant, Fertile Crescent, Ebla, Mitanni*Antiquity: see Syro-Hittite states, Greater Syria, Roman Syria...
. In his works, Lucian refers to himself as a "Syrian", "Assyrian" and "
barbarian
Barbarian
Barbarian and savage are terms used to refer to a person who is perceived to be uncivilized. The word is often used either in a general reference to a member of a nation or ethnos, typically a tribal society as seen by an urban civilization either viewed as inferior, or admired as a noble savage...
", perhaps indicating "he was from the Semitic and not the imported Greek population" of Samosata. Lucian almost certainly did not write all of the more than eighty works attributed to him — declamations, essays both laudatory and sarcastic, satiric epigrams, and comic dialogues and
symposia
Symposium
In ancient Greece, the symposium was a drinking party. Literary works that describe or take place at a symposium include two Socratic dialogues, Plato's Symposium and Xenophon's Symposium, as well as a number of Greek poems such as the elegies of Theognis of Megara...
with a satirical cast, studded with quotations in alarming contexts and allusions set in an unusual light, designed to be surprising and provocative. His name added luster to any entertaining and sarcastic essay: over 150 surviving
manuscript
Manuscript
A manuscript or handwrite is written information that has been manually created by someone or some people, such as a hand-written letter, as opposed to being printed or reproduced some other way...
s attest to his continued popularity. The first printed edition of a selection of his works was issued at
Florence
Florence
Florence is the capital city of the Italian region of Tuscany and of the province of Florence. It is the most populous city in Tuscany, with approximately 370,000 inhabitants, expanding to over 1.5 million in the metropolitan area....
in 1499. His best known works are
A True Story
True History
True History or True Story is a travel tale by the Greek-speaking Syrian author Lucian of Samosata, the earliest known fiction about travelling to outer space, alien life-forms and interplanetary warfare. Written in the 2nd century, the novel has been referred to as "the first known text that...
(a
romance
Romance (genre)
As a literary genre of high culture, romance or chivalric romance is a style of heroic prose and verse narrative that was popular in the aristocratic circles of High Medieval and Early Modern Europe. They were fantastic stories about marvel-filled adventures, often of a knight errant portrayed as...
, patently not "true" at all, which he admits in his introduction to the story), and
Dialogues of the Gods
(
Θεῶν διάλογοι
) and
Dialogues of the Dead
(
Νεκρικοί Διάλογοι
).
Lucian was trained as a
rhetoric
Rhetoric
Rhetoric is the art of discourse, an art that aims to improve the facility of speakers or writers who attempt to inform, persuade, or motivate particular audiences in specific situations. As a subject of formal study and a productive civic practice, rhetoric has played a central role in the Western...
ian, a vocation where one pleads in court, composing pleas for others, and teaching the art of pleading. Lucian's practice was to travel about, giving amusing discourses and witty lectures improvised on the spot, somewhat as a
rhapsode
Rhapsode
A rhapsode or, in modern usage, rhapsodist, refers to a classical Greek professional performer of epic poetry in the fifth and fourth centuries BC . Rhapsodes notably performed the epics of Homer but also the wisdom and catalogue poetry of Hesiod and the satires of Archilochus and others...
had done in declaiming poetry at an earlier period. In this way Lucian travelled through
Ionia
Ionia
Ionia is an ancient region of central coastal Anatolia in present-day Turkey, the region nearest İzmir, which was historically Smyrna. It consisted of the northernmost territories of the Ionian League of Greek settlements...
and mainland
Greece
Greece
Greece , officially the Hellenic Republic , and historically Hellas or the Republic of Greece in English, is a country in southeastern Europe....
, to
Italy
Italy
Italy , officially the Italian Republic languages]] under the European Charter for Regional or Minority Languages. In each of these, Italy's official name is as follows:;;;;;;;;), is a unitary parliamentary republic in South-Central Europe. To the north it borders France, Switzerland, Austria and...
and even to
Gaul
Gaul
Gaul was a region of Western Europe during the Iron Age and Roman era, encompassing present day France, Luxembourg and Belgium, most of Switzerland, the western part of Northern Italy, as well as the parts of the Netherlands and Germany on the left bank of the Rhine. The Gauls were the speakers of...
, and won much wealth and fame.
Lucian admired the works of
Epicurus
Epicurus
Epicurus was an ancient Greek philosopher and the founder of the school of philosophy called Epicureanism.Only a few fragments and letters remain of Epicurus's 300 written works...
, for he breaks off a witty satire against
Alexander of Abonoteichus
Alexander of Abonoteichus
Alexander of Abonoteichus , also called Alexander the Paphlagonian, or the false prophet Alexander, was a Greek mystic and oracle, and the founder of the Glycon cult that briefly achieved wide popularity in the Roman world. The contemporary writer Lucian reports that he was an utter fraud - the god...
, who burned a book of Epicurus, to exclaim:
What blessings that book creates for its readers and what peace, tranquillity, and freedom it engenders in them, liberating them as it does from terrors and apparitions and portents, from vain hopes and extravagant cravings, developing in them intelligence and truth, and truly purifying their understanding, not with torches and squills and that sort of foolery, but with straight thinking, truthfulness and frankness.
Works
Lucian was also one of the earliest novelists in
Western
Western world
The Western world, also known as the West and the Occident , is a term referring to the countries of Western Europe , the countries of the Americas, as well all countries of Northern and Central Europe, Australia and New Zealand...
civilization. In
A True Story
True History
True History or True Story is a travel tale by the Greek-speaking Syrian author Lucian of Samosata, the earliest known fiction about travelling to outer space, alien life-forms and interplanetary warfare. Written in the 2nd century, the novel has been referred to as "the first known text that...
, a fictional narrative work written in prose, he parodied some fantastic tales told by
Homer
Homer
In the Western classical tradition Homer , is the author of the Iliad and the Odyssey, and is revered as the greatest ancient Greek epic poet. These epics lie at the beginning of the Western canon of literature, and have had an enormous influence on the history of literature.When he lived is...
in the
Odyssey
Odyssey
The Odyssey is one of two major ancient Greek epic poems attributed to Homer. It is, in part, a sequel to the Iliad, the other work ascribed to Homer. The poem is fundamental to the modern Western canon, and is the second—the Iliad being the first—extant work of Western literature...
and some feeble fantasies that were popular in his time. He anticipated "modern" fictional themes like voyages to the moon and Venus,
extraterrestrial life
Extraterrestrial life
Extraterrestrial life is defined as life that does not originate from Earth...
and wars between planets, nearly two millennia before
Jules Verne
Jules Verne
Jules Gabriel Verne was a French author who pioneered the science fiction genre. He is best known for his novels Twenty Thousand Leagues Under the Sea , A Journey to the Center of the Earth , and Around the World in Eighty Days...
and
H. G. Wells
H. G. Wells
Herbert George Wells was an English author, now best known for his work in the science fiction genre. He was also a prolific writer in many other genres, including contemporary novels, history, politics and social commentary, even writing text books and rules for war games...
. His novel is widely regarded as an early, if not the earliest
science fiction
Science fiction
Science fiction is a genre of fiction dealing with imaginary but more or less plausible content such as future settings, futuristic science and technology, space travel, aliens, and paranormal abilities...
work.
Lucian also wrote a satire called
The Passing of Peregrinus
, in which the lead character,
Peregrinus Proteus
Peregrinus Proteus
Peregrinus Proteus was a Cynic philosopher, from Parium in Mysia. Leaving home at a young age, he first lived with the Christians in Palestine, before eventually being expelled from that community and adopting the life of a Cynic philosopher and eventually settling in Greece...
, takes advantage of the generosity and gullibility of Christians. This is one of the earliest surviving pagan perceptions of
Christianity
Christianity
Christianity is a monotheistic religion based on the life and teachings of Jesus as presented in canonical gospels and other New Testament writings...
. His
Philopseudes
(
Φιλοψευδής ἤ Ἀπιστῶν "Lover of Lies or Cheater"
) is a
frame story
Frame story
A frame story is a literary technique that sometimes serves as a companion piece to a story within a story, whereby an introductory or main narrative is presented, at least in part, for the purpose of setting the stage either for a more emphasized second narrative or for a set of shorter stories...
which includes the original version of "
The Sorcerer's Apprentice
The Sorcerer's Apprentice
The Sorcerer's Apprentice is the English name of a poem by Goethe, Der Zauberlehrling, written in 1797. The poem is a ballad in fourteen stanzas.-Story:...
".
In his
Symposium
(Συμπόσιον), far from
Plato
Plato
Plato , was a Classical Greek philosopher, mathematician, student of Socrates, writer of philosophical dialogues, and founder of the Academy in Athens, the first institution of higher learning in the Western world. Along with his mentor, Socrates, and his student, Aristotle, Plato helped to lay the...
's
discourse
Symposium (Plato)
The Symposium is a philosophical text by Plato dated c. 385–380 BCE. It concerns itself at one level with the genesis, purpose and nature of love....
, the diners get drunk, tell smutty tales and behave badly.
The
Macrobii
(
Μακρόβιοι
) "long-livers", which is devoted to longevity, has been attributed to Lucian, although it is generally agreed that he was not the author. It gives some mythical examples like that of
Nestor
Nestor (mythology)
In Greek mythology, Nestor of Gerenia was the son of Neleus and Chloris and the King of Pylos. He became king after Heracles killed Neleus and all of Nestor's siblings...
who lived three generations or
Tiresias
Tiresias
In Greek mythology, Tiresias was a blind prophet of Thebes, famous for clairvoyance and for being transformed into a woman for seven years. He was the son of the shepherd Everes and the nymph Chariclo; Tiresias participated fully in seven generations at Thebes, beginning as advisor to Cadmus...
, the blind seer of
Thebes
Ancient Thebes (Boeotia)
See Thebes, Greece for the modern city built on the ancient ruins.Ancient Thebes was a Boeotian city-state , situated to the north of the Cithaeron range, which divides Boeotia from Attica, and on the southern edge of the Boeotian plain...
, who lived six generations. It tells about the
Seres
Seres
Seres was the ancient Greek and Roman name for the inhabitants of eastern Central Asia. It meant "of silk," or people of the "land where silk comes from." The country of the Seres was Serica....
(Chinese) "who are said to live 300 years" or the people of Athos, "who are also said to live 130 years". Most of the examples of "real" men lived between 80 and 100 years, but ten cases of alleged centenarians are given. It also gives some advice concerning food intake and moderation in general.
There is debate over the authorship of some works, transmitted under Lucian's name, such as
De Dea Syria
De Dea Syria
De Dea Syria is the conventional Latin title of a work, written in a Herodotean-style of Ionic Greek, which has been traditionally ascribed to the Hellenized Syrian essayist Lucian of Samosata. It is a description of the various religious cults practiced at Hierapolis Bambyce, now Manbij, in Syria...
("On the Syrian goddess"), the
Amores
Amores (Lucian)
The Erōtes or Amores is a Greek dialogue, an example of contest literature, comparing the love of women and the love of boys, and concluding that the latter was preferable. The dialogue was transmitted among the works of Lucian. Most modern scholars believe that the style of the dialogue puts...
and the Ass. These are usually not considered genuine works of Lucian and normally cited under the name of
Pseudo-Lucian
. The Ass (
Λούκιος ἢ ῎Oνος
) is probably a summarized version of a story by Lucian and contains largely the same basic plot elements as The Golden Ass (or Metamorphoses) of Apuleius, but with fewer digressions and a different ending.
Language
Lucian wrote Attic dialect with a facility almost equal to Plato. He further imitated Herodotus's
Ionic
Ionic Greek
Ionic Greek was a subdialect of the Attic–Ionic dialect group of Ancient Greek .-History:Ionic dialect appears to have spread originally from the Greek mainland across the Aegean at the time of the Dorian invasions, around the 11th Century B.C.By the end of the Greek Dark Ages in the 5th Century...
dialect so successfully in his work "The Syrian Goddess" that some scholars refuse to recognize him as the author.
Еditions
Neil Hopkinson (ed.), Lucian: A Selection. Cambridge Greek and Latin Texts (Cambridge/New York: Cambridge University Press, 2008).
External links