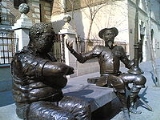 Don Quixote
(ˌdɒn kiːˈhoʊtiː, 'doŋ ki'xote), fully titled
The Ingenious Gentleman Don Quixote of La Mancha
, is a novel written by
Miguel de Cervantes
Miguel de Cervantes
Miguel de Cervantes Saavedra was a Spanish novelist, poet, and playwright. His magnum opus, Don Quixote, considered the first modern novel, is a classic of Western literature, and is regarded amongst the best works of fiction ever written...
. Published in two volumes a decade apart (in 1605 and 1615),
Don Quixote
is considered the most influential work of literature from the
Spanish Golden Age
Spanish Golden Age
The Spanish Golden Age is a period of flourishing in arts and literature in Spain, coinciding with the political rise and decline of the Spanish Habsburg dynasty. El Siglo de Oro does not imply precise dates and is usually considered to have lasted longer than an actual century...
and the entire Spanish literary canon. As a founding work of modern Western literature, and one of the earliest canonical novels, it regularly appears high on lists of the greatest works of fiction ever published.