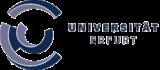 University of Erfurt
The
University of Erfurt
is a public university located in
Erfurt
Erfurt
Erfurt is the capital city of Thuringia and the main city nearest to the geographical centre of Germany, located 100 km SW of Leipzig, 150 km N of Nuremberg and 180 km SE of Hannover. Erfurt Airport can be reached by plane via Munich. It lies in the southern part of the Thuringian...
,
Germany
Germany
Germany , officially the Federal Republic of Germany , is a federal parliamentary republic in Europe. The country consists of 16 states while the capital and largest city is Berlin. Germany covers an area of 357,021 km2 and has a largely temperate seasonal climate...
. Originally founded in 1379, the university was closed in 1816 for the next 177 years. The university was re-established in 1994, three years after
Thuringia
Thuringia
The Free State of Thuringia is a state of Germany, located in the central part of the country.It has an area of and 2.29 million inhabitants, making it the sixth smallest by area and the fifth smallest by population of Germany's sixteen states....
reunified with the Federal Republic.
1379—1816
The University of Erfurt was founded in 1379 as the first university in the territory which is now
Germany
Germany
Germany , officially the Federal Republic of Germany , is a federal parliamentary republic in Europe. The country consists of 16 states while the capital and largest city is Berlin. Germany covers an area of 357,021 km2 and has a largely temperate seasonal climate...
; for some time, it was the largest university in the country. When the town of Erfurt became part of
Prussia
Prussia
Prussia was a German kingdom and historic state originating out of the Duchy of Prussia and the Margraviate of Brandenburg. For centuries, the House of Hohenzollern ruled Prussia, successfully expanding its size by way of an unusually well-organized and effective army. Prussia shaped the history...
in 1816, the government closed the university after its more than 400 years of operation.
1994—today
In December 1993, the
Landtag of Thuringia
Landtag of Thuringia
The Landtag of Thuringia is the state diet of the German federal state of Thuringia. It convenes in Erfurt and currently consists of 88 members of three Parties...
voted to re-establish the university. The university was officially re-founded on January 1, 1994. Lectures began in the winter term from 1999 to 2000. Shortly afterwards, the
rector
Rector
The word rector has a number of different meanings; it is widely used to refer to an academic, religious or political administrator...
who had overseen the founding,
Peter Glotz
Peter Glotz
Peter Glotz was a German social democratic politician and social scientist.Glotz was born in Eger, Sudetenland , to a German father and a Czech mother. His father, an insurance-clerk and member of the Nazi party, worked for an "aryanized" Jewish factory in Prague...
, a politician in the
SPD
Social Democratic Party of Germany
The Social Democratic Party of Germany is a social-democratic political party in Germany...
party, left the university. The position was taken over by Wolfgang Bergsdorf, a friend of Bernhard Vogel, Thuringia's
Minister-president
Minister-President
A minister-president is the head of government in a number of European countries or subnational governments, in which a parliamentary or semi-presidential system of government prevails, who presides over the council of ministers...
.
In 2001, the Erfurt Teachers' Training College (
Pädagogische Hochschule Erfurt
), founded in 1953, became part of the university.
On January 1, 2003, a fourth faculty was added to the university in the form of the Roman Catholic Theological Faculty, previously the Erfurt Philosophical and Theological Centre,
Philosophisch-Theologisches Studium Erfurt
.
In 2003, a chronic lack of financing meant that there were many redundancies and that vacancies were left unfilled: this led to student protests all over Thuringia. The university administration and committees were reformed and the situation was stabilized.
The University of Erfurt is a liberal arts university with reform and socio-cultural profile. The close networking of the Philosophical, Educational Research, Governmental Studies and Catholic Theological Faculty, as well as the Max Weber Kolleg, continue to be innovative in their approach to teaching and research.
Forward-study programs, the technical competence and professionalism combine modern forms of teacher training studies and the interdisciplinary "Fundamental Studies draw" the University of Erfurt in particular. A mentor program and the very good relationship between teachers and students guarantee quality in teaching and training. Research groups and graduate schools allow "at the University of Erfurt excellent research, the discipline of scientific cooperation on the international borders and is marked.
As one of the oldest and the youngest public universities in Germany, the University of Erfurt still has no tuition fees (as is the case in Thuringia) and is the first institution of higher education to receive the
family-friendly certificate
for employers. The suburban campus makes it a living part of the country's capital, with its low cost of living and its extensive cultural and leisure offer.
Faculties and institutions
There are five faculties available in Erfurt University:
Faculty of Education
Catholic Theology
Faculty of Arts/Philosophy
Faculty of Law, Economics and Social Science
Max Weber
Institutions of particular note are the Max Weber College for Cultural and Social Sciences and the Willy Brandt School of Public Policy, the former Erfurt School of Public Policy (ESPP), named after the former
Chancellor of Germany
Chancellor of Germany
The Chancellor of Germany is, under the German 1949 constitution, the head of government of Germany...
,
Willy Brandt
Willy Brandt
Willy Brandt, born Herbert Ernst Karl Frahm , was a German politician, Mayor of West Berlin 1957–1966, Chancellor of West Germany 1969–1974, and leader of the Social Democratic Party of Germany 1964–1987....
, in November 2009, which is partly financed by tuition fees. The Erfurt-Gotha Research Library houses the famous
Amploniana
collection of scripts from the
Middle Ages
Middle Ages
The Middle Ages is a periodization of European history from the 5th century to the 15th century. The Middle Ages follows the fall of the Western Roman Empire in 476 and precedes the Early Modern Era. It is the middle period of a three-period division of Western history: Classic, Medieval and Modern...
.
University maxim
The University of Erfurt is sometimes thought of as a reformist university.
Martin Luther
Martin Luther
Martin Luther was a German priest, professor of theology and iconic figure of the Protestant Reformation. He strongly disputed the claim that freedom from God's punishment for sin could be purchased with money. He confronted indulgence salesman Johann Tetzel with his Ninety-Five Theses in 1517...
once attended it in 1502, receiving his bachelor's degree. Its main focuses are multidisciplinarity, internationality and a strong
mentor
Mentor
In Greek mythology, Mentor was the son of Alcimus or Anchialus. In his old age Mentor was a friend of Odysseus who placed Mentor and Odysseus' foster-brother Eumaeus in charge of his son Telemachus, and of Odysseus' palace, when Odysseus left for the Trojan War.When Athena visited Telemachus she...
ing system, although in fact the student body is largely regional. All new courses lead to the new
Bachelor of Arts
Bachelor of Arts
A Bachelor of Arts , from the Latin artium baccalaureus, is a bachelor's degree awarded for an undergraduate course or program in either the liberal arts, the sciences, or both...
or
Master's degree
Master's degree
A master's is an academic degree granted to individuals who have undergone study demonstrating a mastery or high-order overview of a specific field of study or area of professional practice...
rather than the traditional German
Diplom
, which makes Erfurt one of the first German universities to completely implement the
Bologna process
Bologna process
The purpose of the Bologna Process is the creation of the European Higher Education Area by making academic degree standards and quality assurance standards more comparable and compatible throughout Europe, in particular under the Lisbon Recognition Convention...
.
An especially important faculty is that of
Staatswissenschaften
(Government Studies), the only one in Germany to offer integrated courses in
economics
Economics
Economics is the social science that analyzes the production, distribution, and consumption of goods and services. The term economics comes from the Ancient Greek from + , hence "rules of the house"...
,
social sciences
Social sciences
Social science is the field of study concerned with society. "Social science" is commonly used as an umbrella term to refer to a plurality of fields outside of the natural sciences usually exclusive of the administrative or managerial sciences...
and
law
Law
Law is a system of rules and guidelines which are enforced through social institutions to govern behavior, wherever possible. It shapes politics, economics and society in numerous ways and serves as a social mediator of relations between people. Contract law regulates everything from buying a bus...
.
B.A., Masters and PhD
Faculty of Education
General Education and Empirical Research
Professional education / vocational training / adult education
Evangelical Theology
Elementary School Education / Childhood Research
Art
Music
Psychology
School Education
Special and Social Education
Sport and Exercise Sciences
Technical Sciences and Occupational Development
Faculty of Arts
History
Communication Studies
Literature
Philosophy
Religious Studies
Linguistics
Knowledge cultures of the European Modern
Faculty of Catholic Theology
Early Church History
Modern Church History
Old Testament
New Testament
Christian
Fundamental
dogmatics
Moral Theology
Liturgy
Pastoral Theology
Religious Education
Canon
Christian Worldview
Religious and Cultural Theory
Ancient languages
Faculty of Political Science
Political Science
Law
Sociology
Economics
The Max Weber Center for Cultural and Social Studies
It is a research institute which combines an Institute for Advanced Study. Internationally renowned scholars from different disciplines (sociology, history, philosophy, theology, religion, law and economics) are participated in a long-term Weber's research program and to supervise the fellows (graduate students and postdoctoral students).
The Max Weber Weber's pursuing a research program that can be characterized briefly as an interdisciplinary and comparative social sciences, with great historical depth and an interest in normative issues. It addresses the following issues:
Religion, science and law as interpretation and control powers;
Interactions between cultures, social systems and mentalities in radical change;
action-theoretical foundations of cultural and social sciences and their relation to normative, especially ethical issues.
Promotion/PhD courses
Erfurt University has opened PhD application for various disciplines as well as has invited many researcher from all over the world. Such fields that are possible to be conducted as a PhD topic like economics, law, communication and Islamic studies.
Sommerkurse/Summer course courses
International Summer Course for German Language, Literature and Culture
Summer School "Muslims in the West"
Summer Program in Communications Erfurt (SPICE)
International Spring School
Research groups
Currently following colleges and research teams are part of the Erfurt doctoral and postdoctoral program (EPPP):
The research group "Communication and Digital Media (COMDIGMED) is an interdisciplinary and international scale embedded and association of researchers. This project will combine to support the research activities of its members on the field of communication science, educational science, psychology and social science and networking of research and teaching help. COMDIGMED is co-creator of university education focus.
In the Center for Empirical Research in Economics and Behavior "(Cereb) scientists working together of economic and behavioral sciences. Focus on the theoretical modeling of human decision behavior, the design of social institutions and educational and career choices as long-term Selbststeuerungsprozesse. Cereb The university is involved in the specialization.
The Graduate School "Religion in modernization processes" religion-related research projects from the religious, social, literary, media and history of science, theology and philosophy. engage young scientists, the problems in this area, are at the Graduate School offer attractive conditions for their work to develop new understandings of religion in modernization processes.
The research program of Max Weber Centre for Advanced Cultural and Social Studies directed to the problems of religion, science and law as interpretation and control powers, interactions between cultures, social systems and mentalities in radical change, and action-bases of cultural and social sciences and their relation to normative, especially ethical issues.
In the DFG-Graduiertenkolleg "Human Dignity and Human Rights" to employ young researchers at the Max-Weber-Kolleg of the Ethics Center and the University of Jena with creation, development and application of a central value of Modernity: the human dignity, including consideration of less history of violence.
The projects of the Research "Proficiency" deal with the theory-based coverage and promotion of linguistic competence. These are all language modalities (reading, listening, writing, speaking), both at the primary are taken as well in second language acquisition in the eye. The research group is actively involved in the design of the gravity profile the Education of the University of Erfurt.
The Research Training Group of the Forum "Texte.Zeichen.Medien." her profile is not covered by the thematic orientation, but by the transphilologische and interdisciplinary nature of their access to their objects - texts, symbols and media.
The DFG Research Training Group "Media historiographies" deals with the mutual relationship between history and media. The question of a "history of the media 'with the question of" media history "intertwined: how different media to determine the encoding of historical situations and processes? And how media and media techniques to bring out their own particular history?
the Platform regions of the world & Interactions
Islamic studies at Erfurt
The Islamic Studies at the University of Erfurt rely on Interdisciplinary and internationality. This is reflected on the one reflected in their involvement in religious studies, which will provide a broad knowledge of European religious landscape. Secondly, common interests with other disciplines, such as the historical sciences, literature or theology sought. An expression of this cooperation between the faculties is the compulsory Fundamental Studies. In addition, there will be in teaching and research cooperation with European and American institutions. In turn, the study program and study visits, field trips and internships from abroad.
Cultural and social sciences in general and religious studies in particular need to focus more than ever to practice. Already now there is a considerable demand for specialists with a sound understanding of religious minority communities in Europe. It is therefore the declared objective of Erfurt Department of Islamic Studies, already in six-semester bachelor's degree such cultural skills to mediate, which should enable the graduates, they in social sectors such as economy, politics, education, or even in the journalistic profession participate and to contribute in these areas, inclusive rather than exclusionary.
About the bachelor's degree, there is also in the Islamic studies the possibility of a subsequent three-semester Master's degree. Next to it is at the University of Erfurt - also for career changers - the promotion possible in this specialization.
To the necessary tools for a thorough study of Islamic cultures in addition to the substantive focus of the Department related courses are offered, optional for students in bachelor-degree program for students in master's degree program will however be required.
This program is chaired by:
Jamal Malik, born 1956;
High school in Bonn,
M.A. Islamic Studies and Political Science, Univ. Bonn (1982);
Ph.D. in History of South Asia, Univ. Heidelberg (1989);
Venia legendi in Islamic Studies, Univ. Bamberg (1994).
Visiting Professor in Islamic Studies at Univ. Bonn (1996-97);
Professor for Religious Studies, University of Derby (1998-99);
since February 1999 Department of Religious Studies - Islamic Studies (Islam in Europe) at the University of Erfurt.
2000-2001 Visiting Professor and Religious Studies, University of Derby.
Fellow of the Royal Asiatic Society of Great Britain, full member of the European Academy of Sciences and Arts, Vienna;
Projects
In the summer semester of 2003, a project group was formed at the university to take part in the
National Model United Nations
National Model United Nations
National Model United Nations, or NMUN, is an international, college-level Model United Nations conference run by the National Collegiate Conference Association, a small non-profit based in Minneapolis, Minnesota, USA...
(NMUN) in
New York City
New York City
New York is the most populous city in the United States and the center of the New York Metropolitan Area, one of the most populous metropolitan areas in the world. New York exerts a significant impact upon global commerce, finance, media, art, fashion, research, technology, education, and...
in April 2004. The pilot project has become a regular, student-organized seminar at the university. The various groups received several awards for their participation at the conference in 2006, 2007, and 2008.
International students
There are many good reasons to come to study in Erfurt.
BA and MA programs with studienbegleitendem examination system
no tuition fees (except for Continuing Studies)
Campus university with student dormitories, canteens and cafeterias
modern, well equipped library, six computer labs, language and self-study
broad range of courses in German as a foreign language and three-week preparatory course for exchange students
"Semester ticket" can use the student ID card get free public transport in and around Erfurt
a mentoring program that brings you with German and international students and with people outside the university in touch
manageable cost of living in a centrally located, culturally attractive and historically interesting city
close proximity to the places of Johann Sebastian Bach and Martin Luther, Johann Wolfgang Goethe, Friedrich Schiller, and many other personalities
Well-known alumni
See also
Education in Germany

Education in Germany

The responsibility for the German education system lies primarily with the states while the federal government plays only a minor role. Optional Kindergarten education is provided for all children between three and six years of age, after which school attendance is compulsory, in most cases for...



External links