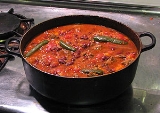 Chili con carne
Chili con carne
is a
spicy
Spice
A spice is a dried seed, fruit, root, bark, or vegetative substance used in nutritionally insignificant quantities as a food additive for flavor, color, or as a preservative that kills harmful bacteria or prevents their growth. It may be used to flavour a dish or to hide other flavours...
stew
Stew
A stew is a combination of solid food ingredients that have been cooked in liquid and served in the resultant gravy. Ingredients in a stew can include any combination of vegetables , meat, especially tougher meats suitable for slow-cooking, such as beef. Poultry, sausages, and seafood are also used...
. The name of the dish derives from the
Spanish
Spanish language
Spanish , also known as Castilian , is a Romance language in the Ibero-Romance group that evolved from several languages and dialects in central-northern Iberia around the 9th century and gradually spread with the expansion of the Kingdom of Castile into central and southern Iberia during the...
chile con carne
, "chili pepper with meat". Traditional versions are made, minimally, from
chili pepper
Chili pepper
Chili pepper is the fruit of plants from the genus Capsicum, members of the nightshade family, Solanaceae. The term in British English and in Australia, New Zealand, India, Malaysia and other Asian countries is just chilli without pepper.Chili peppers originated in the Americas...
s,
garlic
Garlic
Allium sativum, commonly known as garlic, is a species in the onion genus, Allium. Its close relatives include the onion, shallot, leek, chive, and rakkyo. Dating back over 6,000 years, garlic is native to central Asia, and has long been a staple in the Mediterranean region, as well as a frequent...
,
onion
Onion
The onion , also known as the bulb onion, common onion and garden onion, is the most widely cultivated species of the genus Allium. The genus Allium also contains a number of other species variously referred to as onions and cultivated for food, such as the Japanese bunching onion The onion...
s, and
cumin
Cumin
Cumin is a flowering plant in the family Apiaceae, native from the east Mediterranean to India. Its seeds are used in the cuisines of many different cultures, in both whole and ground form.-Etymology:...
, along with chopped or ground beef. Beans and tomatoes are frequently included. Variations, both geographic and personal, may involve different types of meat as well as a variety of other ingredients. It can be found in many countries in local variations and also in certain American-style
fast food
Fast food
Fast food is the term given to food that can be prepared and served very quickly. While any meal with low preparation time can be considered to be fast food, typically the term refers to food sold in a restaurant or store with preheated or precooked ingredients, and served to the customer in a...
restaurants. The variant recipes provoke disputes among aficionados, and the dish is used as an ingredient in a number of other foods.
Origins and history
The recipe used by American frontier settlers consisted of dried beef,
suet
Suet
Suet is raw beef or mutton fat, especially the hard fat found around the loins and kidneys.Suet has a melting point of between 45° and 50°C and congelation between 37° and 40°C....
, dried chili peppers (usually
chilipiquenes
), and salt, which were pounded together, formed into bricks and left to dry, which could then be boiled in pots on the trail.
The San Antonio Chili Stand, in operation at the 1893 Columbian Exposition in
Chicago
Chicago
Chicago is the largest city in the US state of Illinois. With nearly 2.7 million residents, it is the most populous city in the Midwestern United States and the third most populous in the US, after New York City and Los Angeles...
, helped people from other parts of the country taste and appreciate chili. San Antonio was a significant tourist destination and helped Texas-style chili con carne spread throughout the South and West. Chili con carne is the official dish of the
U.S. state
U.S. state
A U.S. state is any one of the 50 federated states of the United States of America that share sovereignty with the federal government. Because of this shared sovereignty, an American is a citizen both of the federal entity and of his or her state of domicile. Four states use the official title of...
of
Texas
Texas
Texas is the second largest U.S. state by both area and population, and the largest state by area in the contiguous United States.The name, based on the Caddo word "Tejas" meaning "friends" or "allies", was applied by the Spanish to the Caddo themselves and to the region of their settlement in...
as designated by the House Concurrent Resolution Number 18 of the 65th
Texas Legislature
Texas Legislature
The Legislature of the state of Texas is the state legislature of the U.S. state of Texas. The legislature is a bicameral body composed of a 31-member Senate and a 150-member House of Representatives. The Legislature meets at the Capitol in Austin...
during its regular session in 1977.
Chili queens
During the 1880s, brightly dressed Mexican women known as "chili queens" began to operate around
Military Plaza
Military Plaza
The Military Plaza in San Antonio dates back to the 18th century as a military and commercial center in San Antonio....
and other public gathering places in downtown San Antonio. They appeared at dusk, when they built charcoal or wood fires to reheat cauldrons of pre-cooked chili. They sold it by the bowl to passersby. The aroma was a potent sales pitch;
mariachi street musicians
Mariachi
Mariachi is a genre of music that originated in the State of Jalisco, in Mexico. It is an integration of stringed instruments highly influenced by the cultural impacts of the historical development of Western Mexico. Throughout the history of mariachi, musicians have experimented with brass, wind,...
joined in to serenade the eaters. Some chili queens later built semi-permanent stalls in the
mercado
(local Hispanic market).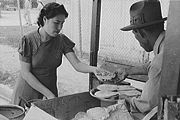 In September 1937, the San Antonio Health Department implemented new sanitary regulations that required the chili queens to adhere to the same standards as indoor restaurants. Unable to provide lavatory facilities, the queens and their "street chili" culture disappeared overnight. Although Mayor
Maury Maverick
Maury Maverick
Fontaine Maury Maverick was a Democratic member of the United States House of Representatives from Texas from January 3, 1935, to January 3, 1939. He is best remembered for his independence from the party and for coining the term "gobbledygook" for obscure and euphemistic bureaucratic language...
reinstated the queens' privileges in 1939, the city reapplied the more stringent regulations permanently in 1943.
San Antonio's
mercado
was renovated in the 1970s, at which time it was the largest Mexican marketplace in the U.S. Local merchants began staging historic re-enactments of the chili queens' heyday. The Unofficial re-enactment is, "Return of the Chili Queens Festival".
Since 2006, the historic Bonham Exchange Building, located behind the Alamo, has hosted the official Chili Queens event, which is held in April as the first Sunday of every Fiesta.
Chili parlors
Before
World War II
World War II
World War II, or the Second World War , was a global conflict lasting from 1939 to 1945, involving most of the world's nations—including all of the great powers—eventually forming two opposing military alliances: the Allies and the Axis...
, hundreds of small, family-run chili parlors (also known as "chili joints") could be found throughout Texas and other states, particularly those in which émigré Texans had made new homes. Each establishment usually had a claim to some kind of "secret recipe."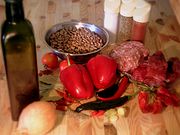 As early as 1904, chili parlors were opening outside of Texas. After working at the
Louisiana Purchase Exposition
Louisiana Purchase Exposition
The Louisiana Purchase Exposition, informally known as the Saint Louis World's Fair, was an international exposition held in St. Louis, Missouri, United States in 1904.- Background :...
, Charles Taylor opened a chili parlor in
Carlinville, Illinois
Carlinville, Illinois
Carlinville is a city in Macoupin County, Illinois, United States. As of the 2000 Census, the population was 5,685, and 5,912 at a 2009 estimate. It is the county seat of Macoupin County, and so it is an outlying part of the Metro-East region of the Greater St...
, serving "Mexican Chili". In the 1920s and 1930s chains of diner-style "chili parlors" grew up in the Midwest. , one of these old-fashioned chili parlors still exists on Pine Street in downtown
St. Louis
St. Louis, Missouri
St. Louis is an independent city on the eastern border of Missouri, United States. With a population of 319,294, it was the 58th-largest U.S. city at the 2010 U.S. Census. The Greater St...
. It features a chili-topped dish called a "
slinger
Slinger
The Slinger is a Midwestern diner specialty typically consisting of two eggs, hash browns, and a hamburger patty all covered in chili and generously topped with cheese and onions. The eggs can be any style. The Slinger is considered to be a St. Louis late-night culinary original...
": two hamburger patties topped with melted
American cheese
American cheese
American cheese is a processed cheese. It is orange, yellow, or white in color and mild in flavor, with a medium-firm consistency, and melts easily. American cheese was originally only white, but is usually now modified to yellow. In the past it was made from a blend of cheeses, most often Colby...
and two eggs, then smothered in chili, all topped off with shredded cheese.
One of the best-known Texas chili parlors, in part because of its downtown location and socially connected clientele, was Bob Pool's "joint" in
Dallas
Dallas, Texas
Dallas is the third-largest city in Texas and the ninth-largest in the United States. The Dallas-Fort Worth Metroplex is the largest metropolitan area in the South and fourth-largest metropolitan area in the United States...
, just across the street from the headquarters of the elite department store
Neiman Marcus
Neiman Marcus
Neiman Marcus, formerly Neiman-Marcus, is a luxury specialty retail department store operated by the Neiman Marcus Group in the United States. The company is headquartered in the One Marcus Square building in Downtown Dallas, Texas, and competes with other department stores such as Saks Fifth...
.
Stanley Marcus
Stanley Marcus
Harold Stanley Marcus was an early president and later chairman of the board of the luxury retailer Neiman Marcus in Dallas, Texas, which his father and aunt had founded in 1907...
, president of the store, frequently ate there. He also bought Pool's chili to send by air express to friends and customers across the country. Several members of General Dwight Eisenhower's
SHAPE
Supreme Headquarters Allied Powers Europe
Supreme Headquarters Allied Powers Europe is the central command of NATO military forces. It is located at Casteau, north of the Belgian city of Mons...
staff during the early 1950s were reported to have arranged regular shipments of chili from Pool's to their Paris quarters.
Beans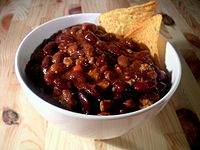 Beans
Common bean
Phaseolus vulgaris, the common bean, is an herbaceous annual plant domesticated independently in ancient Mesoamerica and the Andes, and now grown worldwide for its edible bean, popular both dry and as a green bean. The leaf is occasionally used as a leaf vegetable, and the straw is used for fodder...
(
frijoles
), a staple of
Tex-Mex cuisine
Tex-Mex cuisine
"Tex-Mex" is a term used to describe a regional American cuisine that blends food products available in the United States and the culinary creations of Mexican-Americans influenced by the cuisines of Mexico. The cuisine has spread from border states such as Texas and those in the Southwestern...
, have been associated with chili as far back as the early 20th century. The question of whether beans "belong" in chili has been a matter of contention among chili cooks for a long time. It is likely that in many poorer areas of San Antonio and other places associated with the origins of chili, beans were used rather than meat, or in addition to meat.
Texas-style chili
contains no beans and may even be made with no other vegetables whatsoever besides chili peppers. President Lyndon Johnson's favorite chili recipe became known as "Pedernales River chili" after the location of his
Texas Hill Country
Texas Hill Country
The Texas Hill Country is a vernacular term applied to a region of Central Texas featuring tall rugged hills consisting of thin layers of soil atop limestone or granite. It also includes the Llano Uplift and the second largest granite monadnock in the United States, Enchanted Rock, which is located...
ranch. It calls for eliminating the traditional beef suet (on Johnson's doctor's orders, after Johnson suffered a heart attack while he was U.S. Senate Majority Leader) and adds tomatoes and onions. Johnson preferred
venison
Venison
Venison is the meat of a game animal, especially a deer but also other animals such as antelope, wild boar, etc.-Etymology:The word derives from the Latin vēnor...
, when available, to beef. Hill Country deer are leaner than most beef.
Lady Bird Johnson
Lady Bird Johnson
Claudia Alta "Lady Bird" Taylor Johnson was First Lady of the United States from 1963 to 1969 during the presidency of her husband Lyndon B. Johnson. Throughout her life, she was an advocate for beautification of the nation's cities and highways and conservation of natural resources and made that...
, the
First Lady
First Lady
First Lady or First Gentlemanis the unofficial title used in some countries for the spouse of an elected head of state.It is not normally used to refer to the spouse or partner of a prime minister; the husband or wife of the British Prime Minister is usually informally referred to as prime...
, had the recipe printed on cards to be mailed out because of the many thousands of requests the
White House
White House
The White House is the official residence and principal workplace of the president of the United States. Located at 1600 Pennsylvania Avenue NW in Washington, D.C., the house was designed by Irish-born James Hoban, and built between 1792 and 1800 of white-painted Aquia sandstone in the Neoclassical...
received for it.
In some areas, versions with beans are referred to as "chili beans" while the term "chili" is reserved for the all-meat dish. Pinto beans are commonly used for chili, as are
black-eyed pea
Black-eyed pea
The black-eyed pea, also called black-eyed bean and chawalie or lobia in various languages in India and Pakistan, is a subspecies of the cowpea, grown around the world for its medium-sized, edible bean. The bean mutates easily, giving rise to a number of varieties. The common commercial one is...
s, kidney beans, great northern beans, or navy beans.
Chili bean
can also refer to a small red variety of
common bean
Common bean
Phaseolus vulgaris, the common bean, is an herbaceous annual plant domesticated independently in ancient Mesoamerica and the Andes, and now grown worldwide for its edible bean, popular both dry and as a green bean. The leaf is occasionally used as a leaf vegetable, and the straw is used for fodder...
also known as the
pink bean
. The name may have arisen from that bean's resemblance to small chili peppers, or it may be a reference to that bean's inclusion in chili recipes.
Most commercially prepared canned chili includes beans. Commercial chili prepared without beans is usually called "chili no beans" in the United States. Some U.S. manufacturers, notably
Bush Brothers and Company
Bush Brothers and Company
Bush Brothers and Company is a family-owned corporation based in Knoxville, Tennessee, best known for its baked beans and more than forty other related products. It operates plants in Augusta, Wisconsin, and Chestnut Hill, Tennessee.-History:...
and Eden Organic, also sell canned precooked beans (with no meat) that are labeled "chili beans"; these beans are intended for consumers to add to a chili recipe and are often sold with spices added. A chili purist's proverb says "If you know beans about chili, you know chili ain't got no beans," though the evidence suggests that there is nothing inauthentic about their inclusion. The Chili Appreciation Society International specified in 1999 that, among other things, cooks are forbidden to include beans, marinate any meats, or discharge firearms in the preparation of chili for official competition.
Tomatoes
Tomatoes are another ingredient on which opinions differ. Wick Fowler, north Texas newspaperman and inventor of "Two-Alarm Chili" (which he later marketed as a "kit" of spices), insisted on adding tomato sauce to his chili — one 15-oz. can per three pounds of meat. He also believed that chili should never be eaten freshly cooked but refrigerated overnight to seal in the flavor.
Matt Weinstock
Matt Weinstock
Matt Weinstock was a managing editor of the Los Angeles Illustrated Daily News and a columnist for three Los Angeles, California, newspapers for 33 years....
, a Los Angeles newspaper columnist, once remarked that Fowler's chili "was reputed to open eighteen sinus cavities unknown to the medical profession."
Vegetarian chili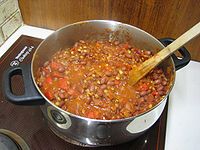 Vegetarian chili
(also known as
chili sin carne
,
chili without meat
,
chili non carne
or
chili
) acquired wide popularity in the U.S. during the 1960s and 1970s with the rise of
vegetarianism
Vegetarianism
Vegetarianism encompasses the practice of following plant-based diets , with or without the inclusion of dairy products or eggs, and with the exclusion of meat...
. It is also popular with those on a diet restricting the use of red meat. To make the chili vegetarian, the cook leaves out the meat or replaces it with a
meat analogue
Meat analogue
A meat analogue, also called a meat substitute, mock meat, faux meat, or imitation meat, approximates the aesthetic qualities and/or chemical characteristics of specific types of meat...
, such as
textured vegetable protein
Textured vegetable protein
Textured or texturized vegetable protein , also known as textured soy protein , soy meat, or soya meat is a meat analogue or meat extender made from defatted soy flour, a by-product of extracting soybean oil...
or
tofu
Tofu
is a food made by coagulating soy milk and then pressing the resulting curds into soft white blocks. It is part of East Asian and Southeast Asian cuisine such as Chinese, Japanese, Korean, Indonesian, Vietnamese, and others. There are many different varieties of tofu, including fresh tofu and tofu...
, or a starchy vegetable, such as
potato
Potato
The potato is a starchy, tuberous crop from the perennial Solanum tuberosum of the Solanaceae family . The word potato may refer to the plant itself as well as the edible tuber. In the region of the Andes, there are some other closely related cultivated potato species...
es. These chilis nearly always include beans. Variants may contain
corn
Maize
Maize known in many English-speaking countries as corn or mielie/mealie, is a grain domesticated by indigenous peoples in Mesoamerica in prehistoric times. The leafy stalk produces ears which contain seeds called kernels. Though technically a grain, maize kernels are used in cooking as a vegetable...
,
squash
Squash (fruit)
Squashes generally refer to four species of the genus Cucurbita, also called marrows depending on variety or the nationality of the speaker...
,
mushroom
Mushroom
A mushroom is the fleshy, spore-bearing fruiting body of a fungus, typically produced above ground on soil or on its food source. The standard for the name "mushroom" is the cultivated white button mushroom, Agaricus bisporus; hence the word "mushroom" is most often applied to those fungi that...
s, or
beet
Beet
The beet is a plant in the Chenopodiaceae family which is now included in Amaranthaceae family. It is best known in its numerous cultivated varieties, the most well known of which is the purple root vegetable known as the beetroot or garden beet...
s. Corn, squash, and beans are known as the "
Three Sisters
Three Sisters (agriculture)
The Three Sisters are the three main agricultural crops of various Native American groups in North America: squash, maize, and climbing beans ....
" of Native American agriculture. They were cultivated together, and complement each other as foods.
Chili verde
Chili verde
(green chili) is a moderately to extremely spicy Mexican and Mexican-American stew or sauce usually made from chunks of
pork
Pork
Pork is the culinary name for meat from the domestic pig , which is eaten in many countries. It is one of the most commonly consumed meats worldwide, with evidence of pig husbandry dating back to 5000 BC....
that have been slow-cooked in chicken broth,
garlic
Garlic
Allium sativum, commonly known as garlic, is a species in the onion genus, Allium. Its close relatives include the onion, shallot, leek, chive, and rakkyo. Dating back over 6,000 years, garlic is native to central Asia, and has long been a staple in the Mediterranean region, as well as a frequent...
,
tomatillo

Tomatillo

The tomatillo is a plant of the nightshade family, related to the cape gooseberry, bearing small, spherical and green or green-purple fruit of the same name. Tomatillos are a staple in Mexican cuisine. Tomatillos are grown as annuals throughout the Western Hemisphere...


s
, and roasted green chilis. Tomatoes are rarely used. The spiciness of the chili is adjusted with poblano, jalapeño, serrano, and occasionally habanero peppers. Chili verde is a common filling for the
San Francisco burrito
San Francisco burrito
San Francisco burrito is a type of burrito, originally a Mexican-American food, that originated in San Francisco, California. The San Francisco burrito is distinguished from a regular burrito partly by the amount of rice and other side dishes included in the package, and partly by its sheer size...
.
White chili
White chili
is made using white beans and turkey meat or chicken breast instead of a tomato-based sauce and red meat (beef). The resulting dish appears white when cooked.
Accompaniments and additions
The dish may be served with toppings or accompaniments; grated
cheese
Cheese
Cheese is a generic term for a diverse group of milk-based food products. Cheese is produced throughout the world in wide-ranging flavors, textures, and forms....
, diced onions, and
sour cream
Sour cream
Sour cream is a dairy product rich in fats obtained by fermenting a regular cream by certain kinds of lactic acid bacteria. The bacterial culture, which is introduced either deliberately or naturally, sours and thickens the cream. Its name stems from the production of lactic acid by bacterial...
are common toppings, as are broken
saltine cracker
Saltine cracker
A saltine or soda cracker is a thin, usually square cracker made from white flour, shortening, yeast, and baking soda, with most varieties lightly sprinkled with coarse salt. It has perforations throughout its surface, to allow steam to escape for uniform rising, and along the edges, as individual...
s, corn chips,
cornbread
Cornbread
Cornbread is a generic name for any number of quick breads containing cornmeal and leavened by baking powder.-History:Native Americans were using ground corn for food thousands of years before European explorers arrived in the New World...
, rolled-up corn or flour
tortilla
Tortilla
In Mexico and Central America, a tortilla is a type of thin, unleavened flat bread, made from finely ground maize...
s, and pork
tamale
Tamale
A tamale — or more correctly tamal — is a traditional Latin American dish made of masa , which is steamed or boiled in a leaf wrapper. The wrapping is discarded before eating...
s. Chili can also be served over rice or pasta such as ditalini or spaghetti.
Canned chili
Willie Gebhardt, originally of
New Braunfels, Texas
New Braunfels, Texas
New Braunfels is a city in Comal and Guadalupe counties in the U.S. state of Texas that is a principal city of the metropolitan area. Braunfels means "brown rock" in German; the city is named for Braunfels, in Germany. The city's population was 57,740 as of the 2010 census, up 58% from the 2000...
, and later of San Antonio, produced the first canned chili in 1908. Rancher Lyman Davis near
Corsicana, Texas
Corsicana, Texas
Corsicana is a city in Navarro County, Texas, United States. It is located on Interstate 45 some fifty-five miles south of downtown Dallas. The population was 24,485 at the 2000 census...
, developed
Wolf Brand Chili
Wolf Brand Chili
Wolf Brand Chili is a brand of chili con carne currently owned by ConAgra Foods. It is available either with or without beans.-History of the brand:...
in 1885. He owned a meat market and was a particular fan of Texas-style chili. In the 1880s, in partnership with an experienced range cook, he began producing heavily spiced chili based on chunks of lean beef and rendered beef suet, which he sold by the pot to local cafés. In 1921, Davis began canning his product, naming it for his pet wolf "Kaiser Bill." Wolf Brand canned chili was a favorite of
Will Rogers
Will Rogers
William "Will" Penn Adair Rogers was an American cowboy, comedian, humorist, social commentator, vaudeville performer, film actor, and one of the world's best-known celebrities in the 1920s and 1930s....
, who always took along a case when traveling and performing in other regions of the world.
Ernest Tubb
Ernest Tubb
Ernest Dale Tubb , nicknamed the Texas Troubadour, was an American singer and songwriter and one of the pioneers of country music. His biggest career hit song, "Walking the Floor Over You" , marked the rise of the honky tonk style of music...
, the country singer, was such a fan that one Texas hotel maintained a supply of Wolf Brand for his visits. Both the Gebhardt and Wolf brands are now owned by ConAgra Foods, Inc. In the
UK
United Kingdom
The United Kingdom of Great Britain and Northern IrelandIn the United Kingdom and Dependencies, other languages have been officially recognised as legitimate autochthonous languages under the European Charter for Regional or Minority Languages...
, the most popular brand of canned chili is sold by Stagg, a division of
Hormel
Hormel
Hormel Foods Corporation is a food company based in southeastern Minnesota , perhaps best known as the producer of Spam luncheon meat. The company was founded as George A. Hormel & Company in Austin, Minnesota, U.S., by George A. Hormel in 1891. The company changed its name to Hormel Foods...
foods.
Brick chili
Another method of marketing commercial chili in the days before widespread home refrigerators was "brick chili." It was produced by pressing out nearly all of the moisture, leaving a solid substance roughly the size and shape of a half-brick. Wolf Brand was originally sold in this form. Commonly available in small towns and rural areas of the American Southwest in the first three-quarters of the 20th century, brick chili has mostly outlived its usefulness and is now difficult to find. In southern California, the Dolores Canning Co. still makes a traditional brick chili called the "Dolores Chili Brick."
Seasoning mix
Home cooks may also purchase seasoning mixes for chili, including packets of dry ingredients such as chili powder, masa flour, salt, and
cayenne pepper
Cayenne pepper
The cayenne pepper—also known as the Guinea spice,cow-horn pepper, aleva, bird pepper,or, especially in its powdered form, red pepper—is a red, hot chili pepper used to flavor dishes and for medicinal purposes. Named for the city of Cayenne in French Guiana, it is a cultivar of Capsicum annuum...
, to flavor meat and other ingredients.
Other dishes made with chili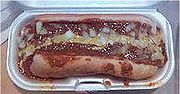 A chili dog is a hot dog

Hot dog

A hot dog is a sausage served in a sliced bun. It is very often garnished with mustard, ketchup, onions, mayonnaise, relish and/or sauerkraut.-History:...


served with a topping of chili (usually without beans).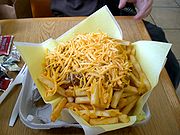 A
chili burger
is a burger topped with chili (usually without beans). The hamburger chain Original Tommy's specializes in these. Chili is also served on top of a ground beef patty alone.
Chili is also added to fries and cheese to make chili cheese fries, or Coney Island fries.
In southeast Texas

Southeast Texas

Southeast Texas is a subregion of East Texas located in the southeast corner of the U.S. state of Texas. The subregion is geographically centered around the Houston–Sugar Land–Baytown and Beaumont–Port Arthur metropolitan areas...


, some people eat chili served over white rice

Rice

Rice is the seed of the monocot plants Oryza sativa or Oryza glaberrima . As a cereal grain, it is the most important staple food for a large part of the world's human population, especially in East Asia, Southeast Asia, South Asia, the Middle East, and the West Indies...


. Chili over rice (frequently with beans) is also common in Hawaii

Hawaii

Hawaii is the newest of the 50 U.S. states , and is the only U.S. state made up entirely of islands. It is the northernmost island group in Polynesia, occupying most of an archipelago in the central Pacific Ocean, southwest of the continental United States, southeast of Japan, and northeast of...


(where it is known as chili rice) and is eaten this way in the UK and, to some extent, Australia

Australia

Australia , officially the Commonwealth of Australia, is a country in the Southern Hemisphere comprising the mainland of the Australian continent, the island of Tasmania, and numerous smaller islands in the Indian and Pacific Oceans. It is the world's sixth-largest country by total area...


.
Chili mac is a dish made with canned chili, or roughly the same ingredients as chili (meat, spices, onion, tomato sauce, beans, and sometimes other vegetables), with the addition of macaroni

Macaroni

Macaroni is a variety of moderately extended, machine-made, dry pasta made with durum wheat. Macaroni noodles do not contain eggs, and are normally cut in short, hollow shapes; however, the term refers not to the shape of the pasta, but to the kind of dough from which the noodle is made...


or some other pasta. Chili mac is a standard dish in the U.S. military and is one of the varieties of Meal, Ready-to-Eat (MRE).
Cincinnati chili

Cincinnati chili

Cincinnati chili is a regional style of Chili con carne characterized by the use of unusual seasonings such as cinnamon, cloves, allspice or chocolate. It is commonly served over spaghetti or as a hot dog sauce, and is normally of a thin, sauce-like consistency, unlike most chili con carne...


is a variety of chili frequently served over spaghetti

Spaghetti

Spaghetti is a long, thin, cylindrical pasta of Italian origin. Spaghetti is made of semolina or flour and water. Italian dried spaghetti is made from durum wheat semolina, but outside of Italy it may be made with other kinds of flour...


and on fries and cheese coneys.
A "Frito pie

Frito pie

Frito pie is a dish made with chili, cheese, and corn chips. Optional additions include salsa, refried beans, rice, and jalapeños, among others....


" typically consists of a small, single-serving bag of Fritos

Fritos

Fritos is the name of a brand of corn chips made by Frito-Lay. Elmer Doolin was so taken with the bag of corn chips served with his lunch in San Antonio, Texas that he paid $100 for the recipe. In 1932, he started the Frito Corporation. Original Fritos ingredients are limited to whole corn, corn...


corn chip

Corn chip

A corn chip is a snack food made from cornmeal fried in oil or baked, usually in the shape of a small noodle or scoop. Corn chips are thick, rigid and very crunchy...


s with a cup of chili poured over the top, usually finished up with grated cheese or onions and jalapeño

Jalapeño

The jalapeño is a medium-sized chili pepper that has a warm, burning sensation when eaten. A mature jalapeño fruit is 2–3½ inches long and is commonly picked and consumed while still green, but occasionally it is allowed to fully ripen and turn crimson red...


s and sour cream. Frito pies are popular in the southwestern United States

Southwestern United States

The Southwestern United States is a region defined in different ways by different sources. Broad definitions include nearly a quarter of the United States, including Arizona, California, Colorado, Nevada, New Mexico, Oklahoma, Texas and Utah...


.
A chili stuffed baked potato is a large baked potato

Baked potato

A baked potato, or jacket potato, is the edible result of baking a potato. When well cooked, a baked potato has a fluffy interior and a crisp skin. It may be served with fillings and condiments such as butter, cheese or ham....


stuffed with chili and possibly with other ingredients, such as butter

Butter

Butter is a dairy product made by churning fresh or fermented cream or milk. It is generally used as a spread and a condiment, as well as in cooking applications, such as baking, sauce making, and pan frying...


, Cheddar cheese

Cheddar cheese

Cheddar cheese is a relatively hard, yellow to off-white, and sometimes sharp-tasting cheese, produced in several countries around the world. It has its origins in the English village of Cheddar in Somerset....


, or chopped onions.
External links