 Macaroni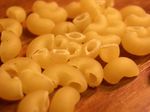 Macaroni
is a variety of moderately extended, machine-made, dry
pasta
Pasta
Pasta is a staple food of traditional Italian cuisine, now of worldwide renown. It takes the form of unleavened dough, made in Italy, mostly of durum wheat , water and sometimes eggs. Pasta comes in a variety of different shapes that serve for both decoration and to act as a carrier for the...
made with
durum
Durum
Durum wheat or macaroni wheat is the only tetraploid species of wheat of commercial importance that is widely cultivated today...
wheat. Macaroni noodles do not contain eggs, and are normally cut in short, hollow shapes; however, the term refers not to the shape of the pasta, but to the kind of dough from which the noodle is made. Although home machines exist that can make macaroni shapes, macaroni is usually made commercially by large-scale
extrusion
Extrusion
Extrusion is a process used to create objects of a fixed cross-sectional profile. A material is pushed or drawn through a die of the desired cross-section...
.
Macaroni
is a borrowing of the
Italian
Italian language
Italian is a Romance language spoken mainly in Europe: Italy, Switzerland, San Marino, Vatican City, by minorities in Malta, Monaco, Croatia, Slovenia, France, Libya, Eritrea, and Somalia, and by immigrant communities in the Americas and Australia...
maccheroni
(plural of
maccherone
; "squashed"). Its
etymology
Etymology
Etymology is the study of the history of words, their origins, and how their form and meaning have changed over time.For languages with a long written history, etymologists make use of texts in these languages and texts about the languages to gather knowledge about how words were used during...
is debatable; some think it comes from Italian
ammaccare
, "to bruise or crush" (referring to the crushing of the wheat to make the noodles), which comes, in turn, from
Latin
Latin
Latin is an Italic language originally spoken in Latium and Ancient Rome. It, along with most European languages, is a descendant of the ancient Proto-Indo-European language. Although it is considered a dead language, a number of scholars and members of the Christian clergy speak it fluently, and...
macerare
, meaning 1) to soak in liquid, to soften, or 2) to torment, to mortify, to distress (the term also giving the English macerate), while for others it might be the Arabs who invented macaroni in the Middle Ages. However, the academic consensus supports that the word comes from
Greek
Greek language
Greek is an independent branch of the Indo-European family of languages. Native to the southern Balkans, it has the longest documented history of any Indo-European language, spanning 34 centuries of written records. Its writing system has been the Greek alphabet for the majority of its history;...
μακαρία
(
makaria
), a kind of
barley
Barley
Barley is a major cereal grain, a member of the grass family. It serves as a major animal fodder, as a base malt for beer and certain distilled beverages, and as a component of various health foods...
broth
Broth
Broth is a liquid food preparation, typically consisting of either water or an already flavored stock, in which bones, meat, fish, cereal grains, or vegetables have been simmered. Broth is used as a basis for other edible liquids such as soup, gravy, or sauce. It can be eaten alone or with garnish...
which was served to commemorate the dead.
Macaroni is not necessarily associated with the "elbow" shape commonly found in American-style
macaroni and cheese
Macaroni and cheese
Macaroni and cheese, also known as "mac and cheese", "macaroni cheese" in British English, or "macaroni pie" in Caribbean English, is a casserole consisting of cooked macaroni and cheese sauce...
. "Elbow macaroni" is also used in a milk pudding, similar to other milk puddings (such as rice pudding) called macaroni pudding, and is also popular among children for homemade
arts and crafts
Arts and crafts
Arts and crafts comprise a whole host of activities and hobbies that are related to making things with one's hands and skill. These can be sub-divided into handicrafts or "traditional crafts" and "the rest"...
projects.
In areas with large Chinese populations open to Western cultural influence, such as Hong Kong, Macao, Malaysia and Singapore, the local Chinese have adopted macaroni as an ingredient for Chinese-style Western cuisine. In Hong Kong's
cha chaan teng
Cha chaan teng
A cha chaan teng means tea diner, also called Chinese diner, is commonly found in Hong Kong, China, and Taiwan, known for its Chinese food, eclectic and affordable menus, which include many dishes from Hong Kong cuisine and Hong Kong-style Western cuisine. Cha chaan tengs are also popular in Macau...
s ("Chinese diner") and
Southeast Asia
Southeast Asia
Southeast Asia, South-East Asia, South East Asia or Southeastern Asia is a subregion of Asia, consisting of the countries that are geographically south of China, east of India, west of New Guinea and north of Australia. The region lies on the intersection of geological plates, with heavy seismic...
's
kopi tiam
Kopi tiam
咖啡店A kopitiam or kopi tiam is a traditional breakfast and coffee shop found in Southeast Asia. The word is a portmanteau of the Malay word for coffee and the Hokkien dialect word for shop...
s ("coffee shop"), macaroni is cooked in water and then washed of starch, and served in clear broth with
ham
Ham
Ham is a cut of meat from the thigh of the hind leg of certain animals, especiallypigs. Nearly all hams sold today are fully cooked or cured.-Etymology:...
or
frankfurter
Hot dog
A hot dog is a sausage served in a sliced bun. It is very often garnished with mustard, ketchup, onions, mayonnaise, relish and/or sauerkraut.-History:...
sausage
Sausage
A sausage is a food usually made from ground meat , mixed with salt, herbs, and other spices, although vegetarian sausages are available. The word sausage is derived from Old French saussiche, from the Latin word salsus, meaning salted.Typically, a sausage is formed in a casing traditionally made...
s, peas,
black mushrooms
Shiitake
The Shiitake is an edible mushroom native to East Asia, which is cultivated and consumed in many Asian countries, as well as being dried and exported to many countries around the world. It is a feature of many Asian cuisines including Vietnamese, Chinese, Japanese, Korean and Thai...
, and optionally
eggs
Egg (food)
Eggs are laid by females of many different species, including birds, reptiles, amphibians, and fish, and have probably been eaten by mankind for millennia. Bird and reptile eggs consist of a protective eggshell, albumen , and vitellus , contained within various thin membranes...
, reminiscent of
noodle soup
Noodle soup
Noodle soup refers to a variety of soups with noodles and other ingredients served in a light broth. Noodle soup is an East and Southeast Asian staple. Less well known, a form of fresh noodle is used in soup in certain parts of Europe , and in northern China; usually, it is served for breakfast...
dishes. This is often a course for breakfast or light lunch fare.