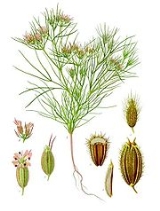 Cumin
Cumin
is a
flowering plant
Flowering plant
The flowering plants , also known as Angiospermae or Magnoliophyta, are the most diverse group of land plants. Angiosperms are seed-producing plants like the gymnosperms and can be distinguished from the gymnosperms by a series of synapomorphies...
in the
family
Family (biology)
In biological classification, family is* a taxonomic rank. Other well-known ranks are life, domain, kingdom, phylum, class, order, genus, and species, with family fitting between order and genus. As for the other well-known ranks, there is the option of an immediately lower rank, indicated by the...
Apiaceae
Apiaceae
The Apiaceae , commonly known as carrot or parsley family, is a group of mostly aromatic plants with hollow stems. The family is large, with more than 3,700 species spread across 434 genera, it is the sixteenth largest family of flowering plants...
, native from the east Mediterranean to
India
India
India , officially the Republic of India , is a country in South Asia. It is the seventh-largest country by geographical area, the second-most populous country with over 1.2 billion people, and the most populous democracy in the world...
. Its seeds (each one contained within a fruit, which is dried) are used in the
cuisine
Cuisine
Cuisine is a characteristic style of cooking practices and traditions, often associated with a specific culture. Cuisines are often named after the geographic areas or regions that they originate from...
s of many different cultures, in both whole and ground form.
The English "cumin" derives from the Old English
cymen
(or
Old French
Old French
Old French was the Romance dialect continuum spoken in territories that span roughly the northern half of modern France and parts of modern Belgium and Switzerland from the 9th century to the 14th century...
cumin
), from
Latin
Latin
Latin is an Italic language originally spoken in Latium and Ancient Rome. It, along with most European languages, is a descendant of the ancient Proto-Indo-European language. Although it is considered a dead language, a number of scholars and members of the Christian clergy speak it fluently, and...
cuminum
, which is the
latinisation
Latinisation (literature)
Latinisation is the practice of rendering a non-Latin name in a Latin style. It is commonly met with for historical personal names, with toponyms, or for the standard binomial nomenclature of the life sciences. It goes further than Romanisation, which is the writing of a word in the Latin alphabet...
of the
Greek
Greek language
Greek is an independent branch of the Indo-European family of languages. Native to the southern Balkans, it has the longest documented history of any Indo-European language, spanning 34 centuries of written records. Its writing system has been the Greek alphabet for the majority of its history;...
κύμινον (
kuminon
), cognate with Hebrew
kammon
and Arabic
kammun
.