 Chauffeur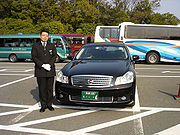 A
chauffeur
is a person employed to drive a passenger motor vehicle, especially a luxury vehicle such as a large sedan or
limousine
Limousine
A limousine is a luxury sedan or saloon car, especially one with a lengthened wheelbase or driven by a chauffeur. The chassis of a limousine may have been extended by the manufacturer or by an independent coachbuilder. These are called "stretch" limousines and are traditionally black or white....
.
Originally such drivers were always personal servants of the vehicle owner, but now in many cases specialist chauffeur service companies, or individual drivers provide both driver and vehicle for hire, although there are service companies that just provide the driver.
History
The term "chauffeur" comes from the French term for stoker because the earliest automobiles, like their railroad and sea vessel counterparts, were
steam-powered
Steam engine
A steam engine is a heat engine that performs mechanical work using steam as its working fluid.Steam engines are external combustion engines, where the working fluid is separate from the combustion products. Non-combustion heat sources such as solar power, nuclear power or geothermal energy may be...
and required the driver to stoke the engine. Early petrol/gasoline-powered motor cars, before the advent of electric ignition, were ignited by 'hot tubes' in the cylinder head which had to be pre-heated before the engine would start. Hence the term 'chauffeur' which, in this context, means something like 'heater-upper'. The chauffeur would prime the hot tubes at the start of a journey, after which the natural compression cycle of the engine would keep them at the correct temperature. The chauffeur also maintained the car, including routine maintenance and cleaning, and had to be a skilled mechanic to deal with breakdowns and tire punctures enroute; very common in the earliest years of the automobile.
Only the very wealthy could afford the first automobiles, and they generally employed a chauffeur rather than driving themselves. A 1906 article in the New York Times reported that
"...the chauffeur problem to-day is one of the most serious that the automobilist has to deal with."
, and complained that
"...young men of no particular ability, who have been earning from $10 to $12 a week, are suddenly elevated to salaried positions paying from $25 to $50..."
—and recommended the re-training of existing
coach drivers
Coachman
A coachman is a man whose business it is to drive a coach, a horse-drawn vehicle designed for the conveyance of more than one passenger — and of mail — and covered for protection from the elements...
.
Scope
While the term may refer to anybody who drives for a living, it usually implies a driver of an elegant passenger vehicle such as a horse-drawn carriage, luxury sedan,
motor coach
Coach (vehicle)
A coach is a large motor vehicle, a type of bus, used for conveying passengers on excursions and on longer distance express coach scheduled transport between cities - or even between countries...
, or especially a
limousine
Limousine
A limousine is a luxury sedan or saloon car, especially one with a lengthened wheelbase or driven by a chauffeur. The chassis of a limousine may have been extended by the manufacturer or by an independent coachbuilder. These are called "stretch" limousines and are traditionally black or white....
; those who operate buses or non-passenger vehicles are generally referred to as "drivers". In some countries, particularly developing nations where a ready supply of labor ensures that even the
middle class
Middle class
The middle class is any class of people in the middle of a societal hierarchy. In Weberian socio-economic terms, the middle class is the broad group of people in contemporary society who fall socio-economically between the working class and upper class....
es can afford
domestic staff
Domestic worker
A domestic worker is a man, woman or child who works within the employer's household. Domestic workers perform a variety of household services for an individual or a family, from providing care for children and elderly dependents to cleaning and household maintenance, known as housekeeping...
and among the wealthy, the chauffeur may simply be called the "driver".
People currently sometimes employ chauffeurs full-time to drive themselves in their own personal vehicles, yet there are also professional services offering limousines or rental cars driven by chauffeurs. This is very similar to but more luxurious than taking a
taxicab
Taxicab
A taxicab, also taxi or cab, is a type of vehicle for hire with a driver, used by a single passenger or small group of passengers, often for a non-shared ride. A taxicab conveys passengers between locations of their choice...
. A variety of benefits are cited for using chauffeurs, including convenience, productivity and time savings, and driving safety for businesspeople and seniors. Indeed,
insurance
Vehicle insurance
Vehicle insurance is insurance purchased for cars, trucks, motorcycles, and other road vehicles. Its primary use is to provide financial protection against physical damage and/or bodily injury resulting from traffic collisions and against liability that could also arise therefrom...
costs for luxury vehicles are often lower if the designated driver is a chauffeur.
The legal requirements to be a chauffeur vary depending on the local jurisdiction and class of vehicle. In some cases a simple permit is all that is required, but in others an additional professional license with certain minimum standards is areas such as: age, health, driving experience, criminal record, local geographic knowledge, training attended.
Training
In addition to the minimum legal requirements, limousine companies often require their chauffeurs to undergo specific extra training. These courses may involve evasive or
defensive driving techniques
Defensive driving
The standard Safe Practices for Motor Vehicle Operations, ANSI/ASSE Z15.1, defines defensive driving as "driving to save lives, time, and money, in spite of the conditions around you and the actions of others." This definition is taken from the National Safety Council's Defensive Driving Course...
, the proper methods to ensure safety in the most extreme conditions such as inclement weather, a flat tire at high speeds, or other exterior influences for loss of vehicular control, etc. Most companies will also have their own courses as to what they expect from their chauffeurs. Chauffeurs may be taught proper
etiquette
Etiquette
Etiquette is a code of behavior that delineates expectations for social behavior according to contemporary conventional norms within a society, social class, or group...
for use when they are in presence of their clientele. Many companies and local licensing agencies currently require random drug screening - in the
United States
United States
The United States of America is a federal constitutional republic comprising fifty states and a federal district...
this was especially the case after professional
ice hockey
Ice hockey
Ice hockey, often referred to as hockey, is a team sport played on ice, in which skaters use wooden or composite sticks to shoot a hard rubber puck into their opponent's net. The game is played between two teams of six players each. Five members of each team skate up and down the ice trying to take...
player
Vladimir Konstantinov
Vladimir Konstantinov
Vladimir Nikolaevich Konstantinov is a Russian retired professional ice hockey player who played his entire National Hockey League career with the Detroit Red Wings. Previously, he had played for Soviet club CSKA Moscow...
's career-ending injuries when his recently hired chauffeur, Richard Gnida, already serving a license suspension for
drunken driving
Driving under the influence
Driving under the influence is the act of driving a motor vehicle with blood levels of alcohol in excess of a legal limit...
, lost control of their limousine and crashed, seriously injuring Konstantinov and his other passengers.
Dress
In many places (or at times in the past), proper physical presence is presented by the chauffeur at all times. This usually includes a well-groomed individual, conservatively dressed in a clean and crisply pressed black or dark
suit
Suit (clothing)
In clothing, a suit is a set of garments made from the same cloth, consisting of at least a jacket and trousers. Lounge suits are the most common style of Western suit, originating in the United Kingdom as country wear...
or
tuxedo
Tuxedo
A tuxedo is a type of semi-formal dress for men.Tuxedo may also refer to:-Places:Canada* Tuxedo, Winnipeg, Manitoba, a city neighborhood** Tuxedo , a provincial electoral district in Manitoba...
,
dress shirt
Dress shirt
A shirt, or dress shirt in American English, is a garment with a collar, a full-length opening at the front from the collar to the hem, and sleeves with cuffs. Shirts are predominantly used by men, since women usually wear blouses...
, and appropriately matching tie, with black leather gloves and freshly polished matching footwear. In some areas, such as Japan, white gloves are the norm. Some companies have complete uniforms for their chauffeurs, and some require that hats be worn as part of the uniform. Some companies do not keep strictly to this standard, and there is wide variation globally throughout the transportation industry.
Examples
Kay Summersby

Kay Summersby

Kay Summersby was a member of the British Mechanised Transport Corps during World War II, who served as chauffeur to Supreme Commander Allied Expeditionary Force Dwight D. Eisenhower, later as his secretary and, it is alleged, his mistress.-Biography:Summersby was born Kathleen Helen...


, chauffeur to Supreme Commander Allied Expeditionary Force

Supreme Headquarters Allied Expeditionary Force

Supreme Headquarters Allied Expeditionary Force , was the headquarters of the Commander of Allied forces in north west Europe, from late 1943 until the end of World War II. U.S. General Dwight D. Eisenhower was in command of SHAEF throughout its existence...


Dwight D. Eisenhower

Dwight D. Eisenhower

Dwight David "Ike" Eisenhower was the 34th President of the United States, from 1953 until 1961. He was a five-star general in the United States Army...



Roosevelt Zanders

Roosevelt Zanders

Roosevelt Zanders was a pioneering owner of New York City limousine service Zanders Auto Rental Service. Starting out with a USD $3000 Cadillac, his fleet grew to 16 cars, including three Rolls-Royces...


, drove Fidel Castro

Fidel Castro

Fidel Alejandro Castro Ruz is a Cuban revolutionary and politician, having held the position of Prime Minister of Cuba from 1959 to 1976, and then President from 1976 to 2008. He also served as the First Secretary of the Communist Party of Cuba from the party's foundation in 1961 until 2011...


, Richard Nixon

Richard Nixon

Richard Milhous Nixon was the 37th President of the United States, serving from 1969 to 1974. The only president to resign the office, Nixon had previously served as a US representative and senator from California and as the 36th Vice President of the United States from 1953 to 1961 under...


, Winston Churchill

Winston Churchill

Sir Winston Leonard Spencer-Churchill, was a predominantly Conservative British politician and statesman known for his leadership of the United Kingdom during the Second World War. He is widely regarded as one of the greatest wartime leaders of the century and served as Prime Minister twice...


, Eleanor Roosevelt

Eleanor Roosevelt

Anna Eleanor Roosevelt was the First Lady of the United States from 1933 to 1945. She supported the New Deal policies of her husband, distant cousin Franklin Delano Roosevelt, and became an advocate for civil rights. After her husband's death in 1945, Roosevelt continued to be an international...


, Harry S. Truman

Harry S. Truman

Harry S. Truman was the 33rd President of the United States . As President Franklin D. Roosevelt's third vice president and the 34th Vice President of the United States , he succeeded to the presidency on April 12, 1945, when President Roosevelt died less than three months after beginning his...


, and many others.
William Grover-Williams

William Grover-Williams

William Charles Frederick Grover-Williams , also known as "W Williams", was a Grand Prix motor racing driver and special agent who worked for the Special Operations Executive inside France. He organized and coordinated the Chestnut network...


, Chauffeur to William Orpen

William Orpen

Major Sir William Newenham Montague Orpen, KBE, RA, RHA was an Irish portrait painter, who worked mainly in London...