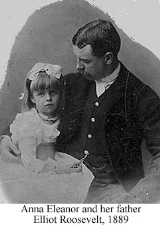 Eleanor Roosevelt
Anna Eleanor Roosevelt
(ˈ; October 11, 1884 – November 7, 1962) was the
First Lady of the United States
First Lady of the United States
First Lady of the United States is the title of the hostess of the White House. Because this position is traditionally filled by the wife of the president of the United States, the title is most often applied to the wife of a sitting president. The current first lady is Michelle Obama.-Current:The...
from 1933 to 1945. She supported the
New Deal
New Deal
The New Deal was a series of economic programs implemented in the United States between 1933 and 1936. They were passed by the U.S. Congress during the first term of President Franklin D. Roosevelt. The programs were Roosevelt's responses to the Great Depression, and focused on what historians call...
policies of her husband, distant cousin Franklin Delano Roosevelt, and became an advocate for civil rights. After her husband's death in 1945, Roosevelt continued to be an international author, speaker, politician, and activist for the
New Deal coalition
New Deal coalition
The New Deal Coalition was the alignment of interest groups and voting blocs that supported the New Deal and voted for Democratic presidential candidates from 1932 until the late 1960s. It made the Democratic Party the majority party during that period, losing only to Dwight D. Eisenhower in 1952...
. She worked to enhance the status of working women, although she opposed the
Equal Rights Amendment
Equal Rights Amendment
The Equal Rights Amendment was a proposed amendment to the United States Constitution. The ERA was originally written by Alice Paul and, in 1923, it was introduced in the Congress for the first time...
because she believed it would adversely affect women.
In the 1940s, Roosevelt was one of the co-founders of
Freedom House
Freedom House
Freedom House is an international non-governmental organization based in Washington, D.C. that conducts research and advocacy on democracy, political freedom and human rights...
and supported the formation of the
United Nations
United Nations
The United Nations is an international organization whose stated aims are facilitating cooperation in international law, international security, economic development, social progress, human rights, and achievement of world peace...
.
Do what you feel in your heart to be right — for you'll be criticized anyway. You'll be "damned if you do, and damned if you don't."

As quoted in How to Stop Worrying and Start Living (1944; 1948) by Dale Carnegie|Dale Carnegie; though Roosevelt has sometimes been credited with the originating the expression, "Damned if you do and damned if you don't" is set in quote marks, indicating she herself was quoting a common expression in saying this.
Understanding is a two-way street.

As quoted in Modern Quotations for Ready Reference (1947) by Arthur Richmond, p. 455
It isn't enough to talk about peace. One must believe in it. And it isn't enough to believe in it. One must work at it.

Voice of America broadcast (11 November 1951)
We have to face the fact that either all of us are going to die together or we are going to learn to live together and if we are to live together we have to talk.

The New York Times (1960), as cited in The Beacon Book of Quotations by Women (1992) by Rosalie Maggio, p. 156
Life was meant to be lived, and curiosity must be kept alive. One must never, for whatever reason, turn his back on life.

Preface (December 1960) to The Autobiography of Eleanor Roosevelt (1961), p. xix
I think, at a child's birth, if a mother could ask a fairy godmother to endow it with the most useful gift, that gift would be curiosity.

As quoted in Todays Health (October 1966)
When you cease to make a contribution, you begin to die.

As quoted in Eleanor : The Years Alone (1972) by Joseph P. Lash
I think that somehow, we learn who we really are and then live with that decision.

As quoted in Peter's Quotations : Ideas for Our Time (1972) by Laurence J. Peter, p. 5
Friendship with oneself is all-important, because without it one cannot be friends with anyone else in the world.

As quoted in The Beacon Book of Quotations by Women (1992) by Rosalie Maggio, p. 130