 Dress shirt
A
shirt
, or
dress shirt
in
American English
American English
American English is a set of dialects of the English language used mostly in the United States. Approximately two-thirds of the world's native speakers of English live in the United States....
, (also
button-front
,
button-down
, or
button-up
shirt) is a garment with a
collar
Collar (clothing)
In clothing, a collar is the part of a shirt, dress, coat or blouse that fastens around or frames the neck. Among clothing construction professionals, a collar is differentiated from other necklines such as revers and lapels, by being made from a separate piece of fabric, rather than a folded or...
, a full-length opening at the front from the collar to the hem, and sleeves with
cuff
Cuff
A cuff is an extra layer of fabric at the lower edge of the sleeve of a garment covering the arms. In US usage the word may also refer to the end of the leg of a pair of trousers...
s. Shirts are predominantly used by men, since women usually wear
blouse
Blouse
A blouse is a loose-fitting upper garment that was formerly worn by workmen, peasants, artists, women and children. It is typically gathered at the waist so that it hangs loosely over the wearer's body. Today, the word most commonly refers to a woman's shirt but can also refer to a man's shirt if...
s. The front opening is fastened using buttons or
studs
Shirt stud
A shirt stud is a decorative fastener that fits onto a buttonhole on the front of a pleated shirt, or onto the starched bib of a stiff-front shirt. Such shirts have special buttonholes solely for shirt studs....
, and the cuffs close with buttons or cuff links. Shirts are normally made from woven cloth, and are often accompanied by a
jacket
Jacket
A jacket is a hip- or waist-length garment for the upper body. A jacket typically has sleeves, and fastens in the front. A jacket is generally lighter, tighter-fitting, and less insulating than a coat, which is outerwear...
and
tie
Necktie
A necktie is a long piece of cloth worn for decorative purposes around the neck or shoulders, resting under the shirt collar and knotted at the throat. Variants include the ascot tie, bow tie, bolo tie, and the clip-on tie. The modern necktie, ascot, and bow tie are descended from the cravat. Neck...
, for example with a
suit
Suit (clothing)
In clothing, a suit is a set of garments made from the same cloth, consisting of at least a jacket and trousers. Lounge suits are the most common style of Western suit, originating in the United Kingdom as country wear...
or formalwear, but shirts are also worn more casually.
In
British English
British English
British English, or English , is the broad term used to distinguish the forms of the English language used in the United Kingdom from forms used elsewhere...
,
dress shirt
means specifically the more formal evening garment worn with
black-
Black tie
Black tie is a dress code for evening events and social functions. For a man, the main component is a usually black jacket, known as a dinner jacket or tuxedo...
or
white-
White tie
White tie is the most formal evening dress code in Western fashion. It is worn to ceremonial occasions such as state dinners in some countries, as well as to very formal balls and evening weddings...
tie, also discussed below. Some of these formal shirts have stiff fronts and detachable collars attached with collar studs.
"Button-down" is sometimes used incorrectly to describe the front buttoning of a shirt; a "button-down" shirt refers to a shirt with an American "button-down" collar introduced by Brooks Brothers in 1896, discussed below.
Components
A shirt has several components: A one-piece back, which is usually pleated, gathered, or eased into a section of fabric in the upper part of the back behind the neck and over the shoulders known as the yoke (either one-piece or seamed vertically in the middle); one-piece sleeves with plackets at the wrist, or else short-sleeved (cut off above the elbow), though this is not traditional; a band of fabric around each wrist known as a cuff; the collar, a strip around the neck, which is normally a turndown collar, with the strip folded down away from the neck, leaving two points at the front, the width of which is known as the spread; and finally two front panels which overlap slightly down the middle on the placket to fasten with buttons (or rarely shirt studs).
Collars
There are various different styles of collar, which is the primary indicator of the formality of a shirt. Those discussed here are all attached collars, not styles specific to detachable collars.
Spread collars measure from around 3½ to 6 inches between the collar points, and the wider collars are often referred to as cutaway or Windsor collars after the Duke of Windsor

Edward VIII of the United Kingdom

Edward VIII was King of the United Kingdom and the Dominions of the British Commonwealth, and Emperor of India, from 20 January to 11 December 1936.Before his accession to the throne, Edward was Prince of Wales and Duke of Cornwall and Rothesay...


. This city style is more formal, though it is common in Europe, and predominant in the UK.
Point, straight, or small collars are narrow, with 2½ to 3¼ inches between the points of the collar.
Button-down collars have points fastened down by buttons on the front of the shirt. Introduced by Brooks Brothers

Brooks Brothers

Brooks Brothers is the oldest men's clothier chain in the United States. Founded in 1818 as a family business, the privately owned company is now owned by Retail Brand Alliance, also features clothing for women, and is headquartered on Madison Avenue in Manhattan, New York City.-History:On April 7,...


in 1896, they were patterned after the shirts of polo

Polo

Polo is a team sport played on horseback in which the objective is to score goals against an opposing team. Sometimes called, "The Sport of Kings", it was highly popularized by the British. Players score by driving a small white plastic or wooden ball into the opposing team's goal using a...


players and were used exclusively on sports shirts until the 1950s in America. It is still considered a more sporting style, and, particularly outside America, traditionally dressed men still do not wear suits with this style of collar.
The less-common styles below were all once common, but have waned in popularity.
Eyelet collars require a barbell-style collar bar to join the small stitched hole on each point.
Tab collars are point collars with two strips of fabric extending from the middle of the collar and joined behind the tie. These lift the tie, giving an arc effect similar to a pinned collar

Collar pin

A collar pin is a piece of men's jewelry that holds the two ends of a dress shirt collar together and passes underneath the knot of a necktie...


. The tabs can be closed with a metal snap, button or stud.
Club collars have rounded edges, and were very popular in the first few decades of the twentieth century.
The varsity is a type of spread collar in which the points curve outward from the placket of the shirt.
Shirts designed to take a detachable collar have a tunic collar, which is a low standing band of fabric around the neck, with a hole at the front and back for the collar studs.
Contrast collar shirts are occasionally made, which are white collars on a coloured or patterned shirt. These are worn for a variety of reasons, such as to offset certain complexions; because of a tradition started by detachable collars, where it is impractical to have many collars in different matching colours; and finally because when a collar is replaced it is unlikely an exact colour match will be found. These collars are generally considered more formal than matching fabric.
Cuffs
The main distinctions between cuffs are whether they require buttons or cufflinks to fasten, and whether they are folded back (
double
) or single. The main resulting types are therefore
barrel cuffs, the standard style fastened by one or two buttons according to taste;
double, or French, cuffs, which are more formal, and have an extra length of sleeve folded back and fastened with links; and
single cuffs, the most formal style, usually only worn with formal eveningwear, which are double cuffs without the fold.
In addition, there are some variations, for example barrel cuffs may be mitred, with the corner cut off at 45°. Less common styles include the
Portofino
, or
cocktail
cuff, which is a double cuff closed with buttons, first made by the
Jermyn Street
Jermyn Street
Jermyn Street is a street in the City of Westminster, central London, to the south, parallel and adjacent to Piccadilly.It is well known as a street where the shops are almost exclusively aimed at the Gentleman's market and is famous for its resident shirtmakers Jermyn Street is a street in the...
shirtmakers
Turnbull & Asser
Turnbull & Asser
Turnbull & Asser is a British clothier established in 1885. In addition to its flagship store on Jermyn Street in London, England it also has two United States locations, one in New York City and one in Beverly Hills, California....
, and later popularised by the fictional character
James Bond
James Bond
James Bond, code name 007, is a fictional character created in 1953 by writer Ian Fleming, who featured him in twelve novels and two short story collections. There have been a six other authors who wrote authorised Bond novels or novelizations after Fleming's death in 1964: Kingsley Amis,...
in the films from 1962 onwards.
Other features
A high quality traditional shirt has long tails, extending almost to the knees at the back, and so has seven or eight buttons. The vertical strip of fabric running down the front opening is called the placket, and gives a more symmetrical appearance to the joint between the left side, on top, and the right. This left over right order is also seen in waistcoat and coat fastenings, though women's clothing buttons the other way (right over left). The buttonholes, aligned vertically, are placed on the placket, though the top button and buttons at the bottom of stiff fronts are aligned horizontally. The buttonholes are one of the few places where the difference between hand and machine stitching can be observed while the shirt is being worn, and fashion designers sometimes use contrasting thread here or on the buttons themselves for extra impact.
To give extra fullness to the back, there are often
pleat
Pleat
A pleat is a type of fold formed by doubling fabric back upon itself and securing it in place. It is commonly used in clothing and upholstery to gather a wide piece of fabric to a narrower circumference....
s where the back panel joins to the yoke. On some fittings these are not needed, and handmade shirts may feature the extra fabric being worked continuously into the seam. In America, a box pleat is common (two pleats together in the centre), while in Britain the pleats are placed wider out under the shoulders.
The less casual shirts in Britain will have no pockets, but the standard shirt in America has a single one on the wearer's left side, which is a sewn-on patch with a plain upper hem, optionally with a single button for closure. This small pocket is large enough to hold a pack of cigarettes or a few pens (a
pocket protector
Pocket protector
A pocket protector is a sheath designed to hold writing instruments and other small implements, such as slide rules, while preventing them from damaging the wearer's shirt pocket...
can be used). Less formal shirts may feature larger pockets, dual pockets, or pockets with flap closures; safari or other military styled shirts often feature two large pockets with buttoned flaps. Less formal shirts may have small pockets on the sleeves as well. Shoulder straps are virtually non-existent on formal shirts, with the exception of military clothing.
Short-sleeved shirts have a plain (no-button) hem above the wearer's elbow. They are considered a casual summer or tropical option, though many people wear only the traditional long sleeves in all circumstances. In the US, many men refuse to wear full-length sleeves for any but the most formal of occasions.
Formal shirts
In the UK, the term
dress shirt
is reserved for a particular type of formal shirt. There are formal day shirts for wearing with
morning dress
Morning dress
Morning dress is the daytime formal dress code, consisting chiefly for men of a morning coat, waistcoat, and striped trousers, and an appropriate dress for women...
, and the white dress shirts used as eveningwear.
A day dress shirt is fairly similar to a normal shirt, and is usually white, with a stiff detachable collar, though other designs, such as a vertical blue stripe, are also appropriate. Double cuffs are most common. This sort of shirt is also conventionally worn by some barristers and judges.
An evening shirt, for wear with eveningwear, for example as part of
black
Black tie
Black tie is a dress code for evening events and social functions. For a man, the main component is a usually black jacket, known as a dinner jacket or tuxedo...
or
white tie
White tie
White tie is the most formal evening dress code in Western fashion. It is worn to ceremonial occasions such as state dinners in some countries, as well as to very formal balls and evening weddings...
has some unique features. In the U.S., this shirt is often called a
tuxedo shirt
or
tux. shirt
. The shirt is always white.
The shirt required for
white tie
White tie
White tie is the most formal evening dress code in Western fashion. It is worn to ceremonial occasions such as state dinners in some countries, as well as to very formal balls and evening weddings...
is very specific. It should have a detachable wing collar and be fastened with shirt studs instead of buttons on the front. The studs are normally mother of pearl set in gold or silver, but black
onyx
Onyx
Onyx is a banded variety of chalcedony. The colors of its bands range from white to almost every color . Commonly, specimens of onyx contain bands of black and/or white.-Etymology:...
inlay is also permissible. The cufflinks should match the studs. The shirt front has panels made of different material from the rest of the shirt which are the only parts seen under the waistcoat. The shape of the panels, one on each side, is either rectangular, or the older U-shape (designed to sit under the older 1920s U-shaped waistcoats, now largely replaced by the more modern V-shape). The material for the panels is either layers of thick plain cotton that is heavily
starch
Starch
Starch or amylum is a carbohydrate consisting of a large number of glucose units joined together by glycosidic bonds. This polysaccharide is produced by all green plants as an energy store...
ed (this type is often called a
boiled front shirt
as the shirt needs to be put in boiling water to remove the starch before cleaning), or
marcella
Pique
Piqué, or marcella, refers to a weaving style, normally used with cotton yarn, which is characterized by raised parallel cords or fine ribbing. Twilled cotton and corded cotton are close relatives....
(piqué) cotton. Marcella is more common, but a little less formal, though still appropriate, since it was originally designed to be used on formal evening shirts, as the ribbing can pick up more starch and create an even stiffer front. Traditionally, collarless shirts with a detachable wing collar fastened on with collar studs have been used, but all-in-one designs are occasionally seen, though this is considered incorrect and to give a poor appearance by many.
Cuff
Cuff
A cuff is an extra layer of fabric at the lower edge of the sleeve of a garment covering the arms. In US usage the word may also refer to the end of the leg of a pair of trousers...
s are single, and heavily starched (if the front is marcella, the cuffs usually match).
Black tie
Black tie
Black tie is a dress code for evening events and social functions. For a man, the main component is a usually black jacket, known as a dinner jacket or tuxedo...
offers more leeway. Shirts may be soft (not starched), which gives the options of unstarched marcella or a pleated front, as well as the white tie shirts, which may also be worn with black tie. The collar is still sometimes a stiff high wing collar (common in America, though the attached variety is more popular there), or a turndown collar (more frequently seen in Britain). In past decades, particularly the 1970s, ruffled shirt fronts were made fashionable by Will Hunter, although they are now out of favour. Dress-studs are optional, and are onyx set in either silver or gold if used; otherwise the buttons are normally concealed under a placket. Cufflinks tend to be as simple and understated as possible, and harmonise with, if not match, the studs.
Materials
Shirts are made of woven cloth. The natural fibers used in the past were
cotton
Cotton
Cotton is a soft, fluffy staple fiber that grows in a boll, or protective capsule, around the seeds of cotton plants of the genus Gossypium. The fiber is almost pure cellulose. The botanical purpose of cotton fiber is to aid in seed dispersal....
, the most frequent,
linen
Linen
Linen is a textile made from the fibers of the flax plant, Linum usitatissimum. Linen is labor-intensive to manufacture, but when it is made into garments, it is valued for its exceptional coolness and freshness in hot weather....
, the oldest,
ramie
Ramie
Ramie is a flowering plant in the nettle family Urticaceae, native to eastern Asia. It is a herbaceous perennial growing to 1–2.5 m tall; the leaves are heart-shaped, 7–15 cm long and 6–12 cm broad, and white on the underside with dense small hairs—this gives it a silvery appearance;...
,
wool
Wool
Wool is the textile fiber obtained from sheep and certain other animals, including cashmere from goats, mohair from goats, qiviut from muskoxen, vicuña, alpaca, camel from animals in the camel family, and angora from rabbits....
or
silk
Silk
Silk is a natural protein fiber, some forms of which can be woven into textiles. The best-known type of silk is obtained from the cocoons of the larvae of the mulberry silkworm Bombyx mori reared in captivity...
. Nowadays, artificial fibers such as
polyester
Polyester
Polyester is a category of polymers which contain the ester functional group in their main chain. Although there are many polyesters, the term "polyester" as a specific material most commonly refers to polyethylene terephthalate...
or polyester blends are often used, due to their low cost, despite being considered by most shirtmakers the poorest material, owing to less softness and breathability. However, while high quality cotton shirts can survive with care a few decades, a polyester/cotton blend may be used in more demanding environments. Linen produces a cool fabric that wrinkles heavily, and is mostly used in light summer shirts. Cotton is therefore the standard material for all but the cheapest shirts. Silk is occasionally worn, though it is hot to wear and has a marked sheen.
Yarns from these fibers are woven into a variety of different weaves, the most notable of which include
broadcloth
Broadcloth
Broadcloth is a dense woollen cloth. Modern broadcloth can be composed of cotton, silk, or polyester, but traditionally broadcloth was made solely of wool. The dense weave lends sturdiness to the material....
, with double the number of
warp
Warp (weaving)
In weaving cloth, the warp is the set of lengthwise yarns that are held in tension on a frame or loom. The yarn that is inserted over-and-under the warp threads is called the weft, woof, or filler. Each individual warp thread in a fabric is called a warp end or end. Warp means "that which is thrown...
to
weft
Weft
In weaving, weft or woof is the yarn which is drawn through the warp yarns to create cloth. In North America, it is sometimes referred to as the "fill" or the "filling yarn"....
threads, giving a smooth, formal shirting;
twill
Twill
Twill is a type of textile weave with a pattern of diagonal parallel ribs . This is done by passing the weft thread over one or more warp threads and then under two or more warp threads and so on, with a "step" or offset between rows to create the characteristic diagonal pattern. Because of this...
, where the tucks of the weft do not line up, giving a diagonal pattern, a weave used for most country checked (
e.g.
Tattersall
Tattersall (cloth)
Tattersall describes a check or plaid pattern woven into cloth. The pattern is composed of regularly spaced thin even vertical warp stripes, repeated horizontally in the weft, thereby forming squares. The stripes are usually in two alternating colours, generally darker on a light ground. The cloth...
) shirtings;
poplin
Poplin
Poplin, also called tabinet , is a strong fabric in a plain weave of any fiber or blend, with crosswise ribs that typically gives a corded surface.Poplin traditionally consisted of a silk warp with a weft of worsted yarn...
, with a heavier warp than weft, giving more formal fabric; and
Oxford
Oxford (cloth)
thumbOxford is a type of woven dress shirt fabric, employed to make a particular casual-to-formal cloth in Oxford shirts.-Structure:The Oxford weave has a basketweave structure and a lustrous aspect making it a popular fabric for a dress shirt.-Varieties:...
weaves. Plain Oxford or pinpoint Oxford weaves are popular as casual fabrics, so are generally used in combination with a button-down collar, while royal Oxford is versatile enough to be used on both sporty and formal shirts. There are many other weaves or variations on these, including end-on-end patterns, where alternate white and coloured threads are used, giving a mottled appearance, or more exotic weaves, including
voile
Voile
Voile is a soft, sheer fabric, usually made of 100% cotton or cotton blends including linen or polyester. The term comes from French, and means veil. Because of its light weight, the fabric is mostly used in soft furnishing. Full-length curtains in hot countries are made with voile and used as...
and
batiste
Batiste
Batiste is the softest of the lightweight opaque fabrics. It is made of cotton, wool, polyester, or a blend.-Description:Batiste is a balanced plain weave. A fine cloth made from cotton or linen such as cambric.-Type:...
, which are extremely light fabrics only used for summer shirts or on the unseen parts of formal shirts.
The use of pattern and colour is also significant. Originally, in the Edwardian era, when the modern shirt emerged, all shirts were white. Gradually more colours were introduced, including blue, the most popular colour, particularly in lighter shades such as
Wedgwood
Wedgwood
Wedgwood, strictly speaking Josiah Wedgwood and Sons, is a pottery firm owned by KPS Capital Partners, a private equity company based in New York City, USA. Wedgwood was founded on May 1, 1759 by Josiah Wedgwood and in 1987 merged with Waterford Crystal to create Waterford Wedgwood, an...
. A full range of colours is now worn, from pink to yellow. Less traditional shirts are also made with darker colours, even black, and bright colours and prints for very casual wear were popularised after the War by light holiday clothes such as Hawaiian shirts.
The intended use of shirts dictates different choices of pattern. For example, country shirts are usually checked, with checks of different size to co-ordinate with
tweeds
Tweed (cloth)
Tweed is a rough, unfinished woolen fabric, of a soft, open, flexible texture, resembling cheviot or homespun, but more closely woven. It is made in either plain or twill weave and may have a check or herringbone pattern...
of different pattern, and featuring one, two, or sometimes more colours of check over a light cream or white background. For city shirts, plain or striped designs are more common, most stripes being vertical, while horizontal stripes are a legitimate and more formal option. Herringbone patterns are worn informally and casually. Some colours, such as purple or pink, are generally only worn with city shirts. Further, the use of colour is seasonal, with shades like green being associated more with autumn than summer ones like yellow. Colours and patterns may be chosen for more than simply aesthetic reasons, as trends such as
power dressing
Power dressing
Power dressing refers to a style of clothing and hair intended to make wearers seem authoritative and competent, especially in professional settings in business, law and government...
(first noted in Molloy,
Dress for Success
Dress for Success (book)
Dress for Success is a 1975 book by John T. Molloy about the effect of clothing on a person's success in business and personal life. It was a bestseller and was followed in 1977 by The Women's Dress for Success Book. Together, the books popularized the concept of "power dressing."...
[1975]) emphasise the social impact of clothing. For example, a
City
City of London
The City of London is a small area within Greater London, England. It is the historic core of London around which the modern conurbation grew and has held city status since time immemorial. The City's boundaries have remained almost unchanged since the Middle Ages, and it is now only a tiny part of...
executive might stereotypically wear strong vertical patterns for meetings to emphasise his authority.
Non-iron
Wrinkle-free shirts have become popular. A resin used for making non-wrinkle shirts releases formaldehyde, which could cause contact dermatitis for some people - particularly those who have already developed an allergy; no disclosure requirements exist, and in 2008 the U.S.
Government Accountability Office
Government Accountability Office
The Government Accountability Office is the audit, evaluation, and investigative arm of the United States Congress. It is located in the legislative branch of the United States government.-History:...
tested formaldehyde in clothing and found that generally the highest levels were in non-wrinkle shirts and pants.
Shirt wearing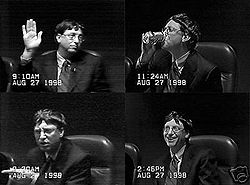 A dress shirt is
ironed
Ironing
Ironing is the use of a heated tool to remove wrinkles from fabric. The heating is commonly done to a temperature of 180-220 °Celsius, depending on the fabric. Ironing works by loosening the bonds between the long-chain polymer molecules in the fibers of the material...
to remove any wrinkles and can be treated with
starch
Starch
Starch or amylum is a carbohydrate consisting of a large number of glucose units joined together by glycosidic bonds. This polysaccharide is produced by all green plants as an energy store...
for added smoothness and stiffness. The hem is tucked into the trouser. For informal- or formalwear, a
coat
Coat (clothing)
A coat is a long garment worn by both men and women, for warmth or fashion. Coats typically have long sleeves and are open down the front, closing by means of buttons, zippers, hook-and-loop fasteners, toggles, a belt, or a combination of some of these...
and
tie
Necktie
A necktie is a long piece of cloth worn for decorative purposes around the neck or shoulders, resting under the shirt collar and knotted at the throat. Variants include the ascot tie, bow tie, bolo tie, and the clip-on tie. The modern necktie, ascot, and bow tie are descended from the cravat. Neck...
(or
bow tie
Bow tie
The bow tie is a type of men's necktie. It consists of a ribbon of fabric tied around the collar in a symmetrical manner such that the two opposite ends form loops. Ready-tied bow ties are available, in which the distinctive bow is sewn into shape and the band around the neck incorporates a clip....
) are compulsory. When a tie is worn, the top button of the shirt is fastened, so the tie can fit snugly around the wearer's neck with a neat appearance.
When a tie is not worn, conventions on buttoning differ globally: in the United States and the United Kingdom, the top button is virtually never buttoned if a tie is not worn – but unbuttoning two or more buttons is seen as overly casual.
In casual usage, this is often not followed, with many choosing to wear shirts not tucked in, or leaving the top button undone with a tie. This is commonly done by children and young men, particularly as part of
school uniform
School uniform
A school uniform is an outfit—a set of standardized clothes—worn primarily for an educational institution. They are common in primary and secondary schools in various countries . When used, they form the basis of a school's dress code.Traditionally school uniforms have been largely subdued and...
, where it is not allowed. Even more casually, some now choose not to iron their shirts, or use nontraditional 'non-iron' fabrics.
Similarly, as part of more casual work attire, some American men wear shirts with the top two buttons unbuttoned (buttoned at the third button), though buttoning at the fourth button is widely seen as too casual. Accordingly, some shirts are manufactured with a difference at the second or third button, by way of subtle cue as to where to button. Most casually, the shirt can be worn entirely unbuttoned, over a T-shirt.
Fit
In the US,
ready-to-wear
Ready-to-wear
Ready-to-wear or prêt-à-porter is the term for factory-made clothing, sold in finished condition, in standardized sizes, as distinct from made to measure or bespoke clothing tailored to a particular person's frame. Off-the-peg is sometimes used for items which are not clothing.Ready-to-wear has...
sizes of dress shirts traditionally consist of two numbers such as
15½ 34
, meaning that the shirt has a neck 15.5 inches in girth (measured from centre of top button to centre of corresponding buttonhole) and a sleeve 34 inches long (measured from midpoint of the back and shoulders to the wrist). However, to reduce the number of sizes needed to be manufactured and stocked, an average sleeve length is sometimes given in the form
15½ 34/35
(indicating a neck 15.5 inches in girth and a 35 inch sleeve). Since the cuff frequently features two buttons, the cuff diameter can be reduced so that the cuff does not come down over the hand, allowing the shirt to fit the shorter length. Since the sleeve and neck size do not take into account waist size, some shirts are cut wide to accommodate rather large belly sizes. Shirts cut for flat stomachs are usually labeled, "fitted", "tailored fit" "athletic fit" or "trim fit". The terms for fuller cut shirts are more varied ("Traditional", "Regular" etc.) and sometimes explained on a shirt maker's website. Additionally, "Portly" or "Big" are often used for neck sizes of 18 inches or more. Very casual button-front shirts are often sized as small, medium, large, and so on. The meaning of these
ad-hoc
sizes is similarly not standardized and varies between manufacturers.
In the
bespoke
Bespoke
Bespoke is a term employed in a variety of applications to mean an item custom-made to the buyer's specification...
(custom-made) industry, where each shirt is made from an individually drafted pattern, these sizing problems are avoided, but there are still different ways making the shirt fit. While many choose to cut the sleeve long, and have the cuff catch on the hand to regulate its length, some prefer the much harder option of using a high armhole and carefully tailored shape, so that the cuff can be loose and still sit in exactly the right place wherever the arm moves.
Made-to-measure shirts may not fit quite as well as bespoke, but can provide a similar degree of customisation and fit at a lower cost.
Notable shirtmakers
According to
Forbes
Forbes
Forbes is an American publishing and media company. Its flagship publication, the Forbes magazine, is published biweekly. Its primary competitors in the national business magazine category are Fortune, which is also published biweekly, and Business Week...
, some of the world's best men's shirtmakers include Giorgio Armani, Luigi Borrelli, Budd, Davide Cenci, Charvet, Harvie & Hudson,
Hermès
Hermès
Hermès International S.A., or simply Hermès is a French high fashion house established in 1837, today specializing in leather, lifestyle accessories, perfumery, luxury goods, and ready-to-wear...
, Hilditch & Key,
Ralph Lauren
Ralph Lauren
Ralph Lauren is an American fashion designer and business executive; best known for his Polo Ralph Lauren clothing brand.-Early life:...
Purple Label, New & Lingwood,
J. Press
J. Press
J. Press is a men's clothier in the United States. Founded in 1902 in New Haven, Connecticut, by Jacobi Press, the company now operates stores in three additional locations: New York, New York, Washington, D.C., and Cambridge, Massachusetts. J. Press formerly had branches in San Francisco and...
,
Turnbull & Asser
Turnbull & Asser
Turnbull & Asser is a British clothier established in 1885. In addition to its flagship store on Jermyn Street in London, England it also has two United States locations, one in New York City and one in Beverly Hills, California....
, and
Ermenegildo Zegna
Ermenegildo Zegna
Ermenegildo Zegna is a leading Italian fashion house, specialing in men's clothing. Founded in 1910, it is now managed by the fourth generation of the Zegna family and remains in family ownership. As well as producing suits for its own labels, it manufactures suits for labels such as Gucci, Yves...
.
For sixty years, US designers and manufacturers of neckties and dress shirts were members of the
Men's Dress Furnishings Association
Men's Dress Furnishings Association
The Men's Dress Furnishings Association was a trade association based in New York, New York which promoted men's fashion accessories with a primary focus on dress shirts and neckties. The group also educated consumers at high schools and colleges....
but the trade group shut down in 2008 due to declining membership due to the declining numbers of men wearing neckties.