 Cell signaling
Cell signaling
is part of a
complex system
Complex system
A complex system is a system composed of interconnected parts that as a whole exhibit one or more properties not obvious from the properties of the individual parts....
of
communication
Communication
Communication is the activity of conveying meaningful information. Communication requires a sender, a message, and an intended recipient, although the receiver need not be present or aware of the sender's intent to communicate at the time of communication; thus communication can occur across vast...
that governs basic cellular activities and coordinates cell actions. The ability of cells to perceive and correctly respond to their microenvironment is the basis of development, tissue repair, and
immunity
Immunity (medical)
Immunity is a biological term that describes a state of having sufficient biological defenses to avoid infection, disease, or other unwanted biological invasion. Immunity involves both specific and non-specific components. The non-specific components act either as barriers or as eliminators of wide...
as well as normal tissue
homeostasis
Homeostasis
Homeostasis is the property of a system that regulates its internal environment and tends to maintain a stable, constant condition of properties like temperature or pH...
. Errors in cellular information processing are responsible for diseases such as
cancer
Cancer
Cancer , known medically as a malignant neoplasm, is a large group of different diseases, all involving unregulated cell growth. In cancer, cells divide and grow uncontrollably, forming malignant tumors, and invade nearby parts of the body. The cancer may also spread to more distant parts of the...
,
autoimmunity
Autoimmunity
Autoimmunity is the failure of an organism to recognize its own constituent parts as self, which allows an immune response against its own cells and tissues. Any disease that results from such an aberrant immune response is termed an autoimmune disease...
, and diabetes. By understanding cell signaling, diseases may be treated effectively and, theoretically, artificial tissues may be created.
Traditional work in biology has focused on studying individual parts of cell signaling pathways.
Systems biology
Systems biology
Systems biology is a term used to describe a number of trends in bioscience research, and a movement which draws on those trends. Proponents describe systems biology as a biology-based inter-disciplinary study field that focuses on complex interactions in biological systems, claiming that it uses...
research helps us to understand the underlying structure of cell signaling networks and how changes in these networks may affect the transmission and flow of information. Such networks are
complex systems
Complex systems
Complex systems present problems in mathematical modelling.The equations from which complex system models are developed generally derive from statistical physics, information theory and non-linear dynamics, and represent organized but unpredictable behaviors of systems of nature that are considered...
in their organization and may exhibit a number of
emergent
Emergent
It may also mean:* Emergent , Neural Simulation Software* Emergent , a 2003 album by Gordian Knot* emergent plant, a plant which grows in water but which pierces the surface so that it is partially in air...
properties including
bistability
Bistability
Bistability is a fundamental phenomenon in nature. Something that is bistable can be resting in either of two states. These rest states need not be symmetric with respect to stored energy...
and ultrasensitivity. Analysis of cell signaling networks requires a combination of experimental and theoretical approaches including the development and analysis of simulations and
modeling
Scientific modelling
Scientific modelling is the process of generating abstract, conceptual, graphical and/or mathematical models. Science offers a growing collection of methods, techniques and theory about all kinds of specialized scientific modelling...
. Long-range allostery is often a significant component of cell signaling events .
Unicellular and multicellular organism cell signaling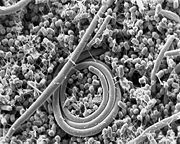 Cell signaling has been most extensively studied in the context of human
disease
Disease
A disease is an abnormal condition affecting the body of an organism. It is often construed to be a medical condition associated with specific symptoms and signs. It may be caused by external factors, such as infectious disease, or it may be caused by internal dysfunctions, such as autoimmune...
s and signaling between
cells
Cell (biology)
The cell is the basic structural and functional unit of all known living organisms. It is the smallest unit of life that is classified as a living thing, and is often called the building block of life. The Alberts text discusses how the "cellular building blocks" move to shape developing embryos....
of a single organism. However, cell signaling may also occur between the cells of two different organisms. In many
mammal
Mammal
Mammals are members of a class of air-breathing vertebrate animals characterised by the possession of endothermy, hair, three middle ear bones, and mammary glands functional in mothers with young...
s, early
embryo
Embryo
An embryo is a multicellular diploid eukaryote in its earliest stage of development, from the time of first cell division until birth, hatching, or germination...
cells exchange signals with cells of the
uterus
Uterus
The uterus or womb is a major female hormone-responsive reproductive sex organ of most mammals including humans. One end, the cervix, opens into the vagina, while the other is connected to one or both fallopian tubes, depending on the species...
. In the human
gastrointestinal tract
Gastrointestinal tract
The human gastrointestinal tract refers to the stomach and intestine, and sometimes to all the structures from the mouth to the anus. ....
,
bacteria
Bacteria
Bacteria are a large domain of prokaryotic microorganisms. Typically a few micrometres in length, bacteria have a wide range of shapes, ranging from spheres to rods and spirals...
exchange signals with each other and with human
epithelial
Epithelium
Epithelium is one of the four basic types of animal tissue, along with connective tissue, muscle tissue and nervous tissue. Epithelial tissues line the cavities and surfaces of structures throughout the body, and also form many glands. Functions of epithelial cells include secretion, selective...
and
immune system
Immune system
An immune system is a system of biological structures and processes within an organism that protects against disease by identifying and killing pathogens and tumor cells. It detects a wide variety of agents, from viruses to parasitic worms, and needs to distinguish them from the organism's own...
cells. For the yeast
Saccharomyces cerevisiae
Saccharomyces cerevisiae
Saccharomyces cerevisiae is a species of yeast. It is perhaps the most useful yeast, having been instrumental to baking and brewing since ancient times. It is believed that it was originally isolated from the skin of grapes...
during
mating
Mating of yeast
The yeast Saccharomyces cerevisiae is a simple single celled eukaryote with both a diploid and haploid mode of existence. The mating of yeast only occurs between haploids, which can be either the a or α mating type and thus display simple sexual differentiation...
, some cells send a
peptide
Peptide
Peptides are short polymers of amino acid monomers linked by peptide bonds. They are distinguished from proteins on the basis of size, typically containing less than 50 monomer units. The shortest peptides are dipeptides, consisting of two amino acids joined by a single peptide bond...
signal (mating factor
pheromones
) into their environment. The mating factor peptide may bind to a cell surface
receptor
Receptor (biochemistry)
In biochemistry, a receptor is a molecule found on the surface of a cell, which receives specific chemical signals from neighbouring cells or the wider environment within an organism...
on other yeast cells and induce them to prepare for mating.
Types of signals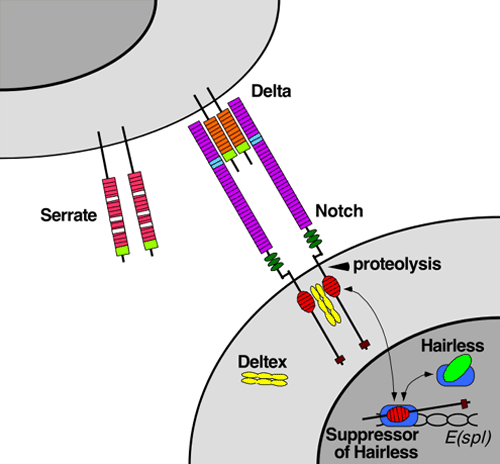 Cells communicate with each other via direct contact (juxtacrine signaling), over short distances (paracrine signaling), or over large distances and/or scales (
endocrine signaling
Endocrine system
In physiology, the endocrine system is a system of glands, each of which secretes a type of hormone directly into the bloodstream to regulate the body. The endocrine system is in contrast to the exocrine system, which secretes its chemicals using ducts. It derives from the Greek words "endo"...
).
Some cell-to-cell communication requires direct cell–cell contact. Some cells can form
gap junction
Gap junction
A gap junction or nexus is a specialized intercellular connection between a multitude of animal cell-types. It directly connects the cytoplasm of two cells, which allows various molecules and ions to pass freely between cells....
s that connect their
cytoplasm
Cytoplasm
The cytoplasm is a small gel-like substance residing between the cell membrane holding all the cell's internal sub-structures , except for the nucleus. All the contents of the cells of prokaryote organisms are contained within the cytoplasm...
to the cytoplasm of adjacent cells. In
cardiac muscle
Cardiac muscle
Cardiac muscle is a type of involuntary striated muscle found in the walls and histologic foundation of the heart, specifically the myocardium. Cardiac muscle is one of three major types of muscle, the others being skeletal and smooth muscle...
, gap junctions between adjacent cells allows for
action potential
Action potential
In physiology, an action potential is a short-lasting event in which the electrical membrane potential of a cell rapidly rises and falls, following a consistent trajectory. Action potentials occur in several types of animal cells, called excitable cells, which include neurons, muscle cells, and...
propagation from the
cardiac pacemaker
Cardiac pacemaker
right|thumb|350px|Image showing the cardiac pacemaker which is the SA nodeThe contraction of heart muscle in all animals with hearts is initiated by chemical impulses. The rate at which these impulses fire controls the heart rate...
region of the heart to spread and coordinately cause contraction of the heart.
The
Notch signaling
Notch signaling
The notch signaling pathway is a highly conserved cell signaling system present in most multicellular organisms.Notch is present in all metazoans, and mammals possess four different notch receptors, referred to as NOTCH1, NOTCH2, NOTCH3, and NOTCH4. The notch receptor is a single-pass...
mechanism is an example of
juxtacrine signaling
Juxtacrine signalling
In biology, juxtacrine signalling is a type of intercellular communication that is transmitted via oligosaccharide, lipid, or protein components of a cell membrane, and may affect either the emitting cell or the immediately adjacent cells...
(also known as contact-dependent signaling) in which two adjacent cells must make physical contact in order to communicate. This requirement for direct contact allows for very precise control of cell differentiation during embryonic development. In the worm
Caenorhabditis elegans
Caenorhabditis elegans
Caenorhabditis elegans is a free-living, transparent nematode , about 1 mm in length, which lives in temperate soil environments. Research into the molecular and developmental biology of C. elegans was begun in 1974 by Sydney Brenner and it has since been used extensively as a model...
, two cells of the developing
gonad
Gonad
The gonad is the organ that makes gametes. The gonads in males are the testes and the gonads in females are the ovaries. The product, gametes, are haploid germ cells. For example, spermatozoon and egg cells are gametes...
each have an equal chance of terminally differentiating or becoming a uterine precursor cell that continues to divide. The choice of which cell continues to divide is controlled by competition of cell surface signals. One cell will happen to produce more of a cell surface protein that activates the Notch receptor on the adjacent cell. This activates a feedback loop or system that reduces Notch expression in the cell that will differentiate and that increases Notch on the surface of the cell that continues as a
stem cell
Stem cell
This article is about the cell type. For the medical therapy, see Stem Cell TreatmentsStem cells are biological cells found in all multicellular organisms, that can divide and differentiate into diverse specialized cell types and can self-renew to produce more stem cells...
.
Many cell signals are carried by molecules that are released by one cell and move to make contact with another cell.
Endocrine
Endocrine system
In physiology, the endocrine system is a system of glands, each of which secretes a type of hormone directly into the bloodstream to regulate the body. The endocrine system is in contrast to the exocrine system, which secretes its chemicals using ducts. It derives from the Greek words "endo"...
signals are called
hormone
Hormone
A hormone is a chemical released by a cell or a gland in one part of the body that sends out messages that affect cells in other parts of the organism. Only a small amount of hormone is required to alter cell metabolism. In essence, it is a chemical messenger that transports a signal from one...
s. Hormones are produced by endocrine cells and they travel through the
blood
Circulatory system
The circulatory system is an organ system that passes nutrients , gases, hormones, blood cells, etc...
to reach all parts of the body. Specificity of signaling can be controlled if only some cells can respond to a particular hormone.
Paracrine
Paracrine signalling
Paracrine signalling is a form of cell signalling in which the target cell is near the signal-releasing cell.-Local action:Some signalling molecules degrade very quickly, limiting the scope of their effectiveness to the immediate surroundings...
signals such as
retinoic acid
Retinoic acid
Retinoic acid is a metabolite of vitamin A that mediates the functions of vitamin A required for growth and development. Retinoic acid is required in chordate animals which includes all higher animals from fishes to humans...
target only cells in the vicinity of the emitting cell.
Neurotransmitter
Neurotransmitter
Neurotransmitters are endogenous chemicals that transmit signals from a neuron to a target cell across a synapse. Neurotransmitters are packaged into synaptic vesicles clustered beneath the membrane on the presynaptic side of a synapse, and are released into the synaptic cleft, where they bind to...
s represent another example of a paracrine signal. Some signaling molecules can function as both a hormone and a neurotransmitter. For example,
epinephrine
Epinephrine
Epinephrine is a hormone and a neurotransmitter. It increases heart rate, constricts blood vessels, dilates air passages and participates in the fight-or-flight response of the sympathetic nervous system. In chemical terms, adrenaline is one of a group of monoamines called the catecholamines...
and
norepinephrine
Norepinephrine
Norepinephrine is the US name for noradrenaline , a catecholamine with multiple roles including as a hormone and a neurotransmitter...
can function as hormones when released from the
adrenal gland
Adrenal gland
In mammals, the adrenal glands are endocrine glands that sit atop the kidneys; in humans, the right suprarenal gland is triangular shaped, while the left suprarenal gland is semilunar shaped...
and are transported to the heart by way of the blood stream. Norepinephrine can also be produced by
neuron
Neuron
A neuron is an electrically excitable cell that processes and transmits information by electrical and chemical signaling. Chemical signaling occurs via synapses, specialized connections with other cells. Neurons connect to each other to form networks. Neurons are the core components of the nervous...
s to function as a neurotransmitter within the brain.
Estrogen
Estrogen
Estrogens , oestrogens , or œstrogens, are a group of compounds named for their importance in the estrous cycle of humans and other animals. They are the primary female sex hormones. Natural estrogens are steroid hormones, while some synthetic ones are non-steroidal...
can be released by the
ovary
Ovary
The ovary is an ovum-producing reproductive organ, often found in pairs as part of the vertebrate female reproductive system. Ovaries in anatomically female individuals are analogous to testes in anatomically male individuals, in that they are both gonads and endocrine glands.-Human anatomy:Ovaries...
and function as a hormone or act locally via paracrine or autocrine signaling. Active species of oxygen and
nitric oxide
Nitric oxide
Nitric oxide, also known as nitrogen monoxide, is a diatomic molecule with chemical formula NO. It is a free radical and is an important intermediate in the chemical industry...
can also act as cellular messengers. This process is dubbed
redox signaling
Redox signaling
Redox signaling is when free radicals, reactive oxygen species , and other electronically activated species such as nitric oxide act as biological messengers. Arguably, hydrogen sulfide and carbon monoxide are also redox signaling molecules...
.
Receptors for cell moves
Cells receive information from their neighbors through a class of proteins known as
receptors
Receptor (biochemistry)
In biochemistry, a receptor is a molecule found on the surface of a cell, which receives specific chemical signals from neighbouring cells or the wider environment within an organism...
. Notch is a cell surface protein that functions as a receptor. Animals have a small set of
gene
Gene
A gene is a molecular unit of heredity of a living organism. It is a name given to some stretches of DNA and RNA that code for a type of protein or for an RNA chain that has a function in the organism. Living beings depend on genes, as they specify all proteins and functional RNA chains...
s that code for signaling proteins that interact specifically with Notch receptors and stimulate a response in cells that express Notch on their surface. Molecules that activate (or, in some cases, inhibit) receptors can be classified as hormones, neurotransmitters, cytokines, and growth factors, but all of these are called
receptor ligands
Ligand (biochemistry)
In biochemistry and pharmacology, a ligand is a substance that forms a complex with a biomolecule to serve a biological purpose. In a narrower sense, it is a signal triggering molecule, binding to a site on a target protein.The binding occurs by intermolecular forces, such as ionic bonds, hydrogen...
. The details of ligand-receptor interactions are fundamental to cell signaling.
As shown in Figure 2 (above, left), Notch acts as a receptor for ligands that are expressed on adjacent cells. While many receptors are cell surface proteins, some are found inside cells. For example, estrogen is a hydrophobic molecule that can pass through the
lipid bilayer
Lipid bilayer
The lipid bilayer is a thin membrane made of two layers of lipid molecules. These membranes are flat sheets that form a continuous barrier around cells. The cell membrane of almost all living organisms and many viruses are made of a lipid bilayer, as are the membranes surrounding the cell nucleus...
of cell surface
membrane
Cell membrane
The cell membrane or plasma membrane is a biological membrane that separates the interior of all cells from the outside environment. The cell membrane is selectively permeable to ions and organic molecules and controls the movement of substances in and out of cells. It basically protects the cell...
s.
Estrogen receptor
Estrogen receptor
Estrogen receptor refers to a group of receptors that are activated by the hormone 17β-estradiol . Two types of estrogen receptor exist: ER, which is a member of the nuclear hormone family of intracellular receptors, and the estrogen G protein-coupled receptor GPR30 , which is a G protein-coupled...
s inside cells of the uterus can be activated by estrogen that comes from the ovaries, enters the target cells, and binds to estrogen receptors.
A number of transmembrane receptors for molecules that include peptide hormones and of intracellular receptors for steroid hormones exist, giving to a cell the ability to respond to a great number of hormonal and pharmacological stimuli. In diseases, often, proteins that interact with receptors are aberrantly activated, resulting in constitutively activated downstream signals.
For several types of intercellular signaling molecules that are unable to permeate the hydrophobic cell membrane due to their hydrophilic nature, the target receptor is expressed on the membrane. When such signaling molecule activates its receptor, the signal is carried into the cell usually by means of a second messenger such as
cAMP
Cyclic adenosine monophosphate
Cyclic adenosine monophosphate is a second messenger important in many biological processes...
.
Signaling pathways

In some cases, receptor activation caused by ligand binding to a receptor is directly coupled to the cell's response to the ligand. For example, the neurotransmitter
GABA
Gabâ
Gabâ or gabaa, for the people in many parts of the Philippines), is the concept of a non-human and non-divine, imminent retribution. A sort of negative karma, it is generally seen as an evil effect on a person because of their wrongdoings or transgressions...
can activate a cell surface receptor that is part of an
ion channel
Ion channel
Ion channels are pore-forming proteins that help establish and control the small voltage gradient across the plasma membrane of cells by allowing the flow of ions down their electrochemical gradient. They are present in the membranes that surround all biological cells...
. GABA binding to a
GABA A receptor
GABA A receptor
The GABAA receptor is an ionotropic receptor and ligand-gated ion channel. Its endogenous ligand is γ-aminobutyric acid , the major inhibitory neurotransmitter in the central nervous system. Upon activation, the GABAA receptor selectively conducts Cl- through its pore, resulting in...
on a neuron opens a
chloride
Chloride
The chloride ion is formed when the element chlorine, a halogen, picks up one electron to form an anion Cl−. The salts of hydrochloric acid HCl contain chloride ions and can also be called chlorides. The chloride ion, and its salts such as sodium chloride, are very soluble in water...
-selective ion channel that is part of the receptor. GABA A receptor activation allows negatively-charged chloride ions to move into the neuron, which inhibits the ability of the neuron to produce
action potential
Action potential
In physiology, an action potential is a short-lasting event in which the electrical membrane potential of a cell rapidly rises and falls, following a consistent trajectory. Action potentials occur in several types of animal cells, called excitable cells, which include neurons, muscle cells, and...
s. However, for many cell surface receptors, ligand-receptor interactions are not directly linked to the cell's response. The activated receptor must first interact with other proteins inside the cell before the ultimate
physiological
Physiology
Physiology is the science of the function of living systems. This includes how organisms, organ systems, organs, cells, and bio-molecules carry out the chemical or physical functions that exist in a living system. The highest honor awarded in physiology is the Nobel Prize in Physiology or...
effect of the ligand on the cell's behavior is produced. Often, the behavior of a chain of several interacting cell proteins is altered following receptor activation. The entire set of cell changes induced by receptor activation is called a
signal transduction
Signal transduction
Signal transduction occurs when an extracellular signaling molecule activates a cell surface receptor. In turn, this receptor alters intracellular molecules creating a response...
mechanism or pathway.
In the case of Notch-mediated signaling, the signal transduction mechanism can be relatively simple. As shown in Figure 2 (above, left), activation of Notch can cause the Notch protein to be altered by a
protease
Protease
A protease is any enzyme that conducts proteolysis, that is, begins protein catabolism by hydrolysis of the peptide bonds that link amino acids together in the polypeptide chain forming the protein....
. Part of the Notch protein is released from the cell surface membrane and can act to change the pattern of gene
transcription
Transcription (genetics)
Transcription is the process of creating a complementary RNA copy of a sequence of DNA. Both RNA and DNA are nucleic acids, which use base pairs of nucleotides as a complementary language that can be converted back and forth from DNA to RNA by the action of the correct enzymes...
in the
cell nucleus
Cell nucleus
In cell biology, the nucleus is a membrane-enclosed organelle found in eukaryotic cells. It contains most of the cell's genetic material, organized as multiple long linear DNA molecules in complex with a large variety of proteins, such as histones, to form chromosomes. The genes within these...
. This causes the responding cell to make different proteins, resulting in an altered pattern of cell behavior. Cell signaling research involves studying the spatial and temporal dynamics of both receptors and the components of signaling pathways that are activated by receptors in various cell types.
A more complex signal transduction pathway is shown in Figure 3. This pathway involves changes of
protein-protein interaction
Protein-protein interaction
Protein–protein interactions occur when two or more proteins bind together, often to carry out their biological function. Many of the most important molecular processes in the cell such as DNA replication are carried out by large molecular machines that are built from a large number of protein...
s inside the cell, induced by an external signal. Many growth factors bind to receptors at the cell surface and stimulate cells to progress through the
cell cycle
Cell cycle
The cell cycle, or cell-division cycle, is the series of events that takes place in a cell leading to its division and duplication . In cells without a nucleus , the cell cycle occurs via a process termed binary fission...
and
divide
Cell division
Cell division is the process by which a parent cell divides into two or more daughter cells . Cell division is usually a small segment of a larger cell cycle. This type of cell division in eukaryotes is known as mitosis, and leaves the daughter cell capable of dividing again. The corresponding sort...
. Several of these receptors are
kinase
Kinase
In chemistry and biochemistry, a kinase is a type of enzyme that transfers phosphate groups from high-energy donor molecules, such as ATP, to specific substrates, a process referred to as phosphorylation. Kinases are part of the larger family of phosphotransferases...
s that start to phosphorylate themselves and other proteins when binding to a ligand. This
phosphorylation
Phosphorylation
Phosphorylation is the addition of a phosphate group to a protein or other organic molecule. Phosphorylation activates or deactivates many protein enzymes....
can generate a binding site for a different protein and thus induce
protein-protein interaction
Protein-protein interaction
Protein–protein interactions occur when two or more proteins bind together, often to carry out their biological function. Many of the most important molecular processes in the cell such as DNA replication are carried out by large molecular machines that are built from a large number of protein...
. In Figure 3, the ligand (called
epidermal growth factor
Epidermal growth factor
Epidermal growth factor or EGF is a growth factor that plays an important role in the regulation of cell growth, proliferation, and differentiation by binding to its receptor EGFR...
(EGF)) binds to the receptor (called
EGFR
Epidermal growth factor receptor
The epidermal growth factor receptor is the cell-surface receptor for members of the epidermal growth factor family of extracellular protein ligands...
). This activates the receptor to phosphorylate itself. The phosphorylated receptor binds to an
adaptor protein
Adaptor protein
Signal transducing adaptor proteins are proteins which are accessory to main proteins in a signal transduction pathway. These proteins tend to lack any intrinsic enzymatic activity themselves but instead mediate specific protein–protein interactions that drive the formation of protein complexes...
(GRB2), which couples the signal to further downstream signaling processes. For example, one of the signal transduction pathways that are activated is called the mitogen-activated protein kinase (MAPK) pathway. The signal transduction component labeled as "MAPK" in the pathway was originally called "ERK," so the pathway is called the
MAPK/ERK pathway
MAPK/ERK pathway
The MAPK/ERK pathway is a chain of proteins in the cell that communicates a signal from a receptor on the surface of the cell to the DNA in the nucleus of the cell. The signal starts when a growth factor binds to the receptor on the cell surface and ends when the DNA in the nucleus expresses a...
. The MAPK protein is an enzyme, a
protein kinase
Protein kinase
A protein kinase is a kinase enzyme that modifies other proteins by chemically adding phosphate groups to them . Phosphorylation usually results in a functional change of the target protein by changing enzyme activity, cellular location, or association with other proteins...
that can attach
phosphate
Phosphate
A phosphate, an inorganic chemical, is a salt of phosphoric acid. In organic chemistry, a phosphate, or organophosphate, is an ester of phosphoric acid. Organic phosphates are important in biochemistry and biogeochemistry or ecology. Inorganic phosphates are mined to obtain phosphorus for use in...
to target proteins such as the
transcription factor
Transcription factor
In molecular biology and genetics, a transcription factor is a protein that binds to specific DNA sequences, thereby controlling the flow of genetic information from DNA to mRNA...
MYC and, thus, alter gene transcription and, ultimately, cell cycle progression. Many cellular proteins are activated downstream of the growth factor receptors (such as EGFR) that initiate this signal transduction pathway.
Some signaling transduction pathways respond differently, depending on the amount of signaling received by the cell. For instance, the hedgehog protein activates different genes, depending on the amount of hedgehog protein present.
Complex multi-component signal transduction pathways provide opportunities for feedback, signal amplification, and interactions inside one cell between multiple signals and signaling pathways.
Classification of intercellular communication
Within
endocrinology
Endocrinology
Endocrinology is a branch of biology and medicine dealing with the endocrine system, its diseases, and its specific secretions called hormones, the integration of developmental events such as proliferation, growth, and differentiation and the coordination of...
(the study of intercellular signaling in animals) and the
endocrine system
Endocrine system
In physiology, the endocrine system is a system of glands, each of which secretes a type of hormone directly into the bloodstream to regulate the body. The endocrine system is in contrast to the exocrine system, which secretes its chemicals using ducts. It derives from the Greek words "endo"...
, intercellular signaling is subdivided into the following classifications:
See also
Molecular Cellular Cognition

Molecular cellular cognition

Molecular cellular cognition is that branch of neuroscience that involves the study of cognitive processes with approaches that integrate molecular, cellular and behavioral mechanisms...



Crosstalk (biology)

Crosstalk (biology)

Biological crosstalk refers to instances in which one or more components of a signal transduction pathway affect a different pathway. This can be achieved through a number of ways with the most common form being crosstalk between proteins of signaling cascades. In these signal transduction...



MAPK signaling pathway

MAPK/ERK pathway

The MAPK/ERK pathway is a chain of proteins in the cell that communicates a signal from a receptor on the surface of the cell to the DNA in the nucleus of the cell. The signal starts when a growth factor binds to the receptor on the cell surface and ends when the DNA in the nucleus expresses a...



Hedgehog signaling pathway
Retinoic acid

Retinoic acid

Retinoic acid is a metabolite of vitamin A that mediates the functions of vitamin A required for growth and development. Retinoic acid is required in chordate animals which includes all higher animals from fishes to humans...



TGF beta signaling pathway

TGF beta signaling pathway

The Transforming growth factor beta signaling pathway is involved in many cellular processes in both the adult organism and the developing embryo including cell growth, cell differentiation, apoptosis, cellular homeostasis and other cellular functions. In spite of the wide range of cellular...



JAK-STAT signaling pathway

JAK-STAT signaling pathway

The JAK-STAT signaling pathway transmits information from chemical signals outside the cell, through the cell membrane, and into gene promoters on the DNA in the cell nucleus, which causes DNA transcription and activity in the cell. The JAK-STAT system is a major signaling alternative to the second...



cAMP dependent pathway

CAMP dependent pathway

In the field of molecular biology, the cAMP-dependent pathway, also known as the adenylyl cyclase pathway, is a G protein-coupled receptor-triggered signaling cascade used in cell communication.-Mechanism:...



Protein dynamics
Signal transduction

Signal transduction

Signal transduction occurs when an extracellular signaling molecule activates a cell surface receptor. In turn, this receptor alters intracellular molecules creating a response...



Systems biology

Systems biology

Systems biology is a term used to describe a number of trends in bioscience research, and a movement which draws on those trends. Proponents describe systems biology as a biology-based inter-disciplinary study field that focuses on complex interactions in biological systems, claiming that it uses...



Lipid signaling

Lipid signaling

Lipid signaling, broadly defined, refers to any biological signaling event involving a lipid messenger that binds a protein target, such as a receptor, kinase or phosphatase, which in turn mediate the effects of these lipids on specific cellular responses...



Redox signaling

Redox signaling

Redox signaling is when free radicals, reactive oxygen species , and other electronically activated species such as nitric oxide act as biological messengers. Arguably, hydrogen sulfide and carbon monoxide are also redox signaling molecules...



Cell Signaling Technology

Cell Signaling Technology

Cell Signaling Technology, Inc. established in Beverly, Massachusetts in 1999, is a privately-held company which produces antibodies and related reagents used to study cell signaling pathways. CST's current corporate headquarters are located in Danvers, Massachusetts.-History:Cell Signaling...


, an antibody development and production company
ESIGNET Project

ESIGNET Project

The ESIGNET Project is an interdisciplinary research consortium that is supported and funded by the European Commission....


, a project to investigate CSNs in silico, funded by the EU under FP6.
Netpath

Netpath

NetPath is a manually curated resource of human signal transduction pathways. It is a joint effort between Pandey Lab at the Johns Hopkins University and the Institute of Bioinformatics , Bangalore, India, and is also worked on by other parties....


- A curated resource of signal transduction pathways in humans
Nanoscale networking - leveraging biological signaling to construct ad hoc in vivo communication networks
External links