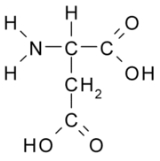 Neurotransmitter
Neurotransmitters
are
endogenous
Endogenous
Endogenous substances are those that originate from within an organism, tissue, or cell. Endogenous retroviruses are caused by ancient infections of germ cells in humans, mammals and other vertebrates...
chemicals
Chemistry
Chemistry is the science of matter, especially its chemical reactions, but also its composition, structure and properties. Chemistry is concerned with atoms and their interactions with other atoms, and particularly with the properties of chemical bonds....
that transmit signals from a
neuron
Neuron
A neuron is an electrically excitable cell that processes and transmits information by electrical and chemical signaling. Chemical signaling occurs via synapses, specialized connections with other cells. Neurons connect to each other to form networks. Neurons are the core components of the nervous...
to a target
cell
Cell (biology)
The cell is the basic structural and functional unit of all known living organisms. It is the smallest unit of life that is classified as a living thing, and is often called the building block of life. The Alberts text discusses how the "cellular building blocks" move to shape developing embryos....
across a
synapse
Synapse
In the nervous system, a synapse is a structure that permits a neuron to pass an electrical or chemical signal to another cell...
. Neurotransmitters are packaged into synaptic vesicles clustered beneath the membrane on the presynaptic side of a synapse, and are released into the synaptic cleft, where they bind to receptors in the membrane on the postsynaptic side of the synapse. Release of neurotransmitters usually follows arrival of an
action potential
Action potential
In physiology, an action potential is a short-lasting event in which the electrical membrane potential of a cell rapidly rises and falls, following a consistent trajectory. Action potentials occur in several types of animal cells, called excitable cells, which include neurons, muscle cells, and...
at the synapse, but may also follow graded electrical potentials.