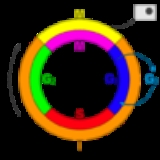 Cell cycle
The cell cycle, or cell-division cycle, is the series of events that takes place in a
cell
Cell (biology)
The cell is the basic structural and functional unit of all known living organisms. It is the smallest unit of life that is classified as a living thing, and is often called the building block of life. The Alberts text discusses how the "cellular building blocks" move to shape developing embryos....
leading to its division and duplication (replication). In cells without a nucleus (prokaryotic), the cell cycle occurs via a process termed binary fission. In cells with a nucleus (eukaryotes), the cell cycle can be divided in three periods:
interphase
Interphase
Interphase is the phase of the cell cycle in which the cell spends the majority of its time and performs the majority of its purposes including preparation for cell division. In preparation for cell division, it increases its size and makes a copy of its DNA...
—during which the cell grows, accumulating nutrients needed for mitosis and
duplicating its DNA
DNA replication
DNA replication is a biological process that occurs in all living organisms and copies their DNA; it is the basis for biological inheritance. The process starts with one double-stranded DNA molecule and produces two identical copies of the molecule...
—and the
mitosis
Mitosis
Mitosis is the process by which a eukaryotic cell separates the chromosomes in its cell nucleus into two identical sets, in two separate nuclei. It is generally followed immediately by cytokinesis, which divides the nuclei, cytoplasm, organelles and cell membrane into two cells containing roughly...
(M) phase, during which the cell splits itself into two distinct cells, often called "daughter cells" and the final phase, Cytokinesis, where the new cell is completely divided.