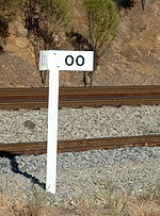 Branch line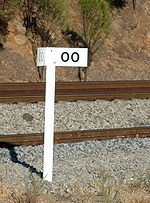 A
branch line
is a secondary
railway
Rail transport
Rail transport is a means of conveyance of passengers and goods by way of wheeled vehicles running on rail tracks. In contrast to road transport, where vehicles merely run on a prepared surface, rail vehicles are also directionally guided by the tracks they run on...
line which branches off a more important through route, usually a
main line
Main line (railway)
The Mainline or Main line of a railway is a track that is used for through trains or is the principal artery of the system from which branch lines, yards, sidings and spurs are connected....
. A very short branch line may be called a
spur line
.
David Blyth Hanna
David Blyth Hanna
David Blyth Hanna was a railway executive with the Canadian Northern Railway and the Canadian National Railways. Born in Thornliebank, Scotland, he emigrated to Canada in 1882 where he was employed by the Grand Trunk Railway...
, the first president of the
Canadian National Railway
Canadian National Railway
The Canadian National Railway Company is a Canadian Class I railway headquartered in Montreal, Quebec. CN's slogan is "North America's Railroad"....
, said that although most branch lines cannot pay for themselves, they are essential to make main lines pay.
United Kingdom
Many
British
United Kingdom
The United Kingdom of Great Britain and Northern IrelandIn the United Kingdom and Dependencies, other languages have been officially recognised as legitimate autochthonous languages under the European Charter for Regional or Minority Languages...
branch lines were closed as a result of the "
Beeching Axe
Beeching Axe
The Beeching Axe or the Beeching Cuts are informal names for the British Government's attempt in the 1960s to reduce the cost of running British Railways, the nationalised railway system in the United Kingdom. The name is that of the main author of The Reshaping of British Railways, Dr Richard...
" in the 1960s, although some have been re-opened as
heritage railway
Heritage railway
thumb|right|the Historical [[Khyber train safari|Khyber Railway]] goes through the [[Khyber Pass]], [[Pakistan]]A heritage railway , preserved railway , tourist railway , or tourist railroad is a railway that is run as a tourist attraction, in some cases by volunteers, and...
s.
The smallest branch line that is still in operation in the UK is the
Stourbridge Town Branch Line
Stourbridge Town Branch Line
The Stourbridge Town Branch Line is a railway branch line, in Stourbridge, West Midlands, England. It is claimed to be the shortest branch line in Europe, and many miniature railways are certainly longer....
from
Stourbridge Junction
Stourbridge Junction railway station
Stourbridge Junction railway station is a railway station on the Birmingham, Worcester and Kidderminster Line in West Midlands, England. Stourbridge Town Branch Line runs from the station to Stourbridge town centre...
going to
Stourbridge Town
Stourbridge Town railway station
Stourbridge Town is a railway station near the centre of Stourbridge, West Midlands, England. It is situated at the end of a short branch line linking the station with Stourbridge Junction just 0.8 miles away, where passengers can change for mainline train services...
. It has only one track. The journey is a third of a mile (about half of a kilometer) and the train takes around 55 s to complete its journey.
Hong Kong
Examples of spur lines in Hong Kong:
Lok Ma Chau Spur Line

Lok Ma Chau Spur line

The Lok Ma Chau Spur Line is the second railway link between Hong Kong and Mainland China, relieving passenger congestion at Lo Wu Station. The alignment branches off the existing MTR East Rail Line north of Sheung Shui Station and then runs to the Lok Ma Chau Station where customs and...



South Tseung Kwan O Spur Line
Racecourse Spur Line
North America
In
North America
North America
North America is a continent wholly within the Northern Hemisphere and almost wholly within the Western Hemisphere. It is also considered a northern subcontinent of the Americas...
, little used branch lines are often spun off from larger railroads to become new
common carrier
Common carrier
A common carrier in common-law countries is a person or company that transports goods or people for any person or company and that is responsible for any possible loss of the goods during transport...
short-line railroads of their own. Throughout the United States and Canada, branch lines serve to link smaller towns or cities located too distant from the main line to be served efficiently. They were typically built to lower standards, utilizing lighter rail and shallow roadbeds when compared to main lines. In the
United States
United States
The United States of America is a federal constitutional republic comprising fifty states and a federal district...
, abandonment of unproductive branch lines was a byproduct of deregulation of the rail industry through the Staggers Act.
New Zealand
New Zealand
New Zealand
New Zealand is an island country in the south-western Pacific Ocean comprising two main landmasses and numerous smaller islands. The country is situated some east of Australia across the Tasman Sea, and roughly south of the Pacific island nations of New Caledonia, Fiji, and Tonga...
once had a very extensive network of branch lines, especially in the
South Island
South Island
The South Island is the larger of the two major islands of New Zealand, the other being the more populous North Island. It is bordered to the north by Cook Strait, to the west by the Tasman Sea, to the south and east by the Pacific Ocean...
regions of
Canterbury
Canterbury, New Zealand
The New Zealand region of Canterbury is mainly composed of the Canterbury Plains and the surrounding mountains. Its main city, Christchurch, hosts the main office of the Christchurch City Council, the Canterbury Regional Council - called Environment Canterbury - and the University of Canterbury.-...
,
Otago
Otago
Otago is a region of New Zealand in the south of the South Island. The region covers an area of approximately making it the country's second largest region. The population of Otago is...
, and
Southland
Southland Region
Southland is New Zealand's southernmost region and is also a district within that region. It consists mainly of the southwestern portion of the South Island and Stewart Island / Rakiura...
. Many were built in the late 19th century to open up regions inland from coastal harbours and cities for farming and other economic activities. The branches in the aforementioned South Island regions were often general-purpose lines that carried predominantly agricultural traffic, but lines elsewhere were often built to serve a specific resource: on the
West Coast
West Coast, New Zealand
The West Coast is one of the administrative regions of New Zealand, located on the west coast of the South Island, and is one of the more remote and most sparsely populated areas of the country. It is made up of three districts: Buller, Grey and Westland...
, an extensive network of branch lines was built in rugged terrain to serve
coal
Coal
Coal is a combustible black or brownish-black sedimentary rock usually occurring in rock strata in layers or veins called coal beds or coal seams. The harder forms, such as anthracite coal, can be regarded as metamorphic rock because of later exposure to elevated temperature and pressure...
mines
Mining
Mining is the extraction of valuable minerals or other geological materials from the earth, from an ore body, vein or seam. The term also includes the removal of soil. Materials recovered by mining include base metals, precious metals, iron, uranium, coal, diamonds, limestone, oil shale, rock...
, while in the central
North Island
North Island
The North Island is one of the two main islands of New Zealand, separated from the much less populous South Island by Cook Strait. The island is in area, making it the world's 14th-largest island...
and the
Bay of Plenty
Bay of Plenty
The Bay of Plenty , often abbreviated to BOP, is a region in the North Island of New Zealand situated around the body of water of the same name...
, lines were built inland to provide rail access to large
logging
Logging
Logging is the cutting, skidding, on-site processing, and loading of trees or logs onto trucks.In forestry, the term logging is sometimes used in a narrow sense concerning the logistics of moving wood from the stump to somewhere outside the forest, usually a sawmill or a lumber yard...
operations.
Today, many of the branch lines have been closed, including almost all of the general-purpose country lines. Those that remain serve
port
Port
A port is a location on a coast or shore containing one or more harbors where ships can dock and transfer people or cargo to or from land....
s or
industries
Industry
Industry refers to the production of an economic good or service within an economy.-Industrial sectors:There are four key industrial economic sectors: the primary sector, largely raw material extraction industries such as mining and farming; the secondary sector, involving refining, construction,...
not located near main lines such as coal mines, logging operations, large
dairy
Dairy
A dairy is a business enterprise established for the harvesting of animal milk—mostly from cows or goats, but also from buffalo, sheep, horses or camels —for human consumption. A dairy is typically located on a dedicated dairy farm or section of a multi-purpose farm that is concerned...
ing
factories
Factory
A factory or manufacturing plant is an industrial building where laborers manufacture goods or supervise machines processing one product into another. Most modern factories have large warehouses or warehouse-like facilities that contain heavy equipment used for assembly line production...
, and steelworks. In
Wellington
Wellington
Wellington is the capital city and third most populous urban area of New Zealand, although it is likely to have surpassed Christchurch due to the exodus following the Canterbury Earthquake. It is at the southwestern tip of the North Island, between Cook Strait and the Rimutaka Range...
, two branch lines exist solely for commuter passenger trains. For more, see the
list of New Zealand railway lines
.
Japan
There are some branch lines in Japan. The longest branch line is the 18.0 km long
Saikyō Line
Saikyo Line
The is a railway line between Ōsaki Station in Shinagawa, Tokyo, and Ōmiya Station in Saitama Prefecture, Japan. It is a part of the East Japan Railway Company network...
which is a common name of the
Tōhoku Main Line
branch line between
Akabane Station
Akabane Station
is a JR East railway station located in Kita, Tokyo, Japan.-Lines:* Tōhoku Main Line* Takasaki Line* Keihin-Tōhoku Line* Shōnan-Shinjuku Line* Saikyō Line-Adjacent stations:-External links:*...
and
Ōmiya Station
Omiya Station (Saitama)
is a railway station in Ōmiya-ku, Saitama, Japan. It is a major interchange station for the East Japan Railway Company .-JR East:* Tōhoku Shinkansen* Akita Shinkansen* Yamagata Shinkansen* Jōetsu Shinkansen* Nagano Shinkansen...
via
Musashi-Urawa Station
Musashi-Urawa Station
is a railway station in Minami-ku, Saitama, Saitama Prefecture, Japan, operated by East Japan Railway Company .-Station layout:The station has two side platforms serving two tracks for the Musashino Line, and two island platforms serving four tracks for the Saikyō Line.-Platforms:-Adjacent...
.
Akabane Station and Ōmiya Station are also connected by the Tohoku Main Line via
Urawa Station
Urawa Station
is a railway stationlocated in Urawa-ku, Saitama, Japan, operated by East Japan Railway Company . It is located near Saitama City Hall and Saitama Prefectural Government's Office and the Parliament...
. Such branch lines are alternate routes of main lines and are connected to the main line on both ends, such as
Gotemba Line
(alternate route of the
Tokaido Main Line
Tokaido Main Line
The is the busiest trunk line of the Japan Railways Group , connecting Tōkyō and Kōbe stations. It is long, not counting its many freight feeder lines around the major cities...
),
Ako
Ako Line
is a railway line of West Japan Railway Company between Aioi, Hyōgo Prefecture to Okayama, Okayama Prefecture, Japan. A branch line off the Sanyō Main Line, Akō Line originates at Aioi, runs south of the main line along the Seto Inland Sea, and rejoins the main line at Higashi-Okayama.The entire ...
,
Kure
Kure Line
The is a rail line operated by JR West within Hiroshima Prefecture, Japan. It begins at Mihara Station in Mihara and terminates at Kaitaichi Station in Kaita. It's one of the main lines of JR West. The section between Mihara Station to Hiro Station is nicknamed "Setouchi Sazanami Line" as the...
,
Gantoku
Gantoku Line
The is a railway line operated by West Japan Railway Company in western Japan connecting Iwakuni Station in Iwakuni, Yamaguchi Prefecture and Kushigahama Station in Shūnan, Yamaguchi Prefecture....
and
Ube
Ube Line
is a railway line of West Japan Railway Company between Yamaguchi and Ube all within Yamaguchi Prefecture, Japan.-Stations:All stations are in Yamaguchi Prefecture....
Lines (alternate routes of the Sanyo Main Line).