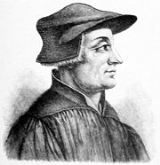 Mennonite
The
Mennonites
are a group of
Christian
Christianity
Christianity is a monotheistic religion based on the life and teachings of Jesus as presented in canonical gospels and other New Testament writings...
Anabaptist
Anabaptist
Anabaptists are Protestant Christians of the Radical Reformation of 16th-century Europe, and their direct descendants, particularly the Amish, Brethren, Hutterites, and Mennonites....
denominations named after the
Frisian
Frisians
The Frisians are a Germanic ethnic group native to the coastal parts of the Netherlands and Germany. They are concentrated in the Dutch provinces of Friesland and Groningen and, in Germany, East Frisia and North Frisia, that was a part of Denmark until 1864. They inhabit an area known as Frisia...
Menno Simons
Menno Simons
Menno Simons was an Anabaptist religious leader from the Friesland region of the Low Countries. Simons was a contemporary of the Protestant Reformers and his followers became known as Mennonites...
(1496–1561), who, through his writings, articulated and thereby formalized the teachings of earlier Swiss founders. The teachings of the Mennonites were founded on their belief in both the mission and
ministry of Jesus Christ
Ministry of Jesus
In the Christian gospels, the Ministry of Jesus begins with his Baptism in the countryside of Judea, near the River Jordan and ends in Jerusalem, following the Last Supper with his disciples. The Gospel of Luke states that Jesus was "about 30 years of age" at the start of his ministry...
, which they held to with great conviction despite persecution by the various Roman Catholic and Protestant states.