 Berghof (Hitler)
The
Berghof
was
Adolf Hitler
Adolf Hitler
Adolf Hitler was an Austrian-born German politician and the leader of the National Socialist German Workers Party , commonly referred to as the Nazi Party). He was Chancellor of Germany from 1933 to 1945, and head of state from 1934 to 1945...
's home in the
Obersalzberg
Obersalzberg
Obersalzberg is a mountainside retreat situated above the market town of Berchtesgaden in Bavaria, Germany, located about southeast of Munich, close to the border with Austria...
of the Bavarian Alps near
Berchtesgaden
Berchtesgaden
Berchtesgaden is a municipality in the German Bavarian Alps. It is located in the south district of Berchtesgadener Land in Bavaria, near the border with Austria, some 30 km south of Salzburg and 180 km southeast of Munich...
,
Bavaria
Bavaria
Bavaria, formally the Free State of Bavaria is a state of Germany, located in the southeast of Germany. With an area of , it is the largest state by area, forming almost 20% of the total land area of Germany...
,
Germany
Germany
Germany , officially the Federal Republic of Germany , is a federal parliamentary republic in Europe. The country consists of 16 states while the capital and largest city is Berlin. Germany covers an area of 357,021 km2 and has a largely temperate seasonal climate...
. Other than the
Wolfsschanze
Wolfsschanze
Wolf's Lair is the standard English name for Wolfsschanze, Adolf Hitler's first World War II Eastern Front military headquarters, one of several Führerhauptquartier or FHQs located in various parts of Europe...
in
East Prussia
East Prussia
East Prussia is the main part of the region of Prussia along the southeastern Baltic Coast from the 13th century to the end of World War II in May 1945. From 1772–1829 and 1878–1945, the Province of East Prussia was part of the German state of Prussia. The capital city was Königsberg.East Prussia...
, Hitler spent more time at the Berghof than anywhere else during
World War II
World War II
World War II, or the Second World War , was a global conflict lasting from 1939 to 1945, involving most of the world's nations—including all of the great powers—eventually forming two opposing military alliances: the Allies and the Axis...
. It was also one of the most widely known of
Hitler's headquarters
Führer Headquarters
The Führer Headquarters , abbreviated FHQ, is a common name for a number of official headquarters used by the Nazi leader Adolf Hitler and various German commanders and officials throughout Europe during World War II...
which were located throughout Europe. Rebuilt, much expanded and re-named in 1935, the Berghof was Hitler's vacation residence for ten years. In late April 1945 the house was damaged by British aerial bombs, set on fire by retreating SS troops in early May, and looted after Allied troops reached the area. The burnt out shell was demolished by the
West German
West Germany
West Germany is the common English, but not official, name for the Federal Republic of Germany or FRG in the period between its creation in May 1949 to German reunification on 3 October 1990....
government in 1952.
Hitler's house
The Berghof began as a much smaller chalet called
Haus Wachenfeld
, a holiday home built in 1916 by Otto Winter, a businessman from
Buxtehude
Buxtehude
Buxtehude is a town on the Este River in Northern Germany in the district of Stade and part of the Hamburg Metropolitan Region . Buxtehude is a steadily growing medium-sized town and the second largest in the district of Stade. It lies on the southern borders of the Altes Land within easy reach of...
. Winter's widow rented the house to Hitler in 1928 and his half-sister
Angela
Angela Hitler
Angela Franziska Johanna Hammitzsch , first married to Leo Raubal, Sr., was the elder half-sister of Adolf Hitler.-Life:...
came to live there as housekeeper, although she left soon after her daughter
Geli
Geli Raubal
Angelika Maria "Geli" Raubal was Adolf Hitler's half niece. Born in Linz, Austria-Hungary, she was the second child and eldest daughter of Leo Raubal Sr. and Hitler's half-sister, Angela Raubal...
's 1931 death in Hitler's Munich apartment. By 1933 Hitler had purchased Haus Wachenfeld with funds he received from the sale of his political manifesto
Mein Kampf
Mein Kampf
Mein Kampf is a book written by Nazi leader Adolf Hitler. It combines elements of autobiography with an exposition of Hitler's political ideology. Volume 1 of Mein Kampf was published in 1925 and Volume 2 in 1926...
.
The small chalet-style building was refurbished and much expanded during 1935-36 when it was re-named
The Berghof
. A large terrace was built and featured big, colourful, resort-style canvas umbrellas. The entrance hall "was filled with a curious display of
cactus
Cactus
A cactus is a member of the plant family Cactaceae. Their distinctive appearance is a result of adaptations to conserve water in dry and/or hot environments. In most species, the stem has evolved to become photosynthetic and succulent, while the leaves have evolved into spines...
plants in
majolica
Maiolica
Maiolica is Italian tin-glazed pottery dating from the Renaissance. It is decorated in bright colours on a white background, frequently depicting historical and legendary scenes.-Name:...
pots." A dining room was panelled with very costly cembra pine. Hitler's large study had a telephone switchboard room. The library contained books "on history, painting, architecture and music." A great hall was furnished with expensive
Teutonic
Germanic peoples
The Germanic peoples are an Indo-European ethno-linguistic group of Northern European origin, identified by their use of the Indo-European Germanic languages which diversified out of Proto-Germanic during the Pre-Roman Iron Age.Originating about 1800 BCE from the Corded Ware Culture on the North...
furniture, a large globe and an expansive red marble fireplace mantel. Behind one wall was a projection booth for evening screenings of films (often, Hollywood productions that were otherwise banned in Germany). A sprawling picture window could be lowered into the wall to give a sweeping, open air view of the snow-capped mountains in Hitler's native
Austria
Austria
Austria , officially the Republic of Austria , is a landlocked country of roughly 8.4 million people in Central Europe. It is bordered by the Czech Republic and Germany to the north, Slovakia and Hungary to the east, Slovenia and Italy to the south, and Switzerland and Liechtenstein to the...
. The house was maintained much like a small resort hotel by several housekeepers, gardeners, cooks and other domestic workers.
"This place is mine," Hitler was quoted as saying to a writer for
Homes and Gardens magazine
Better Homes and Gardens (magazine)
Better Homes and Gardens is the fourth best selling magazine in the United States. The editor in Chief is Gayle Butler. Better Homes and Gardens focuses on interests regarding homes, cooking, gardening, crafts, healthy living, decorating, and entertaining. The magazine is published 12 times per...
in 1938. "I built it with money that I earned."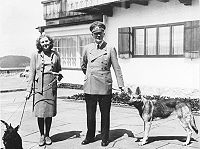 British
Homes & Gardens
magazine described him as "his own decorator, designer, and furnisher, as well as architect" and the chalet as "bright and airy" with "a light jade green colour scheme"; caged "
Hartz mountain
Hartz Mountain Industries
Hartz Mountain Industries is a private family-owned and -operated company known for its vast real estate holdings in the New York/New Jersey Metropolitan Area. Its former parent Hartz Mountain Corporation , was founded by German-American businessmen Max and Gustav Stern. Leonard N. Stern is...
[sic]"
canaries
Domestic Canary
The Domestic Canary, often simply known as the canary, is a domesticated form of the wild Canary, a small songbird in the finch family originating from the Macaronesian Islands ....
were kept in most of the rooms, which were furnished with antiques, mostly German furniture from the 18th century. Old engravings hung in the guest bedrooms, along with some of Hitler's small water-colour sketches. His personal valet
Heinz Linge
Heinz Linge
Heinz Linge was an SS officer who served as a valet for German dictator Adolf Hitler.- Early life :Linge was born in Bremen, Germany. Before joining the SS in 1933 he was employed as a bricklayer and was selected by Sepp Dietrich to be one of 117 original bodyguards for Adolf Hitler...
stated that Hitler and his longtime companion
Eva Braun
Eva Braun
Eva Anna Paula Hitler was the longtime companion of Adolf Hitler and, for less than 40 hours, his wife. Braun met Hitler in Munich, when she was 17 years old, while working as an assistant and model for his personal photographer and began seeing him often about two years later...
had two bedrooms and two bathrooms with interconnecting doors and Hitler would end most evenings alone with her in his study drinking tea.
Smoking was allowed on the terrace (the householder did not smoke). Hitler's vegetarian diet was supplied by nearby kitchen gardens and, later, a greenhouse. A
Kehlsteinhaus
Kehlsteinhaus
The Kehlsteinhaus is a chalet-style structure erected on a subpeak of the Hoher Göll known as the Kehlstein. It was built as an extension of the Obersalzberg complex erected in the mountains above Berchtesgaden...
, nicknamed
Eagle's Nest
by a French diplomat, was built in 1938-39 (with remarkably lavish government funds spent as a national gift for his 50th birthday) on the mountaintop above the Berghof, but Hitler rarely went there. A large complex of mountain homes for the
Nazi
Nazism
Nazism, the common short form name of National Socialism was the ideology and practice of the Nazi Party and of Nazi Germany...
leadership with a landing strip and many buildings for their security and support staff were constructed nearby. To acquire the land for these projects, many neighbours were compelled to sell their properties and leave.
The Berghof became something of a German tourist attraction during the mid-1930s. Visitors gathered at the end of the driveway or on nearby public paths in the hope of catching a glimpse of Hitler. This led to the introduction of severe restrictions on access to the area and other security measures. A large contingent of the
SS Leibstandarte Adolf Hitler
1st SS Division Leibstandarte SS Adolf Hitler
The Leibstandarte SS Adolf Hitler was Adolf Hitler's personal bodyguard. Initially the size of a regiment, the LSSAH eventually grew into a divisional-sized unit...
were housed in barracks adjacent to the Berghof. Under the command of
Obersturmbannführer
Obersturmbannführer
Obersturmbannführer was a paramilitary Nazi Party rank used by both the SA and the SS. It was created in May 1933 to fill the need for an additional field grade officer rank above Sturmbannführer as the SA expanded. It became an SS rank at the same time...
Bernhard Frank
Bernhard Frank
Obersturmbannführer Bernhard Frank was an SS Commander of the Obersalzberg complex who arrested Hermann Göring on April 25, 1945 by order of Adolf Hitler, who had been manipulated by Reichsleiter Bormann into believing Göring was attempting to usurp the Führer's authority...
, they patrolled an extensive cordoned security zone that encompassed the nearby homes of the other Nazi leaders. With the outbreak of war extensive anti-aircraft defences were also installed, including smoke generating machines to conceal the Berghof complex from hostile aircraft.
Guests
Guests at the Berghof included political figures, monarchs, heads of state and diplomats along with painters, singers and musicians. The important visitors personally greeted on the steps of the Berghof by Hitler included
David Lloyd George
David Lloyd George
David Lloyd George, 1st Earl Lloyd-George of Dwyfor OM, PC was a British Liberal politician and statesman...
(3 March 1936), the

Aga Khan
Aga Khan III
Sir Sultan Muhammed Shah, Aga Khan III, GCSI, GCMG, GCIE, GCVO, PC was the 48th Imam of the Shia Ismaili Muslims. He was one of the founders and the first president of the All-India Muslim League, and served as President of the League of Nations from 1937-38. He was nominated to represent India to...
(20 October 1937),
Duke
Edward VIII of the United Kingdom
Edward VIII was King of the United Kingdom and the Dominions of the British Commonwealth, and Emperor of India, from 20 January to 11 December 1936.Before his accession to the throne, Edward was Prince of Wales and Duke of Cornwall and Rothesay...
and Duchess of Windsor (22 October 1937), Kurt von Schuschnigg (12 February 1938),
Neville Chamberlain
Neville Chamberlain
Arthur Neville Chamberlain FRS was a British Conservative politician who served as Prime Minister of the United Kingdom from May 1937 to May 1940. Chamberlain is best known for his appeasement foreign policy, and in particular for his signing of the Munich Agreement in 1938, conceding the...
(15 September 1938) and
Benito Mussolini
Benito Mussolini
Benito Amilcare Andrea Mussolini was an Italian politician who led the National Fascist Party and is credited with being one of the key figures in the creation of Fascism....
(19 January 1941). At the end of July 1941 Hitler summoned his military chiefs from
OKW
Oberkommando der Wehrmacht
The Oberkommando der Wehrmacht was part of the command structure of the armed forces of Nazi Germany during World War II.- Genesis :...
and
OKH
Oberkommando des Heeres
The Oberkommando des Heeres was Nazi Germany's High Command of the Army from 1936 to 1945. The Oberkommando der Wehrmacht commanded OKH only in theory...
to the Berghof for the 'Berghof Conference' at which the 'Russian problem' was studied.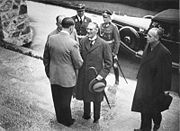 Hitler's social circle at his Berghof retreat included Eva Braun and her sister
Gretl
Gretl Braun
Margarete "Gretl" Braun was one of the two sisters of Eva Braun. She was a member of the inner social circle of Adolf Hitler at the Berghof and became the sister-in-law of the Nazi dictator following his marriage to Eva hours before they committed suicide together.-Early life:Born in Munich,...
, Eva's friend Marianne Schönmann, Herta Schneider and her children,
Heinrich Hoffmann
Heinrich Hoffmann
Heinrich Hoffmann was a German photographer best known for his many published photographs of Adolf Hitler.-Early life and career:...
and the wives and children of other Nazi leaders and Hitler's staff who would all pose for an annual group photograph on the occasion of Hitler's birthday. The social scene at the Berghof ended on 14 July 1944 when Hitler left for his military headquarters in East Prussia, never to return.
After the war Hitler's adjutant
Otto Günsche
Otto Günsche
Otto Günsche was a Sturmbannführer in the Waffen-SS and a member of 1st SS Division Leibstandarte SS Adolf Hitler before he became Adolf Hitler's personal adjutant. He was captured by soldiers of the Red Army on 2 May 1945...
told
Soviet
Soviet Union
The Soviet Union , officially the Union of Soviet Socialist Republics , was a constitutionally socialist state that existed in Eurasia between 1922 and 1991....
interrogators that Braun had once wanted to hire ten more serving girls to help the 30 people already working in the villa. Hitler relayed her request to his secretary
Martin Bormann
Martin Bormann
Martin Ludwig Bormann was a prominent Nazi official. He became head of the Party Chancellery and private secretary to Adolf Hitler...
by exclaiming, "I stamp whole divisions into the dirt! And I can't get a few more serving wenches for the Berghof? Organise it now!"
Silent colour films shot by Eva Braun survived the war and showed Hitler and his guests relaxing at the Berghof. In 2006 computer
lip reading
Lip reading
Lip reading, also known as lipreading or speechreading, is a technique of understanding speech by visually interpreting the movements of the lips, face and tongue with information provided by the context, language, and any residual hearing....
software identified several parts of their conversations. Among those identified in the films were
Albert Speer
Albert Speer
Albert Speer, born Berthold Konrad Hermann Albert Speer, was a German architect who was, for a part of World War II, Minister of Armaments and War Production for the Third Reich. Speer was Adolf Hitler's chief architect before assuming ministerial office...
,
Heinrich Himmler
Heinrich Himmler
Heinrich Luitpold Himmler was Reichsführer of the SS, a military commander, and a leading member of the Nazi Party. As Chief of the German Police and the Minister of the Interior from 1943, Himmler oversaw all internal and external police and security forces, including the Gestapo...
,
Joachim von Ribbentrop
Joachim von Ribbentrop
Ulrich Friedrich Wilhelm Joachim von Ribbentrop was Foreign Minister of Germany from 1938 until 1945. He was later hanged for war crimes after the Nuremberg Trials.-Early life:...
,
Joseph Goebbels
Joseph Goebbels
Paul Joseph Goebbels was a German politician and Reich Minister of Propaganda in Nazi Germany from 1933 to 1945. As one of Adolf Hitler's closest associates and most devout followers, he was known for his zealous oratory and anti-Semitism...
,
Karl Wolff
Karl Wolff
Karl Friedrich Otto Wolff was a high-ranking member of the Nazi Schutzstaffel , ultimately holding the rank of SS-Obergruppenführer and General of the Waffen-SS. He became Chief of Personal Staff to the Reichsführer and SS Liaison Officer to Hitler until his replacement in 1943...
and
Reinhard Heydrich
Reinhard Heydrich
Reinhard Tristan Eugen Heydrich , also known as The Hangman, was a high-ranking German Nazi official.He was SS-Obergruppenführer and General der Polizei, chief of the Reich Main Security Office and Stellvertretender Reichsprotektor of Bohemia and Moravia...
.
Two guests planned to use a visit to the Berghof as an opportunity to assassinate Hitler. On 11 March 1944 Captain
Eberhard von Breitenbuch
Eberhard von Breitenbuch
Eberhard von Breitenbuch was a German cavalry officer who served in Army Group Centre of the Wehrmacht during World War II with the rank of Rittmeister and took part in the military-based conspiracy against Adolf Hitler that culminated in the July 20 Plot.He was born in Dietzhausen near Suhl,...
arrived with a concealed pistol with the intention of shooting Hitler in the head, but guards would not allow him into the same room. On 7 June 1944 Colonel
Claus Schenk Graf von Stauffenberg
Claus Schenk Graf von Stauffenberg
Claus Philipp Maria Justinian Schenk Graf von Stauffenberg commonly referred to as Claus Schenk Graf von Stauffenberg was a German army officer and Catholic aristocrat who was one of the leading members of the failed 20 July plot of 1944 to assassinate Adolf Hitler and remove the Nazi Party from...
planned to detonate a bomb at a meeting there, but his fellow conspirators would not give him approval to do so because Himmler and
Hermann Göring
Hermann Göring
Hermann Wilhelm Göring, was a German politician, military leader, and a leading member of the Nazi Party. He was a veteran of World War I as an ace fighter pilot, and a recipient of the coveted Pour le Mérite, also known as "The Blue Max"...
were not also present. There was also a British plan called
Operation Foxley
Operation Foxley
Operation Foxley was a 1944 plan to assassinate Adolf Hitler, made by the British Special Operations Executive . Although detailed preparations were made, no attempt was made to carry out the plan...
for a sniper to kill Hitler on his daily walk from the Berghof to the
Teehaus
.
Mooslahnerkopf teahouse
In 1937 a
Teehaus
with a round main room was built in a wooded area on Mooslahnerkopf hill (Braun spelled it
Moslanderkopf
in photo albums), across the small Berchtesgaden valley from the Berghof. Hitler took an almost daily afternoon walk there when he was at Berchtesgaden. The stroll along the mostly wooded path between the Berghof and the teahouse was less than a kilometre and at one spot featured a scenic overlook of the whole valley, fitted with wooden railings and a bench, where many widely known photographs were taken and political discussions were held (in 2004 this site was somewhat restored to its early 1940s era appearance for a German television mini-series). At the teahouse Hitler might even nap in an easy chair, surrounded by friends and associates from his inner circle. Most of the few surviving photographs of Hitler wearing eyeglasses were taken in the teahouse. Some sources have now and then mistakenly captioned photographs snapped in the
Mooslahnerkopf Teehaus
as having been shot in the spectacular
Kehlsteinhaus
far above the Berghof, where Hitler seldom went.
Postwar ruins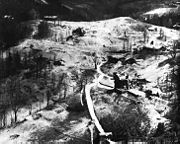 The Obersalzberg was bombed by hundreds of
British
RAF Bomber Command
RAF Bomber Command controlled the RAF's bomber forces from 1936 to 1968. During World War II the command destroyed a significant proportion of Nazi Germany's industries and many German cities, and in the 1960s stood at the peak of its postwar military power with the V bombers and a supplemental...
Lancaster
Avro Lancaster
The Avro Lancaster is a British four-engined Second World War heavy bomber made initially by Avro for the Royal Air Force . It first saw active service in 1942, and together with the Handley Page Halifax it was one of the main heavy bombers of the RAF, the RCAF, and squadrons from other...
bombers, including aircraft from
No. 617 Squadron RAF
No. 617 Squadron RAF
No. 617 Squadron is a Royal Air Force aircraft squadron based at RAF Lossiemouth in Scotland. It currently operates the Tornado GR4 in the ground attack and reconnaissance role...
(
"The Dam Busters

No. 617 Squadron RAF

No. 617 Squadron is a Royal Air Force aircraft squadron based at RAF Lossiemouth in Scotland. It currently operates the Tornado GR4 in the ground attack and reconnaissance role...


"
), on 25 April 1945, twelve days before the surrender of German forces on 7 May. At least two bombs struck the Berghof. On 4 May, four days after Hitler's suicide in Berlin, departing SS troops set fire to the villa. Only hours later, the U.S. 3rd Infantry Division arrived at Berchtesgaden along with the French 2nd Armoured Division. The Americans reportedly muddled Berchtesgaden with the Berghof and a
French Army
French Army
The French Army, officially the Armée de Terre , is the land-based and largest component of the French Armed Forces.As of 2010, the army employs 123,100 regulars, 18,350 part-time reservists and 7,700 Legionnaires. All soldiers are professionals, following the suspension of conscription, voted in...
captain along with his driver were the first Allied personnel to reach the still-smoldering chalet. A French tank crew soon joined them. Over the next few days the house was thoroughly looted and stripped, apparently by Allied soldiers. The American 1st Battalion of the 506th Infantry Regiment (led by Company C) arrived four days later, on 8 May. The 3rd Battalion of the 506th came into Berchtesgaden by a different route and sustained casualties in a skirmish with the crews of two German
88 mm gun
88 mm gun
The 88 mm gun was a German anti-aircraft and anti-tank artillery gun from World War II. It was widely used by Germany throughout the war, and was one of the most recognizable German weapons of the war...
s. One of the most notable artifacts taken by American soldiers was Hitler's Globe.
The teahouse on Mooslahnerkopf hill was unscathed in the April 1945 bombing raid but by 1951 the house-sized building had been knocked down by the Bavarian government because of its link with Hitler. For 55 years the more or less recognizeable teahouse ruins (along with mostly intact basement rooms below) lay in the woods by the 13th hole of the post war Gutshof (
Manor Farm
) golf course. These were taken away altogether during the late summer of 2006.
The Berghof's shell survived until 1952 when the Bavarian government blew it up, fearing the ruin would become a neo-Nazi shrine and sight-seeing attraction. The garage remained until 1995. The ruins were further obliterated during the 1990s and early 2000s. By 2007 trees had overgrown the site and only scattered rubble and the top of a retaining wall were visible.
See also
External links