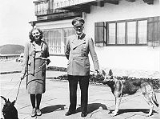 Eva Braun
Eva Anna Paula Hitler
(
née
NEE
NEE is a political protest group whose goal was to provide an alternative for voters who are unhappy with all political parties at hand in Belgium, where voting is compulsory.The NEE party was founded in 2005 in Antwerp...
Braun
; 6 February 1912 – 30 April 1945) was the longtime companion of
Adolf Hitler
Adolf Hitler
Adolf Hitler was an Austrian-born German politician and the leader of the National Socialist German Workers Party , commonly referred to as the Nazi Party). He was Chancellor of Germany from 1933 to 1945, and head of state from 1934 to 1945...
and, for less than 40 hours, his wife. Braun met Hitler in
Munich
Munich
Munich The city's motto is "" . Before 2006, it was "Weltstadt mit Herz" . Its native name, , is derived from the Old High German Munichen, meaning "by the monks' place". The city's name derives from the monks of the Benedictine order who founded the city; hence the monk depicted on the city's coat...
, when she was 17 years old, while working as an assistant and model for his personal photographer and began seeing him often about two years later. She attempted
suicide
Suicide
Suicide is the act of intentionally causing one's own death. Suicide is often committed out of despair or attributed to some underlying mental disorder, such as depression, bipolar disorder, schizophrenia, alcoholism, or drug abuse...
twice during their early relationship. By 1936, she was a part of his household at the
Berghof
Berghof (Hitler)
The Berghof was Adolf Hitler's home in the Obersalzberg of the Bavarian Alps near Berchtesgaden, Bavaria, Germany. Other than the Wolfsschanze in East Prussia, Hitler spent more time at the Berghof than anywhere else during World War II. It was also one of the most widely known of Hitler's...
near
Berchtesgaden
Berchtesgaden
Berchtesgaden is a municipality in the German Bavarian Alps. It is located in the south district of Berchtesgadener Land in Bavaria, near the border with Austria, some 30 km south of Salzburg and 180 km southeast of Munich...
and by all accounts lived a materially luxurious and sheltered life throughout
World War II
World War II
World War II, or the Second World War , was a global conflict lasting from 1939 to 1945, involving most of the world's nations—including all of the great powers—eventually forming two opposing military alliances: the Allies and the Axis...
.