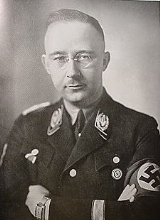 Heinrich Himmler
Heinrich Luitpold Himmler
(ˈhaɪnʁɪç ˈluˑɪtˌpɔlt ˈhɪmlɐ 7 October 1900 – 23 May 1945) was
Reichsführer
of the SS, a military commander, and a leading member of the Nazi Party. As Chief of the German Police and the Minister of the Interior from 1943, Himmler oversaw all internal and external police and security forces, including the
Gestapo
Gestapo
The Gestapo was the official secret police of Nazi Germany. Beginning on 20 April 1934, it was under the administration of the SS leader Heinrich Himmler in his position as Chief of German Police...
(
Secret State Police
Secret police
Secret police are a police agency which operates in secrecy and beyond the law to protect the political power of an individual dictator or an authoritarian political regime....
). Serving as
Reichsführer
Reichsführer-SS
was a special SS rank that existed between the years of 1925 and 1945. Reichsführer-SS was a title from 1925 to 1933 and, after 1934, the highest rank of the German Schutzstaffel .-Definition:...
and later as Commander of the Replacement (Home) Army and General Plenipotentiary for the entire
Reich
s administration (
Generalbevollmächtigter für die Verwaltung
), Himmler rose to become one of the most powerful men in Nazi Germany as well as one of the persons most directly responsible for the Holocaust.
As overseer of the concentration camps, extermination camps, and
Einsatzgruppen
Einsatzgruppen
Einsatzgruppen were SS paramilitary death squads that were responsible for mass killings, typically by shooting, of Jews in particular, but also significant numbers of other population groups and political categories...
(literally: task forces, often used as killing squads), Himmler coordinated the killing of some six million
Jews
Jews
The Jews , also known as the Jewish people, are a nation and ethnoreligious group originating in the Israelites or Hebrews of the Ancient Near East. The Jewish ethnicity, nationality, and religion are strongly interrelated, as Judaism is the traditional faith of the Jewish nation...
, between 200,000 and 500,000 Roma, many prisoners of war, and possibly another three to four million Poles, communists, or other groups whom the Nazis deemed
unworthy to live
Life unworthy of life
The phrase "life unworthy of life" was a Nazi designation for the segments of populace which had no right to live and thus were to be "euthanized". The term included people with serious medical problems and those considered grossly inferior according to racial policy of the Third Reich...
or simply "in the way", including homosexuals, people with physical and mental
disabilities
Disability
A disability may be physical, cognitive, mental, sensory, emotional, developmental or some combination of these.Many people would rather be referred to as a person with a disability instead of handicapped...
,
Jehovah's Witnesses
Jehovah's Witnesses
Jehovah's Witnesses is a millenarian restorationist Christian denomination with nontrinitarian beliefs distinct from mainstream Christianity. The religion reports worldwide membership of over 7 million adherents involved in evangelism, convention attendance of over 12 million, and annual...
and members of the
Confessing Church
Confessing Church
The Confessing Church was a Protestant schismatic church in Nazi Germany that arose in opposition to government-sponsored efforts to nazify the German Protestant church.-Demographics:...
.
Ich bin Heinrich Himmler. (I am Heinrich Himmler.)

Last words. Quoted in "Himmler, the Evil Genius of the Third Reich" - Page 257 - by Willi Frischauer - Germany - 1953
The best political weapon is the weapon of terror. Cruelty commands respect. Men may hate us. But, we don't ask for their love; only for their fear.

Quoted in "Visions of Reality - A Study of Abnormal Perception and Behavior" - by Alberto Rivas - Psychology - 2007 - Page 162
I still lack to a considerable degree that naturally superior kind of manner that I would dearly like to possess.

Diary entry (November 1921), quoted in The Hidden Files (1992) by Derek Raymond
My honor is my loyalty.

Formulated as the watchword of the S.S. Nazi elite, as translated in The Origins of Totalitarianism (1951), by Hannah Arendt Ch. 10
In the brief monthly reports of the Security Police, I only want figures on how many Jews have been shipped off and how many are currently left.

To Ernst Kaltenbrunner. Quoted in "Hitler and the Final Solution" - Page 137 - by Gerald Fleming - History - 1987
Anti-Semitism is exactly the same as delousing. Getting rid of lice is not a question of ideology, it is a matter of cleanliness. In just this same way anti-Semitism for us has not been a question of ideology but a matter of cleanliness.

Quoted in "Conscience and Memory: Meditations in a Museum of the Holocaust" - Page 29 - by Harold Kaplan - History - 1994
I hope to see the very concept of Jewry completely obliterated.

March 23 1941. Quoted in "Murderous Science" - Page 48 - by Benno Müller-Hill - History - 1998