 Barn
A
barn
is an agricultural building used for storage and as a covered workplace. It may sometimes be used to house
livestock
Livestock
Livestock refers to one or more domesticated animals raised in an agricultural setting to produce commodities such as food, fiber and labor. The term "livestock" as used in this article does not include poultry or farmed fish; however the inclusion of these, especially poultry, within the meaning...
or to store farming vehicles and equipment. Barns are most commonly found on a
farm
Farm
A farm is an area of land, or, for aquaculture, lake, river or sea, including various structures, devoted primarily to the practice of producing and managing food , fibres and, increasingly, fuel. It is the basic production facility in food production. Farms may be owned and operated by a single...
or former farm.
A barn meant for keeping
cattle
Cattle
Cattle are the most common type of large domesticated ungulates. They are a prominent modern member of the subfamily Bovinae, are the most widespread species of the genus Bos, and are most commonly classified collectively as Bos primigenius...
may be known as a
byre
.
Construction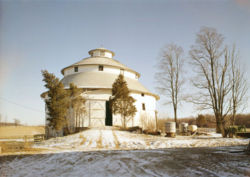 Older barns were usually built from
lumber
Lumber
Lumber or timber is wood in any of its stages from felling through readiness for use as structural material for construction, or wood pulp for paper production....
sawn from
timber
Timber
Timber may refer to:* Timber, a term common in the United Kingdom and Australia for wood materials * Timber, Oregon, an unincorporated community in the U.S...
on the farm, although stone barns were sometimes built in areas where stone was a cheaper building material.
Modern barns are more typically steel buildings. Prior to the 1900s, most barns were
timber framed
Timber framing
Timber framing , or half-timbering, also called in North America "post-and-beam" construction, is the method of creating structures using heavy squared off and carefully fitted and joined timbers with joints secured by large wooden pegs . It is commonplace in large barns...
(also known as post and beam) forming very strong structures to withstand storms and heavy loads of animal feed. From about 1900 to 1940, many large
dairy
Dairy
A dairy is a business enterprise established for the harvesting of animal milk—mostly from cows or goats, but also from buffalo, sheep, horses or camels —for human consumption. A dairy is typically located on a dedicated dairy farm or section of a multi-purpose farm that is concerned...
barns were built in northern USA. These commonly have
gambrel
Gambrel
A gambrel is a usually-symmetrical two-sided roof with two slopes on each side. The upper slope is positioned at a shallow angle, while the lower slope is steep. This design provides the advantages of a sloped roof while maximizing headroom on the building's upper level...
or hip roofs to maximize the size of the hayloft above the dairy roof, and have become associated in the popular image of a dairy farm. The barns that were common to the wheatbelt held large numbers of pulling horses such as
Clydesdales
Clydesdale (breed)
The Clydesdale is a breed of draught horse derived from the farm horses of Clydesdale, Scotland, and named after that region. Although originally one of the smaller breeds of draught horses, it is now a tall breed. Often bay in colour, they show significant white markings due to the presence of...
or
Percheron
Percheron
The Percheron is a breed of draft horse that originated in the Perche valley in northern France. Percherons are usually gray or black in color. They are well-muscled, and known for their intelligence and willingness to work. Although their exact origins are unknown, the ancestors of the breed were...
s. These large wooden barns, especially when filled with hay, could make spectacular fires that were usually total losses for the farmers. With the advent of balers it became possible to store hay and straw outdoors in stacks surrounded by a plowed fireguard. Many barns in the northern United States are painted red with a white trim. One possible reason for this is that ferric oxide, which is used to create red paint, was the cheapest and most readily available chemical for farmers in
New England
New England
New England is a region in the northeastern corner of the United States consisting of the six states of Maine, New Hampshire, Vermont, Massachusetts, Rhode Island, and Connecticut...
and nearby areas. Another possible reason is that ferric oxide acts a preservative and so painting a barn with it would help to protect the structure.
With the popularity of tractors following
World War II
World War II
World War II, or the Second World War , was a global conflict lasting from 1939 to 1945, involving most of the world's nations—including all of the great powers—eventually forming two opposing military alliances: the Allies and the Axis...
many barns were taken down or replaced with modern
Quonset hut
Quonset hut
A Quonset hut is a lightweight prefabricated structure of corrugated galvanized steel having a semicircular cross section. The design was based on the Nissen hut developed by the British during World War I...
s made of plywood or
galvanized
Galvanization
Galvanization is the process of applying a protective zinc coating to steel or iron, in order to prevent rusting. The term is derived from the name of Italian scientist Luigi Galvani....
steel. Beef ranches and dairies began building smaller loftless barns often of Quonset huts or of steel walls on a treated wood frame (old telephone or power poles). By the 1960s it was found that cattle receive sufficient shelter from trees or wind fences (usually wooden slabs 20% open).
Uses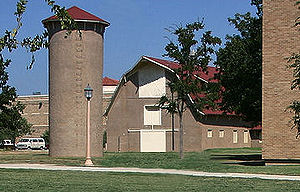 In older style barns, the upper area was used to store
hay
Hay
Hay is grass, legumes or other herbaceous plants that have been cut, dried, and stored for use as animal fodder, particularly for grazing livestock such as cattle, horses, goats, and sheep. Hay is also fed to pets such as rabbits and guinea pigs...
and sometimes grain. This is called the mow (rhymes with cow) or the hayloft. A large door at the top of the ends of the barn could be opened up so that hay could be put in the loft. The hay was hoisted into the barn by a system containing
pulley
Pulley
A pulley, also called a sheave or a drum, is a mechanism composed of a wheel on an axle or shaft that may have a groove between two flanges around its circumference. A rope, cable, belt, or chain usually runs over the wheel and inside the groove, if present...
s and a trolley that ran along a track attached to the top ridge of the barn. Trap doors in the floor allowed animal feed to be dropped into the
manger
Manger
A manger is a trough or box of carved stone or wood construction used to hold food for animals . Mangers are mostly used in livestock raising. They are also used to feed wild animals, e.g., in nature reserves...
s for the animals.
In
New England
New England
New England is a region in the northeastern corner of the United States consisting of the six states of Maine, New Hampshire, Vermont, Massachusetts, Rhode Island, and Connecticut...
it is common to find barns attached to the main farmhouse (
connected farm architecture
Connected farm
A connected farm is an architectural design common in the New England Region of the United States, and England and Wales in the United Kingdom. North American connected farms date back to the 17th century, their British counterparts have also existed for several centuries...
), allowing for chores to be done while sheltering the worker from the weather.
In the middle of the twentieth century the large broad roof of barns were sometimes painted with slogans in the United States. Most common of these were the 900 barns painted with ads for
Rock City
Rock City
Rock City is a roadside attraction near Chattanooga, Tennessee, on Lookout Mountain in Lookout Mountain, Georgia, located near Ruby Falls. It is well-known for the many barn advertisements throughout the Southeast and Midwest United States that have the slogan "See Rock City" painted on barn roofs...
.
Features
A farm often has pens of varying shapes and sizes used to shelter large and small animals. The pens used to shelter large animals are called stalls and are usually located on the lower floor. Other common areas, or features, of a typical barn include:
Derivatives
The physics term "
barn
Barn (unit)
A barn is a unit of area. Originally used in nuclear physics for expressing the cross sectional area of nuclei and nuclear reactions, today it is used in all fields of high energy physics to express the cross sections of any scattering process, and is best understood as a measure of the...
", which is a subatomic unit of area, 10
−28
m
2
, came from experiments with uranium nuclei during World War II, wherein they were described colloquially as "big as a barn", with the measurement officially adopted to maintain security around nuclear weapons research.
Barn idioms
Types
Historic farm buildings
Old farm buildings of the countryside contribute to the landscape, and help define the history of the location, i.e. how farming was carried out in the past, and how the area has been settled throughout the ages. They also can show the agricultural methods, building materials, and skills that were used. Most were built with materials reflecting the local geology of the area. Building methods include earth walling and
thatching
Thatching
Thatching is the craft of building a roof with dry vegetation such as straw, water reed, sedge , rushes, or heather, layering the vegetation so as to shed water away from the inner roof. It is a very old roofing method and has been used in both tropical and temperate climates...
.
Buildings in stone and brick, roofed with tile or slate, increasingly replaced buildings in clay, timber and thatch from the later 18th century. Metal roofs started to be used from the 1850s. The arrival of canals and railways brought about transportation of building materials over greater distances.
Clues determining their age and historical use can be found from old maps, sale documents, estate plans and visually inspecting the building itself, e.g. reused timbers, former floors, partitions, doors and windows.
The arrangement of the buildings within the 'farmstead' can also yield valuable information on the historical farm usage and landscape value. Linear farmsteads were typical of small farms, where there was an advantage to having cattle and fodder within one building, due to the colder climate. Dispersed clusters of unplanned groups were more widespread. Loose courtyard plans built around a yard were associated with bigger farms, whereas carefully designed courtyard plans designed to minimize waste and labour were built in the latter part of the 18th century.
The barns are typically the oldest and biggest buildings to be found on the farm. Many barns were converted into cow houses and fodder processing and storage buildings after the 1880s.
The
stable
Stable
A stable is a building in which livestock, especially horses, are kept. It most commonly means a building that is divided into separate stalls for individual animals...
is typically the second-oldest building type on the farm. They were well built and placed near the house due to the value that the
horse
Horse
The horse is one of two extant subspecies of Equus ferus, or the wild horse. It is a single-hooved mammal belonging to the taxonomic family Equidae. The horse has evolved over the past 45 to 55 million years from a small multi-toed creature into the large, single-toed animal of today...
s had as draught animals
Modern granaries were built from the 18th centuries. Complete granary interiors, with plastered walls and wooden partitioning to grain bins, are very rare.
Longhouses are an ancient building where people and animals used the same entrance. These can still be seen, for example, in North Germany, where the Low Saxon house is occurs.
Few interiors of the 19th century cow houses have survived unaltered due to dairy hygiene regulations in many countries.
Old farm buildings may show the following signs of deterioration: rotting in timber-framed constructions due to damp, cracks in the masonry from movement of the walls, e.g. ground movement, roofing problems (e.g. outward thrust of it, deterioration of
purlin
Purlin
In architecture or structural engineering or building, a purlin is a horizontal structural member in a roof. Purlins support the loads from the roof deck or sheathing and are supported by the principal rafters and/or the building walls, steel beams etc...
s and
gable
Gable
A gable is the generally triangular portion of a wall between the edges of a sloping roof. The shape of the gable and how it is detailed depends on the structural system being used and aesthetic concerns. Thus the type of roof enclosing the volume dictates the shape of the gable...
ends), foundation problems, penetration of tree roots;
lime mortar
Lime mortar
Lime mortar is a type of mortar composed of lime and an aggregate such as sand, mixed with water. It is one of the oldest known types of mortar, dating back to the 4th century BC and widely used in Ancient Rome and Greece, when it largely replaced the clay and gypsum mortars common to Ancient...
being washed away due to inadequate weather, walls made of
cob
Cob
-Places:* Cobb, California* Cobb, California, former name of Pine Grove, Lake County, California* Cobb County, Georgia, United States* Cobb, Georgia, an unincorporated community in Sumter County, Georgia, United States...
, earth mortars or walls with rubble cores are all highly vulnerable to water penetration, and replacement or covering of breathable materials with cement or damp proofing materials trap the moisture within the walls.
In England and
Wales
Wales
Wales is a country that is part of the United Kingdom and the island of Great Britain, bordered by England to its east and the Atlantic Ocean and Irish Sea to its west. It has a population of three million, and a total area of 20,779 km²...
some of these historical buildings have been given
Listed building
status, which provides them some degree of archaeological protection.
Some grant schemes are available to restore Historic Farmland buildings, for example
Natural England
Natural England
Natural England is the non-departmental public body of the UK government responsible for ensuring that England's natural environment, including its land, flora and fauna, freshwater and marine environments, geology and soils, are protected and improved...
s
Environmental Stewardship
Environmental Stewardship
Environmental Stewardship is an agri-environment scheme run by the Department for Environment, Food and Rural Affairs in England. It was formally launched on 18 March 2005, although the first agreements did not start until 1 August 2005....
, Countryside Stewardship and
Environmentally Sensitive Areas Scheme
Environmentally Sensitive Areas Scheme
The Environmentally Sensitive Areas Scheme was an agri-environment scheme run by the UK Government within the 22 designated Environmentally Sensitive Areas.The scheme was superseded in 2005 by the Environmental Stewardship schemes....
s.
See also
External links