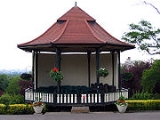 Bandstand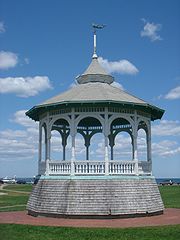 A
bandstand
is a circular or semicircular structure set in a
park
Park
A park is a protected area, in its natural or semi-natural state, or planted, and set aside for human recreation and enjoyment, or for the protection of wildlife or natural habitats. It may consist of rocks, soil, water, flora and fauna and grass areas. Many parks are legally protected by...
,
garden
Garden
A garden is a planned space, usually outdoors, set aside for the display, cultivation, and enjoyment of plants and other forms of nature. The garden can incorporate both natural and man-made materials. The most common form today is known as a residential garden, but the term garden has...
,
pier
Pier
A pier is a raised structure, including bridge and building supports and walkways, over water, typically supported by widely spread piles or pillars...
, or indoor space, designed to accommodate musical bands performing
concert
Concert
A concert is a live performance before an audience. The performance may be by a single musician, sometimes then called a recital, or by a musical ensemble, such as an orchestra, a choir, or a musical band...
s. A simple construction, it both creates an ornamental focal point and also serves
acoustic requirements
Acoustics
Acoustics is the interdisciplinary science that deals with the study of all mechanical waves in gases, liquids, and solids including vibration, sound, ultrasound and infrasound. A scientist who works in the field of acoustics is an acoustician while someone working in the field of acoustics...
while providing shelter for the changeable weather, if outdoors.
Many bandstands in the
United Kingdom
United Kingdom
The United Kingdom of Great Britain and Northern IrelandIn the United Kingdom and Dependencies, other languages have been officially recognised as legitimate autochthonous languages under the European Charter for Regional or Minority Languages...
originated in the
Victorian era
Victorian era
The Victorian era of British history was the period of Queen Victoria's reign from 20 June 1837 until her death on 22 January 1901. It was a long period of peace, prosperity, refined sensibilities and national self-confidence...
as the British
brass band
Brass band
A brass band is a musical ensemble generally consisting entirely of brass instruments, most often with a percussion section. Ensembles that include brass and woodwind instruments can in certain traditions also be termed brass bands , but are usually more correctly termed military bands, concert...
movement gained popularity. Smaller bandstands are often not much more than
gazebo
Gazebo
A gazebo is a pavilion structure, sometimes octagonal, that may be built, in parks, gardens, and spacious public areas. Gazebos are freestanding or attached to a garden wall, roofed, and open on all sides; they provide shade, shelter, ornamental features in a landscape, and a place to rest...
s. Much larger bandstands such as that at the
Hollywood Bowl
Hollywood Bowl
The Hollywood Bowl is a modern amphitheater in the Hollywood area of Los Angeles, California, United States that is used primarily for music performances...
may be called bandshells and usually take a shape similar to a quarter sphere.
Notable bandstands
In England
In 1993 the Deal Memorial Bandstand was opened as memorial to the eleven bandsmen killed by
1989 Deal barracks bombing
1989 Deal barracks bombing
The Deal barracks bombing was an attack by the Provisional Irish Republican Army on a Royal Marines barracks in Deal, England. It took place at 8:27 am on 22 September 1989, when the IRA exploded a time bomb at the Royal Marines School of Music building...
. The bandstand was erected by public subscription and is maintained by volunteers.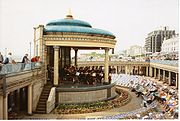 A good example of a semi-circular bandstand is the
Eastbourne Bandstand
Eastbourne Bandstand
The Eastbourne Bandstand is a bandstand on the seafront of the East Sussex coastal town of Eastbourne. The current bandstand was built in 1935, with its unique semi-circular design and blue domed roof; there is no other in the United Kingdom...
, built in 1935 to replace a circular bandstand that stood on cast iron stilts.
Herne Bay, Kent
Herne Bay, Kent
Herne Bay is a seaside town in Kent, South East England, with a population of 35,188. On the south coast of the Thames Estuary, it is north of Canterbury and east of Whitstable. It neighbours the ancient villages of Herne and Reculver and is part of the City of Canterbury local government district...
contains a totally enclosed bandstand with a stage and cafe area, topped with
copper
Copper
Copper is a chemical element with the symbol Cu and atomic number 29. It is a ductile metal with very high thermal and electrical conductivity. Pure copper is soft and malleable; an exposed surface has a reddish-orange tarnish...
-clad domes.
There is a very old bandstand at Horsham's Carfax, built in 1892 by Walter Macfarlane & Co at the
Saracen Foundry
Saracen Foundry
The Saracen Foundry was the better known name for the Possilpark, Glasgow based foundry company W MacFarlane & Co. Ltd, founded and owned by Walter MacFarlane. Macfarlane's was the most important manufacturer of ornamental ironwork in Scotland....
in Glasgow, and another one in its adjacent park. It was moved slightly from its original location, to better accommodate pedestrians and then refurbished in 1978 with funds raised by the Horsham Society and with council funding. In 1992, the original design was rediscovered in museum archives and it was then restored to its original colour scheme.
In Scotland
Scotland's many
ironwork
Ironwork
Ironwork is any weapon, artwork, utensil or architectural feature made of iron especially used for decoration. There are two main types of ironwork wrought iron and cast iron. While the use of iron dates as far back as 4000BC, it was the Hittites who first knew how to extract it and develop weapons...
foundries and manufacturers have built bandstands throughout the
United Kingdom
United Kingdom
The United Kingdom of Great Britain and Northern IrelandIn the United Kingdom and Dependencies, other languages have been officially recognised as legitimate autochthonous languages under the European Charter for Regional or Minority Languages...
.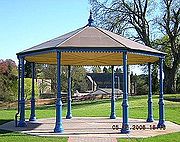 One of the most recent bandstands erected in the UK was the Langholm Town Bandstand. A very contemporary, modern design.
Some of the many other notable bandstands in Scotland itself include those located at:
Alexander Hamilton Memorial Park in Stonehouse
Bellfield Park in Inverness
Bothwell Road Public Park in Hamilton
Brechin Park in Brechin

Brechin

Brechin is a former royal burgh in Angus, Scotland. Traditionally Brechin is often described as a city because of its cathedral and its status as the seat of a pre-Reformation Roman Catholic diocese , but that status has not been officially recognised in the modern era...


, Burngreen Peace Park in Kilsyth

Kilsyth

Kilsyth is a town of 10,100 roughly halfway between Glasgow and Stirling in North Lanarkshire, Scotland.-Location:...



Collison Park in Dalbeattie

Dalbeattie

Dalbeattie is a town in Dumfries and Galloway , Scotland.Dalbeattie is situated in a wooded valley on the Urr Water east of Castle Douglas and south west of Dumfries...



Clyde Retail Park in Clydebank

Clydebank

Clydebank is a town in West Dunbartonshire, in the Central Lowlands of Scotland. Situated on the north bank of the River Clyde, Clydebank borders Dumbarton, the town with which it was combined to form West Dunbartonshire, as well as the town of Milngavie in East Dunbartonshire, and the Yoker and...



Dock Park in Dumfries

Dumfries

Dumfries is a market town and former royal burgh within the Dumfries and Galloway council area of Scotland. It is near the mouth of the River Nith into the Solway Firth. Dumfries was the county town of the former county of Dumfriesshire. Dumfries is nicknamed Queen of the South...



Duthie Park

Duthie Park

Duthie park, situated in Aberdeen, Scotland, by the banks of the River Dee, comprises of land gifted to the council in 1881 by Lady Elizabeth Duthie of Ruthrieston, in memory of her uncle and of her brother...


in Aberdeen
George Allan Park in Strathaven

Strathaven

Strathaven is a historic market town in South Lanarkshire, Scotland. The town was granted a Royal Charter in 1450, making the Town of Strathaven a burgh of barony. The town's principal industry was primarily weaving in the 19th and early 20th centuries, however this declined when faced by...



Glebe Park in Falkirk
Haugh Park in Cupar

Cupar

Cupar is a town and former royal burgh in Fife, Scotland. The town is situated between Dundee and the New Town of Glenrothes.According to a recent population estimate , Cupar had a population around 8,980 making the town the ninth largest settlement in Fife.-History:The town is believed to have...


, Houston Square in Johnstone

Johnstone

Johnstone is a town in the council area of Renfrewshire and larger historic county of the same name in the west central Lowlands of Scotland.The town lies three miles west of neighbouring Paisley and twelve miles west of the centre of the city of Glasgow...



High Street in Falkirk
Kelvingrove Park

Kelvingrove Park

Kelvingrove Park is a public park located on the River Kelvin in the West End of the city of Glasgow, Scotland, containing the world-famous Kelvingrove Art Gallery and Museum.-History:...


in Glasgow
Lewisvale Park in Musselburgh

Musselburgh

Musselburgh is the largest settlement in East Lothian, Scotland, on the coast of the Firth of Forth, six miles east of Edinburgh city centre.-History:...



Macrosty Park in Crieff

Crieff

Crieff is a market town in Perth and Kinross, Scotland. It lies on the A85 road between Perth and Crianlarich and also lies on the A822 between Greenloaning and Aberfeldy. The A822 joins onto the A823 which leads to Dunfermline....



Magdalene Park in Dundee, Overtoun Park in Rutherglen

Rutherglen

Rutherglen is a town in South Lanarkshire, Scotland. In 1975, it lost its own local council and administratively became a component of the City of Glasgow. In 1996 Rutherglen was reallocated to the South Lanarkshire council area.-History:...



Princes Street Gardens

Princes Street Gardens

Princes Street Gardens is a public park in the centre of Edinburgh, Scotland, in the shadow of Edinburgh Castle. The Gardens were created in the 1820s following the long draining of the Nor Loch and the creation of the New Town. The Nor Loch was a large loch in the centre of the city. It was...


in Edinburgh
St Margaret's Drive Park in Dunfermline
Stair Park

Stair Park

Stair Park is a public park and football stadium in the town of Stranraer, Scotland. It is owned by Dumfries & Galloway Council and is situated next to the London Road and the railway line in the town. It is home to Stranraer F.C., Wigtownshire RFC and Stranraer and Rhins Agricultural Show...


in Stranraer

Stranraer

Stranraer is a town in the southwest of Scotland. It lies in the west of Dumfries and Galloway and in the county of Wigtownshire.Stranraer lies on the shores of Loch Ryan on the northern side of the isthmus joining the Rhins of Galloway to the mainland...



The Links (park) in Nairn

Nairn

Nairn is a town and former burgh in the Highland council area of Scotland. It is an ancient fishing port and market town around east of Inverness...



The Meadows

The Meadows (park)

The Meadows is a large public park in Edinburgh, Scotland, just to the south of the city centre. Largely consisting of wide open grassland crossed by tree-lined paths, the park also has a children's playground, a croquet club, tennis courts and cricket pitches...


in Edinburgh
The Scores in St Andrews

St Andrews

St Andrews is a university town and former royal burgh on the east coast of Fife in Scotland. The town is named after Saint Andrew the Apostle.St Andrews has a population of 16,680, making this the fifth largest settlement in Fife....


, Fife

Fife

Fife is a council area and former county of Scotland. It is situated between the Firth of Tay and the Firth of Forth, with inland boundaries to Perth and Kinross and Clackmannanshire...



In arts, entertainment, and literature
The function of the bandstand inspired the names of:
the American

United States

The United States of America is a federal constitutional republic comprising fifty states and a federal district...


television show American Bandstand

American Bandstand

American Bandstand is an American music-performance show that aired in various versions from 1952 to 1989 and was hosted from 1956 until its final season by Dick Clark, who also served as producer...


(1952–1989) and
the Australian television show Bandstand (Australia)

Bandstand (Australia)

Bandstand was an Australian musical/variety television show which screened from November 1958 to 1972. It was produced at the studios of TCN-9 in Sydney and eventually became a national program as Nine Network expanded into other Australian cities in the early 1960s.Bandstand was created by Nine...


(1958–72).
See also
External links