 Ironwork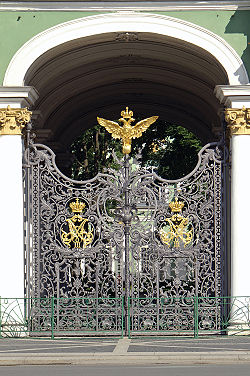 Ironwork
is any
weapon
Weapon
A weapon, arm, or armament is a tool or instrument used with the aim of causing damage or harm to living beings or artificial structures or systems...
,
artwork
Visual arts
The visual arts are art forms that create works which are primarily visual in nature, such as ceramics, drawing, painting, sculpture, printmaking, design, crafts, and often modern visual arts and architecture...
,
utensil
Utensil
Utensil may refer to;* A kitchen utensil, one of the tools of cooking and baking -- cookware and bakeware* A tool serving a set purpose.* The Dragon Throne, also called the "divine utensil" -- the rhetorical seat of power in the Empire of China * the Royal Utensils associated with the quintet of...
or architectural feature made of
iron
Iron
Iron is a chemical element with the symbol Fe and atomic number 26. It is a metal in the first transition series. It is the most common element forming the planet Earth as a whole, forming much of Earth's outer and inner core. It is the fourth most common element in the Earth's crust...
especially used for decoration. There are two main types of ironwork
wrought iron
Wrought iron
thumb|The [[Eiffel tower]] is constructed from [[puddle iron]], a form of wrought ironWrought iron is an iron alloy with a very low carbon...
and
cast iron
Cast iron
Cast iron is derived from pig iron, and while it usually refers to gray iron, it also identifies a large group of ferrous alloys which solidify with a eutectic. The color of a fractured surface can be used to identify an alloy. White cast iron is named after its white surface when fractured, due...
. While the use of iron dates as far back as 4000BC, it was the
Hittites
Hittites
The Hittites were a Bronze Age people of Anatolia.They established a kingdom centered at Hattusa in north-central Anatolia c. the 18th century BC. The Hittite empire reached its height c...
who first knew how to extract it (see
iron ore
) and develop weapons. Use of iron was mainly utilitarian until the
Middle Ages
Middle Ages
The Middle Ages is a periodization of European history from the 5th century to the 15th century. The Middle Ages follows the fall of the Western Roman Empire in 476 and precedes the Early Modern Era. It is the middle period of a three-period division of Western history: Classic, Medieval and Modern...
, it became widely used for decoration in the period between the 16th and 19th century.
Wrought ironwork
Wrought ironwork is forged by a
blacksmith
Blacksmith
A blacksmith is a person who creates objects from wrought iron or steel by forging the metal; that is, by using tools to hammer, bend, and cut...
using an
anvil
Anvil
An anvil is a basic tool, a block with a hard surface on which another object is struck. The inertia of the anvil allows the energy of the striking tool to be transferred to the work piece. In most cases the anvil is used as a forging tool...
. The earliest known ironwork are beads from Jirzah in
Egypt
Egypt
Egypt , officially the Arab Republic of Egypt, Arabic: , is a country mainly in North Africa, with the Sinai Peninsula forming a land bridge in Southwest Asia. Egypt is thus a transcontinental country, and a major power in Africa, the Mediterranean Basin, the Middle East and the Muslim world...
dating from 3500 BC and made from meteoric iron with the earliest use of smelted iron dates back to Mesopotamia. However, the first use of conventional smelting and purification techniques that modern society labels as true iron-working dates back to the Hittites in around 2000 BC.
Knowledge about the use of iron spread from the Middle East to Greece and the Aegean region by 1000BC and had reached western and central Europe by 600BC. However, its use was primarily utilitarian for weapons and tools before the Middle Ages. Due to rusting, very little remains of early ironwork.
From the medieval period, use of ironwork for decorative purposes became more common. Iron was used to protect doors and windows of valuable places from attack from raiders and was also used for decoration as can be seen at
Canterbury Cathedral
Canterbury Cathedral
Canterbury Cathedral in Canterbury, Kent, is one of the oldest and most famous Christian structures in England and forms part of a World Heritage Site....
,
Winchester Cathedral
Winchester Cathedral
Winchester Cathedral at Winchester in Hampshire is one of the largest cathedrals in England, with the longest nave and overall length of any Gothic cathedral in Europe...
and
Notre Dame de Paris
Notre Dame de Paris
Notre Dame de Paris , also known as Notre Dame Cathedral, is a Gothic, Roman Catholic cathedral on the eastern half of the Île de la Cité in the fourth arrondissement of Paris, France. It is the cathedral of the Catholic Archdiocese of Paris: that is, it is the church that contains the cathedra of...
. Armour also was decorated, often simply but occasionally elaborately.
From the 16th century onwards, ironwork became highly ornate especially in the
Baroque
Baroque
The Baroque is a period and the style that used exaggerated motion and clear, easily interpreted detail to produce drama, tension, exuberance, and grandeur in sculpture, painting, literature, dance, and music...
and
Rococo
Rococo
Rococo , also referred to as "Late Baroque", is an 18th-century style which developed as Baroque artists gave up their symmetry and became increasingly ornate, florid, and playful...
periods. In Spain, elaborate screens of iron or rejería were built in all of the Spanish cathedrals rising up to nine metres high.
In France, highly decorative iron balconies, stair railings and gateways were highly fashionable from 1650.
Jean Tijou
Jean Tijou
Jean Tijou was a French Huguenot ironworker. He is known solely through his work in England, where he worked on several of the key English Baroque buildings. He arrived in England in c.1689 and enjoyed the patronage of William and Mary for whom he made gates and railings for Hampton Court Palace....
brought the style to England and examples of his work can be seen at Hampton Court and St Pauls Cathedral. Wrought ironwork was widely used in the UK during the 18th in gates and railings in London and towns such as Oxford and Cambridge. In the US, ironwork features more prominently in New Orleans than elsewhere due to its French influence.
As iron became more common, it became widely used for cooking utensils, stoves, grates, locks, hardware and other household uses. From the beginning of the 19th century, wrought iron was being replaced by cast iron due to the latter's lower cost. However, the English
Arts and Crafts Movement
Arts and Crafts movement
Arts and Crafts was an international design philosophy that originated in England and flourished between 1860 and 1910 , continuing its influence until the 1930s...
produced some excellent work in the middle of the 19th century. In modern times, much modern wrought work is done using the air hammer and the acetylene torch. A number of modern sculptors have worked in iron including
Pablo Picasso
Pablo Picasso
Pablo Diego José Francisco de Paula Juan Nepomuceno María de los Remedios Cipriano de la Santísima Trinidad Ruiz y Picasso known as Pablo Ruiz Picasso was a Spanish expatriate painter, sculptor, printmaker, ceramicist, and stage designer, one of the greatest and most influential artists of the...
,
Julio González
Julio González (sculptor)
Juli González i Pellicer was a Catalan abstract and cubist painter and sculptor.-Biography:Born in Barcelona, as a young man he worked with his older brother, Joan, in his father's metal smith workshop. Both brothers took evening classes in art at the Escuela de Bellas Artes...
and
David Smith
David Smith (sculptor)
David Roland Smith was an American Abstract Expressionist sculptor and painter, best known for creating large steel abstract geometric sculptures.-Biography:...
.
Cast ironwork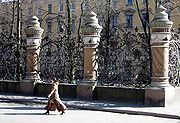 Cast iron is produced in a
furnace
Furnace
A furnace is a device used for heating. The name derives from Latin fornax, oven.In American English and Canadian English, the term furnace on its own is generally used to describe household heating systems based on a central furnace , and sometimes as a synonym for kiln, a device used in the...
stoked with alternate layers of coking iron then poured into molds. After the iron cools off, the sand is cleaned off. The Chinese were the first to use cast iron from the 6th century AD using it as support for
pagoda
Pagoda
A pagoda is the general term in the English language for a tiered tower with multiple eaves common in Nepal, India, China, Japan, Korea, Vietnam and other parts of Asia. Some pagodas are used as Taoist houses of worship. Most pagodas were built to have a religious function, most commonly Buddhist,...
s and other buildings.
It was introduced into Europe by the 15th century with its main decorative uses being as
fireback
Fireback
Fireback is a Filipino low-budget action movie directed by Teddy Page and starring Richard Harrison, Bruce Baron, James Gaines, Ann Milhench, Gwendolyn Hung, Mike Monty, Ronnie Patterson, and Ruel Vernal.- Characters :...
s and plates for woodburning stoves in Germany, the Netherlands and Scandinavia. By the end of the 18th century, cast iron was increasing used for railings, balconies, banisters and garden furniture due to its lower cost.
See also
Blacksmith

Blacksmith

A blacksmith is a person who creates objects from wrought iron or steel by forging the metal; that is, by using tools to hammer, bend, and cut...



Scrollwork

Scrollwork

Scrollwork is an element of ornamentation and graphic design using a spiral. The name comes from by the supposed resemblance to the edge-on view of a rolled parchment scroll. "Scrollwork" is today mostly used in popular language for two-dimensional decorative flourishes and arabesques of all...



Arabesque (European art)
External links