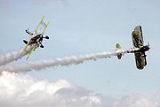 Aerobatics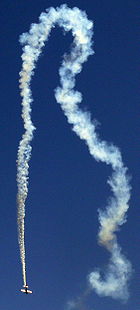 Aerobatics
is the practice of
flying
Flight
Flight is the process by which an object moves either through an atmosphere or beyond it by generating lift or propulsive thrust, or aerostatically using buoyancy, or by simple ballistic movement....
maneuvers involving aircraft attitudes that are not used in normal flight. Aerobatics are performed in airplanes and
gliders
Glider (sailplane)
A glider or sailplane is a type of glider aircraft used in the sport of gliding. Some gliders, known as motor gliders are used for gliding and soaring as well, but have engines which can, in some cases, be used for take-off or for extending a flight...
for
training
Training
The term training refers to the acquisition of knowledge, skills, and competencies as a result of the teaching of vocational or practical skills and knowledge that relate to specific useful competencies. It forms the core of apprenticeships and provides the backbone of content at institutes of...
,
recreation
Recreation
Recreation is an activity of leisure, leisure being discretionary time. The "need to do something for recreation" is an essential element of human biology and psychology. Recreational activities are often done for enjoyment, amusement, or pleasure and are considered to be "fun"...
,
entertainment
Entertainment
Entertainment consists of any activity which provides a diversion or permits people to amuse themselves in their leisure time. Entertainment is generally passive, such as watching opera or a movie. Active forms of amusement, such as sports, are more often considered to be recreation...
and
sport
Sport
A Sport is all forms of physical activity which, through casual or organised participation, aim to use, maintain or improve physical fitness and provide entertainment to participants. Sport may be competitive, where a winner or winners can be identified by objective means, and may require a degree...
. Some
helicopter
Helicopter
A helicopter is a type of rotorcraft in which lift and thrust are supplied by one or more engine-driven rotors. This allows the helicopter to take off and land vertically, to hover, and to fly forwards, backwards, and laterally...
s, such as the MBB Bo 105, are capable of limited aerobatic maneuvers.
Most aerobatic maneuvers involve rotation of the aircraft about its longitudinal (roll) axis or lateral (pitch) axis. Other maneuvers, such as a
spin
Spin (flight)
In aviation, a spin is an aggravated stall resulting in autorotation about the spin axis wherein the aircraft follows a corkscrew downward path. Spins can be entered intentionally or unintentionally, from any flight attitude and from practically any airspeed—all that is required is sufficient yaw...
, displace the aircraft about its vertical (yaw) axis. Maneuvers are often combined to form a complete aerobatic sequence for entertainment or competition.
Aerobatic flying requires a broader set of piloting skills and exposes the aircraft to greater structural stress than for normal flight. In some countries, the pilot must wear a parachute when performing aerobatics.
While many pilots fly aerobatics for recreation, some choose to fly in
aerobatic competitions
Competition aerobatics
Competition aerobatics is an air sport in which judges rate the skill of pilots performing aerobatic flying. It is practiced in both piston-powered single-engine airplanes and gliders....
, a
judged
Referee
A referee is the person of authority, in a variety of sports, who is responsible for presiding over the game from a neutral point of view and making on the fly decisions that enforce the rules of the sport...
sport.
Overview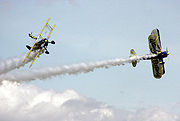 In the early days of flying, some pilots used their
aircraft
Aircraft
An aircraft is a vehicle that is able to fly by gaining support from the air, or, in general, the atmosphere of a planet. An aircraft counters the force of gravity by using either static lift or by using the dynamic lift of an airfoil, or in a few cases the downward thrust from jet engines.Although...
as part of a
flying circus
Barnstorming
Barnstorming was a popular form of entertainment in the 1920s in which stunt pilots would perform tricks with airplanes, either individually or in groups called a flying circus. Barnstorming was the first major form of civil aviation in the history of flight...
to entertain.
Maneuvers were flown for artistic reasons or to draw gasps from onlookers. In due course some of these maneuvers were found to allow aircraft to gain tactical advantage during aerial combat or
dogfight
Dogfight
A dogfight, or dog fight, is a form of aerial combat between fighter aircraft; in particular, combat of maneuver at short range, where each side is aware of the other's presence. Dogfighting first appeared during World War I, shortly after the invention of the airplane...
s between fighter aircraft.
Aerobatic aircraft fall into two categories — specialist aerobatic, and aerobatic capable. Specialist designs such as the
Pitts Special
Pitts Special
The Pitts Special is a series of light aerobatic biplane designed by Curtis Pitts. It has accumulated many competition wins since its first flight in 1944...
, the
Extra 200
Extra 200
The Extra Flugzeugbau Extra 200 is a two-seat, tandem arrangement, low-wing aerobatic monoplane with conventional landing gear fully capable of Unlimited category competition. It was designed by Walter Extra who introduced it to the United States market in 1996...
and
300
, and the
Sukhoi Su-29
Sukhoi Su-29
|-See also:-References:*Lambert, Martin. Jane's All The World's Aircraft 1993-94. Coulsdon, UK:Jane's Data Division, 1993. ISBN 0 7106 1066 1....
aim for ultimate aerobatic performance. This comes at the expense of general purpose use such as touring, or ease of non aerobatic handling such as landing. At a more basic level,
aerobatic capable
aircraft, such as the
Cessna 152
Cessna 152
The Cessna 152 is an American two-seat, fixed tricycle gear, general aviation airplane, used primarily for flight training and personal use.-Development:...
Aerobat model, can be dual purpose—equipped to carrying passengers and luggage, as well as being capable of basic aerobatic figures.
Flight formation

Formation flying

Formation flying is the disciplined flight of two or more aircraft under the command of a flight leader.Military pilots use formations for mutual defense and concentration of firepower....


aerobatics
are flown by teams of up to sixteen aircraft, although most teams fly between four and ten aircraft. Some are state funded to reflect pride in the
armed forces
Armed forces
The armed forces of a country are its government-sponsored defense, fighting forces, and organizations. They exist to further the foreign and domestic policies of their governing body, and to defend that body and the nation it represents from external aggressors. In some countries paramilitary...
whilst others are commercially sponsored. Coloured smoke trails may be emitted to emphasise the patterns flown and/or the colours of a national flag. Usually each team will use aircraft similar to one another finished in a special and dramatic colour scheme, thus emphasising their entertainment function.
Teams often fly V-formations (otherwise known as echelon formation)— they will not fly directly behind another aircraft because of danger from wake vortices or engine exhaust. Aircraft will always fly slightly below the aircraft in front, if they have to follow in line (the "trail formation").
Aerobatic maneuvers flown in a jet-powered aircraft are limited in scope as they cannot take advantage of the gyroscopic forces that a propeller driven aircraft can exploit. Jet-powered aircraft also tend to fly much faster which increases the size of the figures and the length of time which the pilot has to withstand increased g-forces. Jet aerobatic teams often fly in formations which further restricts the maneuvers that can be safely flown.
To enhance the effect of aerobatic maneuveres smoke is sometimes generated; the smoke allows viewers to see the path travelled by the aircraft. Due to safety concerns, the smoke is not a result of combustion but is produced by the
vaporization
Vaporization
Vaporization of an element or compound is a phase transition from the liquid or solid phase to gas phase. There are three types of vaporization: evaporation, boiling and sublimation....
of fog oil into a fine
aerosol
Aerosol
Technically, an aerosol is a suspension of fine solid particles or liquid droplets in a gas. Examples are clouds, and air pollution such as smog and smoke. In general conversation, aerosol usually refers to an aerosol spray can or the output of such a can...
, achieved either by injecting the oil into the hot engine exhaust or by the use of a dedicated device that can be fitted in any position on the aircraft. The first military aerobatic team to use smoke at will during displays was
Fleet Air Arm
Fleet Air Arm
The Fleet Air Arm is the branch of the British Royal Navy responsible for the operation of naval aircraft. The Fleet Air Arm currently operates the AgustaWestland Merlin, Westland Sea King and Westland Lynx helicopters...
702 Squadron
702 Naval Air Squadron
702 Naval Air Squadron is a naval squadron of the Royal Navy's Fleet Air Arm. It is currently based at RNAS Yeovilton in Somerset. It is also the parent unit of the Royal Navy's Black Cats aerobatic Display Team.-Formation and WWII :...
"
The Black Cats
Black Cats (Royal Navy)
The Black Cats are the Royal Navy's helicopter display team. The team is composed of two Westland Lynx anti-submarine and anti-shipping helicopters, with the aircraft and crews drawn from No No. 702 Naval Air Squadron based at RNAS Yeovilton in Somerset....
" at the Farnborough Air show in
September 1957.
Training
Aerobatics are taught to military fighter pilots as a means of developing flying skills and for tactical use in combat.
Aerobatics and formation flying is not limited solely to fixed-wing aircraft; the
British Army
British Army
The British Army is the land warfare branch of Her Majesty's Armed Forces in the United Kingdom. It came into being with the unification of the Kingdom of England and Scotland into the Kingdom of Great Britain in 1707. The new British Army incorporated Regiments that had already existed in England...
,
Royal Navy
Royal Navy
The Royal Navy is the naval warfare service branch of the British Armed Forces. Founded in the 16th century, it is the oldest service branch and is known as the Senior Service...
,
Spanish Air Force
Spanish Air Force
-The early stages:Hot air balloons had been used with military purposes in Spain as far back as 1896. In 1905, with the help of Alfredo Kindelán, Leonardo Torres y Quevedo directed the construction of the first Spanish dirigible in the Army Military Aerostatics Service, created in 1896 and located...
and the
Indian Air Force
Indian Air Force
The Indian Air Force is the air arm of the Indian armed forces. Its primary responsibility is to secure Indian airspace and to conduct aerial warfare during a conflict...
, among others, have helicopter display teams.
All aerobatic maneuvers demand training and practice to avoid
accident
Accident
An accident or mishap is an unforeseen and unplanned event or circumstance, often with lack of intention or necessity. It implies a generally negative outcome which may have been avoided or prevented had circumstances leading up to the accident been recognized, and acted upon, prior to its...
s. Such accidents are rare but can result in fatalities. Low-level aerobatics are extremely demanding and airshow pilots must demonstrate their ability before being allowed to gradually reduce the height at which they may fly their show.
Competition
Competitions start at Primary, or Graduate level and proceed in complexity through Sportsman, Intermediate and Advanced, with Unlimited being the top competition level. Experienced aerobatic pilots have been measured to pull +/-5g for short periods while unlimited pilots can perform more extreme maneuvers and experience higher
g levels
G-force
The g-force associated with an object is its acceleration relative to free-fall. This acceleration experienced by an object is due to the vector sum of non-gravitational forces acting on an object free to move. The accelerations that are not produced by gravity are termed proper accelerations, and...
-possibly up to +8/-6g. The limits for positive g are higher than for negative g and this is due to the ability to limit blood pooling for positive g maneuvers, but it is generally accepted that +9 g for more than a few seconds will lead to loss of consciousness (also known as GLOC).
Performance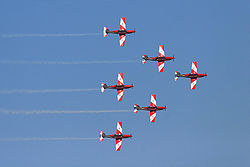 Aerobatics are most likely to be seen at a public
airshow
Airshow
An air show is an event at which aviators display their flying skills and the capabilities of their aircraft to spectators in aerobatics. Air shows without aerobatic displays, having only aircraft displayed parked on the ground, are called "static air shows"....
s. Famous teams include:
Asas de Portugal

Asas de Portugal

The Asas De Portugal is a flight demonstration team created in 1977 integrated with Esquadra 103 of the Portuguese Air Force. They are Portugal's national aerobatic flying team and fly two ex-Luftwaffe Dassault-Breguet/Dornier Alpha Jet...


(Portuguese Air Force

Portuguese Air Force

The Portuguese Air Force is the air force of Portugal. Formed on July 1, 1952, with the Aeronáutica Militar and Aviação Naval united in a single independent Air Force, it is one of the three branches of the Portuguese Armed Forces and its origins dates back to 1912, when the military aviation...


)
August 1st

August 1st (aerobatic team)

The August 1st or 81st Aerobatics Team is the aerobatic demonstration team of the People's Liberation Army Air Force. It is named after the date of the founding of the PLAAF. The unit was founded in 1962 and has performed 320 events in 100 countries...


(People's Liberation Army Air Force

People's Liberation Army Air Force

The People's Liberation Army Air Force is the aviation branch of the People's Liberation Army, the military of the People's Republic of China...


)
Black Cats

Black Cats (Royal Navy)

The Black Cats are the Royal Navy's helicopter display team. The team is composed of two Westland Lynx anti-submarine and anti-shipping helicopters, with the aircraft and crews drawn from No No. 702 Naval Air Squadron based at RNAS Yeovilton in Somerset....


(Royal Navy Fleet Air Arm

Fleet Air Arm

The Fleet Air Arm is the branch of the British Royal Navy responsible for the operation of naval aircraft. The Fleet Air Arm currently operates the AgustaWestland Merlin, Westland Sea King and Westland Lynx helicopters...


- United Kingdom)
Black Eagle (Republic of Korea Air Force

Republic of Korea Air Force

The Republic of Korea Air Force is the air force of South Korea...


)
Black Knights

RSAF Black Knights

The Black Knights is the official aerobatics team of the Republic of Singapore Air Force featuring six F-16C Fighting Falcons in formation flight...


(Republic of Singapore Air Force

Republic of Singapore Air Force

The Republic of Singapore Air Force is the air arm of the Singapore Armed Forces. It was first established in 1968 as the Singapore Air Defence Command...


)
Blue Angels

Blue Angels

The United States Navy's Navy Flight Demonstration Squadron, popularly known as the Blue Angels, was formed in 1946 and is currently the oldest formal flying aerobatic team...


(United States Navy

United States Navy

The United States Navy is the naval warfare service branch of the United States Armed Forces and one of the seven uniformed services of the United States. The U.S. Navy is the largest in the world; its battle fleet tonnage is greater than that of the next 13 largest navies combined. The U.S...


)
Blue Diamonds

Blue Diamonds (aerobatic team)

The Blue Diamonds is the national aerobatic team of the Philippine Air Force, based at Basa Air Base, in Floridablanca, Pampanga.-History:The team was formed in 1953 by First Lieutenant Jose Gonzalez and his air group. It first used P-51D Mustangs before jet aircraft were acquired. As the Air Force...


(Philippine Air Force

Philippine Air Force

The Philippine Air Force is the air force of the Republic of the Philippines, and one of the three main services of the Armed Forces of the Philippines. Its official name in Filipino is Hukbong Himpapawid ng Pilipinas....


)
Blue Eagles

Blue Eagles

The Blue Eagles are one of six professional helicopter aerobatic teams in the world, along with: Royal Navy Black Cats; Sarang of the Indian Air Force; Scorpion aerobatic team of the Polish Air Force; Rotores de Portugal and the Patrulla Aspa of the Spanish Air Force.-History:The Blue Eagles were...


(Army Air Corps—United Kingdom)
Blue Impulse

Blue Impulse

, or 11 Squadron, is the aerobatic demonstration team of the Japan Air Self-Defense Force. Originally founded in 1960 as a team of six F-86 Sabres, the team switched to the Mitsubishi T-2 in 1980 and then to the Kawasaki T-4 in 1995...


(Japan Air Self-Defense Force

Japan Air Self-Defense Force

The , or JASDF, is the aviation branch of the Japan Self-Defense Forces responsible for the defense of Japanese airspace and other aerospace operations. The JASDF carries out combat air patrols around Japan, while also maintaining an extensive network of ground and air early warning radar systems...


)
Breitling Jet Team

Breitling jet team

thumb|Breitling jet at Air 04, Payerne, Switzerlandthumb|Breitling Jet Team flying in formation during [[CIAF]] 2009The Breitling Jet Team is the largest civilian aerobatic display team in Europe. Based in Dijon, France, it flies seven Aero L-39 Albatros jets...


(private (Breitling))
Cartouche doré (French Air Force

French Air Force

The French Air Force , literally Army of the Air) is the air force of the French Armed Forces. It was formed in 1909 as the Service Aéronautique, a service arm of the French Army, then was made an independent military arm in 1933...


)
Cruz del Sur ("Southern Cross"—Argentine Air Force

Argentine Air Force

The Argentine Air Force is the national aviation branch of the Armed Forces of the Argentine Republic. , it had 14,606 military and 6,854 civilian staff.-History:...


)
Diables Rouges (Belgian Air Force

Belgian Air Force

The Air Component, formerly the Belgian Air Force, is the air arm of the Belgian Armed Forces. Originally founded in 1909, it is one of the world's first air forces, and was a pioneer in aerial combat during the First World War...


)
Elang Biru (Indonesian Air Force

Indonesian Air Force

The Indonesian Air Force is the air force branch of the Indonesian National Armed Forces.The Indonesian Air Force has 34,930 personnel equipped with 110 combat aircraft including Su-27 and Su-30.-Before Indonesian independence :...


)
Esquadrilha da Fumaça

Smoke squadron

The Aerial Demonstration Squadron , popularly known as Smoke Squadron is the Brazilian Air Force's air demonstration squadron....


(Smoke Squadron - Brazilian Air Force

Brazilian Air Force

The Brazilian Air Force is the air branch of the Brazilian Armed Forces and one of the three national uniformed services. The FAB was formed when the Army and Navy air branch were merged into a single military force initially called "National Air Forces"...


)
Frecce Tricolori

Frecce Tricolori

The Frecce Tricolori , officially known as the 313° Gruppo Addestramento Acrobatico, is the aerobatic demonstration team of the Italian Aeronautica Militare, based at Rivolto Air Force Base, in the north-eastern Italian region of Friuli Venezia Giulia, province of Udine...


(Italian Air Force

Italian Air Force

The Italian Air Force has gone under different names in different periods:*Regia Aeronautica , from 1923 to June 1946*Aeronautica Nazionale Repubblicana, the air force of Italian Social Republic during World War II...


)
F-16 Demo Team

F-16 Demo Team

The F-16 Demo Team is the aerobatics team of the Hellenic Air Force.- History :The Hellenic F-16 Demo Team was created in February 2010, continuing the legacy of the former Aerobatic Teams of the Hellenic Air Force: "Carrè of Aces", "Acro Team", "Hellenic Flame", "New Hellenic Flame" and the T-6A...


(Hellenic Air Force

Hellenic Air Force

The Hellenic Air Force, abbreviated to HAF is the air force of Greece. The mission of the Hellenic Air Force is to guard and protect Greek airspace, provide air assistance and support to the Hellenic Army and the Hellenic Navy, as well as the provision of humanitarian aid in Greece and around the...


—Greece

Greece

Greece , officially the Hellenic Republic , and historically Hellas or the Republic of Greece in English, is a country in southeastern Europe....


)
Halcones

Halcones

Escuadrilla de Alta Acrobacia Halcones The High Aerobatics Squad Hawks, known simply as Hawks , is an active group of nine officers of the Chilean Air Force trained to do aerobatics. One of the Halcones signature moves is recreating Chilean flag in the air using smoke.The team flies the Extra 300...


(Falcons-Chilean Air Force

Chilean Air Force

The Chilean Air Force is the air force of Chile, a branch of the Chilean military.-History:The first step towards the current FACh was taken by Teniente Coronel Pedro Pablo Dartnell, when he founded the Servicio de Aviación Militar de Chile on December 20, 1910, being trained as a pilot in France...


)
Hungarian Sky Hussars (Imitated Dogfight with MIG-21 bis - Hungarian Air Force

Hungarian Air Force

The Hungarian Air Force is the air force branch of the Hungarian Army.- 1918 to Pre–World War II :Following the dissolution of the Austro-Hungarian Monarchy in 1918, a small air arm was established operating surviving aircraft from Hungarian factories and training schools...


)
Green Hawk

Kaset Green Hawk

Kaset Green Hawk is an aerial display team of the Bureau of Royal Rainmaking and Agricultural Aviation of Thailand formed from rainmaking aircraft and crews....


(Bureau of Royal Rainmaking and Agricultural Aviation, Thailand

Thailand

Thailand , officially the Kingdom of Thailand , formerly known as Siam , is a country located at the centre of the Indochina peninsula and Southeast Asia. It is bordered to the north by Burma and Laos, to the east by Laos and Cambodia, to the south by the Gulf of Thailand and Malaysia, and to the...


)
Midnight Hawks

Midnight Hawks

Midnight Hawks is a Finnish aerobatics team. The team is organised by the Finnish Air Force.The aircraft used is the BAe Hawkadvanced jet trainer-History:...


(Finnish Air Force)
Orlik Aerobatic Team

Orlik Aerobatic Team

Orlik Aerobatic Team is an aerobatic demonstration team of the Polish Air Force, formed in 1998.The name "Orlik" comes from the name of the aircraft PZL-130 Orlik used in the team.-External links:...


, White-Red Sparks (known also as Team Iskry

Team Iskry

Bialo-Czerwone Iskry is an aerobatic demonstration team of the Polish Air Forces. Originally formed in 1969 at the 60 Training Wing in Radom under the name Rombik, the team flew four TS-11 Iskras. The team grew to nine pilots between 1993 and 1998 and was rebased to the 1 Air Training Centre in...


), Scorpion (aerobatic team) (Polish Air Forces)
Patrouille de France

Patrouille de France

The Patrouille Acrobatique de France , also known as the Patrouille de France or PAF, is the precision aerobatic demonstration team of the French Air Force. Originating in 1931, it is one of the world's oldest and most skilled demonstration teams...


(French Air Force

French Air Force

The French Air Force , literally Army of the Air) is the air force of the French Armed Forces. It was formed in 1909 as the Service Aéronautique, a service arm of the French Army, then was made an independent military arm in 1933...


)
Patrouille Suisse

Patrouille Suisse

The Patrouille Suisse is an aerobatic team of the Swiss Air Force. The team flies six Northrop F-5E Tiger II fighter/bomber jets. The Patrouille Suisse was founded on 8 August 1964 as a part of the Swiss Air Force...


(Swiss Air Force

Swiss Air Force

The Swiss Air Force is the air component of the Swiss Armed Forces, established on July 31, 1914, as part of the Army and as of January 1966 an independent service.In peacetime, Dübendorf is the operational Air Force HQ...


)
Patrulla Aguila

Patrulla Águila

Patrulla Águila is the aerobatic demonstration team of the Spanish Air Force, based at San Javier airbase near La Manga, in the Murcia region of Spain...


, Patrulla Aspa (Eagle Patrol; Blade Patrol—Spanish Air Force

Spanish Air Force

-The early stages:Hot air balloons had been used with military purposes in Spain as far back as 1896. In 1905, with the help of Alfredo Kindelán, Leonardo Torres y Quevedo directed the construction of the first Spanish dirigible in the Army Military Aerostatics Service, created in 1896 and located...


)
Red Arrows

Red Arrows

The Red Arrows, officially known as the Royal Air Force Aerobatic Team, is the aerobatics display team of the Royal Air Force based at RAF Scampton, but due to move to RAF Waddington in 2011...


(Royal Air Force

Royal Air Force

The Royal Air Force is the aerial warfare service branch of the British Armed Forces. Formed on 1 April 1918, it is the oldest independent air force in the world...


—United Kingdom

United Kingdom

The United Kingdom of Great Britain and Northern IrelandIn the United Kingdom and Dependencies, other languages have been officially recognised as legitimate autochthonous languages under the European Charter for Regional or Minority Languages...


)
Red Checkers

Red Checkers

The Red Checkers are the aerobatic/precision flying Team of the Royal New Zealand Air Force. The Checkers fly the Pacific Aerospace CT-4E Airtrainer. Previous aircraft used were the CT4B and North American Harvard . Until the year 1994 the Checkers were based at Wigram...


(Royal New Zealand Air Force

Royal New Zealand Air Force

The Royal New Zealand Air Force is the air arm of the New Zealand Defence Force...


)
Red Pelicans

Red Pelicans

The Red Pelicans, were the official aerobatics display flyers of the Royal Air Force before the Red Arrows took over the role in 1965. The Red Pelicans flew the BAC Jet Provost aircraft.-History:...


, Rothmans, Silver Falcons

Silver Falcons

The Silver Falcons is the aerobatic display team of the South African Air Force. Based at Air Force Base Langebaanweg near Cape Town, the Silver Falcons fly the Pilatus PC-7 Mk II Astra, the basic trainer of the SA Air Force in a 5-ship routine...


(South African Air Force

South African Air Force

The South African Air Force is the air force of South Africa, with headquarters in Pretoria. It is the world's second oldest independent air force, and its motto is Per Aspera Ad Astra...


)
Rotores de Portugal

Rotores de Portugal

The Rotores de Portugal is a helicopter flight demonstration team created in 1976, operated by Esquadra 552 of the Portuguese Air Force out of Beja Air Base, Portugal...


(Portuguese Air Force

Portuguese Air Force

The Portuguese Air Force is the air force of Portugal. Formed on July 1, 1952, with the Aeronáutica Militar and Aviação Naval united in a single independent Air Force, it is one of the three branches of the Portuguese Armed Forces and its origins dates back to 1912, when the military aviation...


—Helicopters)
Roulettes

Roulettes

The Roulettes are the Royal Australian Air Force's formation aerobatic display team.They provide about 150 flying displays a year, in Australia and in friendly countries around the South-east Asian region...


(Royal Australian Air Force

Royal Australian Air Force

The Royal Australian Air Force is the air force branch of the Australian Defence Force. The RAAF was formed in March 1921. It continues the traditions of the Australian Flying Corps , which was formed on 22 October 1912. The RAAF has taken part in many of the 20th century's major conflicts...


)
Royal Jordanian Falcons

Royal Jordanian Falcons

The Royal Jordanian Falcons are the national aerobatic demonstration team of the Hashemite Kingdom of Jordan.The team was formed on the orders of King Hussein of Jordan on November 7, 1978. The team used two and subsequently three Pitts S-2A Specials before changing to Walter Extra EA300s in 1992...


(Royal Jordanian Air Force

Royal Jordanian Air Force

The Royal Jordanian Air Force is the air force branch of the Jordanian Armed Forces.-Early days:...


)
Russian Knights

Russian Knights

The Russian Knights is an aerobatic demonstration team of the Russian Air Force. Originally formed on April 5, 1991 at the Kubinka Air Base as a team of six Sukhoi Su-27s, the team was the first to perform outside the Soviet Union in September 1991 when they toured the United Kingdom...


, Strizhi

Strizhi

The Swifts are a Soviet and later Russian aerobatic performance demonstrator team connected with the Russian Air Force.In July 1983, the 234 Guards Fighter Regiment based in Kubinka air base was among the first regular aviation regiments to receive 4th generation fighters Mig-29...


(Swifts), Rus, Falcons of Russia (Russian Air Force

Russian Air Force

The Russian Air Force is the air force of Russian Military. It is currently under the command of Colonel General Aleksandr Zelin. The Russian Navy has its own air arm, the Russian Naval Aviation, which is the former Soviet Aviatsiya Voyenno Morskogo Flota , or AV-MF).The Air Force was formed from...


)
Sagar Pawan

Sagar Pawan

Sagar Pawan is the aerobatic demonstration team of the Indian Navy's Aviation Arm. It is one of the only two naval aerobatic teams in the world, the other being the Blue Angels of the US Navy....


(Indian Navy

Indian Navy

The Indian Navy is the naval branch of the armed forces of India. The President of India serves as the Commander-in-Chief of the Navy. The Chief of Naval Staff , usually a four-star officer in the rank of Admiral, commands the Navy...


)
Sanmueang (Royal Thai Air Force

Royal Thai Air Force

The Royal Thai Air Force or RTAF is the air force of the Kingdom of Thailand. Since its establishment in 1913, as one of the earliest air forces of Asia, the Royal Thai Air Force had engaged in many major and minor battles. During the Vietnam war era, the air force has been developed with USAF-aid...


)
Sarang (Indian Air Force)
Saudi Hawks

Saudi Hawks

The Saudi Hawks are a BAE Hawk-equipped Royal Saudi Air Force aerobatic team.On June 6, 1998, at King Abdulaziz Air Base , No. 88 Squadron was created by Gen. Abdulaziz Henaidy, the Royal Saudi Air Force's chief of staff, who is backed by Prince Sultan Bin Abdulaziz...


, (Royal Saudi Air Force)
Sherdils

Sherdils

Sherdils is the aerobatics display team of the Pakistan Air Force Academy based at the PAF Academy, Risalpur, Pakistan. The team flies nine K-8 Karakorum trainer aircraft and used to fly the T-37 "Tweety Bird"...


(Pakistan Air Force

Pakistan Air Force

The Pakistan Air Force is the leading air arm of the Pakistan Armed Forces and is primarily tasked with the aerial defence of Pakistan with a secondary role of providing air support to the Pakistan Army and the Pakistan Navy. The PAF also has a tertiary role of providing strategic air transport...


)
Silver Falcons

Silver Falcons

The Silver Falcons is the aerobatic display team of the South African Air Force. Based at Air Force Base Langebaanweg near Cape Town, the Silver Falcons fly the Pilatus PC-7 Mk II Astra, the basic trainer of the SA Air Force in a 5-ship routine...


(South African Air Force)
Silver Swallows

Silver Swallows

The Silver Swallows was the name of Irish Air Corps Aerobatic Team. Active from 1986 to 1998. The team was equipped with four Fouga CM170 Magister jet trainers, and was drawn from the Light Strike Squadron of the Irish Air Corps based at Casement Aerodrome, Baldonnel near Dublin...


Irish Air Corps

Irish Air Corps

The Air Corps is the air component of the Defence Forces of Ireland providing support to the Army and Naval Service, together with non-military air services such as search and rescue and the Ministerial Air Transport Service...



Snowbirds

Snowbirds

Officially known as the Royal Canadian Air Force's 431 Air Demonstration Squadron, the Snowbirds are Canada's military aerobatics or air show flight demonstration team whose purpose is to "demonstrate the skill, professionalism, and teamwork of Canadian Forces personnel". The squadron is based at...


(Canadian Forces

Canadian Forces

The Canadian Forces , officially the Canadian Armed Forces , are the unified armed forces of Canada, as constituted by the National Defence Act, which states: "The Canadian Forces are the armed forces of Her Majesty raised by Canada and consist of one Service called the Canadian Armed Forces."...


)
Surya Kiran

Surya Kiran

Surya Kiran is an aerobatics demonstration team of the Indian Air Force, successors to the Thunderbolts. The Surya Kiran Aerobatic Team was formed in 1996 to serve as the "Ambassadors of the Indian Air Force" and to "showcase the professionalism, the calibre and the mettle of the Indian Air Force"...


(Indian Air Force

Indian Air Force

The Indian Air Force is the air arm of the Indian armed forces. Its primary responsibility is to secure Indian airspace and to conduct aerial warfare during a conflict...


)
Team Jupiter (Indonesian Air Force

Indonesian Air Force

The Indonesian Air Force is the air force branch of the Indonesian National Armed Forces.The Indonesian Air Force has 34,930 personnel equipped with 110 combat aircraft including Su-27 and Su-30.-Before Indonesian independence :...


)
Team 60

Team 60

Team 60 is the aerobatic demonstration team of the Swedish Air Force.The team, at the time still unnamed, was formed in 1974 as a group of 4 SK 60 from the Air Force Central Flying School at Ljungbyhed AFB in southern Sweden...


(Swedish Air Force

Swedish Air Force

The Swedish Air Force is the air force branch of the Swedish Armed Forces.-History:The Swedish Air Force was created on July 1, 1926 when the aircraft units of the Army and Navy were merged. Because of the escalating international tension during the 1930s the Air Force was reorganized and expanded...


)
The Flying Bulls Aerobatics Team (civilian, Czech Republic)
Thunder Tiger (Republic of China Air Force

Republic of China Air Force

The Republic of China Air Force is the aviation branch of the Republic of China Armed Forces. The ROCAF's primary mission is the defense of the airspace over and around Taiwan...


)
Thunderbirds (United States Air Force

United States Air Force

The United States Air Force is the aerial warfare service branch of the United States Armed Forces and one of the American uniformed services. Initially part of the United States Army, the USAF was formed as a separate branch of the military on September 18, 1947 under the National Security Act of...


)
Turkish Stars

Turkish Stars

The Turkish Stars are the aerobatic demonstration team of the Turkish Air Force and the national aerobatics team of Turkey.The team was formed on November 7, 1992 and was named the Turkish Stars on January 11, 1993....


(Türk Yıldızları) (Turkish Air Force

Turkish Air Force

The Turkish Air Force is the aerial warfare service branch of the Turkish Armed Forces. It ranks 3rd in NATO in terms of fleet size behind the USAF and Royal Air Force with a current inventory of 798 aircraft .-Initial stages:...


)
Ukrainian Falcons

Ukrainian Falcons

The Ukrainian Falcons is the aerobatic demonstration team of the Ukrainian Air Force. It was established in 1997 as a team of 6 MiG-29s ....


(Ukrainian Air Force

Ukrainian Air Force

The Ukrainian Air Force is a part of the Armed Forces of Ukraine. Ukrainian Air Force Command and headquarters are located in the city of Vinnytsia....


)
Wings of Storm

Wings of Storm

Wings of Storm is the aerobatic display team of the Croatian Air Force. The group was officially formed in the spring of 2005, but the group first performed on June 23, 2004 during the European sailing championship hosted that year in Zadar....


(Croatian Air Force)
Grupa Akrobacyjna ŻELAZNY (civilian, Republic of Poland)
Former teams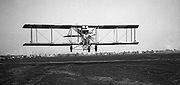 Akrobatika (a particular Squadron from Ubatuba, São Paulo, Brazil

Brazil

Brazil , officially the Federative Republic of Brazil , is the largest country in South America. It is the world's fifth largest country, both by geographical area and by population with over 192 million people...


)
Yellowjacks

Yellowjacks

The Yellowjacks were a Royal Air Force aerobatic display team who flew Folland Gnat trainers painted yellow. The team was formed informally in the summer of 1963 by a group of flying instructors, led by Flight Lieutenant Lee Jones, at No 4 Flying Training School at RAF Valley...


(UK, RAF)
Black Arrows

Black Arrows

The Black Arrows, one of the predecessors of the current Royal Air Force Aerobatic Team, the Red Arrows, were an aerobatic demonstration team formed in the 1950s from 111 Squadron...


(No. 111 Squadron RAF

No. 111 Squadron RAF

No. 111 Squadron of the Royal Air Force operated the Panavia Tornado F3 from RAF Leuchars, Scotland until March 2011, when the squadron was disbanded, ending the Tornado F3's RAF service.-In World War I:...


, 1950s)
Blue Herons (UK, Royal Navy, FRADU)
Simon's Sircus

Simon's Sircus

was an aerobatics display team comprising six Sea Vixen FAW2 aircraft from 892 Naval Air Squadron of the British Royal Navy's Fleet Air Arm. The team operated during the summer of 1968 and was named after 892 Squadron's commanding officer at the time, Lt Cdr Simon Idiens RN.-History:Simon's Sircus...


(UK, Royal Navy, Fleet Air Arm

Fleet Air Arm

The Fleet Air Arm is the branch of the British Royal Navy responsible for the operation of naval aircraft. The Fleet Air Arm currently operates the AgustaWestland Merlin, Westland Sea King and Westland Lynx helicopters...


)
Fred's Five (UK, Royal Navy, 892 Naval Air Squadron

892 Naval Air Squadron

892 Naval Air Squadron was a carrier-based fighter squadron of the British Royal Navy's Fleet Air Arm. It was formed in 1943, flying Grumman Martlets, and was the only operational Fleet Air Arm squadron to fly the McDonnell Phantom FG.1.-History:...


)
The Sharks

The Sharks (Royal Navy)

The "Sharks" were the Royal Navy's Helicopter Display Team from 1975 to 1992. They flew four red Aérospatiale Gazelle helicopters, with aircraft and pilots drawn from 705 Naval Air Squadron based at RNAS Culdrose, Cornwall.-History:...


(UK, Royal Navy, 705 Naval Air Squadron

705 Naval Air Squadron

705 Naval Air Squadron was first formed in 1936 from No 447 Flight Royal Air Force and operated Swordfish torpedo bombers from battlecruisers. It was disbanded in 1940, but was re-formed in 1947 as a Fleet Requirements Unit to evaluate naval use of helicopters...


)
Blue Diamond

Blue Diamond

Blue Diamond may refer to:* "Blue Diamond", a song recorded by Gene Summers, first in 1963, on Donnybrook Records. The song title should have read Big Blue Diamonds and was later corrected when the recording was issued on Capri Records and then Jamie Records.* A blue diamond, the most famous...


s (No. 92 Squadron RAF

No. 92 Squadron RAF

No. 92 Squadron, also known as No 92 Squadron, of the Royal Air Force was formed as part of the Royal Flying Corps at London Colney as a fighter squadron on 1 September 1917. It deployed to France in July 1918 and saw action for just four months, until the end of the war. During the conflict it...


)
Leteće zvezde

Letece zvezde

- Predecessors :Yugoslavia has a long history of precision display flying which was first demonstrated to the public during and airshow at Zemun – Belgrade's military airfield – in June 1938...


(SFR Yugoslav Air Force

SFR Yugoslav Air Force

The Socialist Federal Republic of Yugoslavia Yugoslav Air Force , was the air force of the Socialist Federal Republic of Yugoslavia . Formed in 1945, it was preceded by the Yugoslav Royal Air Force which was disbanded in 1941, following the German occupation of Yugoslavia...


)
The Tigers (No. 74 Squadron RAF

No. 74 Squadron RAF

No. 74 Squadron RAF, also known as a "Tiger Squadron" from its tiger head motif, is a squadron of the Royal Air Force. It operated fighter aircraft from 1917 to the 1990s.-First World War:...


)
The Firebirds (No. 56 Squadron RAF

No. 56 Squadron RAF

Number 56 Squadron is one of the oldest and most successful squadrons of the Royal Air Force, with battle honours from many of the significant air campaigns of both World War I and World War II...


)
The Red Pelicans (UK, RAF)
The Red Knight (Royal Canadian Air Force

Royal Canadian Air Force

The history of the Royal Canadian Air Force begins in 1920, when the air force was created as the Canadian Air Force . In 1924 the CAF was renamed the Royal Canadian Air Force and granted royal sanction by King George V. The RCAF existed as an independent service until 1968...


)
Golden Hawks

Golden Hawks

The Golden Hawks were a Canadian military aerobatic flying team established in 1959 to celebrate the 35th anniversary or the Royal Canadian Air Force and the "Golden" 50th anniversary of Canadian flight, which began with the AEA Silver Dart in 1909....


(Royal Canadian Air Force

Royal Canadian Air Force

The history of the Royal Canadian Air Force begins in 1920, when the air force was created as the Canadian Air Force . In 1924 the CAF was renamed the Royal Canadian Air Force and granted royal sanction by King George V. The RCAF existed as an independent service until 1968...


)
Golden Centennaires

Golden Centennaires

The Golden Centennaires were a Canadian air force aerobatic flying team that performed in 1967, the Canadian Centennial year. The team was created to celebrate the Canadian Centennial....


(Royal Canadian Air Force

Royal Canadian Air Force

The history of the Royal Canadian Air Force begins in 1920, when the air force was created as the Canadian Air Force . In 1924 the CAF was renamed the Royal Canadian Air Force and granted royal sanction by King George V. The RCAF existed as an independent service until 1968...


)
Acrojets (USAF Fighter School at Williams Air Force Base

Williams Air Force Base

Williams Air Force Base is a former United States Air Force base, located in Mesa, and about southeast of Phoenix, Arizona.It was active as a training base for both the United States Army Air Forces, as well as the USAF from 1941 until its closure in 1993...


, Arizona

Arizona

Arizona ; is a state located in the southwestern region of the United States. It is also part of the western United States and the mountain west. The capital and largest city is Phoenix...


1949-1950)
Acrojets (USAFE at Fürstenfeldbruck AB, Germany

Germany

Germany , officially the Federal Republic of Germany , is a federal parliamentary republic in Europe. The country consists of 16 states while the capital and largest city is Berlin. Germany covers an area of 357,021 km2 and has a largely temperate seasonal climate...


in the mid-1950s)
Skyblazers (USAFE at Fürstenfeldbruck AB, Germany

Germany

Germany , officially the Federal Republic of Germany , is a federal parliamentary republic in Europe. The country consists of 16 states while the capital and largest city is Berlin. Germany covers an area of 357,021 km2 and has a largely temperate seasonal climate...


from late 1940s to 1962)
The Black Knights (38th Tactical Bombardment Wing

38th Combat Support Wing

The 38th Combat Support Wing is an inactive wing of the United States Air Force. Its last assignment was with Third Air Force , being inactivated on 1 May 2007 at Ramstein Air Base, Germany....


, USAFE, 1950s)
Flying Jokers (Squadron 332, Royal Norwegian Air Force

Royal Norwegian Air Force

The Royal Norwegian Air Force is the air force of Norway. It was established as a separate arm of the Norwegian armed forces on 10 November 1944. The RNoAF's peace force is approximately 1,430 employees . 600 personnel also serve their draft period in the RNoAF...


)
Golden Sabres (Philippine Air Force

Philippine Air Force

The Philippine Air Force is the air force of the Republic of the Philippines, and one of the three main services of the Armed Forces of the Philippines. Its official name in Filipino is Hukbong Himpapawid ng Pilipinas....


)
Silver Birds (Austrian Armed Forces)
Karo Ass (Diamonds Ace) (1975-1984 - Austrian Armed Forces)
Cavallino Rampante (Prancing Horse) (1950-52 and 1956-57 - Italian Air Force)
Getti Tonanti (Thundering Jets) (1953-55 and 1959-60 - Italian Air Force)
Tigri Bianche (White Tigers) (1955-56 - Italian Air Force)
Diavoli Rossi (Red Devils) (1957-59 - Italian Air Force)
Lancieri Neri (Black Lancers) (1960- Italian Air Force)
Taj-Talaee (Golden Crown) (1955-1979 -Imperial Iranian Air Force)
See also
Aerobatic pilots
External links