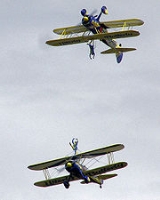 Airshow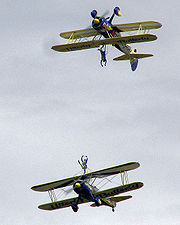 An
air show
is an event at which
aviator
Aviator
An aviator is a person who flies an aircraft. The first recorded use of the term was in 1887, as a variation of 'aviation', from the Latin avis , coined in 1863 by G. de la Landelle in Aviation Ou Navigation Aérienne...
s display their flying skills and the capabilities of their
aircraft
Aircraft
An aircraft is a vehicle that is able to fly by gaining support from the air, or, in general, the atmosphere of a planet. An aircraft counters the force of gravity by using either static lift or by using the dynamic lift of an airfoil, or in a few cases the downward thrust from jet engines.Although...
to spectators in
aerobatics
Aerobatics
Aerobatics is the practice of flying maneuvers involving aircraft attitudes that are not used in normal flight. Aerobatics are performed in airplanes and gliders for training, recreation, entertainment and sport...
. Air shows without aerobatic displays, having only aircraft displayed parked on the ground, are called "static air shows".
Outline
Some air shows are held as a business venture or as a trade event where aircraft, avionics and other services are promoted to potential customers. Many air shows are held in support of local, national or military charities.
Military
Military
A military is an organization authorized by its greater society to use lethal force, usually including use of weapons, in defending its country by combating actual or perceived threats. The military may have additional functions of use to its greater society, such as advancing a political agenda e.g...
air firms often organise air shows at military airfields as a public relations exercise to thank the local community, promote military careers and raise the profile of the military.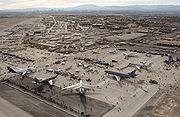 Air show "seasons" vary around the world. Whereas the United States enjoys a long season that generally runs from March to November, other areas often have much shorter seasons. The European season usually starts in late April or Early May and is usually over by mid October. The
Middle East
Middle East
The Middle East is a region that encompasses Western Asia and Northern Africa. It is often used as a synonym for Near East, in opposition to Far East...
,
Australia
Australia
Australia , officially the Commonwealth of Australia, is a country in the Southern Hemisphere comprising the mainland of the Australian continent, the island of Tasmania, and numerous smaller islands in the Indian and Pacific Oceans. It is the world's sixth-largest country by total area...
and
New Zealand
New Zealand
New Zealand is an island country in the south-western Pacific Ocean comprising two main landmasses and numerous smaller islands. The country is situated some east of Australia across the Tasman Sea, and roughly south of the Pacific island nations of New Caledonia, Fiji, and Tonga...
hold their events between January and March. However, for many acts the "off season" does not mean a period of inactivity, they use time for maintenance and practice.
The type of displays seen at an event are constrained by a number of factors, including the weather and visibility. Most aviation authorities now publish rules and guidance on minimum display heights and criteria for differing conditions. In addition to the weather, pilots and organizers must also consider local airspace restrictions. Most exhibitors will plan "full," "rolling" and "flat" display for varying weather and airspace conditions.
The types of shows vary greatly. Some are large scale military events with large flying displays and ground exhibitions while others held at small local airstrips can often feature just one or two hours of flying with just a few
stall
Stall (enclosure)
A stall is a small enclosure of some kind, usually less enclosed than a room.-Market stall:A market stall is usually an immobile temporary structure erected by merchants to display and shelter their merchandise...
s on the ground. Air Displays can be held during day or night with the latter becoming increasingly popular. Shows don't always take place over airfields; some have been held over the grounds of stately homes or castles and over the sea at coastal resorts.
Attractions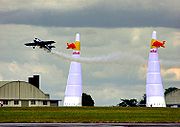 Before the
Second World War
World War II
World War II, or the Second World War , was a global conflict lasting from 1939 to 1945, involving most of the world's nations—including all of the great powers—eventually forming two opposing military alliances: the Allies and the Axis...
, air shows were associated with long distance air races, often lasting many days and covering thousands of miles. While the
Reno Air Races
Reno Air Races
The Reno Air Races, also known as the National Championship Air Races, take place each September at the Reno Stead Airport a few miles north of Reno, Nevada, USA...
keep this tradition alive, most air shows today primarily feature a series of aerial demos of short duration.
Most air shows will feature
warbird
Warbird
Warbird is a term used, predominantly in North America, to describe vintage military aircraft.- Naming :Although the term originally implied piston-driven aircraft from the World War II era, it is now often extended to include all military aircraft, including jet-powered aircraft, that are no...
s, aerobatics, and demonstrations of modern military aircraft, and many air shows offer a variety of other aeronautical attractions as well, such as wing-walking, radio-controlled aircraft, water/slurry drops from firefighting aircraft, simulated helicopter rescues and sky diving.
Specialist aerobatic aircraft have powerful piston engines, light weight and big control surfaces, making them capable of very high roll rates and accelerations. A skilled pilot will be able to climb vertically, perform very tight turns, tumble his aircraft end-over-end and perform manoeuvres during loops.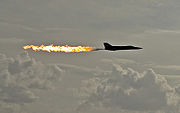 Solo military jet demos, also known as tactical demo, feature one aircraft, usually a strike fighter or an advanced trainer. The demonstration focuses on the capabilities of modern aircraft used in combat operations. The display will usually demonstrate the aircraft's very short (and often very loud) takeoff rolls, fast speeds, slow approach speeds, as well as their ability to quickly make tight turns, to climb quickly, and their ability to be precisely controlled at a large range of speeds. Manoeuvres include aileron rolls, barrel rolls, hesitation rolls, Cuban-8s, tight turns, high-alpha flight, a high-speed pass, double Immelmans, and touch-and-gos. Tactical demos may include simulated bomb drops, sometimes with pyrotechnics on the ground for effect. Aircraft with special characteristics that give them unique capabilities will often display those in their demos; For example, Russian fighters with
Thrust vectoring
Thrust vectoring
Thrust vectoring, also thrust vector control or TVC, is the ability of an aircraft, rocket or other vehicle to manipulate the direction of the thrust from its engine or motor in order to control the attitude or angular velocity of the vehicle....
may be used to perform
Pugachev's Cobra
Pugachev's Cobra
In aerobatics, Pugachev's Cobra is a dramatic and demanding manoeuvre in which a plane flying at a moderate speed suddenly raises the nose momentarily to the vertical position and slightly beyond, before dropping it back to normal flight. It uses a potent engine thrust to maintain approximately...
or the
Kulbit
Kulbit
The "Kulbit" is an aerial maneuver developed by Russian pilots, in which the aircraft performs an extremely tight loop, often not much wider than the length of the aircraft itself. It is an example of post-stall maneuvering, a type of supermaneuverability...
, among other difficult manoeuvers that cannot be performed by other aircraft. Similarly, an F-22 pilot may hover his jet in the air with the nose pointed straight up, a
Harrier
Harrier Jump Jet
The Harrier, informally referred to as the Jump Jet, is a family of British-designed military jet aircraft capable of vertical/short takeoff and landing operations...
or Osprey pilot may perform a vertical landing or vertical takeoff, and so on.
Safety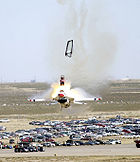 Air shows present some risk to spectators and aviators. Accidents occur, sometimes with a large loss of life, such as the
1988 disaster at Ramstein Air Base
Ramstein airshow disaster
The Ramstein airshow disaster is the second-deadliest airshow incident . It took place in front of about 300,000 people on August 28 1988, in Ramstein, West Germany, near the city of Kaiserslautern at the US Ramstein Air Base airshow Flugtag '88.Aircraft of the Italian Air Force display team...
in
Germany
Germany
Germany , officially the Federal Republic of Germany , is a federal parliamentary republic in Europe. The country consists of 16 states while the capital and largest city is Berlin. Germany covers an area of 357,021 km2 and has a largely temperate seasonal climate...
and the 2002 air show crash at Lviv,
Ukraine
Ukraine
Ukraine is a country in Eastern Europe. It has an area of 603,628 km², making it the second largest contiguous country on the European continent, after Russia...
. Because of these accidents, the various aviation authorities around the world have created set rules and guidance for those running and participating in air displays. Air displays are often monitored by aviation authorities to ensure safe procedures.
Rules govern the distance from the crowds that aircraft must fly. These vary according to the rating of the pilot/crew, the type of aircraft and the way the aircraft is being flown. For instance, slower lighter aircraft are usually allowed closer and lower to the crowd than larger, faster types. Also, a fighter jet flying straight and level will be able to do so closer to the crowd and lower than if it were performing a roll or a loop.
Pilots can get authorisations for differing types of displays (i.e. limbo flying, basic aerobatics to unlimited aerobatics) and to differing minimum base heights above the ground. To gain such authorisations, the pilots will have to demonstrate to an examiner that they can perform to those limits without endangering themselves, ground crew or spectators.
Despite display rules and guidances, accidents have continued to happen. However, air show accidents are rare and where there is proper supervision air shows have impressive safety records. Each year, organisations such as
The International Council of Air Shows
and
The European Airshow Council
meet and discuss various subjects including air show safety where accidents are discussed and lessons learnt.
Weather
Air shows, and other big shows such as
agricultural show
Agricultural show
An agricultural show is a public event showcasing the equipment, animals, sports and recreation associated with agriculture and animal husbandry. The largest comprise a livestock show , a trade fair, competitions, and entertainment...
s, on grassy land, are vulnerable to continued heavy rain
waterlogging
Waterlogging
Waterlogging or water logging may refer to:* Waterlogging , saturation of the soil by groundwater sufficient to prevent or hinder agriculture...
the ground, and making the
cloudbase
Cloudbase
Cloudbase is the fictional skyborne headquarters of international security organisation Spectrum, from Gerry Anderson's science fiction television series Captain Scarlet and the Mysterons .-Appearance in Captain Scarlet and the Mysterons:...
too low for flying, forcing cancellation, or the show ending early, costing much money for the show's organizers, as people and parking cars have difficulty moving about and turn the land into a morass, and the organizers may be tempted to put straw or cinders down to make movement easier, and the owner of the land cannot accept the resulting damage.
See also
Airshow pilot
Fly-in

Fly-in

A fly-in is a pre-arranged gathering of aircraft, pilots and passengers for recreational and social purposes.Fly-ins may be formally or informally organised, members of the public may or may not be invited, the gathering may be at an airport or in a farmer's field.Fly-ins can be aimed at specific...



Flypast

Flypast

Flypast is a term used in the United Kingdom, the Commonwealth, and other countries to denote ceremonial or honorific flights by groups of aircraft and, rarely, by a single aircraft...



Whifferdill turn

Whifferdill turn

A whifferdill turn turn refers to any number of fancy aerobatic maneuvers performed in an aerial flight show or while flying aggressively. It is a turn with both horizontal and vertical components, usually performed at the end of one maneuver in preparation for the next...



External links