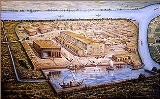 Indian Navy
The
Indian Navy
also called Nagari , is an abugida alphabet of India and Nepal...
: भारतीय नौ सेना,
Bhāratīya Nau Senā
) is the
naval branch
Navy
A navy is the branch of a nation's armed forces principally designated for naval and amphibious warfare; namely, lake- or ocean-borne combat operations and related functions...
of the
armed forces of India
Indian Armed Forces
The Indian Armed Forces are the military forces of the Republic of India. They consist of the Army, Navy and Air Force, supported by three paramilitary forces and various inter-service institutions such as the Strategic Forces Command.The President of India is...
. The
President of India
President of India
The President of India is the head of state and first citizen of India, as well as the Supreme Commander of the Indian Armed Forces. President of India is also the formal head of all the three branches of Indian Democracy - Legislature, Executive and Judiciary...
serves as the Commander-in-Chief of the Navy. The Chief of Naval Staff (CNS), usually a four-star officer in the rank of Admiral, commands the Navy. As of 2006 the navy has 55,000 personnel on active duty, including 5,000 members of the naval aviation branch, 1,200
marine commandos
MARCOS (India)
MARCOS is an elite special operations unit of the Indian Navy. "MARCOS" is short for "Marine Commandos"....
and 1,000
Sagar Prahari Bal
Sagar Prahari Bal
The Sagar prahari bal is the wing of the Indian Navy which is entrusted with the responsibility of patrolling India's shallow waters. The force consists of 2,000 personnel and is equipped with 80 patrol boats...
soldiers, making it the world's fourth largest navy.