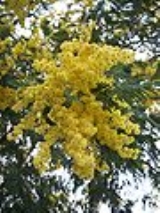 Acacia dealbata
Acacia dealbata
is a species of
Acacia
Acacia
Acacia is a genus of shrubs and trees belonging to the subfamily Mimosoideae of the family Fabaceae, first described in Africa by the Swedish botanist Carl Linnaeus in 1773. Many non-Australian species tend to be thorny, whereas the majority of Australian acacias are not...
, native to southeastern
Australia
Australia
Australia , officially the Commonwealth of Australia, is a country in the Southern Hemisphere comprising the mainland of the Australian continent, the island of Tasmania, and numerous smaller islands in the Indian and Pacific Oceans. It is the world's sixth-largest country by total area...
in
New South Wales
New South Wales
New South Wales is a state of :Australia, located in the east of the country. It is bordered by Queensland, Victoria and South Australia to the north, south and west respectively. To the east, the state is bordered by the Tasman Sea, which forms part of the Pacific Ocean. New South Wales...
,
Victoria
Victoria (Australia)
Victoria is the second most populous state in Australia. Geographically the smallest mainland state, Victoria is bordered by New South Wales, South Australia, and Tasmania on Boundary Islet to the north, west and south respectively....
,
Tasmania
Tasmania
Tasmania is an Australian island and state. It is south of the continent, separated by Bass Strait. The state includes the island of Tasmania—the 26th largest island in the world—and the surrounding islands. The state has a population of 507,626 , of whom almost half reside in the greater Hobart...
, and the
Australian Capital Territory
Australian Capital Territory
The Australian Capital Territory, often abbreviated ACT, is the capital territory of the Commonwealth of Australia and is the smallest self-governing internal territory...
.
Description
It is a fast growing
evergreen
Evergreen
In botany, an evergreen plant is a plant that has leaves in all seasons. This contrasts with deciduous plants, which completely lose their foliage during the winter or dry season.There are many different kinds of evergreen plants, both trees and shrubs...
tree
Tree
A tree is a perennial woody plant. It is most often defined as a woody plant that has many secondary branches supported clear of the ground on a single main stem or trunk with clear apical dominance. A minimum height specification at maturity is cited by some authors, varying from 3 m to...
or
shrub
Shrub
A shrub or bush is distinguished from a tree by its multiple stems and shorter height, usually under 5–6 m tall. A large number of plants may become either shrubs or trees, depending on the growing conditions they experience...
growing up to 30 m tall, typically a pioneer species after fire. The
leaves
Leaf
A leaf is an organ of a vascular plant, as defined in botanical terms, and in particular in plant morphology. Foliage is a mass noun that refers to leaves as a feature of plants....
are bipinnate, glaucous blue-green to silvery grey, 1–12 cm (occasionally to 17 cm) long and 1–11 cm broad, with 6–30 pairs of pinnae, each pinna divided into 10–68 pairs of leaflets; the leaflets are 0.7–6 mm long and 0.4–1 mm broad. The
flower
Flower
A flower, sometimes known as a bloom or blossom, is the reproductive structure found in flowering plants . The biological function of a flower is to effect reproduction, usually by providing a mechanism for the union of sperm with eggs...
s are produced in large
racemose
Raceme
A raceme is a type of inflorescence that is unbranched and indeterminate and bears pedicellate flowers — flowers having short floral stalks called pedicels — along the axis. In botany, axis means a shoot, in this case one bearing the flowers. In a raceme, the oldest flowers are borne...
inflorescence
Inflorescence
An inflorescence is a group or cluster of flowers arranged on a stem that is composed of a main branch or a complicated arrangement of branches. Strictly, it is the part of the shoot of seed plants where flowers are formed and which is accordingly modified...
s made up of numerous smaller globose bright yellow flowerheads of 13–42 individual flowers. The
fruit
Fruit
In broad terms, a fruit is a structure of a plant that contains its seeds.The term has different meanings dependent on context. In non-technical usage, such as food preparation, fruit normally means the fleshy seed-associated structures of certain plants that are sweet and edible in the raw state,...
is a flattened
pod
2–11.5 cm long and 6–14 mm broad, containing several
seed
Seed
A seed is a small embryonic plant enclosed in a covering called the seed coat, usually with some stored food. It is the product of the ripened ovule of gymnosperm and angiosperm plants which occurs after fertilization and some growth within the mother plant...
s. Trees generally do not live longer than 30 to 40 years, after which in the wild they are
succeeded
Ecological succession
Ecological succession, is the phenomenon or process by which a community progressively transforms itself until a stable community is formed. It is a fundamental concept in ecology, and refers to more or less predictable and orderly changes in the composition or structure of an ecological community...
by other species where bushfires are excluded. In moist mountain areas, a white lichen can almost cover the bark, which may contribute to the descriptor "silver".
Subspecies
There are two
subspecies
Subspecies
Subspecies in biological classification, is either a taxonomic rank subordinate to species, ora taxonomic unit in that rank . A subspecies cannot be recognized in isolation: a species will either be recognized as having no subspecies at all or two or more, never just one...
:
Acacia dealbata dealbata. Low to moderate altitudes. Tree to 30 m; leaves mostly 5–12 cm long.
Acacia dealbata subalpina Tindale & Kodela. High altitudes in the Snowy Mountains

Snowy Mountains

The Snowy Mountains, known informally as "The Snowies", are the highest Australian mountain range and contain the Australian mainland's highest mountain, Mount Kosciuszko, which reaches 2,228 metres AHD, approximately 7310 feet....


. Shrub to 5 m (rarely 10 m) tall; leaves mostly 1.5–8.5 cm long.
Some authorities consider
A. dealbata
to be a variant of
Acacia decurrens
Acacia decurrens
Acacia decurrens is a perennial tree or shrub native to eastern New South Wales...
.
Cultivation and uses
Acacia dealbata
is widely cultivated as an
ornamental plant
Ornamental plant
Ornamental plants are plants that are grown for decorative purposes in gardens and landscape design projects, as house plants, for cut flowers and specimen display...
in warm temperate regions of the world, and is
naturalised
Naturalisation (biology)
In biology, naturalisation is any process by which a non-native organism spreads into the wild and its reproduction is sufficient to maintain its population. Such populations are said to be naturalised....
in some areas, including southwestern
Western Australia
Western Australia
Western Australia is a state of Australia, occupying the entire western third of the Australian continent. It is bounded by the Indian Ocean to the north and west, the Great Australian Bight and Indian Ocean to the south, the Northern Territory to the north-east and South Australia to the south-east...
, southeastern
South Australia
South Australia
South Australia is a state of Australia in the southern central part of the country. It covers some of the most arid parts of the continent; with a total land area of , it is the fourth largest of Australia's six states and two territories.South Australia shares borders with all of the mainland...
,
Norfolk Island
Norfolk Island
Norfolk Island is a small island in the Pacific Ocean located between Australia, New Zealand and New Caledonia. The island is part of the Commonwealth of Australia, but it enjoys a large degree of self-governance...
, the Mediterranean region,
California
California
California is a state located on the West Coast of the United States. It is by far the most populous U.S. state, and the third-largest by land area...
,south-western China and
Chile
Chile
Chile ,officially the Republic of Chile , is a country in South America occupying a long, narrow coastal strip between the Andes mountains to the east and the Pacific Ocean to the west. It borders Peru to the north, Bolivia to the northeast, Argentina to the east, and the Drake Passage in the far...
. It does not survive prolonged frost.
The timber is useful for
furniture
Furniture
Furniture is the mass noun for the movable objects intended to support various human activities such as seating and sleeping in beds, to hold objects at a convenient height for work using horizontal surfaces above the ground, or to store things...
and indoor work, but has limited uses, mainly in craft furniture and turning. It has a honey colour, often with distinctive figures like birdseye and tiger stripes. It has a medium weight (540–720 kg/m³), and is similar to
blackwood
Blackwood
-Botany:* African Blackwood , decorative timber tree native to seasonally dry regions of Africa* Australian Blackwood, Acacia melanoxylon, native to eastern Australia...
.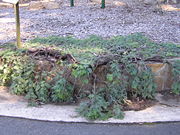 The flowers and tip shoots are harvested for use as
cut flowers
Cut flowers
The term cut flower refers to flowers or flower buds that have been cut from the plant bearing it. It is usually removed from the plant for indoor decorative use. Typical uses are in vase displays, wreaths and garlands...
, when it is known by florist trade as "mimosa". In
Italy
Italy
Italy , officially the Italian Republic languages]] under the European Charter for Regional or Minority Languages. In each of these, Italy's official name is as follows:;;;;;;;;), is a unitary parliamentary republic in South-Central Europe. To the north it borders France, Switzerland, Austria and...
,
Russia
Russia
Russia or , officially known as both Russia and the Russian Federation , is a country in northern Eurasia. It is a federal semi-presidential republic, comprising 83 federal subjects...
and
Georgia
Georgia (country)
Georgia is a sovereign state in the Caucasus region of Eurasia. Located at the crossroads of Western Asia and Eastern Europe, it is bounded to the west by the Black Sea, to the north by Russia, to the southwest by Turkey, to the south by Armenia, and to the southeast by Azerbaijan. The capital of...
the flowers are also frequently given to women on
International Women's Day
International Women's Day
International Women's Day , originally called International Working Women's Day, is marked on March 8 every year. In different regions the focus of the celebrations ranges from general celebration of respect, appreciation and love towards women to a celebration for women's economic, political and...
. The essence of the flowers, called
cassie
or
apopanax
, is used in perfumes. The leaves are sometimes used in Indian
chutney
Chutney
Chutney is a a condiment used in South Asian cuisine that usually contains a spice and vegetable mix.Chutneys are wet or dry, having a coarse to fine texture. The Anglo-Indian loan word refers to fresh and pickled preparations indiscriminately, with preserves often sweetened. At least several...
.
In New Zealand the Department of Conservation class it as an environmental weed. It has been analyzed as containing less than 0.02% alkaloids.