A.P. Moller-Maersk Group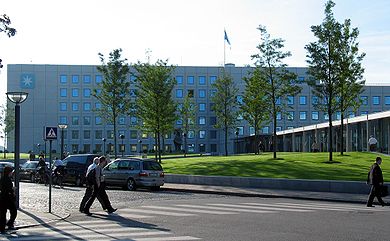 A.P. Moller – Maersk Group
, also known as
Maersk
, is a Danish
business
Business
A business is an organization engaged in the trade of goods, services, or both to consumers. Businesses are predominant in capitalist economies, where most of them are privately owned and administered to earn profit to increase the wealth of their owners. Businesses may also be not-for-profit...
conglomerate
. A.P. Moller – Maersk Group has activities in a variety of business sectors, primarily within the
transport
Transport
Transport or transportation is the movement of people, cattle, animals and goods from one location to another. Modes of transport include air, rail, road, water, cable, pipeline, and space. The field can be divided into infrastructure, vehicles, and operations...
ation and energy sectors. It is the largest
container ship
Container ship
Container ships are cargo ships that carry all of their load in truck-size intermodal containers, in a technique called containerization. They form a common means of commercial intermodal freight transport.-History:...
operator and supply vessel operator in the world since 1996.
A.P. Moller – Maersk Group is based in
Copenhagen
Copenhagen
Copenhagen is the capital and largest city of Denmark, with an urban population of 1,199,224 and a metropolitan population of 1,930,260 . With the completion of the transnational Øresund Bridge in 2000, Copenhagen has become the centre of the increasingly integrating Øresund Region...
,
Denmark
Denmark
Denmark is a Scandinavian country in Northern Europe. The countries of Denmark and Greenland, as well as the Faroe Islands, constitute the Kingdom of Denmark . It is the southernmost of the Nordic countries, southwest of Sweden and south of Norway, and bordered to the south by Germany. Denmark...
, with subsidiaries and offices in more than 135 countries worldwide and around 108,000 employees. It ranked 147 on the
Fortune Global 500
Fortune Global 500
The Fortune Global 500 is a ranking of the top 500 corporations worldwide as measured by revenue. The list is compiled and published annually by Fortune magazine....
list for 2010, down from 106 in 2009.
History
A.P. Moller – Maersk Group started as the shipping company
Dampskibsselskabet Svendborg
, founded by captain Peter Mærsk-Møller and his son
Arnold Peter Møller
Arnold Peter Møller
Arnold Peter Møller, commonly known as A. P. Møller, was a Danish shipping magnate, businessman who was the founder of the A.P. Moller-Maersk Group in 1904.-Biography:...
(2 October 1876 - June 1965) in Svendborg, 1904. A.P. Møller had four children, two by each of his two wives Chastine Estelle Roberta Mc-Kinney and Norwegian-born Pernille Ulrikke Amalie Nielsen. A.P. Møller's second child was
Arnold Mærsk McKinney Møller
Mærsk Mc-Kinney Møller
Arnold Mærsk Mc-Kinney Møller, is a Danish shipping magnate.-Personal life:Møller is the son of Arnold Peter Møller – founder of the A.P. Moller – Maersk Group – and an American, Chastine Estelle Roberta McKinney. He was married to his high-school sweetheart Emma Neergaard Rasmussen from 1940...
(born 13 July 1913). In 1939, Mærsk Mc-Kinney Møller became a partner in the company. Following the death of A.P. Møller in June 1965, he became
CEO
Chief executive officer
A chief executive officer , managing director , Executive Director for non-profit organizations, or chief executive is the highest-ranking corporate officer or administrator in charge of total management of an organization...
of the company and held this post until 1993, when he was succeeded by Jess Søderberg. Beginning in 1965, Mærsk Mc-Kinney Møller also served as company chairman and did not relinquish this position until December 2003 (90 years old), when the chairmanship was taken over by Michael Pram Rasmussen. Mærsk Mc-Kinney Møller is still one of the "managing owners" of the company and was chairman of
Odense Steel Shipyard
Odense Steel Shipyard
Odense Steel Shipyard located in Odense, Denmark was constructed in 1918–1919 by the A.P. Møller company and will be closed sometime in 2012. A new yard with bigger and better facilities was constructed 1957–1959 on a new site located in Munkebo a few kilometres outside of Odense proper...
until 2 May 2006.
Business areas
A.P. Moller – Maersk's activities are organised into four main business segments: Container shipping and related activities;
APM Terminals
APM Terminals
APM Terminals is an international container terminal operating company headquartered in The Hague, Netherlands. It is one of the world's leading port and terminal operators as well as providing cargo support and container Inland Services, and is the largest port and terminal operating company in...
;
Tanker
Tanker (ship)
A tanker is a ship designed to transport liquids in bulk. Major types of tankship include the oil tanker, the chemical tanker, and the liquefied natural gas carrier.-Background:...
s, offshore and other shipping activities; Oil and gas activities; Retail acivity; and
Shipyard
Shipyard
Shipyards and dockyards are places which repair and build ships. These can be yachts, military vessels, cruise liners or other cargo or passenger ships. Dockyards are sometimes more associated with maintenance and basing activities than shipyards, which are sometimes associated more with initial...
s, other industrial companies, interest in
Danske Bank
Danske Bank
Danske Bank is a Danish bank. The name literally means "Danish Bank" It was founded 5 October 1871 as Den Danske Landmandsbank, Hypothek- og Vexelbank i Kjøbenhavn ....
, etc.
Container shipping and related activities
"Container shipping and related activities" is the largest business area for A.P. Moller – Maersk, providing almost half of the group's revenue in 2008. It comprises worldwide container services, logistics and forwarding solutions and terminal activities under the brand names: Maersk Line, Safmarine
and Damco. Since 1996, Mærsk is the largest container shipping company in the world.
Maersk Line
The largest operating unit in A.P. Moller – Maersk by revenue and staff (around 22,000 employees) is Maersk Line. Involved in global liner shipping services, Maersk Line operates over 550 vessels and has a capacity of 2.2 million
TEU
Twenty-foot equivalent unit
The twenty-foot equivalent unit is an inexact unit of cargo capacity often used to describe the capacity of container ships and container terminals...
(Twenty-foot Equivalent Units). It is currently the largest container shipping company in the world. Maersk Line took delivery of 26 owned vessel in 2008.
In 2006, the largest container ship in the world to date, the
E-class
Mærsk E-class
The Maersk E Series comprises eight 14,770 twenty-foot equivalent unit container ships. Each sister ship bear names beginning with the letter "E", tie for the largest container ship ever constructed, and are the longest ships currently in use at 397 metres long and 56 metres wide. They are owned...
vessel Emma Maersk, was delivered to Maersk Line from
Odense Steel Shipyard
Odense Steel Shipyard
Odense Steel Shipyard located in Odense, Denmark was constructed in 1918–1919 by the A.P. Møller company and will be closed sometime in 2012. A new yard with bigger and better facilities was constructed 1957–1959 on a new site located in Munkebo a few kilometres outside of Odense proper...
. Seven other sisterships have since been built, and on 21 February 2011, Maersk ordered 10 even larger container ships from
Daewoo
Daewoo
Daewoo or the Daewoo Group was a major South Korean chaebol . It was founded on 22 March 1967 as Daewoo Industrial and was dismantled by the Korean government in 1999...
, the
Triple E class
Maersk Triple E class
The Maersk Triple E class is a planned family of large, fuel-efficient container ships, designed as a successor to the Mærsk E-class. In February 2011, Maersk awarded Daewoo Shipbuilding a US$1.9 billion contract to build twenty of the ships....
, each with a capacity of 18,000 containers. The first is to be delivered in 2014. There are options for 10-20 more.
As of February 2010, Maersk had an order book for new ships totalling 857000TEU (including options on the Triple E class); that backlog is larger than the existing fleet of the fourth-largest line,
Evergreen Line
Evergreen Line
The Evergreen Line is a planned 10.9 kilometre long SkyTrain rapid transit line of the South Coast British Columbia Transportation Authority in Metro Vancouver, British Columbia, Canada, which is expected to begin construction near summer 2012...
.
Safmarine
Safmarine
Safmarine
Safmarine is an international shipping business offering container and break-bulk shipping services worldwide....
is an independently operated shipping company in the A.P. Moller – Maersk Group with roots in Africa. It operates a fleet of more than 40 container vessels and more than 20 MPV's (Multi Purpose Vessels). [A.P. Møller – Mærsk A/S annual report 2008]
The company has five container vessels and four MPV's on order for delivery in 2009-2011.
Damco
Damco is the new, combined brand of the A.P. Moller – Maersk Group's logistics activities previously known as Maersk Logistics and Damco.
Damco is involved in supply chain management and freight forwarding solutions all over the world. Damco has 10,500 employees in offices in more than 93 countries.
Maersk Line, Limited
Maersk Line, Limited, is a US-based subsidiary of A.P. Moller – Maersk Group which manages a fleet of
US-flag vessels
Flag State
The flag state of a commercial vessel is the state under whose laws the vessel is registered or licensed.The flag state has the authority and responsibility to enforce regulations over vessels registered under its flag, including those relating to inspection, certification, and issuance of safety...
and provides U.S. government agencies and their contractors with transportation and logistics services. Headquartered in
Norfolk, Virginia
Norfolk, Virginia
Norfolk is an independent city in the Commonwealth of Virginia in the United States. With a population of 242,803 as of the 2010 Census, it is Virginia's second-largest city behind neighboring Virginia Beach....
, it manages the world's largest fleet of US-flag vessels. Beginning with a relatively small number of vessels focused on handling commercial and US Government-subsidised cargoes, MLL's fleet of vessels engaged in commercial liner services.
Other
Maersk Container Industry A/S: Container manufacturing with factories in Tinglev (Denmark), China, and the UK.
Container Inland Services (Includes; Depots, Equipment Repair, Trucking, Container Sales etc.)
APM Terminals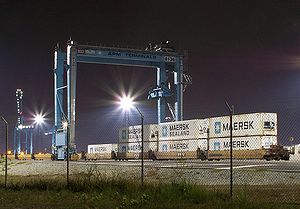 A.P. Moller – Maersk operates approximately 50 container terminals around the world. Nearly 15 of these were originally Sealand Corp. terminals, taken over in 1999. APM Terminals International has its headquarters in
The Hague
The Hague
The Hague is the capital city of the province of South Holland in the Netherlands. With a population of 500,000 inhabitants , it is the third largest city of the Netherlands, after Amsterdam and Rotterdam...
,
Holland
.
Tankers, offshore and other shipping activities
Tankers, offshore and other shipping activities" was responsible for 8.8% of Maersk's revenue in 2008, and posted 25% of the group's profit for this period. The business segment comprises Maersk Tankers, Maersk Supply Service, Maersk Drilling, Maersk FPSOs, Maersk LNG and Svitzer.
Maersk Tankers
Maersk Tankers is involved in transportation of oil and gas product, among others.
As of July 2009, Maersk Tankers operates 140 vessels: 20 crude carriers, 91 product tankers, 21 gas carriers, 8 LNG carriers (for liquefied natural gas) All Maersk Tankers' tankers are double-hulled, an environmental requirement in much of the world following the 1989 Exxon Valdez oil spill and other serious oil spills. Since 2009, the company (along with other operators) has used 'slow steaming'; reducing speed to minimize fuel consumption and decrease yearly capacity.
Maersk Drilling
Maersk Drilling is involved in drilling activities all over the world. They service a number of oil and gas companies with drilling of exploration and production wells.
By the end of 2008, the fleet consisted of 10 jack-up drilling rigs, 1 semi-submersible drilling rig, 10 drilling barges, and with 2 jack-up drilling rigs and 3 semi-submersible drilling rigs on order.
Maersk Supply Service
Maersk Supply Service provides anchor handling, towage of drilling rigs and platforms as well as supply service to the offshore industry. By the end of 2008, the fleet comprised 39 anchor handling vessels (including one chartered vessel), 11 supply vessels and 3 other vessel, and with 14 anchor handling vessels and 2 supply vessels on order.
Svitzer
Svitzer is involved in towage, salvage and other offshore support and is represented in more than 100 ports. By the end of 2008, Svitzer's fleet comprised 347 tugboats (including 14 chartered vessels), 32 standby vessels (including 2 chartered vessels) and 145 other vessels (including 12 chartered vessels). 53 tugboats, 4 standby vessels and 1 other vessel are on order.
Other
37.5% ownership share of Höegh Autoliners: By the end of 2008, Höegh Autoliners operated 67 car carriers with a transported volume of 1.9 million car units annually.
Oil and gas activities
Maersk Oil (Danish: Mærsk Olie og Gas A/S) was established in 1962 when Maersk was awarded a concession for oil and gas exploration and production in the Danish sector of the North Sea.[10]
Today, Maersk Oil is engaged in exploration for and production of oil and gas in many parts of the world.[11] Total oil production is more than 600,000 barrels per day (95,000 m³/d) and gas production is up to some 1 billion cubic feet (28,000,000 m3) per day. Most of this production is from the North Sea, from both the Danish and British sectors, but there is also production in offshore Qatar, in Algeria and in Kazakhstan.
In addition to the above-mentioned producing sites, Maersk Oil is involved in exploration activities in Danish, British, German and Norwegian sectors of the North Sea, Qatar, Algeria, Kazakhstan, Angola, Gulf of Mexico (US sector), Turkmenistan, Oman, Morocco, Brazil, Colombia and Suriname. Most of these activities are not 100% owned, but are via membership in a consortium.
The company prides itself for having developed production techniques especially suited to difficult environments (North Sea, etc.) and for drilling techniques that succeed in extracting oil from problematic underground conditions.
Maersk Oil has been preliminarily awarded two new exploration licenses, PL472 and PL474, in Norway's latest licensing round in February 2008.
"Oil and gas activities" provided A.P. Moller – Maersk with 22% of its revenue and 68% of its profit in 2008.
Retail activity
Dansk Supermarked Group: Commercial retail and supermarkets: Bilka (hypermarkets), Føtex (quality supermarkets), F. Salling (department stores) and Netto (discount supermarket).
Maersk Training
Maersk Training
has provided specialist training and learning activities to specific industries for more than three decades. The 2010 merger of Maersk Training Centre and Svitzer Safety Services broadened a portfolio of courses which the maritime, oil & gas, terminals and wind power industries benefit from.
With centres in Svendborg and Esbjerg in Denmark, the MT Group global locations include Aberdeen and Newcastle in the UK, and Stavanger in Norway. Centres are also in Chennai, India and Port Harcourt, Nigeria. Bahrain is the Middle Eastern hub and a Brazilian centre will come on-line later this year.
Regardless of location, we universally reflect upon the award given to us by "Det Norske Vertias" the independent classification society. DNV awarded us their first worldwide Centre of Excellence. Four years on no other training organisation has equalled or surpassed the standard set.
Maersk Training works as a principal training institution to the A.P. Moller – Maersk Group, but is also open to all companies and has valued external customers such as ConocoPhillips, Siemens Wind Power, Shell, Angola LNG and other major companies in the three focus industries.
Whether it is in Stavanger, San Paulo or Svendborg the fundamental global aim of the Group is to share skills, build competences and create opportunities through a better learning experience.
Star Air
Star Air owns 11 Boeing 767 cargo aircraft, primarily engaged in long-term contract flying for
United Parcel Service
United Parcel Service
United Parcel Service, Inc. , typically referred to by the acronym UPS, is a package delivery company. Headquartered in Sandy Springs, Georgia, United States, UPS delivers more than 15 million packages a day to 6.1 million customers in more than 220 countries and territories around the...
(UPS) in Europe.
Danske Bank
A.P. Moller – Maersk owns a 20% stake in
Danske Bank
Danske Bank
Danske Bank is a Danish bank. The name literally means "Danish Bank" It was founded 5 October 1871 as Den Danske Landmandsbank, Hypothek- og Vexelbank i Kjøbenhavn ....
, one of the biggest banks in Scandinavia.
Entry level programmes in A.P. Moller – Maersk
MISE
Maersk International Shipping Education (M.I.S.E.)
was the two year management trainee program constituted to develop the future leaders of the A.P. Moller – Maersk Group.
Each year approximately 450 trainees were enrolled representing more than 80 countries into the M.I.S.E. Programme. Trainees were selected from more than 85,000 applications received each year and underwent an intensive education. The program combined practical and theoretical education across all major divisions of the group with extensive multicultural exposure and international job opportunities within Maersk upon completion.
Starting 2009, the M.I.S.E programme has been discontinued and Maersk will begin to operate business specific entry level programmes. In autumn in 2009 Maersk Line launches a new graduate programme called the
Maersk Line Graduate Programme (M.L.G.P)
.
Piracy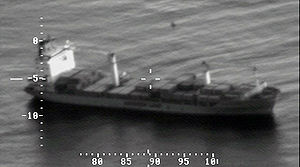 On the morning of April 8, 2009 the 17,000-ton
MV Maersk Alabama
MV Maersk Alabama
MV Maersk Alabama is a container ship owned by Maersk Line Limited and operated by Waterman Steamship Corporation....
was en route to
Mombasa
Mombasa
Mombasa is the second-largest city in Kenya. Lying next to the Indian Ocean, it has a major port and an international airport. The city also serves as the centre of the coastal tourism industry....
,
Kenya
Kenya
Kenya , officially known as the Republic of Kenya, is a country in East Africa that lies on the equator, with the Indian Ocean to its south-east...
, when it was hijacked by
pirates off the Somali coast
Piracy in Somalia
Piracy off the coast of Somalia has been a threat to international shipping since the second phase of the Somali Civil War in the early 21st century...
. The company confirmed that the U.S.-flagged vessel had 20 U.S. nationals onboard. This was the first time that the US had to deal with a situation in which Americans were aboard a ship seized by pirates in over 200 years. By noon, the Americans were able to resist the pirates and regain control of the ship. However, the pirates retreated on a covered life boat and held the captain hostage for four days. On April 12, 2009, it was confirmed that the captain held hostage was freed by the US Navy, where
SEAL
Seal
Seal commonly refers to:* Pinniped, a diverse group of semi-aquatic marine mammals many of which are commonly called seals* Seal , a device which helps prevent leakage, contain pressure, or exclude contamination where two systems join...
sharpshooters killed three of the pirates. A fourth pirate surrendered earlier due to a medical injury.
Maersk Line estimates that piracy costs the company $100 million per year due to longer routes and higher speed, particularly near East Africa.
As of 2010, all 83 Maersk tankers divert around the
Cape of Good Hope
Cape of Good Hope
The Cape of Good Hope is a rocky headland on the Atlantic coast of the Cape Peninsula, South Africa.There is a misconception that the Cape of Good Hope is the southern tip of Africa, because it was once believed to be the dividing point between the Atlantic and Indian Oceans. In fact, the...
south of
Africa
Africa
Africa is the world's second largest and second most populous continent, after Asia. At about 30.2 million km² including adjacent islands, it covers 6% of the Earth's total surface area and 20.4% of the total land area...
instead of going through the
Suez Canal
Suez Canal
The Suez Canal , also known by the nickname "The Highway to India", is an artificial sea-level waterway in Egypt, connecting the Mediterranean Sea and the Red Sea. Opened in November 1869 after 10 years of construction work, it allows water transportation between Europe and Asia without navigation...
.
Labor practices
Trade unions and
labor rights
Labor rights
Labor rights or workers' rights are a group of legal rights and claimed human rights having to do with labor relations between workers and their employers, usually obtained under labor and employment law. In general, these rights' debates have to do with negotiating workers' pay, benefits, and safe...
organizations have criticized Maersk's labor practices in different parts of the world.
In
El Salvador
El Salvador
El Salvador or simply Salvador is the smallest and the most densely populated country in Central America. The country's capital city and largest city is San Salvador; Santa Ana and San Miguel are also important cultural and commercial centers in the country and in all of Central America...
, Maersk has been accused of maintaining abusive conditions for port drivers. Charges include excessively long shifts, minimal wages and the repression of
freedom of association
Freedom of association
Freedom of association is the individual right to come together with other individuals and collectively express, promote, pursue and defend common interests....
by running union-busting campaigns, including firing and blacklisting at least 100 drivers in 2001.
Globalization Monitor, a labor rights group based in
Hong Kong
Hong Kong
Hong Kong is one of two Special Administrative Regions of the People's Republic of China , the other being Macau. A city-state situated on China's south coast and enclosed by the Pearl River Delta and South China Sea, it is renowned for its expansive skyline and deep natural harbour...
, has reported poor labor conditions in Maersk facilities in
Dongguan
Dongguan
Dongguan is a prefecture-level city in central Guangdong province, People's Republic of China.An important industrial city located in the Pearl River Delta, Dongguan borders the provincial capital of Guangzhou to the north, Huizhou to the northeast, Shenzhen to the south, and the Pearl River to...
and
Qingdao
Qingdao
' also known in the West by its postal map spelling Tsingtao, is a major city with a population of over 8.715 million in eastern Shandong province, Eastern China. Its built up area, made of 7 urban districts plus Jimo city, is home to about 4,346,000 inhabitants in 2010.It borders Yantai to the...
, China. In January and May 2008, respectively, two riots reportedly broke out amongst workers at the Maersk plant in Dongguan in protest of poor working conditions and employment terms. In April 2011, Globalization Monitor stated, "Maersk's plants in China are still far from satisfactory as long as labor and human rights are concerned."
Business with Iran
In August 2010, the U.S. government fined Maersk $3.1 million for violating its embargo on
Iran
Iran
Iran , officially the Islamic Republic of Iran , is a country in Southern and Western Asia. The name "Iran" has been in use natively since the Sassanian era and came into use internationally in 1935, before which the country was known to the Western world as Persia...
and
Sudan
Sudan
Sudan , officially the Republic of the Sudan , is a country in North Africa, sometimes considered part of the Middle East politically. It is bordered by Egypt to the north, the Red Sea to the northeast, Eritrea and Ethiopia to the east, South Sudan to the south, the Central African Republic to the...
. According to U.S. authorities, Maersk Line illegally used ships registered in the U.S. to carry 4,714 shipments of commercial cargo to Sudan and Iran between January 2003 and October 2007. Maersk could have been fined more than 60 million dollars.
Following the U.S. blacklisting of Tidewater Middle East Co., a major Iranian port operator with suspected ties to the Islamic Revolutionary Guard Corps (IRGC), Maersk suspended operations at several Iranian ports in June 2011 in order to comply with U.S. sanctions. In July 2010, the advocacy group
United Against Nuclear Iran
United Against Nuclear Iran
United Against Nuclear Iran is a non-partisan, non-profit advocacy organization that seeks "to prevent Iran from fulfilling its ambition to become a regional super-power possessing nuclear weapons." Along with other advocacy campaigns, the organization leads efforts to pressure companies to stop...
originally highlighted Maersk's ties to Tidewater and called on Maersk to cease its business in Iran.
See also
External links