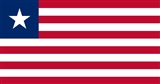 Liberia
Liberia
, officially the
Republic of Liberia
, is a country in
West Africa
West Africa
West Africa or Western Africa is the westernmost region of the African continent. Geopolitically, the UN definition of Western Africa includes the following 16 countries and an area of approximately 5 million square km:-Flags of West Africa:...
. It is bordered by
Sierra Leone
Sierra Leone
Sierra Leone , officially the Republic of Sierra Leone, is a country in West Africa. It is bordered by Guinea to the north and east, Liberia to the southeast, and the Atlantic Ocean to the west and southwest. Sierra Leone covers a total area of and has an estimated population between 5.4 and 6.4...
on the west,
Guinea
Guinea
Guinea , officially the Republic of Guinea , is a country in West Africa. Formerly known as French Guinea , it is today sometimes called Guinea-Conakry to distinguish it from its neighbour Guinea-Bissau. Guinea is divided into eight administrative regions and subdivided into thirty-three prefectures...
on the north and
Côte d'Ivoire
Côte d'Ivoire
The Republic of Côte d'Ivoire or Ivory Coast is a country in West Africa. It has an area of , and borders the countries Liberia, Guinea, Mali, Burkina Faso and Ghana; its southern boundary is along the Gulf of Guinea. The country's population was 15,366,672 in 1998 and was estimated to be...
on the east. Liberia's coastline is composed of mostly
mangrove
Mangrove
Mangroves are various kinds of trees up to medium height and shrubs that grow in saline coastal sediment habitats in the tropics and subtropics – mainly between latitudes N and S...
forests while the more sparsely populated inland consists of forests that open to a plateau of drier grasslands. The country possesses 40% of the remaining Upper Guinean rainforest. Liberia has a hot equatorial climate, with significant rainfall during the May to October rainy season and harsh
harmattan
Harmattan
The Harmattan is a dry and dusty West African trade wind. It blows south from the Sahara into the Gulf of Guinea between the end of November and the middle of March...
winds the remainder of the year.