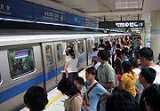 Transport
Transport
or
transportation
is the movement of people, cattle, animals and
goods
Cargo
Cargo is goods or produce transported, generally for commercial gain, by ship, aircraft, train, van or truck. In modern times, containers are used in most intermodal long-haul cargo transport.-Marine:...
from one location to another. Modes of transport include
air
Aviation
Aviation is the design, development, production, operation, and use of aircraft, especially heavier-than-air aircraft. Aviation is derived from avis, the Latin word for bird.-History:...
,
rail
Rail transport
Rail transport is a means of conveyance of passengers and goods by way of wheeled vehicles running on rail tracks. In contrast to road transport, where vehicles merely run on a prepared surface, rail vehicles are also directionally guided by the tracks they run on...
,
road
Road transport
Road transport or road transportation is transport on roads of passengers or goods. A hybrid of road transport and ship transport is the historic horse-drawn boat.-History:...
,
water
Ship transport
Ship transport is watercraft carrying people or goods . Sea transport has been the largest carrier of freight throughout recorded history. Although the importance of sea travel for passengers has decreased due to aviation, it is effective for short trips and pleasure cruises...
,
cable
Cable transport
Cable transport refers to the broad class of transport modes that rely on vehicles pulled by cables, rather than having an internal power source...
,
pipeline
Pipeline transport
Pipeline transport is the transportation of goods through a pipe. Most commonly, liquids and gases are sent, but pneumatic tubes that transport solid capsules using compressed air are also used....
, and space. The field can be divided into
infrastructure
Infrastructure
Infrastructure is basic physical and organizational structures needed for the operation of a society or enterprise, or the services and facilities necessary for an economy to function...
,
vehicle
Vehicle
A vehicle is a device that is designed or used to transport people or cargo. Most often vehicles are manufactured, such as bicycles, cars, motorcycles, trains, ships, boats, and aircraft....
s, and
operations
Business operations
Business operations are those ongoing recurring activities involved in the running of a business for the purpose of producing value for the stakeholders...
. Transport is important since it enables trade between peoples, which in turn establishes civilizations.
Transport infrastructure consists of the fixed installations necessary for transport, and may be
road
Road
A road is a thoroughfare, route, or way on land between two places, which typically has been paved or otherwise improved to allow travel by some conveyance, including a horse, cart, or motor vehicle. Roads consist of one, or sometimes two, roadways each with one or more lanes and also any...
s, railways,
airways
Airway (aviation)
In aviation, an airway is a designated route in the air. Airways are laid out between navigational aids such as VORs, NDBs and Intersections ....
,
waterway
Waterway
A waterway is any navigable body of water. Waterways can include rivers, lakes, seas, oceans, and canals. In order for a waterway to be navigable, it must meet several criteria:...
s,
canal
Canal
Canals are man-made channels for water. There are two types of canal:#Waterways: navigable transportation canals used for carrying ships and boats shipping goods and conveying people, further subdivided into two kinds:...
s and
pipelines
Pipeline transport
Pipeline transport is the transportation of goods through a pipe. Most commonly, liquids and gases are sent, but pneumatic tubes that transport solid capsules using compressed air are also used....
, and terminals such as
airport
Airport
An airport is a location where aircraft such as fixed-wing aircraft, helicopters, and blimps take off and land. Aircraft may be stored or maintained at an airport...
s,
railway station
Train station
A train station, also called a railroad station or railway station and often shortened to just station,"Station" is commonly understood to mean "train station" unless otherwise qualified. This is evident from dictionary entries e.g...
s,
bus station
Bus station
A bus station is a structure where city or intercity buses stop to pick up and drop off passengers. It is larger than a bus stop, which is usually simply a place on the roadside, where buses can stop...
s,
warehouse
Warehouse
A warehouse is a commercial building for storage of goods. Warehouses are used by manufacturers, importers, exporters, wholesalers, transport businesses, customs, etc. They are usually large plain buildings in industrial areas of cities and towns. They usually have loading docks to load and unload...
s, trucking terminals, refueling depots (including fueling docks and fuel stations), and seaports.