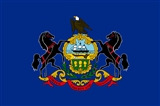 Pennsylvania
Topics
Pennsylvania
Timeline

Timeline
1681 Charles II grants a land charter to William Penn for the area that will later become Pennsylvania.
1682 William Penn receives the area that is now the state of Delaware, and adds it to his colony of Pennsylvania.
1682 Philadelphia, Pennsylvania is founded.
1683 William Penn signs a friendship treaty with Lenni Lenape Indians in Pennsylvania.
1683 William Penn brings 13 German immigrant families to the colony of Pennsylvania, marking the first major immigration of German people to America.
1738 A treaty between Pennsylvania and Maryland ends the Conojocular War with settlement of a boundary dispute and exchange of prisoners.
1754 French and Indian War: in the first engagement of the war, Virginia militia under 22-year-old Lieutenant Colonel George Washington defeat a French reconnaissance party in the Battle of Jumonville Glen in what is now Fayette County in southwestern Pennsylvania.
1758 Mary Campbell is abducted from her home in Pennsylvania by Lenape during the French and Indian War.
1767 Mason-Dixon line, survey separating Maryland from Pennsylvania is completed.
1775 The first abolition society in North America is established. The Society for the Relief of Free Negroes Unlawfully Held in Bondage is organized in Philadelphia, Pennsylvania by Benjamin Franklin and Benjamin Rush.
1776 Delaware Separation Day – Delaware votes to suspend government under the British Crown and separate officially from Pennsylvania.
1776 The Declaration of Independence is read aloud in Philadelphia, Pennsylvania and the Liberty Bell is rung.
1782 Gnadenhütten massacre: Ninety-six Native Americans in Gnadenhutten, Ohio, who had converted to Christianity are killed by Pennsylvania militiamen in retaliation for raids carried out by other Indians.
1787 Pennsylvania becomes the second state to ratify the United States Constitution five days after Delaware became the first.
1789 In New York City, the United States House of Representatives holds its first ''quorum'' and elects Frederick Muhlenberg of Pennsylvania as its first House Speaker.
1817 Opening of the first private mental health hospital in the United States, the Asylum for the Relief of Persons Deprived of the Use of Their Reason (now Friends Hospital) in Philadelphia, Pennsylvania.
1851 Saint Joseph's University is founded in Philadelphia, Pennsylvania.
1875 A murder conviction effectively forces the violent Pennsylvanian Irish anti-owner coal miners, the "Molly Maguires", to disband.
1878 John Kehoe, the last of the Molly Maguires is executed in Pennsylvania.
1896 An explosion in the Newton Coal Company's Twin Shaft Mine in Pittston City, Pennsylvania results in a massive cave-in that kills 58 miners.
1897 Lattimer massacre: A sheriff's posse kills 20 unarmed immigrant miners in Pennsylvania, United States.
1919 The steel strike of 1919, led by the Amalgamated Association of Iron and Steel Workers, begins in Pennsylvania before spreading across the United States.
1927 U.S. Army aviation pioneer, Major Harold Geiger, dies in the crash of his Airco DH.4 de Havilland plane at Olmstead Field, Pennsylvania.
1937 Pennsylvania becomes the first (and only) state of the United States to celebrate Flag Day officially as a state holiday.
1959 Knox Mine Disaster: Water breaches the River Slope Mine near Pittston City, Pennsylvania in Port Griffith; 12 miners are killed.
1985 1985 United States-Canadian tornado outbreak: Forty-one tornadoes hit Ohio, Pennsylvania, New York, and Ontario, leaving 76 dead.
1987 Pennsylvania politician R. Budd Dwyer shoots and kills himself at a press conference on live national television, leading to debates on boundaries in journalism.
1991 Gulf War: An Iraqi scud missile hits an American military barracks in Dhahran, Saudi Arabia killing 28 U.S. Army Reservists from Pennsylvania.
1991 Senator John Heinz of Pennsylvania and six others are killed when a helicopter collides with their plane over an elementary school in Merion, Pennsylvania.