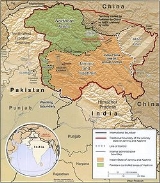 Territorial dispute
A
territorial dispute
is a disagreement over the possession/control of land between two or more
state
Sovereign state
A sovereign state, or simply, state, is a state with a defined territory on which it exercises internal and external sovereignty, a permanent population, a government, and the capacity to enter into relations with other sovereign states. It is also normally understood to be a state which is neither...
s or over the possession or control of land by a new state and occupying power after it has conquered the land from a former state no longer currently recognized by the new state.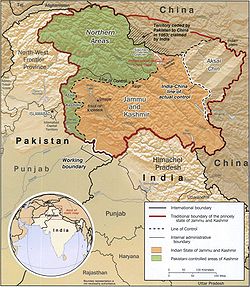 Context and definitions
These disputes are often related to the possession of
natural resource
Natural resource
Natural resources occur naturally within environments that exist relatively undisturbed by mankind, in a natural form. A natural resource is often characterized by amounts of biodiversity and geodiversity existent in various ecosystems....
s such as
river
River
A river is a natural watercourse, usually freshwater, flowing towards an ocean, a lake, a sea, or another river. In a few cases, a river simply flows into the ground or dries up completely before reaching another body of water. Small rivers may also be called by several other names, including...
s, fertile farmland,
mineral
Mineral
A mineral is a naturally occurring solid chemical substance formed through biogeochemical processes, having characteristic chemical composition, highly ordered atomic structure, and specific physical properties. By comparison, a rock is an aggregate of minerals and/or mineraloids and does not...
or
oil
Petroleum
Petroleum or crude oil is a naturally occurring, flammable liquid consisting of a complex mixture of hydrocarbons of various molecular weights and other liquid organic compounds, that are found in geologic formations beneath the Earth's surface. Petroleum is recovered mostly through oil drilling...
resources although the disputes can also be driven by
culture
Culture
Culture is a term that has many different inter-related meanings. For example, in 1952, Alfred Kroeber and Clyde Kluckhohn compiled a list of 164 definitions of "culture" in Culture: A Critical Review of Concepts and Definitions...
,
religion
Religion
Religion is a collection of cultural systems, belief systems, and worldviews that establishes symbols that relate humanity to spirituality and, sometimes, to moral values. Many religions have narratives, symbols, traditions and sacred histories that are intended to give meaning to life or to...
and
ethnic nationalism
Ethnic nationalism
Ethnic nationalism is a form of nationalism wherein the "nation" is defined in terms of ethnicity. Whatever specific ethnicity is involved, ethnic nationalism always includes some element of descent from previous generations and the implied claim of ethnic essentialism, i.e...
. Territorial disputes result often from vague and unclear language in a treaty that set up the original boundary.
Territorial disputes are a major cause of
war
War
War is a state of organized, armed, and often prolonged conflict carried on between states, nations, or other parties typified by extreme aggression, social disruption, and usually high mortality. War should be understood as an actual, intentional and widespread armed conflict between political...
s and
terrorism
Terrorism
Terrorism is the systematic use of terror, especially as a means of coercion. In the international community, however, terrorism has no universally agreed, legally binding, criminal law definition...
as states often try to assert their
sovereignty
Sovereignty
Sovereignty is the quality of having supreme, independent authority over a geographic area, such as a territory. It can be found in a power to rule and make law that rests on a political fact for which no purely legal explanation can be provided...
over a territory through invasion, and non-state entities try to influence the actions of politicians through terrorism. International law does not support the use of force by one state to annex the territory of another state. The
UN Charter
says:
"All Members shall refrain in their international relations from the threat or use of force against the territorial integrity or political independence of any state, or in any other manner inconsistent with the Purposes of the United Nations."
In some cases, where the boundary is not demarcated, such as
Ladakh plateau
Aksai Chin
Aksai Chin is one of the two main disputed border areas between China and India, and the other is South Tibet, which comprises most of India's Arunachal Pradesh. It is administered by China as part of Hotan County in the Hotan Prefecture of Xinjiang Autonomous Region, but is also claimed by India...
, the
Taiwan Strait
Taiwan Strait
The Taiwan Strait or Formosa Strait, formerly known as the Black Ditch, is a 180-km-wide strait separating Mainland China and Taiwan. The strait is part of the South China Sea and connects to East China Sea to the northeast...
, and Occupied Kashmir, both sides define a
line of control
Line of Control
The term Line of Control refers to the military control line between the Indian- and Pakistani-controlled parts of the former princely state of Jammu and Kashmir—a line which, to this day, does not constitute a legally recognized international boundary but is the de facto border...
that serves as international border
de facto
; but in the case of
Kashmir
Kashmir
Kashmir is the northwestern region of the Indian subcontinent. Until the mid-19th century, the term Kashmir geographically denoted only the valley between the Great Himalayas and the Pir Panjal mountain range...
, it is a temporary solution to the ongoing strife. Although these lines are often clearly demarcated, they do not have the legitimacy of an agreed international boundary.
The term border dispute applies only to the many cases where a limit territory bordering more than one state (including an enclave in one state such as Nagorno Karabakh) is claimed by two or more, not the very existence of a whole state challenged (such as the Republic of China

Republic of China

The Republic of China , commonly known as Taiwan , is a unitary sovereign state located in East Asia. Originally based in mainland China, the Republic of China currently governs the island of Taiwan , which forms over 99% of its current territory, as well as Penghu, Kinmen, Matsu and other minor...


, which the People's Republic of China

People's Republic of China

China , officially the People's Republic of China , is the most populous country in the world, with over 1.3 billion citizens. Located in East Asia, the country covers approximately 9.6 million square kilometres...


regards as a defunct and illegitimate entity, with its current jurisdiction of Taiwan

Taiwan

Taiwan , also known, especially in the past, as Formosa , is the largest island of the same-named island group of East Asia in the western Pacific Ocean and located off the southeastern coast of mainland China. The island forms over 99% of the current territory of the Republic of China following...


claimed by the PRC as its 23rd province).
Occupied territories

Occupied territories

Occupied territory is territory under military occupation. Occupation is a term of art in international law; in accordance with Article 42 of the Laws and Customs of War on Land ; October 18, 1907, territory is considered occupied when it is actually placed under the authority of the hostile army...


in general are regions distinct from the recognized territory of a sovereign state but which it controls, especially with military forces. Even though a long-term occupation is generally maintained as a means to act upon a territorial claim, this is not a prerequisite as occupation may also be strategic (such as creating a buffer zone

Buffer zone

A buffer zone is generally a zonal area that lies between two or more other areas , but depending on the type of buffer zone, the reason for it may be to segregate regions or to conjoin them....


or a preventive move to prevent a rival power obtaining control) or a means of coercion (such as a punishment, to impose some internal measures or for use as a bargaining chip).

Since 1967

Six-Day War

The Six-Day War , also known as the June War, 1967 Arab-Israeli War, or Third Arab-Israeli War, was fought between June 5 and 10, 1967, by Israel and the neighboring states of Egypt , Jordan, and Syria...


, the term "occupied territories" has, in some contexts, come to refer specifically to the West Bank

West Bank

The West Bank ) of the Jordan River is the landlocked geographical eastern part of the Palestinian territories located in Western Asia. To the west, north, and south, the West Bank shares borders with the state of Israel. To the east, across the Jordan River, lies the Hashemite Kingdom of Jordan...


and Gaza Strip

Gaza Strip

thumb|Gaza city skylineThe Gaza Strip lies on the Eastern coast of the Mediterranean Sea. The Strip borders Egypt on the southwest and Israel on the south, east and north. It is about long, and between 6 and 12 kilometres wide, with a total area of...


, whose status is hotly disputed.

The term irredentism

Irredentism

Irredentism is any position advocating annexation of territories administered by another state on the grounds of common ethnicity or prior historical possession, actual or alleged. Some of these movements are also called pan-nationalist movements. It is a feature of identity politics and cultural...


applies to those border disputes and other territorial claims that one party justifies on the basis of former cultural or ethnic attachment.
See also
Fait accompli

Fait Accompli

Fait accompli is a French phrase which means literally "an accomplished deed". It is commonly used to describe an action which is completed before those affected by it are in a position to query or reverse it...



Status quo ante bellum

Status quo ante bellum

The term status quo ante bellum is Latin, meaning literally "the state in which things were before the war".The term was originally used in treaties to refer to the withdrawal of enemy troops and the restoration of prewar leadership. When used as such, it means that no side gains or loses...



Thalweg

Thalweg

Thalweg in geography and fluvial geomorphology signifies the deepest continuous inline within a valley or watercourse system.-Hydrology:In hydrological and fluvial landforms, the thalweg is a line drawn to join the lowest points along the entire length of a stream bed or valley in its downward...



Sources and references
WorldStatesman – click on any state for the listing (after the chronological lists of statesmen) of Territorial Disputes it is party to
Territorial disputes in CIA World Factbook