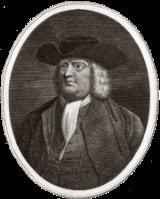 William Penn
William Penn
was an
English
English people
The English are a nation and ethnic group native to England, who speak English. The English identity is of early mediaeval origin, when they were known in Old English as the Anglecynn. England is now a country of the United Kingdom, and the majority of English people in England are British Citizens...
real estate
Real estate
In general use, esp. North American, 'real estate' is taken to mean "Property consisting of land and the buildings on it, along with its natural resources such as crops, minerals, or water; immovable property of this nature; an interest vested in this; an item of real property; buildings or...
entrepreneur
Entrepreneur
An entrepreneur is an owner or manager of a business enterprise who makes money through risk and initiative.The term was originally a loanword from French and was first defined by the Irish-French economist Richard Cantillon. Entrepreneur in English is a term applied to a person who is willing to...
, philosopher, and founder of the
Province of Pennsylvania
Province of Pennsylvania
The Province of Pennsylvania, also known as Pennsylvania Colony, was founded in British America by William Penn on March 4, 1681 as dictated in a royal charter granted by King Charles II...
, the English North American
colony
Colony
In politics and history, a colony is a territory under the immediate political control of a state. For colonies in antiquity, city-states would often found their own colonies. Some colonies were historically countries, while others were territories without definite statehood from their inception....
and the future
Commonwealth
Commonwealth
Commonwealth is a traditional English term for a political community founded for the common good. Historically, it has sometimes been synonymous with "republic."More recently it has been used for fraternal associations of some sovereign nations...
of
Pennsylvania
Pennsylvania
The Commonwealth of Pennsylvania is a U.S. state that is located in the Northeastern and Mid-Atlantic regions of the United States. The state borders Delaware and Maryland to the south, West Virginia to the southwest, Ohio to the west, New York and Ontario, Canada, to the north, and New Jersey to...
. He was an early champion of
democracy
Democracy
Democracy is generally defined as a form of government in which all adult citizens have an equal say in the decisions that affect their lives. Ideally, this includes equal participation in the proposal, development and passage of legislation into law...
and religious freedom, notable for his good relations and successful treaties with the
Lenape
Lenape
The Lenape are an Algonquian group of Native Americans of the Northeastern Woodlands. They are also called Delaware Indians. As a result of the American Revolutionary War and later Indian removals from the eastern United States, today the main groups live in Canada, where they are enrolled in the...
Indians. Under his direction, the city of Philadelphia was planned and developed.
In 1682, James Duke of York , the future
James II of England
James II of England
James II & VII was King of England and King of Ireland as James II and King of Scotland as James VII, from 6 February 1685. He was the last Catholic monarch to reign over the Kingdoms of England, Scotland, and Ireland...
, handed over a large piece of his American holdings to William Penn.
You are now fixed at the mercy of no governor that comes to make his fortune great; you shall be governed by laws of your own making and live a free, and if you will, a sober and industrious life. I shall not usurp the right of any, or oppress his person. God has furnished me with a better resolution and has given me his grace to keep it.

Letter to those already residing in Pennsylvania (1681)
Any government is free to the people under it where the laws rule and the people are a party to the laws.

Frame of Government
No pain, no palm; no thorns, no throne; no gall, no glory; no cross, no crown.

True religion does not draw men out of the world but enables them to live better in it and excites their endeavors to mend it. Full title: Some Fruits of Solitude In Reflections And Maxims

There is nothing of which we are apt to be so lavish as of Time, and about which we ought to be more solicitous; since without it we can do nothing in this World. Time is what we want most, but what, alas! we use worst; and for which God will certainly most strictly reckon with us, when Time shall be no more.

The Preface