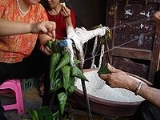 Zongzi
Zongzi
is a traditional Chinese food, made of
glutinous rice
Glutinous rice
Glutinous rice is a type of short-grained Asian rice that is especially sticky when cooked. It is called glutinous Glutinous rice (Oryza sativa var. glutinosa or Oryza glutinosa; also called sticky rice, sweet rice, waxy rice, botan rice, biroin chal, mochi rice, and pearl rice, and pulut) is a...
stuffed with different fillings and wrapped in
bamboo
Bamboo
Bamboo is a group of perennial evergreens in the true grass family Poaceae, subfamily Bambusoideae, tribe Bambuseae. Giant bamboos are the largest members of the grass family....
or
reed
Reed (plant)
Reed is a generic polyphyletic botanical term used to describe numerous tall, grass-like plants of wet places, which are the namesake vegetation of reed beds...
leaves. They are cooked by steaming or boiling. Laotians, Thais, and Cambodians (known as
nom asom
) also have similar traditional dishes. In the
Western world
Western world
The Western world, also known as the West and the Occident , is a term referring to the countries of Western Europe , the countries of the Americas, as well all countries of Northern and Central Europe, Australia and New Zealand...
, they are also known as
rice dumplings
. In Indonesia and Malaysia, they are known as
bakcang
,
bacang
, or
zang
, a loanword from
Hakka
Hakka
The Hakka , sometimes Hakka Han, are Han Chinese who speak the Hakka language and have links to the provincial areas of Guangdong, Jiangxi, Guangxi, Sichuan, Hunan and Fujian in China....
, a Chinese dialect commonly used among Indonesian-Chinese, rather than Mandarin. Along the same lines, zongzi are more popularly known as
machang
among
Chinese Filipino
Chinese Filipino
A Chinese Filipino derived from two words: "Tsino" and "Pinoy" ) is a Philippine national of Chinese ethnicity but born/raised in the Philippines....
s.
Origins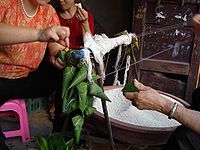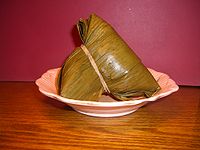 Zongzi are traditionally eaten during the
Dragon Boat Festival
Dragon Boat Festival
Duanwu Festival, also known as Dragon Boat Festival and the Double Fifth, is a traditional and statutory holiday originating in China and associated with a number of East Asian and Southeast Asian societies...
(Mandarin: Duānwǔ; Cantonese: Tuen Ng), which falls on the fifth day of the fifth month of the
lunar calendar
Lunar calendar
A lunar calendar is a calendar that is based on cycles of the lunar phase. A common purely lunar calendar is the Islamic calendar or Hijri calendar. A feature of the Islamic calendar is that a year is always 12 months, so the months are not linked with the seasons and drift each solar year by 11 to...
(approximately late-May to mid-June), commemorating the death of
Qu Yuan
Qu Yuan
Qu Yuan was a Chinese poet who lived during the Warring States Period in ancient China. He is famous for his contributions to the poetry collection known as the Chu-ci...
, a famous Chinese poet from the kingdom of
Chu
Chu (state)
The State of Chu was a Zhou Dynasty vassal state in present-day central and southern China during the Spring and Autumn period and Warring States Period . Its ruling house had the surname Nai , and clan name Yan , later evolved to surname Mi , and clan name Xiong...
who lived during the
Warring States period
Warring States Period
The Warring States Period , also known as the Era of Warring States, or the Warring Kingdoms period, covers the Iron Age period from about 475 BC to the reunification of China under the Qin Dynasty in 221 BC...
. Known for his patriotism, Qu Yuan tried unsuccessfully to warn his king and countrymen against the
expansionism
Expansionism
In general, expansionism consists of expansionist policies of governments and states. While some have linked the term to promoting economic growth , more commonly expansionism refers to the doctrine of a state expanding its territorial base usually, though not necessarily, by means of military...
of their
Qin
Qin (state)
The State of Qin was a Chinese feudal state that existed during the Spring and Autumn and Warring States Periods of Chinese history...
neighbors. When the
Qin
Qin (state)
The State of Qin was a Chinese feudal state that existed during the Spring and Autumn and Warring States Periods of Chinese history...
general
Bai Qi
Bai Qi
Bái Qǐ was an outstanding military leader of the State of Qin during the Warring States Period of Chinese history. Born in Mei , as commander of the Qin army for more than 30 years, Bai Qi was responsible for the deaths of a total over 890,000 enemy soldiers, earning him the nickname Ren Tu...
took Yingdu, the Chu capital, in 278 BC, Qu Yuan's grief was so intense that he drowned himself in the
Miluo river
Miluo River
The Miluo River is an important river in the Dongting Lake watershed. It is famous as the location of the ritual suicide in 278 BC of Qu Yuan, a poet of Chu state during the Warring States period, in protest against the corruption of the era....
after penning the
Lament for Ying
Lament for Ying
Lament for Ying is a poem written by noted Chinese poet Qu Yuan in around 278 BCE. It is from the "Nine Declarations" section of the Chuci poetry anthology, compiled in ancient China.-Background:...
. According to legend, packets of rice were thrown into the river to prevent the
fish
Fish
Fish are a paraphyletic group of organisms that consist of all gill-bearing aquatic vertebrate animals that lack limbs with digits. Included in this definition are the living hagfish, lampreys, and cartilaginous and bony fish, as well as various extinct related groups...
from eating the poet's body.
Description
The shape of zongzi range from being relatively tetrahedral in northern China to cylindrical in southern China. Wrapping a zongzi neatly is a skill that is passed down through
families
Family
In human context, a family is a group of people affiliated by consanguinity, affinity, or co-residence. In most societies it is the principal institution for the socialization of children...
, as are the recipes. Making zongzi is traditionally a family event of which everyone helps out.
While traditional zongzi are wrapped in
bamboo
Bamboo
Bamboo is a group of perennial evergreens in the true grass family Poaceae, subfamily Bambusoideae, tribe Bambuseae. Giant bamboos are the largest members of the grass family....
leaves, the leaves of
lotus
Nelumbo nucifera
Nelumbo nucifera, known by a number of names including Indian Lotus, Sacred Lotus, Bean of India, or simply Lotus, is a plant in the monogeneric family Nelumbonaceae...
,
maize
Maize
Maize known in many English-speaking countries as corn or mielie/mealie, is a grain domesticated by indigenous peoples in Mesoamerica in prehistoric times. The leafy stalk produces ears which contain seeds called kernels. Though technically a grain, maize kernels are used in cooking as a vegetable...
,
banana
Banana
Banana is the common name for herbaceous plants of the genus Musa and for the fruit they produce. Bananas come in a variety of sizes and colors when ripe, including yellow, purple, and red....
,
canna
Canna (plant)
Canna is a genus of nineteen species of flowering plants. The closest living relations to cannas are the other plant families of the order Zingiberales, that is the gingers, bananas, marantas, heliconias, strelitzias, etc.Canna is the only genus in the family Cannaceae...
,
shell ginger
Alpinia zerumbet
Alpinia zerumbet is a Chinese perennial plant of the ginger family ....
and
pandan
Pandanus
Pandanus is a genus of monocots with about 600 known species. They are numerous palmlike dioecious trees and shrubs native of the Old World tropics and subtropics. They are classified in the order Pandanales, family Pandanaceae.-Overview:...
leaves sometimes are used as substitutes in other countries. Each kind of leaf imparts its own unique smell and flavor to the rice.
The fillings used for zongzi vary from region to region, but the
rice
Rice
Rice is the seed of the monocot plants Oryza sativa or Oryza glaberrima . As a cereal grain, it is the most important staple food for a large part of the world's human population, especially in East Asia, Southeast Asia, South Asia, the Middle East, and the West Indies...
used is always
glutinous rice
Glutinous rice
Glutinous rice is a type of short-grained Asian rice that is especially sticky when cooked. It is called glutinous Glutinous rice (Oryza sativa var. glutinosa or Oryza glutinosa; also called sticky rice, sweet rice, waxy rice, botan rice, biroin chal, mochi rice, and pearl rice, and pulut) is a...
(also called "sticky rice" or "sweet rice"). Depending on the region, the rice may be lightly precooked by stir-frying or soaked in water before using.
Fillings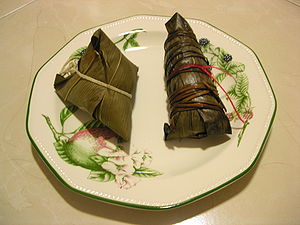 Mung bean

Mung bean

The mung bean is the seed of Vigna radiata. It is native to the Indian subcontinent.-Description:They are small, ovoid in shape, and green in color...


s, split and dehulled
Red bean paste

Red bean paste

Red bean paste or Azuki bean paste is a sweet, dark red bean paste originating from China. It is used in Chinese cuisine, Japanese confectionery, and Korean cuisine. It is prepared by boiling and mashing azuki beans and then sweetening the paste with sugar or honey...



Jujube

Jujube

Ziziphus zizyphus , commonly called jujube , red date, Chinese date, Korean date, or Indian date is a species of Ziziphus in the buckthorn family Rhamnaceae, used primarily as a fruiting shade tree.-Distribution:Its precise natural distribution is uncertain due to extensive cultivation,...


s
Char siu

Char siu

Char siu , otherwise known as barbecued meat in China or Chinese-flavored barbecued meat outside China, is a popular way to flavor and prepare pork in Cantonese cuisine. It is classified as a type of siu mei, Cantonese roasted meat...


(Chinese barbecued pork)
Chinese sausage

Chinese sausage

Chinese sausage is a generic term referring to the many different types of sausages originating in China. It is commonly known by its Cantonese name "Lap Cheong" or "Lap Chong" .-Varieties:...



Salted pork fat
Chinese black mushrooms
Salted duck egg

Salted duck egg

A salted duck egg is a Chinese preserved food product made by soaking duck eggs in brine, or packing each egg in damp, salted charcoal. In Asian supermarkets, these eggs are sometimes sold covered in a thick layer of salted charcoal paste. The eggs may also be sold with the salted paste removed,...


s
Chestnut

Chestnut

Chestnut , some species called chinkapin or chinquapin, is a genus of eight or nine species of deciduous trees and shrubs in the beech family Fagaceae, native to temperate regions of the Northern Hemisphere. The name also refers to the edible nuts they produce.-Species:The chestnut belongs to the...


s
Cooked peanut

Peanut

The peanut, or groundnut , is a species in the legume or "bean" family , so it is not a nut. The peanut was probably first cultivated in the valleys of Peru. It is an annual herbaceous plant growing tall...


s
Conpoy

Conpoy

Conpoy or dried scallop is a type of dried seafood product made from the adductor muscle of scallops. The smell of conpoy is marine, pungent, and reminiscent of certain salt-cured meats. Its taste is rich and umami due to its high content of various free amino acids, such as glycine, alanine, and...


(dried scallops)
Red-cooked

Red cooking

In Chinese cooking, Red cooking is a slow braising cooking technique that imparts a red color to the prepared food....


pork
Chicken

Chicken (food)

Chicken is the most common type of poultry in the world, and is prepared as food in a wide variety of ways, varying by region and culture.- History :...



Taro

Taro

Taro is a common name for the corms and tubers of several plants in the family Araceae . Of these, Colocasia esculenta is the most widely cultivated, and is the subject of this article. More specifically, this article describes the 'dasheen' form of taro; another variety is called eddoe.Taro is...



Zongzi need to be
steamed
Steaming
Steaming is a method of cooking using steam. Steaming is considered a healthy cooking technique and capable of cooking almost all kinds of food.-Method:...
or
boiled
Boiling
Boiling is the rapid vaporization of a liquid, which occurs when a liquid is heated to its boiling point, the temperature at which the vapor pressure of the liquid is equal to the pressure exerted on the liquid by the surrounding environmental pressure. While below the boiling point a liquid...
for several hours depending on how the rice is made prior to being added, along with the fillings. However, as the modes of zongzi styles have traveled and become mixed, today one can find all kinds of zongzi at traditional markets, and their types are not confined to which side of the
Yellow River
Yellow River
The Yellow River or Huang He, formerly known as the Hwang Ho, is the second-longest river in China and the sixth-longest in the world at the estimated length of . Originating in the Bayan Har Mountains in Qinghai Province in western China, it flows through nine provinces of China and empties into...
they originated from.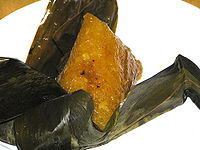 Variations
Jia zong (假粽): Instead of glutinous rice, balls of glutinous rice flour (so no individual grains of rice are discernible) are used to "contain" the fillings of the zongzi. These zongzi are typically smaller than most, and are much stickier.
Jianshui zong (碱水粽): Meaning "alkaline water zong," these are typically eaten as a dessert item rather than as part of the main meal. The glutinous rice is treated with lye

Lye

Lye is a corrosive alkaline substance, commonly sodium hydroxide or historically potassium hydroxide . Previously, lye was among the many different alkalis leached from hardwood ashes...


water (aqueous sodium carbonate

Sodium carbonate

Sodium carbonate , Na2CO3 is a sodium salt of carbonic acid. It most commonly occurs as a crystalline heptahydrate, which readily effloresces to form a white powder, the monohydrate. Sodium carbonate is domestically well-known for its everyday use as a water softener. It can be extracted from the...


), or potassium carbonate, giving them their distinctive yellow color. Jianshui zong typically contain either no filling or are filled with a sweet mixture, such as sweet bean paste

Sweet bean paste

Sweet bean paste is a food ingredient used in several Asian cuisines. Within Chinese cuisine, it is primarily used as a filling for sweet desserts and Chinese pastry.- Production :...


. Sometimes, a certain red wood sliver (shu mok) is inserted for color and flavor. They are often eaten with sugar

Sugar

Sugar is a class of edible crystalline carbohydrates, mainly sucrose, lactose, and fructose, characterized by a sweet flavor.Sucrose in its refined form primarily comes from sugar cane and sugar beet...


or light syrup

Syrup

In cooking, a syrup is a thick, viscous liquid consisting primarily of a solution of sugar in water, containing a large amount of dissolved sugars but showing little tendency to deposit crystals...


.
Nyonya zong (娘惹粽): A specialty of Peranakan cuisine, these zongzi are made similarly as southern zongzi. However, the wrapping used is pandan leaves.
Taiwan

Taiwan

Taiwan , also known, especially in the past, as Formosa , is the largest island of the same-named island group of East Asia in the western Pacific Ocean and located off the southeastern coast of mainland China. The island forms over 99% of the current territory of the Republic of China following...


zongzi (臺灣粽): The northern Taiwanese zongzi (北部粽) are wrapped with husks of "Phyllostachys

Phyllostachys

Phyllostachys is a genus of bamboo. The species are native to Asia with a large number of species found in Central China, but can now be found in many temperate and semi-tropical areas around the world as cultivated plants or escapes from cultivation...


makinoi" bamboo (桂竹籜), then steamed; southern Taiwanese zongzi (南部粽) are wrapped with leaves of Bambusa oldhamii

Bambusa oldhamii

Bambusa oldhamii, known as giant timber bamboo or Oldham's bamboo, is a large species of bamboo originating from Taiwan. It is the most common and widely grown in the United States and has been introduced into cultivation around the world...


(麻竹葉), then boiled.
Making zongzi
Steep glutinous rice in water to soften.
Put two bamboo or reed leaves together and fold them like a funnel.
Fill the leaves with rice and various fillings.
Wrap the leaves tightly and tie with string.
Cook by steaming or boiling for an hour or two.
See also
Lo mai gai

Lo mai gai

Lo mai gai, pronounced in Cantonese speaking regions or Nuo mi ji pronounced in Mandarin speaking regions, is a classic dim sum dish served during yum cha hours. The dish is also called steamed glutinous rice with chicken in lotus leaf wrap....


or Lotus leaf wrap
Bánh chưng

Banh Chung

Bánh chưng is a traditional Vietnamese cake which is made from glutinous rice, mung bean, pork and other ingredients. Its origin is told by the legend of Lang Liêu, a prince of the sixth Hùng Vương, who became Hùng Vương's successor thank to his creation of bánh chưng and bánh dày, which...



Bánh tẻ
Bánh tét

Bánh tét

Bánh tét is a Vietnamese savoury but sometimes sweetened cake made primarily from glutinous rice, which is rolled in a banana leaf into a thick, log-like cylindrical shape, with a meat or vegetarian filling , then boiled. After cooking, the banana leaf is removed and the cake is sliced into...



Tamale

Tamale

A tamale — or more correctly tamal — is a traditional Latin American dish made of masa , which is steamed or boiled in a leaf wrapper. The wrapping is discarded before eating...



Pamonha

Pamonha

Pamonha is a traditional Brazilian food. It is a paste made from fresh corn and milk, boiled wrapped in corn husks. Variations may include coconut milk. Pamonhas can be savoury or sweet, the latter being the norm in north-east Brazil...



Pasteles

Pasteles

Pasteles are a traditional dish in several Latin American countries. In Puerto Rico, the Dominican Republic, Trinidad and Tobago, the Caribbean coast of Colombia, and Panama, it is similar to a tamale. In Central American cuisine, it more closely resembles a British pasty or an Italian calzone.In...



Hallaca

Hallaca

In Venezuelan cuisine, an hallaca typically involves a mixture of beef, pork, chicken, capers, raisins, and olives wrapped in maize , bound with string within plantain leaves, and boiled or steamed afterwards. It is typically served during the Christmas holiday...



Corunda

Corunda

Corunda is a Mexican food, similar to tamales, but wrapped in a long green corn plant leaf, and folded, making a triangular shape. Eaten with cream and red salsa, filled with masa mix and usually without a meaty filling. They're steamed till golden before being eaten, and then, one unwraps the leaf...



External links