 Zest (ingredient)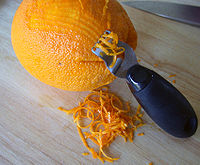 Zest
is a food ingredient that is prepared by scraping or cutting from the outer, colorful skin of
citrus fruits
Citrus
Citrus is a common term and genus of flowering plants in the rue family, Rutaceae. Citrus is believed to have originated in the part of Southeast Asia bordered by Northeastern India, Myanmar and the Yunnan province of China...
such as
lemon
Lemon
The lemon is both a small evergreen tree native to Asia, and the tree's ellipsoidal yellow fruit. The fruit is used for culinary and non-culinary purposes throughout the world – primarily for its juice, though the pulp and rind are also used, mainly in cooking and baking...
,
orange
Orange (fruit)
An orange—specifically, the sweet orange—is the citrus Citrus × sinensis and its fruit. It is the most commonly grown tree fruit in the world....
,
citron
Citron
Not to be confused with Cintron.The citron is a fragrant citrus fruit, botanically classified as Citrus medica by both the Swingle and Tanaka systems...
, and
lime
Lime (fruit)
Lime is a term referring to a number of different citrus fruits, both species and hybrids, which are typically round, green to yellow in color, 3–6 cm in diameter, and containing sour and acidic pulp. Limes are a good source of vitamin C. Limes are often used to accent the flavors of foods and...
. Zest is used to add flavor ("zest") to foods.
In terms of
fruit anatomy
Fruit anatomy
Fruit anatomy is the internal structure of fruit, the mature ovary or ovaries from one or more flowers. In fleshy fruits, the outer and often edible layer is the pericarp, which is the tissue that develops from the ovary wall of the flower and surrounds the seeds. Some edible "vegetables" such as...
, zest is obtained from the flavedo (exocarp). The flavedo and white pith (albedo) of a citrus fruit together makes up its
peel
Peel (fruit)
Peel, also known as rind or skin, is the outer protective layer of a fruit or vegetable which could be peeled off. The rind is usually the botanical exocarp, but the term exocarp does also include the hard cases of nuts, which are not named peels since they are not peeled off by hand or peeler, but...
. The amounts of both flavedo and pith are variable among citrus fruits, and may be adjusted by the manner in which they are prepared. Citrus peel may be used fresh, dried, candied, or pickled in salt.
Preparation
For culinary use, a zester, spin zester,
grater
Grater
A grater is a kitchen utensil used to grate foods into fine pieces. It was invented by François Boullier in the 1540s.-Uses:...
, vegetable
peeler
Peeler
A peeler is a metal blade attached to a wooden, metal or plastic handle that is used to remove the outer skin or peel thus peeling certain vegetables, frequently potatoes, and fruits such as apples, pears, et cetera.There are three main varieties, the Lancashire design involving the blade as an...
, paring knife, or even a
surform
Surform
A surform tool features perforated sheet metal and resembles a food grater. A surform tool consists of a steel strip with holes punched out and the rim of each hole sharpened to form a cutting edge. The strip is mounted in a carriage or handle...
tool is used to scrape or cut zest from the fruit. Often times, the most effective tool or form for preparing is the Spin Zester. Alternatively, the peel is sliced then excess pith cut away.
The white portion of the peel under the zest (
pith
Pith
Pith, or medulla, is a tissue in the stems of vascular plants. Pith is composed of soft, spongy parenchyma cells, which store and transport nutrients throughout the plant. In eudicots, pith is located in the center of the stem. In monocots, it extends also into flowering stems and roots...
,
albedo
or mesocarp) is unpleasantly bitter and generally avoided by limiting the peeling depth. The pith can be used for cooking.
Uses
Zest is often used to add flavor to different pastries and sweets, such as
pie
Pie
A pie is a baked dish which is usually made of a pastry dough casing that covers or completely contains a filling of various sweet or savoury ingredients....
s (e.g.
lemon meringue pie
Lemon meringue pie
Lemon meringue pie is a type of baked pie, usually served for dessert, made with a crust usually made of shortcrust or shortbread pastry, lemon curd filling and a fluffy meringue topping. Lemon meringue pie is typically prepared with a bottom pie crust, but with no upper crust: i.e. the meringue is...
), cakes,
cookie
Cookie
In the United States and Canada, a cookie is a small, flat, baked treat, usually containing fat, flour, eggs and sugar. In most English-speaking countries outside North America, the most common word for this is biscuit; in many regions both terms are used, while in others the two words have...
s,
biscuit
Biscuit
A biscuit is a baked, edible, and commonly flour-based product. The term is used to apply to two distinctly different products in North America and the Commonwealth Nations....
s,
pudding
Pudding
Pudding most often refers to a dessert, but it can also be a savory dish.In the United States, pudding characteristically denotes a sweet milk-based dessert similar in consistency to egg-based custards, though it may also refer to other types such as bread and rice pudding.In the United Kingdom and...
s,
confectionery
Confectionery
Confectionery is the set of food items that are rich in sugar, any one or type of which is called a confection. Modern usage may include substances rich in artificial sweeteners as well...
,
candy
Candy
Candy, specifically sugar candy, is a confection made from a concentrated solution of sugar in water, to which flavorings and colorants are added...
and
chocolate
Chocolate
Chocolate is a raw or processed food produced from the seed of the tropical Theobroma cacao tree. Cacao has been cultivated for at least three millennia in Mexico, Central and South America. Its earliest documented use is around 1100 BC...
. Even different dishes,
marmalade
Marmalade
Marmalade is a fruit preserve made from the juice and peel of citrus fruits, boiled with sugar and water. The benchmark citrus fruit for marmalade production in Britain is the "Seville orange" from Spain, Citrus aurantium var...
,
sauce
Sauce
In cooking, a sauce is liquid, creaming or semi-solid food served on or used in preparing other foods. Sauces are not normally consumed by themselves; they add flavor, moisture, and visual appeal to another dish. Sauce is a French word taken from the Latin salsus, meaning salted...
s, sorbets and
salad
Salad
Salad is any of a wide variety of dishes, including vegetable salads; salads of pasta, legumes, eggs, or grains; mixed salads incorporating meat, poultry, or seafood; and fruit salads. They may include a mixture of cold and hot, often including raw vegetables or fruits.Green salads include leaf...
s can use zest.
Savoury dishes in which zest is an important ingredient include many
rice
Rice
Rice is the seed of the monocot plants Oryza sativa or Oryza glaberrima . As a cereal grain, it is the most important staple food for a large part of the world's human population, especially in East Asia, Southeast Asia, South Asia, the Middle East, and the West Indies...
dishes; also some notable meat dishes such as ossobuco alla milanese.
Zest is a key ingredient used to make a variety of sweet and sour condiments, including lemon pickle, lime chutney, and
marmalade
Marmalade
Marmalade is a fruit preserve made from the juice and peel of citrus fruits, boiled with sugar and water. The benchmark citrus fruit for marmalade production in Britain is the "Seville orange" from Spain, Citrus aurantium var...
. Also in numerous
lemon liqueur
Lemon liqueur
Lemon liqueur is a liqueur made from lemons, liquor, and sugar. It is light to bright lemon yellow in color; intensely lemony in flavor; clear, cloudy, or opaque; and sweet or sweet and sour. Lemon zest is used, with or without lemon juice. If juice is omitted, water may be added, and the...
s and in liquors such as
Licor de oro
Licor de oro
Licor de oro is a typical Chilotan liqueur made of aguardiente and whey. The other ingredients are saffron and lemon peel....
.
Zest is used in some
cocktail
Cocktail
A cocktail is an alcoholic mixed drink that contains two or more ingredients—at least one of the ingredients must be a spirit.Cocktails were originally a mixture of spirits, sugar, water, and bitters. The word has come to mean almost any mixed drink that contains alcohol...
s not only for flavor and aroma but also for color as a garnish. For use as a cocktail garnish, zest is often cut in a long spiral called a
twist
Twist (cocktail garnish)
A twist is a piece of citrus zest used as a cocktail garnish, generally for decoration and to add flavor when added to a mixed drink.There are a variety of ways of making and using twists. Twists are typically cut from a whole fresh fruit with a small kitchen knife immediately prior to serving,...
. Cocktails featuring a twist include Dry Martini and
Horse's Neck
Horse's Neck
A Horse's Neck is an American cocktail recognized by the IBA. It is made with brandy and ginger ale, with a long spiral of lemon peel draped over the edge of an old fashioned or highball glass...
. For maximum flavor and aroma, as in
mulled wine
Mulled wine
Mulled wine, variations of which are popular in Europe, is wine, usually red, combined with spices and typically served warm. It is a traditional drink during winter, especially around Christmas and Halloween.-Glühwein:...
, zest is simply cut from the fruit with a knife.
Commercial uses
The flavedo is the source of citrus
essential oil
Essential oil
An essential oil is a concentrated hydrophobic liquid containing volatile aroma compounds from plants. Essential oils are also known as volatile oils, ethereal oils or aetherolea, or simply as the "oil of" the plant from which they were extracted, such as oil of clove...
s (
orange oil
Orange oil
Orange oil is an essential oil produced by cells inside the rind of an orange fruit. In contrast to most essential oils, it is extracted as a by-product of orange juice production by centrifugation, producing a cold-pressed oil...
, lemon oil, etc.), which are important flavorings. Lemon essential oil is the principal flavor ingredient in
lemon drop
Lemon drop
A lemon drop is a sugary, lemon-flavored candy that is typically colored yellow and often shaped like a miniature lemon. They can be sweet or have a more sour flavor....
s.
Restaurants typically use a large quantity of zest.