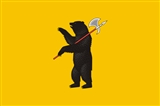 Yaroslavl Oblast
Yaroslavl Oblast
is a
federal subject
Federal subjects of Russia
Russia is a federation which, since March 1, 2008, consists of 83 federal subjects . In 1993, when the Constitution was adopted, there were 89 federal subjects listed...
of
Russia
Russia
Russia or , officially known as both Russia and the Russian Federation , is a country in northern Eurasia. It is a federal semi-presidential republic, comprising 83 federal subjects...
(an
oblast
Oblast
Oblast is a type of administrative division in Slavic countries, including some countries of the former Soviet Union. The word "oblast" is a loanword in English, but it is nevertheless often translated as "area", "zone", "province", or "region"...
), which is located in the
Central Federal District
Central Federal District
The Central Federal District is one of the eight federal districts of Russia. The word "Central" is of political and historical meaning; geographically, the district is situated in the extreme west of Russia. The district spans an area of , with a population of 38,438,600 according to the 2010...
, surrounded by
Tver
Tver Oblast
Tver Oblast is a federal subject of Russia . Its administrative center is the city of Tver. From 1935 to 1990, it was named Kalinin Oblast after Mikhail Kalinin. Population: Tver Oblast is an area of lakes, such as Seliger and Brosno...
,
Moscow
Moscow Oblast
Moscow Oblast , or Podmoskovye , is a federal subject of Russia . Its area, at , is relatively small compared to other federal subjects, but it is one of the most densely populated regions in the country and, with the 2010 population of 7,092,941, is the second most populous federal subject...
,
Ivanovo
Ivanovo Oblast
Ivanovo Oblast is a federal subject of Russia .Its three largest cities are Ivanovo , Kineshma, and Shuya.The principal center of tourism is Plyos. The Volga River flows through the northern part of the oblast....
,
Vladimir
Vladimir Oblast
Vladimir Oblast is a federal subject of Russia . Its administrative center is the city of Vladimir, which is located east of Moscow...
,
Kostroma
Kostroma Oblast
Kostroma Oblast is a federal subject of Russia . Its administrative center is the city of Kostroma.Major historic towns include Kostroma, Sharya, Nerekhta, Galich, Soligalich, and Makaryev. Textile industries have been developed there since the early 18th century...
, and
Vologda Oblast
Vologda Oblast
Vologda Oblast is a federal subject of Russia . Its administrative center is Vologda. The largest city is Cherepovets.Vologda Oblast is rich in historic monuments, such as the magnificent Kirillo-Belozersky Monastery, Ferapontov Convent , medieval towns of Velikiy Ustyug and Belozersk, baroque...
s. This geographic location affords the oblast the advantages of proximity to
Moscow
Moscow
Moscow is the capital, the most populous city, and the most populous federal subject of Russia. The city is a major political, economic, cultural, scientific, religious, financial, educational, and transportation centre of Russia and the continent...
and
St. Petersburg
Saint Petersburg
Saint Petersburg is a city and a federal subject of Russia located on the Neva River at the head of the Gulf of Finland on the Baltic Sea...
. Additionally, the administrative center of the oblast—the city of
Yaroslavl
Yaroslavl
Yaroslavl is a city and the administrative center of Yaroslavl Oblast, Russia, located northeast of Moscow. The historical part of the city, a World Heritage Site, is located at the confluence of the Volga and the Kotorosl Rivers. It is one of the Golden Ring cities, a group of historic cities...
—is an intersection of major
highway
Highway
A highway is any public road. In American English, the term is common and almost always designates major roads. In British English, the term designates any road open to the public. Any interconnected set of highways can be variously referred to as a "highway system", a "highway network", or a...
s, railroads, and
waterway
Waterway
A waterway is any navigable body of water. Waterways can include rivers, lakes, seas, oceans, and canals. In order for a waterway to be navigable, it must meet several criteria:...
s.
Nature
The climate is moderate continental, with snowy winters and a short but rather hot summer. Formerly almost all territory was covered with thick conifer forest (
fir
Fir
Firs are a genus of 48–55 species of evergreen conifers in the family Pinaceae. They are found through much of North and Central America, Europe, Asia, and North Africa, occurring in mountains over most of the range...
,
pine
Pine
Pines are trees in the genus Pinus ,in the family Pinaceae. They make up the monotypic subfamily Pinoideae. There are about 115 species of pine, although different authorities accept between 105 and 125 species.-Etymology:...
), but now a large portion of it has been replaced with
birch
Birch
Birch is a tree or shrub of the genus Betula , in the family Betulaceae, closely related to the beech/oak family, Fagaceae. The Betula genus contains 30–60 known taxa...
-and-
aspen
Aspen
Populus section Populus, of the Populus genus, includes the aspen trees and the white poplar Populus alba. The five typical aspens are all native to cold regions with cool summers, in the north of the Northern Hemisphere, extending south at high altitudes in the mountains. The White Poplar, by...
secondary forests and crop fields. Swamps also take considerable areas.
Large animals have been much reduced in numbers, but there are still some
bear
Bear
Bears are mammals of the family Ursidae. Bears are classified as caniforms, or doglike carnivorans, with the pinnipeds being their closest living relatives. Although there are only eight living species of bear, they are widespread, appearing in a wide variety of habitats throughout the Northern...
s, wolves,
fox
Fox
Fox is a common name for many species of omnivorous mammals belonging to the Canidae family. Foxes are small to medium-sized canids , characterized by possessing a long narrow snout, and a bushy tail .Members of about 37 species are referred to as foxes, of which only 12 species actually belong to...
es,
moose
Moose
The moose or Eurasian elk is the largest extant species in the deer family. Moose are distinguished by the palmate antlers of the males; other members of the family have antlers with a dendritic configuration...
, and wild boars.
A great number of wild
bird
Bird
Birds are feathered, winged, bipedal, endothermic , egg-laying, vertebrate animals. Around 10,000 living species and 188 families makes them the most speciose class of tetrapod vertebrates. They inhabit ecosystems across the globe, from the Arctic to the Antarctic. Extant birds range in size from...
s live and nest in the oblast.
In cities, most common birds are pigeons,
jackdaw
Jackdaw
The Jackdaw , sometimes known as the Eurasian Jackdaw, European Jackdaw or Western Jackdaw, is a passerine bird in the crow family. Found across Europe, western Asia and North Africa, it is mostly sedentary, although northern and eastern populations migrate south in winter. Four subspecies are...
s,
hooded crows
Hooded Crow
The Hooded Crow is a Eurasian bird species in the crow genus. Widely distributed, it is also known locally as Scotch Crow, Danish Crow, and Corbie or Grey Crow in Ireland, which is what its Welsh name, Brân Lwyd, translates as...
,
rooks
Rook (bird)
The Rook is a member of the Corvidae family in the passerine order of birds. Named by Carl Linnaeus in 1758, the species name frugilegus is Latin for "food-gathering"....
,
house sparrow
House Sparrow
The House Sparrow is a bird of the sparrow family Passeridae, found in most parts of the world. One of about 25 species in the genus Passer, the House Sparrow occurs naturally in most of Europe, the Mediterranean region, and much of Asia...
s, and
great tit
Great Tit
The Great Tit is a passerine bird in the tit family Paridae. It is a widespread and common species throughout Europe, the Middle East, Central and Northern Asia, and parts of North Africa in any sort of woodland. It is generally resident, and most Great Tits do not migrate except in extremely...
s.
The
Volga River
Volga River
The Volga is the largest river in Europe in terms of length, discharge, and watershed. It flows through central Russia, and is widely viewed as the national river of Russia. Out of the twenty largest cities of Russia, eleven, including the capital Moscow, are situated in the Volga's drainage...
flows through Yaroslavl Oblast, with two major dams constructed at
Uglich
Uglich
Uglich is a historic town in Yaroslavl Oblast, Russia, which stands on the Volga River. Population: A local tradition dates the town's origins to 937. It was first documented in 1148 as Ugliche Pole...
and
Rybinsk
Rybinsk
Rybinsk is the second largest city of Yaroslavl Oblast, Russia, which lies at the confluence of the Volga and Sheksna Rivers. Population: It is served by Rybinsk Staroselye airport.-Early history:...
. The
Rybinsk Reservoir
Rybinsk Reservoir
Rybinsk Reservoir , informally called the Rybinsk Sea, is a water reservoir on the Volga River and its tributaries Sheksna and Mologa, formed by Rybinsk Hydroelectric Station dam, located on the territories of Tver, Vologda, and Yaroslavl Oblasts. At the time of its construction, it was the largest...
, filled between 1941 and 1947, is one of the largest in Europe; its filling flooded the town of
Mologa
Mologa
Mologa was a town in Yaroslavl Oblast, Russia, formerly situated at the confluence of Mologa and Volga Rivers, but now submerged under the waters of the Rybinsk Reservoir....
and several hundreds of villages, necessitating the relocation of some 150,000 in Yaroslavl, Vologda, and Kalinin (now Tver) Oblasts.
Mineral resources are limited to construction materials (such as
sand
Sand
Sand is a naturally occurring granular material composed of finely divided rock and mineral particles.The composition of sand is highly variable, depending on the local rock sources and conditions, but the most common constituent of sand in inland continental settings and non-tropical coastal...
,
gravel
Gravel
Gravel is composed of unconsolidated rock fragments that have a general particle size range and include size classes from granule- to boulder-sized fragments. Gravel can be sub-categorized into granule and cobble...
,
clay
Clay
Clay is a general term including many combinations of one or more clay minerals with traces of metal oxides and organic matter. Geologic clay deposits are mostly composed of phyllosilicate minerals containing variable amounts of water trapped in the mineral structure.- Formation :Clay minerals...
) and
peat
Peat
Peat is an accumulation of partially decayed vegetation matter or histosol. Peat forms in wetland bogs, moors, muskegs, pocosins, mires, and peat swamp forests. Peat is harvested as an important source of fuel in certain parts of the world...
. There are also mineral water springs and wells.
Demographics
These are population figures according to the
Census
Russian Census (2002)
Russian Census of 2002 was the first census of the Russian Federation carried out on October 9 through October 16, 2002. It was carried out by the Russian Federal Service of State Statistics .-Resident population:...
of 2002:
Total population: 1,367,398
Males: 617,889
Females: 749,509
Urban population: 1,106,805
Rural population: 260,593
Life expectancy:
Average: 63 years
Males: 57 years
Females: 71 years
Economy
Total volume of output for 12 months of the year 1997: 15,933.1 billion rubles

Russian ruble

The ruble or rouble is the currency of the Russian Federation and the two partially recognized republics of Abkhazia and South Ossetia. Formerly, the ruble was also the currency of the Russian Empire and the Soviet Union prior to their breakups. Belarus and Transnistria also use currencies with...


1)
Total balance profit of enterprises for 12 months of the year 1997: 1,227.4 billion roubles2)
Total tax collection for 12 month of the year 1997: 4,781.8 billion rubles (including Federal budget accruals in the amount of 1,999.3 billion roubles)
Unemployment level: 2.4% of total workforce
1)
large and medium-sized enterprises.
2)
including industry, agriculture, construction, transport.