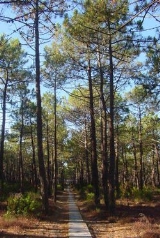 Pine
Pines
are
tree
Tree
A tree is a perennial woody plant. It is most often defined as a woody plant that has many secondary branches supported clear of the ground on a single main stem or trunk with clear apical dominance. A minimum height specification at maturity is cited by some authors, varying from 3 m to...
s in the
genus
Genus
In biology, a genus is a low-level taxonomic rank used in the biological classification of living and fossil organisms, which is an example of definition by genus and differentia...
Pinus
(icon),
in the
family
Family (biology)
In biological classification, family is* a taxonomic rank. Other well-known ranks are life, domain, kingdom, phylum, class, order, genus, and species, with family fitting between order and genus. As for the other well-known ranks, there is the option of an immediately lower rank, indicated by the...
Pinaceae
Pinaceae
Pinaceae are trees or shrubs, including many of the well-known conifers of commercial importance such as cedars, firs, hemlocks, larches, pines and spruces. The family is included in the order Pinales, formerly known as Coniferales. Pinaceae are supported as monophyletic by its protein-type sieve...
. They make up the
monotypic
Monotypic
In biology, a monotypic taxon is a taxonomic group with only one biological type. The term's usage differs slightly between botany and zoology. The term monotypic has a separate use in conservation biology, monotypic habitat, regarding species habitat conversion eliminating biodiversity and...
subfamily
Pinoideae
. There are about 115
species
Species
In biology, a species is one of the basic units of biological classification and a taxonomic rank. A species is often defined as a group of organisms capable of interbreeding and producing fertile offspring. While in many cases this definition is adequate, more precise or differing measures are...
of pine, although different authorities accept between 105 and 125 species.
The modern
English
English language
English is a West Germanic language that arose in the Anglo-Saxon kingdoms of England and spread into what was to become south-east Scotland under the influence of the Anglian medieval kingdom of Northumbria...
name
pine
derives from
Latin
Latin
Latin is an Italic language originally spoken in Latium and Ancient Rome. It, along with most European languages, is a descendant of the ancient Proto-Indo-European language. Although it is considered a dead language, a number of scholars and members of the Christian clergy speak it fluently, and...
pinus
by way of
French
French language
French is a Romance language spoken as a first language in France, the Romandy region in Switzerland, Wallonia and Brussels in Belgium, Monaco, the regions of Quebec and Acadia in Canada, and by various communities elsewhere. Second-language speakers of French are distributed throughout many parts...
pin
; similar names are used in other
Romance languages
Romance languages
The Romance languages are a branch of the Indo-European language family, more precisely of the Italic languages subfamily, comprising all the languages that descend from Vulgar Latin, the language of ancient Rome...
. In the past (pre-19th century) they were often known as
fir
, from Old Norse
fyrre
, by way of
Middle English
Middle English
Middle English is the stage in the history of the English language during the High and Late Middle Ages, or roughly during the four centuries between the late 11th and the late 15th century....
firre
.