 Wheelbuilding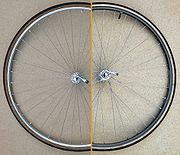 Wheelbuilding
is the art and science of assembling a
wheel
Wheel
A wheel is a device that allows heavy objects to be moved easily through rotating on an axle through its center, facilitating movement or transportation while supporting a load, or performing labor in machines. Common examples found in transport applications. A wheel, together with an axle,...
(generally a
bicycle wheel
Bicycle wheel
A bicycle wheel is a wheel, most commonly a wire wheel, designed for bicycle. A pair is often called a wheelset, especially in the context of ready built "off the shelf" performance-oriented wheels....
, although such wheels are also used on
wheelchair
Wheelchair
A wheelchair is a chair with wheels, designed to be a replacement for walking. The device comes in variations where it is propelled by motors or by the seated occupant turning the rear wheels by hand. Often there are handles behind the seat for someone else to do the pushing...
s,
motorcycle
Motorcycle
A motorcycle is a single-track, two-wheeled motor vehicle. Motorcycles vary considerably depending on the task for which they are designed, such as long distance travel, navigating congested urban traffic, cruising, sport and racing, or off-road conditions.Motorcycles are one of the most...
s, and some
car
Automobile
An automobile, autocar, motor car or car is a wheeled motor vehicle used for transporting passengers, which also carries its own engine or motor...
s, and known as
wire wheels
Wire wheels
The rims of wire wheels are connected to their hubs by wire spokes. Although these wires are generally stiffer than a typical wire rope, they function mechanically the same as tensioned flexible wires, keeping the rim true while supporting applied loads.Wire wheels are used on most bicycles and...
) from its component rim,
spoke
Spoke
A spoke is one of some number of rods radiating from the center of a wheel , connecting the hub with the round traction surface....
s,
nipple
Spoke nipple
A spoke nipple holds a bicycle wheel's rim to each spoke.The spoke nipple is a headed cylinder with threading on the inside through part of its length . The nipples will fit in holes in the rim, so that the head of the nipple is on the outermost part of the rim, while the other end of the nipple...
s and hub.
Goals
A good
wheelwright
Wheelwright
A wheelwright is a person who builds or repairs wheels. The word is the combination of "wheel" and the archaic word "wright", which comes from the Old English word "wryhta", meaning a worker or maker...
will ensure that the wheel is "true" in two ways: "lateral" (sideways wobble) and "radial" (roundness). Ideally spokes have similar tension (although the two sides will be different if a wheel is dished — i.e., if the hub
flange
Flange
A flange is an external or internal ridge, or rim , for strength, as the flange of an iron beam such as an I-beam or a T-beam; or for attachment to another object, as the flange on the end of a pipe, steam cylinder, etc., or on the lens mount of a camera; or for a flange of a rail car or tram wheel...
s are not the same distance from the center of the hub, to leave space for a cogset or a
disc brake
Disc brake
The disc brake or disk brake is a device for slowing or stopping the rotation of a wheel while it is in motion.A brake disc is usually made of cast iron, but may in some cases be made of composites such as reinforced carbon–carbon or ceramic matrix composites. This is connected to the wheel and/or...
) with tension high enough to give a rigid wheel and retain some tension under all loads but not so high as to lead to failure of spokes or the rim. Spokes should have no residual twist (windup) from tightening the nipples. The spokes may be "stress relieved", i.e. subjected to a greater tension during building than they are ever likely to encounter in use - usually by squeezing pairs of spokes together very hard. This is said to yield the spokes (and/or the hub) into a permanent shape where they bend around the hub flanges and each other.
Spoking
Spoking patterns may be radial or semi-
tangent
Tangent
In geometry, the tangent line to a plane curve at a given point is the straight line that "just touches" the curve at that point. More precisely, a straight line is said to be a tangent of a curve at a point on the curve if the line passes through the point on the curve and has slope where f...
ial. For a normal wheel size and spoke count, only the latter is suitable for a wheel that has to transmit
torque
Torque
Torque, moment or moment of force , is the tendency of a force to rotate an object about an axis, fulcrum, or pivot. Just as a force is a push or a pull, a torque can be thought of as a twist....
from the hub to the rim, as with rear wheels or hub brakes. This rule is occasionally broken where a very large number of spokes is used or the wheel is unusually small in diameter, either of which reduce the amount of bending stress on each radial spoke to an acceptable degree; some BMX bicycles and low-riders use radial spoking for both wheels. Rear wheels may also incorporate radial spoking on the non-drive side and semi-tangential spoking on the drive side. At least one example, the
Mavic
Mavic
Mavic is a French bicycle parts manufacturer, its name an acronym for Manufacture d'Articles Vélocipédiques Idoux et Chanel, founded by Charles Idoux and Lucien Chanel. The company is noted as a manufacturer of bicycle wheels. Mavic is based in Annecy, France...
Ksyrium, has radial spoking on the drive side of the rear wheel.
The most common spoking pattern is "three-cross" where each spoke crosses three others on the same flange of the hub before meeting the rim. The last cross is normally "interlaced" by wrapping the spoke around the one from the other side of the flange. Radial-spoked wheels, where the spokes do not cross each other, saves roughly the weight of two spokes (because the spokes are shorter) compared to a three-cross wheel but run an increased risk of cracking at the hub flange, unless the hub is specifically designed for this pattern. Two-cross is sometimes used for hubs with large-diameter flanges (such as generator/dynamo hubs or large flange hubs), as it gives a more perpendicular spoke/rim angle, and four-cross is standard for spoke counts of 40 and above.
Bicycle wheels
Most conventional
bicycle
Bicycle
A bicycle, also known as a bike, pushbike or cycle, is a human-powered, pedal-driven, single-track vehicle, having two wheels attached to a frame, one behind the other. A person who rides a bicycle is called a cyclist, or bicyclist....
wheels now use 32 or 36 spokes front and rear, although the asymmetry of the rear wheel (to allow for the cluster of sprockets), and the additional weight it carries, means it benefits from having more spokes than the front. Commonly used models vary from 18 spokes for racing bikes to 36 for cross-country touring bikes to 48 spokes on
tandems
Tandem bicycle
The tandem bicycle or twin is a form of bicycle designed to be ridden by more than one person. The term tandem refers to the seating arrangement , not the number of riders. A bike with two riders side-by-side is called a sociable.-History:Patents related to tandem bicycles date from the late 19th...
and heavily abused
BMX
BMX
Bicycle motocross or BMX refers to the sport in which the main goal is extreme racing on bicycles in motocross style on tracks with inline start and expressive obstacles, and it is also the term that refers to the bicycle itself that is designed for dirt and motocross cycling.- History :BMX started...
bikes. The minimum number of spokes allowed for competition is 12. Some low-rider bicycles use as many as 144 brightly chromed spokes per wheel, although these are not meant for serious riding.
Wheels can be built by machine instead of by hand. However, machine-built wheels are rarely as satisfactory as handbuilt wheels, partly because it is uneconomical to allow the machine to spend long enough on each wheel for a perfect result but also because most machines leave spokes with some residual twist. Machine-built wheels can be identified by their lacing pattern (if it is not radial), as the spokes are laced the same on each side, rather than mirrored as on hand-built wheels. More modern "factory built" wheels such as Mavic's Ksyrium series are of quite different construction from that of a conventional wheel, trading a deeper and stronger rim for fewer spokes. They are popular, and quite light (in the more expensive models) but not as durable, readily repairable or maintainable as a conventional wheel.
Stainless steel
Stainless steel
In metallurgy, stainless steel, also known as inox steel or inox from French "inoxydable", is defined as a steel alloy with a minimum of 10.5 or 11% chromium content by mass....
is the most common material for spokes, although most mass-produced budget wheels use galvanized steel spokes. Other materials such as
titanium
Titanium
Titanium is a chemical element with the symbol Ti and atomic number 22. It has a low density and is a strong, lustrous, corrosion-resistant transition metal with a silver color....
or aluminum are often used to reduce weight. Some wheels are designed around
carbon fiber
Carbon fiber
Carbon fiber, alternatively graphite fiber, carbon graphite or CF, is a material consisting of fibers about 5–10 μm in diameter and composed mostly of carbon atoms. The carbon atoms are bonded together in crystals that are more or less aligned parallel to the long axis of the fiber...
spokes, which are often completely integrated with the hub and rim and bladed in shape. Non-steel spokes are normally reserved for racing bikes and other specialist applications where weight,
aerodynamics
Aerodynamics
Aerodynamics is a branch of dynamics concerned with studying the motion of air, particularly when it interacts with a moving object. Aerodynamics is a subfield of fluid dynamics and gas dynamics, with much theory shared between them. Aerodynamics is often used synonymously with gas dynamics, with...
and performance are valued over durability and cost. DT Swiss, Wheelsmith and Sapim (Belgium) are three of the most popular spoke brands used in hand built wheels.
Rims were traditionally made of
steel
Steel
Steel is an alloy that consists mostly of iron and has a carbon content between 0.2% and 2.1% by weight, depending on the grade. Carbon is the most common alloying material for iron, but various other alloying elements are used, such as manganese, chromium, vanadium, and tungsten...
but currently aluminum is by far most common and best choice due to its light weight, high durability and stiffness. Wood is also used. Composite materials such as carbon fiber are sometimes used, typically for racing competitions such as
time trial
Time trial
In many racing sports an athlete will compete in a time trial against the clock to secure the fastest time. In cycling, for example, a time trial can be a single track cycling event, or an individual or team time trial on the road, and either or both of the latter may form components of...
,
triathlon
Triathlon
A triathlon is a multi-sport event involving the completion of three continuous and sequential endurance events. While many variations of the sport exist, triathlon, in its most popular form, involves swimming, cycling, and running in immediate succession over various distances...
and
track cycling
Track cycling
Track cycling is a bicycle racing sport usually held on specially built banked tracks or velodromes using track bicycles....
, although carbon fiber is becoming more common for recreational uses such as road cycling or mountain biking due to its looks, strength and feel.
Mavic
Mavic
Mavic is a French bicycle parts manufacturer, its name an acronym for Manufacture d'Articles Vélocipédiques Idoux et Chanel, founded by Charles Idoux and Lucien Chanel. The company is noted as a manufacturer of bicycle wheels. Mavic is based in Annecy, France...
(France), DT Swiss, Interloc Racing Design (IRD), Velocity, Sunringle, Stan's, American Classic, and ENVE are popular makers of high quality bicycle rims.
There are several books and other works such as video and web sources on how to build conventional bicycle wheels. One such is "The Bicycle Wheel" by Jobst Brandt, published by Avocet (although Brandt's work is regarded as controversial because it contains technical errors which are then used to draw some faulty conclusions). Another is Sheldon Brown's guide: http://sheldonbrown.com/wheelbuild.html.
Motorcycle wheels
Motorcycle
Motorcycle
A motorcycle is a single-track, two-wheeled motor vehicle. Motorcycles vary considerably depending on the task for which they are designed, such as long distance travel, navigating congested urban traffic, cruising, sport and racing, or off-road conditions.Motorcycles are one of the most...
wire wheels typically use 36 or 40 spokes, of much heavier gauge than those on a bicycle. They are never "interlaced" in the manner described above, nor are "radial" builds recommended (except on wheels without brakes, which are themselves not a good idea). Motorcycle rims are dimpled toward the hub at each spoke location, and the holes for the spokes are drilled into the dimples at an angle. This angle is a function of the cross-pattern used to lace the wheel, the diameter of the hub flanges, and the width of the hub at the flanges. Conical-hub wheels have a different angle drilled into one side of the rim when compared with the other side. Adequate spoke tension is very important with motorcycle wheels, because of the greater torque applied to the wheel by an engine or disc brake. Loose spokes on a wheel fatigue rapidly and break, usually at the bend where they attach to the hub. When this happens, the wheel must be rebuilt using all new spokes, because even unbroken spokes in such a wheel are fatigued, and will usually break when tightened during the truing operation.
Spoke length
The correct length of spokes required can be calculated using rim diameter, hub flange diameter, hub width, lacing pattern, and number of spokes. See and. These calculations can be done either by hand (the old-fashioned way - with a pen, paper and calculator) or by using a computer. There are many programs available and they range in complexity from simple
Excel
Microsoft Excel
Microsoft Excel is a proprietary commercial spreadsheet application written and distributed by Microsoft for Microsoft Windows and Mac OS X. It features calculation, graphing tools, pivot tables, and a macro programming language called Visual Basic for Applications...
spreadsheets to stand alone desktop applications and web based calculators. An alternative method is to refer to a table which has the spoke lengths for a number of common hub and rim combinations.
Other conventions
A good wheelbuilder will ensure that the valve hole lies between two nearly parallel spokes to ease attachment of a pump head. This does not affect the structural integrity of the wheel, and this rule is usually observed.
It is also a convention, if the hub has a maker's label on its barrel, for the label to face (and be readable through) the valve hole. See Gerd Schraner for methodology. The rim labels should be readable from the right-hand side (drive side) of the bicycle. The hub labels should face in the same direction front and rear (generally so they are readable from the seat), this means that even an undished, symmetrical front wheel has to be laced to the rim the "proper" way round, if perfection is the aim.
See also